Marmion pulls away at Barrington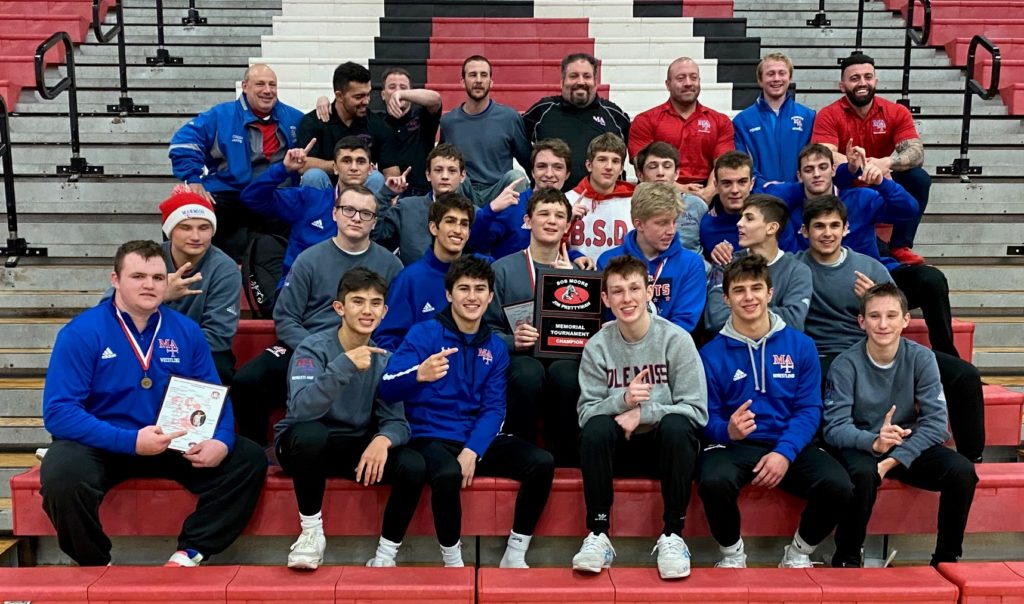 BARRINGTON — Marmion Academy got its 2021-2022 season off to a flying start on Saturday when it lifted the championship trophy at the 30th annual Moore-Prettyman Invitational inside the fieldhouse at Barrington High School.
The Cadets claimed the first major title of this highly anticipated campaign using a trio of individual titles and five top four finishes to outscore runner-up Libertyville 215.50-193.50. Stevenson (159.50) was third followed by Aurora Christian (159) and Fremd (146.5).

Teams hung around eventual champion Marmion until coach Nathan Fitzenreider's club pulled away for good.
"I can't tell you how excited the guys are to finally be back wrestling in a real tournament, and one that has so many great teams and wrestlers," Fitzenreider said. "This is a season we were all looking forward to being a part of after COVID took the season away from all of us last year.
"Although this is a long, grueling season, this is a great way for our team to start and I think the performance the entire team gave was kind of a statement that Marmion Academy wrestling back, and ready to go out and enjoy this season, and to have a successful one as well."
The aforementioned top five teams were 'this' close to each other after the first day of play, with North Suburban Conference (NSC) powers Libertyville and Stevenson suffocating the Cadets all throughout the weight classes.
"Our team is built to compete at a high level in tournament play – and it all starts with our dynamic duo of Lorenzo Frezza (126) and Cole Rhemrev, who provide great energy and leadership that all of the guys feed off of," said Stevenson head coach Shane Cook, whose Patriots finished fifth at the IWCOA 3A state duals last summer in Springfield.
"We wrestled really well as a team in our first big tournament of the season, and if we continue to work hard, and keep our focus, there's no reason why we can't be successful in the regular season and when the state series begins," offered the senior Rhemrev, who marched through the field at 138. Rhemrev recorded a pair of pins, a tech-fall in his semifinal, and ended with a 13-1 major decision to earn the top prize.
His teammate Frezza bagged plenty of points to help the cause with two pins and a major, before shutting out talented freshman Peyton Cox from Washington, 5-0 to win his second Moore-Prettyman title.
"During the offseason I worked on getting bigger, stronger, and faster, plus my stance and shots, and maybe most importantly watching what I eat, which has really helped me feel so much better," Frezza said.
The top four teams on the leader board dominated the final round on Saturday, with Aurora Christian and its new head coach, Danny Alcocer, collecting a tourney-high four champions.
"We're glad the sport of wrestling is back, and as a team, we are really happy to be a part of this great tournament, and our plan all along is to set the bar high, and keep it there throughout the season through hard work and dedication to each other," said Alcocer, who was a state medal winner at Waubonsie Valley, and would later go on to wrestle for two years at Arizona State University, where he earned his Bachelor of Arts in Education.
Alcocer's program received a major boost in talent when several former Montini Catholic stars made their way west to the Eagles' campus in Aurora – to make the club an instant favorite to succeed in 1A circles before all is said and done.
"It was a big decision for all of us to leave Montini, and come to 'AC' – but we're all thrilled to part of the program, and stoked about this season, and what we can achieve as a team," said Eagles senior captain Nate Wemstrom, who will wrestle at Indiana University next season where he is considering a degree in Criminology.
Wemstrom claimed the 195-pound crown while another senior, Braden Stauffenberg grabbing the 152-pound title over Dillon Carlson (Crystal Lake Central) in a contest between the Nos. 1 and 4 rated 52-pounders in the latest rankings by the IWCOA.
"It was a big decision for those of us who moved over to 'AC' but once we did, and we saw what we have, the promise and hope of big things for all us will help us fight even harder," added Stauffenberg, who has his eyes on attending West Point to continue his wrestling career.
"I come from a family of grunts, so to eventually be in Special Forces, and an Army Ranger is really exciting for me," Stauffenberg said.
Eagles newcomers Deven Casey and California transplant Taythan Silva were magnificent in their first Moore-Prettyman appearances.
"I work as hard as anyone out there," Casey said. "It's 24-7 for me — before school, during training, throughout the weekend — I'm working on my conditioning, technique, and everything else in my game to be the best."

Casey's reversal at the start of the third period was enough to hold off Fremd's Wiley Jessup, who was unable to pry open the Eagles' freshmen in the final moments of a 7-4 decision.
Casey defeated top seed Dominic Ducato of Jacobs, 2-1, in his semifinal.
Silva was rarely challenged throughout his four matches, opening with a fall, then a major, before sending off No. 2 seed Thomas Schoolman (Stevenson) during his 13-2 major decision semifinal victory.
Silva would continue his winning ways over top seed Damien Puma (Prospect) to take home the 145-pound crown, ending his bout with a near fall to record a 11-4 triumph.
"My mother and I moved into the area from California, and I knew coming into the great staff here with coach Alcocer, and Cory Clark (2017 National Champion at Iowa) and the strong academic program at AC would be the best thing for me," said Silva, who came to Aurora Christian from the prestigious wrestling program at Clovis High School.
Silva was runner-up at Preseason Nationals in Des Moines, Iowa in late October, losing in sudden victory, 3-1.
Teammate Braden Stauffenberg was crowned champion (160) at the same tournament, while Nathan Wemstrom grabbed second place at 195.
While there was plenty of one-way traffic to the top of the podium from Marmion, Stevenson and Aurora Christian, the quintet of Will Baysingar, Evan Gosz, Blake Henrichsen, Massey Odiotti, and John Pacewic all exhibited the skills, style, and staying power needed to earn titles in their respective weight divisions.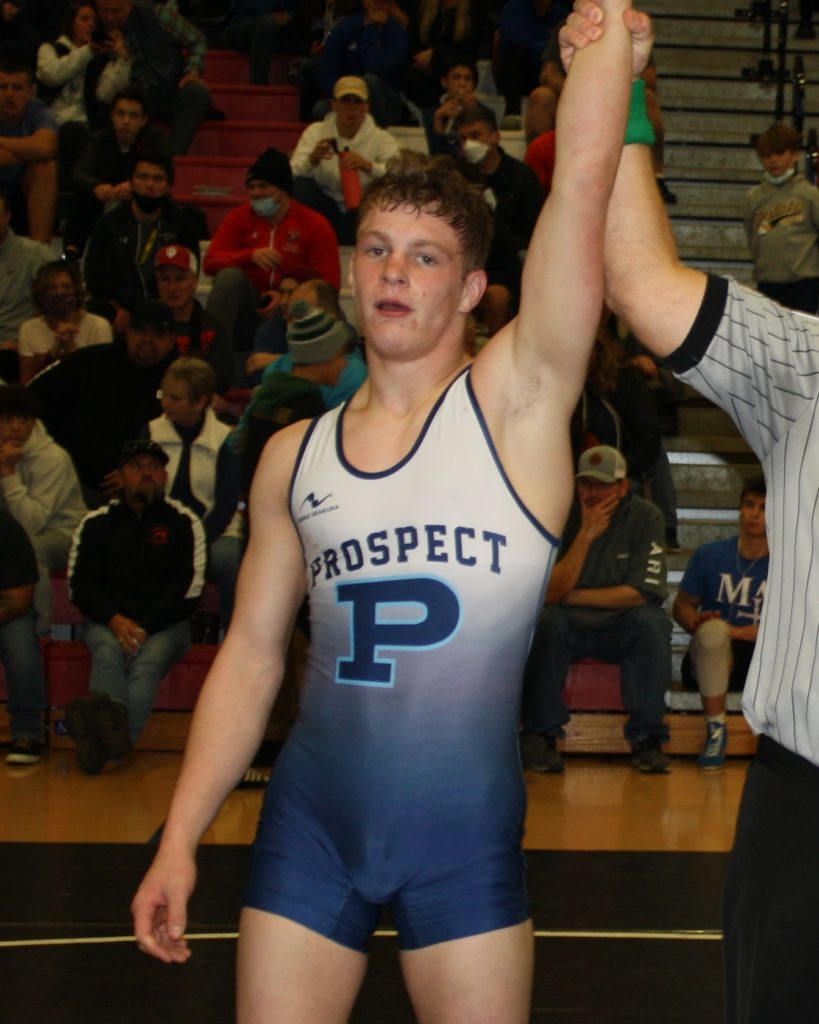 At the forefront was the reigning 120-pound state champion Baysingar, who closed out his tournament with a hard fought victory over Aurora Christian senior, Joe Fernau to claim the 132-pound top prize.
The 5-4 decision would avenge a 4-3 decision in the semifinals of the 2019 3A state tournament to Fernau at 106 pounds – a victory that would send the then- Montini sophomore on his way to a state title.
"If I had it to do over, I would have likely pushed the pace more, especially in the first period, and obviously score more points," Baysingar said. "But (Fernau) is a very good wrestler, so it's a good start to the season and I'm very happy with the result."

Baysingar was named Outstanding Wrestler for his efforts over a host of deserving candidates, including an all-star cast at 132 pounds.
Freshman Evan Gosz made his presence felt in his first major tournament ever – recording a 9-2 decision over Rudy SIlva of Plainfield South to win at 113.
"Evan goes right after his opponents – he's a three sport athlete (football, and lacrosse) who is a fearless, hard working young man," said Fremd head coach, Jeff Keske after watching the Vikings youngster a third-period takedown, and near-fall to secure his victory.
John Pacewic is off to join the Marines upon graduation but until then, the Plainfield South senior to make his final season at South a memorable one.
"I lost a year of wrestling to the pandemic, so I'm thrilled to be back competing in the sport I love," said Pacewic, who pinned his way to the 225-pound title.
The affable Pacewic recounted how he figured a visit at work from someone he thought was his sister's boyfriend was actually a Marine recruiter instead.
"After I told him to get lost, one day later I was in his office and enlisting," said Pacewic with a smile.
Second place Libertyville, which held the lead over Marmion 162.50-150.50 during the early part of Saturday afternoon, saw its hopes dashed when the Wildcats went o-fer in the finals.
"Our guys had some real tough opponents in the finals," admitted Wildcats head coach, Dale Eggert.
"The matches were competitive but didn't go our way. But the guys know they can do better so those defeats will be put to good use."
Eggert said his sophomore, Matt Kubas got hit by a tiger in his 160-pound final, and that is the perfect way to describe the all out attack Blake Hinrichsen put on display.
The Washington junior registered an impressive 15-4 major decision one bout after defeating top seed Justin Warmowski of Grant.
"I've been working on improving my stance, having better position, and scoring early, and adding to my lead, and today I did that," said Hinrichsen, who says when his team gets back to full strength, it will be a force in 2A this season.
Marmion's Jack Lesher (182) and heavyweight Jerred Durian helped close out Libertyville with their head-to-head bouts with Wildcats Josh Knudten, and Caleb Christensen in their respective finals.
"It's been almost two years since all of us have competed, so to come in here and wrestle as well as a team against this competition says a lot about what we can achieve this year," said Durian, who is being recruited to play football at both North Central College and Augustana.
"Jack was one of our most pleasant surprises this weekend," Fitzenreider said, following Leshers' 3-0 decision over Knudten.
"We were not sure what we had with him but he showed a lot over these two days, beating the No. 3 seed in the semi's, then the top seed to win it all."
The Cadets' third and final championship came from Tyler Perry (170), who sent the No. 2 seed, Austin Gomez of Libertyville out in the quarterfinals, and later, top seed AJ Mancilla in spectacular fashion by recording a pin at 2:51.
"I've been working a lot on my conditioning, and eliminating mistakes because of being a little sloppy, and this weekend, I felt like I stayed in good position, and was (clean) in all of my matches," Perry said afterwards.
On a day which featured so many wonderful individual efforts – the performance from Massey Odiotti was one not to be overlooked.
The Loyola Academy junior, who was anointed the No. 3 seed at 120 pounds edged No. 2 Josh Vasquez (Aurora Christian) 3-1 in his semifinal contest – using a lightning quick move to score the decisive take-down 30 seconds from time.
Later, Odiotti staved off top seed Caelan Riley of Libertyville who made a late valiant attempt to draw back even but fell short in Odiotti's 3-2 victory

"Massey has come a long way from his freshmen year with us," Loyola coach Matt Collum said. "He likely would have lost this match as a freshman, maybe would have had a better chance to win as a sophomore, but this season he is mentally and physically stronger, which helped him 'tough' this out to earn a big win for himself."