Six from Illinois capture championships at Walsh Jesuit Ironman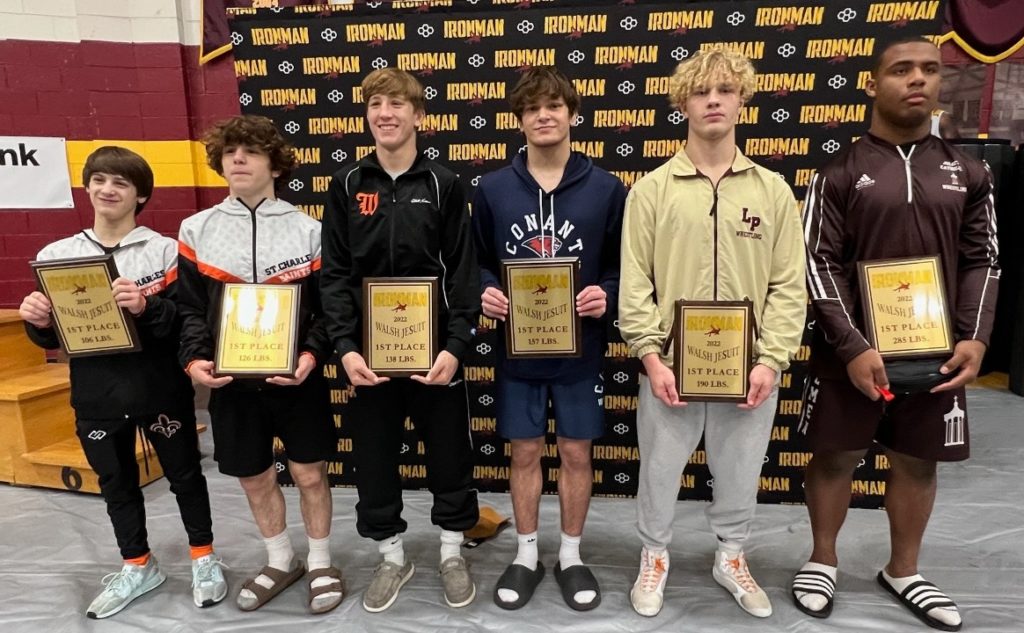 By Curt Herron
Illinois athletes turned in an historic performance by capturing six championships while another individual finished second against some of the top competitors from around the country at the Walsh Jesuit Ironman in Cuyahoga Falls, Ohio.
The six titles won by Illinoisans were two more than were captured by the state with the next-highest total, Pennsylvania, which won four titles. One athlete each from New York, Ohio and Oklahoma also claimed top honors.
Winning championships were St. Charles East's Dom Munaretto (106) and Ben Davino (126), Washington Community's Kannon Webster (138), Conant's Ethan Stiles (157), Lockport Township's Brayden Thompson (190) and Joliet Catholic Academy's Dillan Johnson (285) while Mount Carmel's Sergio Lemley (132) took second place.
A year ago, Illinois had champions from multiple schools for just the second time, Homewood-Flossmoor's Vincent Robinson and Rich Township's Nasir Bailey, with the first time being in 2006, when it had its previous high for champions with three as Montini Catholic's Mike Benefiel and Garrett Goebel and Glenbard North's Tony Ramos won titles. Prior to this competition only 13 Illinois athletes had won 15 titles with Benefiel and Goebel capturing two titles apiece.
The two champions for coach Jason Potter's Saints prevailed in showdowns against individuals from team champion Blair Academy, NJ, which won the title by a 190.5-137.5 margin over Stillwater, OK.
Davino claimed a 2-0 victory over Marc-Anthony McGowan at 126 in a rematch of last year's title match at 120, which was won by McGowan 5-2. Davino, a junior who won the Class 3A title at 120 last season, opened with a fall and major decision before getting a pin in 3:50 over Crown Point, IN's Logan Frazier in the quarterfinals and captured a 6-3 decision over Bayport Blue Point, NY's Max Gallagher to earn his spot on the title mat to again meet McGowan.
"Ben continued to be one of the most dominant wrestlers in high school wrestling," Saints coach Jason Potter said. "He is always evolving and is never satisfied. McGowan's match in the finals was the rubber match Ben was really looking forward to. McGowan gave Ben the only in-season loss of his career (Ironman finals 2021) and the only person to score a takedown on him. He takes that personal and it drives him. He made the adjustments to control the match, and even though it was low scoring, put on a dominant performance."
Munaretto won an 8-4 decision over Tyler Deraker in the 106 title match. The Saints freshman opened with a fall and got a victory by technical fall in the second round before pinning Lake Highland Prep, FL's Liam Davis in 2:49 in the quarterfinals and then capturing a 3-0 decision in the semifinals against Notre Dame, PA's Ayden Smith to advance him to the finals.
"Dom had a fantastic tournament," Potter said. "I feel he has made the adjustment into High School and his new weight class. The maturity difference and poise in his rematch with Dekraker was what I was the most impressed with. He gave up an early takedown, but stayed calm and wrestled his match. With his level of talent, the key for him is to stick to his pace and attacks and not to get influenced by the score or his oppennents style. For a freshman to come in and win the Ironman is a great achievement."
Webster won the championship at 138 with a 5-4 decision over Ponderosa, CO's Brandon Cannon. Webster, a senior who was the Class 2A champion at 132 last season, opened with a pin and a major decision before winning his quarterfinals match 3-1 in sudden victory over Malvern Prep, PA's Spencer Barnhart 3-1. Then he won another tight match in the semifinals, edging Bethlehem Catholic, PA's Kollin Rath 6-5, to earn his spot in the finals against Cannon.
A year ago, Webster also advanced to the tournament's title mat, but he lost 5-3 to Homewood-Flossmoor's Vincent Robinson for the 126 championship.
Stiles took top honors at 157 with a 12-6 decision over Dublin Coffman, OH's Ethan Birden in the finals. Stiles, a senior who won last year's Class 3A title at 152, recorded falls in his first two matches before pinning Lockport Township's Logan Swaw in 1:48 in the quarterfinals and then won a 5-2 decision over Crown Point, IN's Anthony Rinehart to advance to the title mat,
"Ethan Stiles thrives when the lights are the brightest," Cougars coach Andrew Guilde said. "They don't get much brighter than the Ironman tournament. He was locked in all tournament and that's because Ethan has one goal: that's to be the best. He showed that this weekend."
Thompson captured a 3-2 decision over Teays Valley, OH's Camden McDanel in the 190 title match. Thompson, a senior who won the Class 3A title at 170 last season, opened with two wins by technical fall and a pin before winning 13-7 over Fauquier, VA's Kingsley Menifee in the quarterfinals and then won a 3-2 decision over Stillwater, OK's AJ Heeg in the semifinals.
The Lockport Township standout had the fourth-most points in a match (24) in his opener and also tied for the fourth-most total match points (68) among all of the competitors in the field.
"Brayden wrestled a great tournament," Porters coach Jameson Oster said. "He is continuing to grow his already impressive resume and continues to show why he is the best wrestler in the country."
Johnson won a 7-3 decision over Mesa Ridge, CO's Matthew Moore in the 285 championship match. After opening with a pair of first-period falls, the junior, who was the Class 2A title winner at 285 last season, captured a 9-1 major decision over Notre Dame, PA's Aiden Compton before claiming a 7-1 decision over Blair Academy, NJ's Carter Neves in the semifinals.
"My expectation for Dillan is to be the most dominant heavyweight in the country," Hilltoppers coach Ryan Cumbee said. "Thus far, he's met those expectations. I look forward to his continued success this season."
Lemley dropped a 5-2 decision to Stillwater,OK's Cael Hughes in the 132 title match. Lemley, a senior who won the Class 3A title at 126 last season, opened with two falls and then got a win by technical fall before winning 9-4 over Edmond North, OK's Hunter Hollingsworth in the quarterfinals and capturing a 6-5 decision over Nixa, MO's Zan Fugitt in the semifinals. He took third place at 126 last season in the Ironman, finishing behind Robinson and Webster.
Five other individuals placed in the top eight at their weight classes.
Homewood-Flossmoor's Vincent Robinson took fourth at 132, Rich Township's Nasir Bailey was sixth at 138, Mount Carmel's Seth Mendoza placed seventh at 113, Marmion Academy's Jameson Garcia was eighth at 126 and Lockport Township's Logan Swaw took eighth at 157.
Last year Robinson was first at 126 and Bailey won at 132, but both saw their hopes of reaching the title mat again dashed in dramatic semifinals matches with Robinson suffering a 4-3 loss to Stillwater, OK's Cael Hughes, the eventual champion at 132 and Bailey losing 9-7 by sudden victory to Ponderosa, CO's Brandon Cannon, who lost to Webster in the finals, at 138.
Robinson won 6-4 in sudden victory over Malvern Prep, PA's Jack Consiglio to reach the third-place match, where he lost a 3-0 decision to Fugitt. Bailey did not compete again after his loss.
Mendoza, Garcia and Swaw all lost in the quarterfinals with Swaw getting sent to the consolation bracket following a fall by Stiles and then going 1-2. Mendoza, who placed fifth at 106 in the event last year, lost 3-1 in the quarterfinals to Bethlehem Cathollic, PA's Nate Desmond before winning two of his last three matches. Garcia got pinned in 4:00 by Bishop McCort, PA's Mason Gibson in the quarterfinals and also went 1-2 in his last three matches.
Also falling in the 120 quarterfinals and then losing in his next match was Joliet Catholic Academy's Gylon Sims while Homewood-Flossmoor's Deion Jonnson placed seventh at 106 a year ago but was unable to place again.
Aurora Christian's Deven Casey (113) lost his opener but then won four-straight decisions, including 1-0 in an ultimate tiebreaker and then 5-4, but he lost his next match 1-0 to come up one win shy of a top-eight finish.
St. Charles East's Tyler Guerra (138), Homewood-Flossmoor's Jaydon Robinson (144) and Montini Catholic's David Mayora (150) all lost decisions to fall one victory shy of a medal.
St. Charles East was the top-scoring team from Illinois, placing ninth with 80.5 points. Mount Carmel (54.5) was 21st, Lockport Township (44) was 24th and Joliet Catholic Academy (43) was 25th. Other top Illinois teams were Marmion Academy (29th, 39), Washington Community (31st, 36), Conant (38th, 32), Homewood-Flossmoor (40th, 30) and Marist (44th, 27.5).
Stiles led all competitors in the field with 32 team points while Thompson and Davino tied Hughes for fourth with 31 points. Munaretto tied for ninth in team points with 29.5, Johnson and Webster tied for 12th place with 29 points and Lemley finished 16th with 27.5 team points.