Six individuals receive National Wrestling Hall of Fame Illinois Chapter Lifetime Service to Wrestling Awards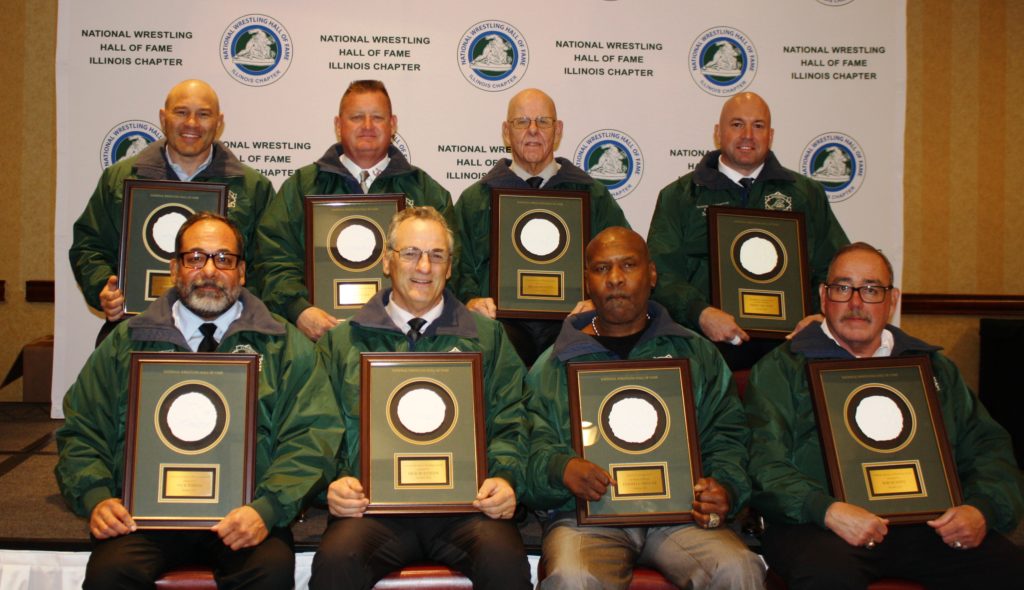 By Curt Herron for the IWCOA
Six individuals received The Lifetime Service to Wrestling Award at last Sunday's National Wrestling Hall of Fame Illinois Chapter Honors Banquet that was held at the DoubleTree by Hilton in Alsip.
This year's six recipients were Sean Bormet, Mike Bukovsky, Bill Honeycutt, Rob Murphy, Mick Ruettiger and Mick Torres.
The Lifetime Service to Wrestling Award is given in recognition of years of dedication to the development of leadership and citizenship to the youth of Illinois through the sport of wrestling.
Two other honors that were also presented at the honors banquet to former wrestlers were the Medal of Courage Award, which went to Darrell Gholar, and the Outstanding American Award, which went to Terry McCann.
The Outstanding American Award is given to former wrestlers who are highly successful in other walks of life and use the disciplines learned in wrestling in their profession. That award has been presented since 2005.
And the Medal of Courage Award is presented to a former wrestler who has overcome what appears to be insurmountable challenges. Those awards have been given out since 2003.
In addition, 2023 graduates who were given honors were Homewood-Flossmoor's Attalia Watson-Castro, who received the Tricia Saunders High School Excellence Award, and Washington Community's Kannon Webster, who received the Dave Schultz High School Excellence Award.
The National Wrestling Hall of Fame Illinois Chapter Lifetime Service to Wrestling Awards have been given out since 1997, when the first group of recipients were selected. They were Ott Bay, Chuck Farina, Elias George, George Girardi and Bill Schmitt. Other recipients have been added in each year since 2001, except for 2021. A total of 139 individuals have received this award.
The recipients of all of the awards that were given at the honors banquet will be honored in the State Chapter Hall of Honors at the National Wrestling Hall of Fame & Museum, which is located in Stillwater, Oklahoma.
Biographies of all of the most recent award winners as well as pictures and biographies of many of the earlier Illinois Chapter award winners can also be seen at the Hall of Fame & Museum's website, which is http://nwhof.org
Here is a summary of all of this year's award recipients, with the Lifetime Service to Wrestling Award winners listed first.
The biographies were submitted by the recipients, who all gave speeches at the banquet. The quotes that appear were from subsequent conversations with the six individuals who received Lifetime Service to Wrestling Awards.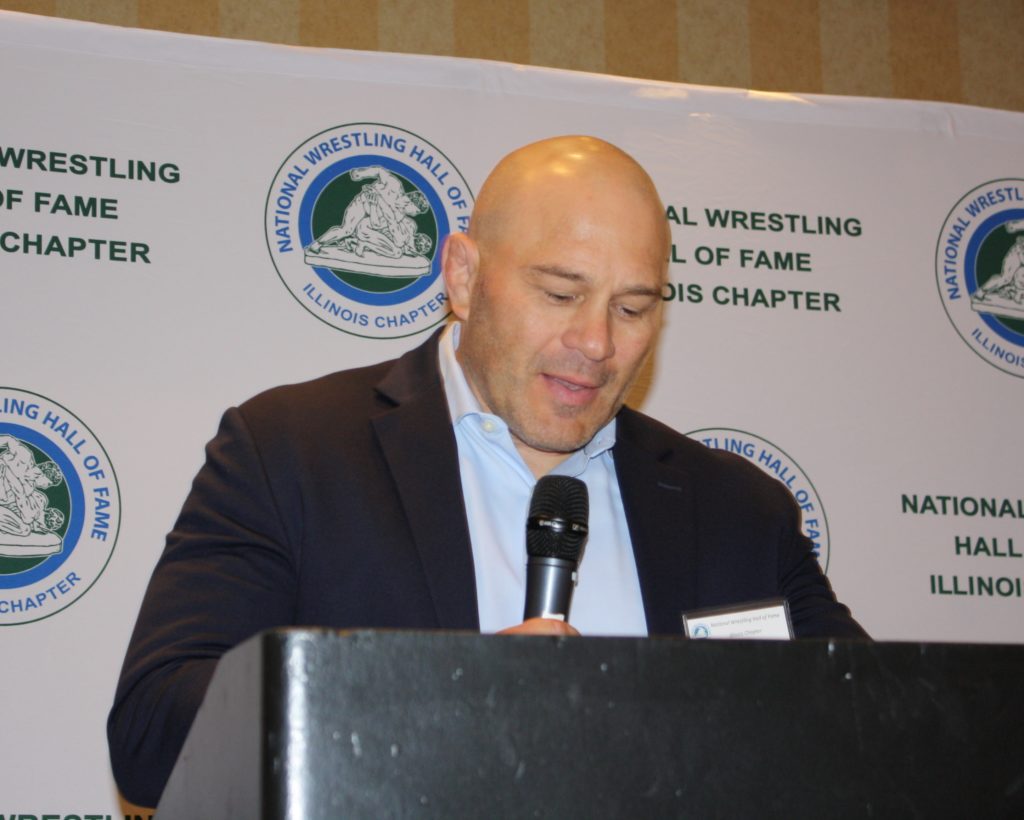 Sean Bormet
Lifetime Service to Wrestling
Sean Bormet is in his sixth season as University of Michigan wrestling head coach after serving seven seasons as Joe McFarland's top assistant coach. On March 27, 2018, Sean was named the 10th head coach of the Michigan program.
Named both the Big Ten and NWCA National Coach of the Year in 2022, Sean guided the Wolverines to 48 dual meet wins over his five seasons at the helm of the Michigan program, captured the 2022 Big Ten championship and boasted three top-five finishes at the NCAA Championships (2019, 2021, 2022).
Michigan has claimed two NCAA champions in Nick Suriano (125 pounds, 2022) and Mason Parris (Heavyweight, 2023) and 16 NCAA All-Americans, plus four NWCA All-Americans during the COVID-canceled 2019-20 season. Parris was also named the 2023 Hodge Trophy winner as the nation's top college wrestler.
Sean led Michigan to one of the most successful seasons in the 100-year program history in 2021-2022, when the Wolverines posted a 12-1 dual meet record and the first Big Ten championship since 1973 before claiming runner-up honors at the NCAA Championships.
Since returning to his alma mater in 2011, Sean has helped mentor 21 different Wolverine All-Americans to 36 All-America total citations. Michigan has earned top-10 team finishes at each of the last seven NCAA Championships, including four straight top-five finishes (2018-2022).
Sean is a three-time winner of the Terry McCann Award as the USA Wrestling Freestyle Coach of the Year (2006, 2008, 2010). He has been a personal coach for athletes at seven World Championships and three Olympic Games and has coached World Champions at every age group.
Michigan recently boasted three medalists at the 2023 World Championships in Serbia, earning Wolverine alums Stevan Micic and Myles Amine qualification for the 2024 Olympics. Micic is Michigan's first freestyle world champion while Amine became the first to claim an Olympic freestyle medal with his 2021 bronze in Tokyo.
From 2001-2011, as the owner and founder of the Overtime School of Wrestling in Naperville, Sean built the cutting edge training center into the nation's premiere wrestling club, producing numerous champions and All-Americans at all age levels.
Alumni of Overtime include World medalists, Olympic and World team members, NCAA champions and All-Americans, USA Wrestling Junior and Cadet national champions and more than 150 state champions.
Sean was named the 2004 USA Wrestling Developmental Coach of the Year for his achievements with age-group wrestlers and programs. He coached the Illinois Junior Freestyle Team to five dual national titles (2006, 2007, 2008, 2010, 2011) and two national freestyle titles in Fargo (2007, 2010). He has also coached numerous age-group national champions and All-Americans for the Illinois Junior and Cadet freestyle national teams.
As a Michigan student-athlete (1991-1994), Sean was a two-time NCAA All-American at 158 pounds, placing second as a senior (1994) and third as a junior (1993) and a two-time Big Ten champion (1993, 1994). He posted a 125-21 career record, including a 33-2 mark as a senior, and ranks 13th among Michigan's all-time winningest wrestlers. He accumulated 44 career falls to list fifth on the program's all-time pins list. A two-time team captain, Sean was twice named the Wolverines' Cliff Keen Award winner as the team's most outstanding wrestler.
In addition to his collegiate success, Sean excelled in freestyle wrestling, placing second at 76 kg at the 1999 U.S. Senior Nationals and third at 74 kg in 1996. He also took third place at the 1996 Olympic Team Trials and 1999 World Team Trials. While at Michigan, he competed in the 1991 Espoir World Championships after claiming the Espoir national championship at 74 kg. He also participated in several international tours, claiming gold medals in Italy (1993), Greece (1996), Montreal (1997) and Poland (1998, 2000).
Sean started wrestling at age eight in 1979 when his dad formed the Frankfort Falcons Wrestling Club. He was a two-time IKWF state champion before heading to Providence Catholic High School (1985-1989). There Sean contributed to two undefeated team state championships in his final two seasons and was himself a state champion and a three-time state place winner. He compiled a 184-6 prep record, including a 53-0 senior season with 48 falls – a mark that still stands as Illinois' state record for most falls in a season.
"It's an honor to be recognized with such a distinguished group of wrestlers and Lifetime Achievement Award winners here," Bormet said. "I've travelled all around, coached all around and recruited all around the world and the state of Illinois is such a hotbed for wrestling. I have so much pride that I grew up and wrestled in the state of Illinois.
"It's still one of the first places and really important places for me to continue to recruit for the University of Michigan. It was a great group tonight for me with Michigan, Illinois, Providence and Overtime here. It's been a lot of fun and it's a really special state and there are a lot of special people to me and I'm just very thankful."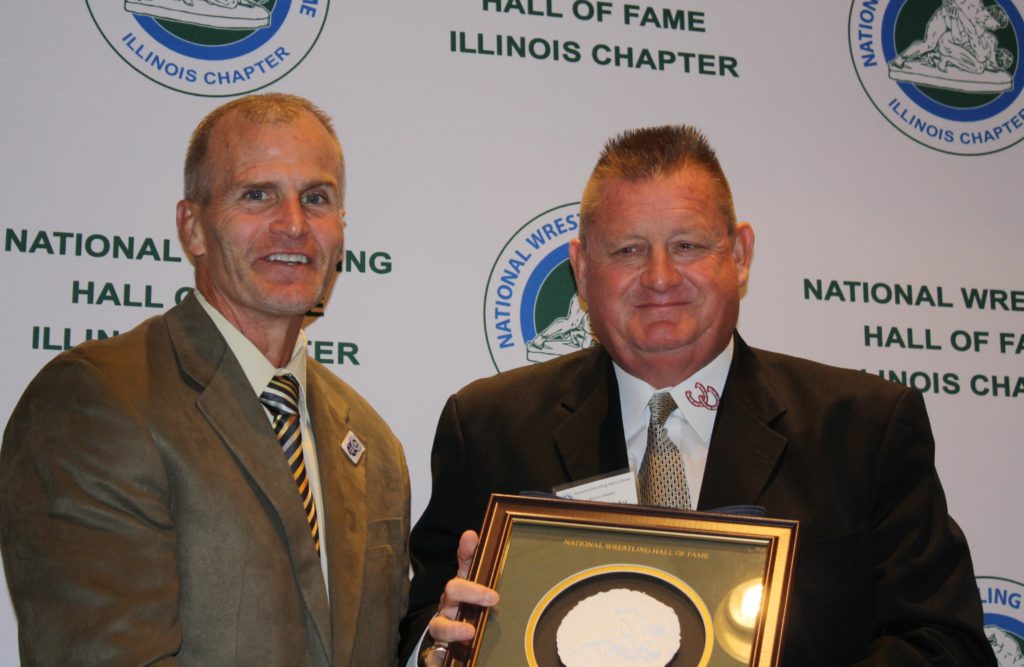 Mike Bukovsky
Lifetime Service to Wrestling
Mike Bukovsky started his wrestling career at Eisenhower Junior High School wrestling for Hall of Famer Joe Pedersen. Mike moved on to Montini Catholic High School and continued his wrestling career under another Hall of Famer, Jim Izzo.
Mike was a three-year varsity starter and two-time conference champion and was also voted team captain and most valuable wrestler his senior year. He also played football for Montini's first-ever state playoff qualifying football teams in 1981 and 1982, while earning All-Conference, All-Area and honorable mention All-State recognition.
When an injury ended his college wrestling career after two years at North Central College, Mike began helping out with the Montini wrestling team and began his coaching career in 1985. After nine years as the sophomore coach, Mike assumed the reins of the varsity program in 1995, a position he held for 16 years until 2010. All told, he coached wrestling for 25 years at Montini.
As the Head Wrestling Coach, Mike led his teams to 460 dual meet wins while losing only 39, a career 92 percent winning mark. His squads won 15 IHSA Regional Championships and qualified for the Dual Team State Tournament 13 times. Those teams won 11 Dual Team State Trophies, including eight IHSA Dual Team State Championships. Mike's teams included 140 state qualifiers, 81 state place winners and 32 IHSA Individual State Champions. Mike has also coached three IHSA Individual four-time State Champions.
Several of his teams were nationally ranked, including the 2007 team ranked fifth in the nation by Amateur Wrestling News Magazine. Mike was recognized three times as IWCOA Coach of the Year and selected as the National High School Athletic Coaches Association's National Coach of the Year in 2009. He was inducted into the IWCOA Hall of Fame in 2008, received the IWCOA Man of the Year award in 2010 and served as a Grand Marshal at the 2017 IHSA State Wrestling Finals.
Mike has been a member of the IWCOA Executive Board since 1999, serving as the chairman of the Classic Dual Committee and emcee of the All-State Banquet, among various other duties. He served as the IWCOA President in 2008 and 2009 and has been a member of the IWCOA Hall of Fame selection committee since 2008. Mike has also promoted wrestling by working as a color analyst and broadcaster for the IHSA and IKWF State Finals and numerous other wrestling events over the years.
At present, Mike is the Head Football Coach at Montini and is currently in his 33rd season coaching in the football program, being a part of six State Championship Teams. Mike also coached in the girls softball program for eight years, and in his five years as head coach, won two state titles. While coaching wrestling, football and softball at Montini for 37 years, Mike has been a part of 16 state championship teams.
"My first thought was very, very humble to be included in that group of people and of course to join the group of people who had already been inducted before," Bukovsky said. "It was a very humbling experience for me ever since I got the news that I was being inducted. It's kind of a neat process since it makes you go back and you have to gather some information and some pictures. And it makes you really appreciate a lot of the people that have been in my life that I'm fortunate to have, both wrestling people and non-wrestling people. That's where I started with the whole process and I was thinking about how fortunate I've been to have those people in my life. That's really what I got out of the evening.
"It is a very special place. I obviously am a graduate of Montini and I've been around here for a long, long time. This is my 39th year in some capacity, so it's been great to be around here. What I kept coming back to the other night were the people that I've had the good fortune of being in contact with. It was kind of neat. I got so many phone calls, messages, reach outs and emails, from former wrestlers that I've had and just thanking me. It kind of makes you pause and realize how fortunate I am to be in a position where I can help people like that, and that's really been my driving force. Coaching kids has always been something that's flipped my switch.
"I've always said my whole life that wrestling people are among the best people that I've come into contact with. Parents, kids, fellow colleagues. I've always been around great people from the wrestling world and that's kind of been an obvious thing that I've really enjoyed. I see wrestling in almost every part of my life. Any time I've had tough things to overcome and things i had to make, I just kind of always seem to fall back to wrestling and there's a lesson there some how that I learned on a wrestling mat and it has served me very well."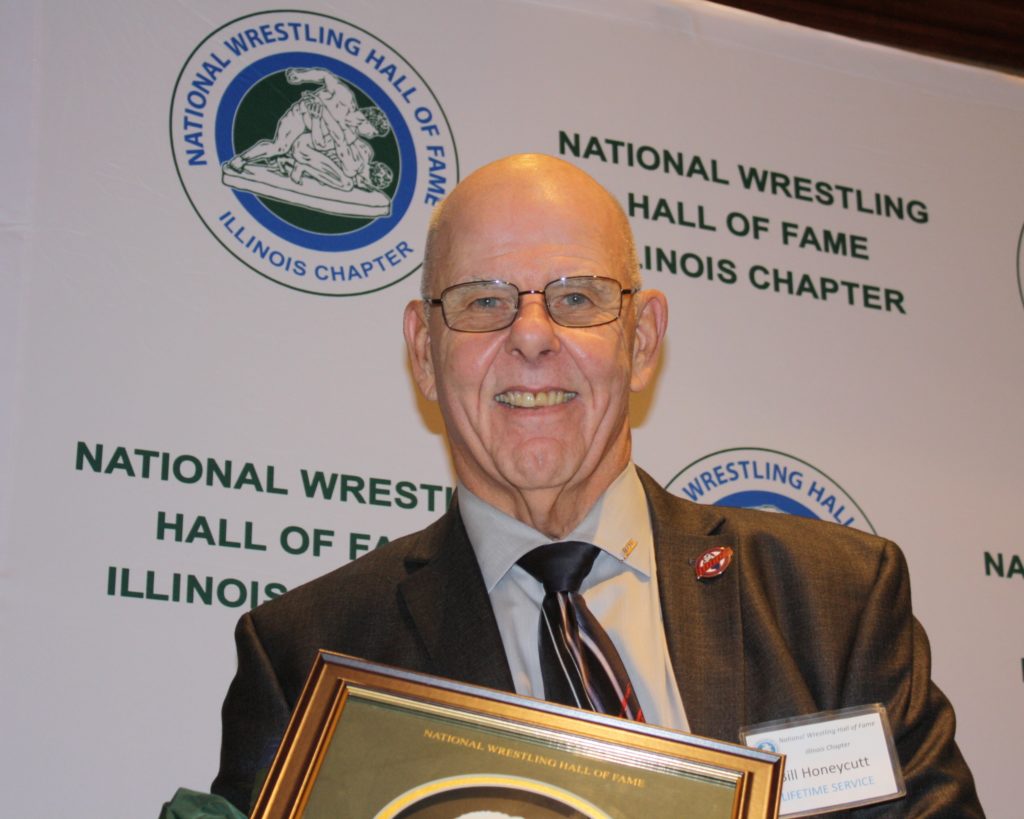 Bill Honeycutt
Lifetime Service to Wrestling
Bill Honeycutt has been involved with the sport of wrestling since he was a freshman at Morton East High School. He wrestled for four years in high school and continued to play football while attending Monmouth College. An injury during his freshman football season at Monmouth ended his days as a wrestler at the collegiate level, however, but it allowed Bill to begin a memorable career as an official.
After graduating from Monmouth in 1974, he became assistant wrestling coach at Morton East. Two years later, he became head wrestling coach at Saint Viator High School. In 1978, after leaving his career in coaching and teaching, his desire to stay involved in the sport of wrestling resulted in an intensified commitment to officiating.
Bill has officiated for IHSA, IESA and NCAA Division III events. From 1992-2023, his officiating includes a combination of 27 Individual and Dual Team IHSA State Tournaments, along with 13 IESA State Tournaments. He served on the IESA Advisory Committee from 2005-2008 and was appointed the Head Official for the IESA State Wrestling Series.
He has also served as Coordinator of Officials and refereed several IWCOA Frosh/Soph. State Tournaments. Bill was privileged to be on the whistle for the 2022 IHSA Inaugural Girls First State Tournament.
Bill was inducted into the IWCOA Hall of Fame in 2003. Other honors include the 2005-2006 South Suburban Coaches Association Official of the Year; official at four Illinois-Indiana All-Star dual meets; 2007 National Federation High School Association Official of the Year for Illinois; Grand Marshall for the 2010 IESA State Tournament; and 2012 Official of the Year by the IWCOA.
In 2008, Bill was appointed and continues to serve as an IHSA Clinician and Rules Interpreter for the sport. He also served on the IHSA Officials' Advisory Committee from 2009-2012.
Bill served as the Coordinator of Officials at the 2014 IHSA Wrestling Dual Team State Final Tournament and was also honored in 2014 as a Grand Marshal for the IHSA Individual State Tournament. In 2018, Bill was honored by the IWCOA with The Lifetime Achievement Award. In 2023, Bill served as Assistant Coordinator at the IHSA Wrestling Boys Individual State Tournament and Coordinator of Officials at the IHSA Girls Wrestling Individual State Tournament and the IHSA Wrestling Boys Dual Team State Tournament.
He continues to be involved in projects including the recruitment of new officials, IHSA videos and all forms of continuing education for the sport. He has also worked with the NFHS Association on projects including video and new rule proposals.
Bill continues as an active, on-the-mat high-level official. He just completed 51 years of officiating and has refereed over 50,000 matches in his career, including some great classic IHSA State Finals championship matches.
Bill lives in Woodridge with his supportive wife Nancy and enjoys family time with his four children and eight grandchildren. He is honored to be part of a wrestling community that includes a lifetime of cherished friendships and unforgettable memories.
"I think about when I started and got out of teaching and went into officiating, my goal might be to one time be good enough to be a state finals official," Honeycutt said. "I didn't think that I'd end up where I did that night (NWHOF banquet). It's still kind of a little pinch me scenario. I always wanted to give back to wrestling because wrestling made me a good football player. It's kind of like something that was indebted. I would have never thought that later in life that I would be tied more to wrestling than I would be to football, but that's the way that it's been.
"The biggest thing probably has been the camaraderie with all of the wrestling world, and the wrestling world is totally different than I think any other one. When I was up there and looking at guys like Mick Ruettiger and Mike Bukovsky, I've been in their gyms several times and I've had those smiling moments and I've had those moments where Mick wanted to tear me apart. But as I said in my speech, at the end of the day, we all go home as family.
"I'm just humbled and honored. There were great moments obviously when you walk and you do your state tournament, and that's great. But some times when I got the call and they asked me to be a clinician and an interpreter, it's a different kind of satisfaction. The other ones are on your skills, your IQ and your quickness while this one was a great respectful award from my peers. I kind of say that from the little kid who was taking horse hair mats off the wall at Morton East gymnasium, that I would be standing on a stage with a Lifetime Achievement Award in the National Wrestling Hall of Fame, it's kind of like a fairy tale."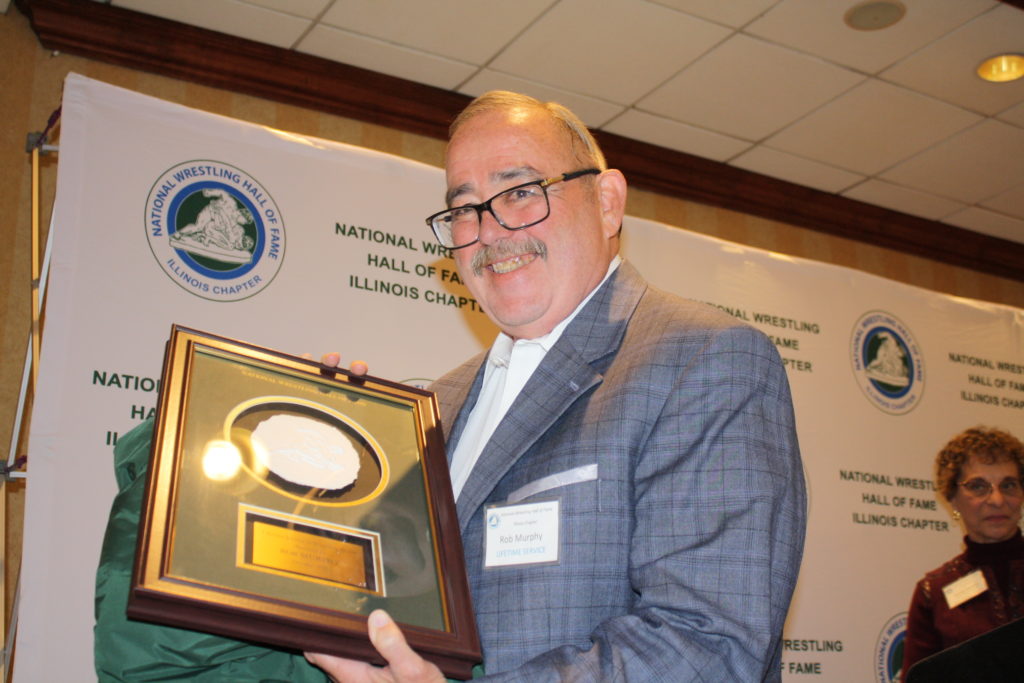 Rob Murphy
Lifetime Service to Wrestling
Rob Murphy started his wrestling career in sixth grade at Shabbona Middle School in Morris. He moved to Coal City when he was in eighth grade and was a state qualifier. At Coal City High School, he was a three-sport letterwinner and all-state linebacker. He was also a two-time IHSA wrestling state qualifier with a record of 96-14, finishing third in state his senior year and helping his team earn their first state wrestling trophy with a runner-up finish.
After graduation in 1981, Rob started college that summer at Joliet Junior College to wrestle for National Wrestling Hall of Fame Lifetime Service Award winner Henry Pillard, but with a heavy heart, having to leave college because of lack of money, Rob worked pipeline construction for three and a half years.
After saving money, he returned to the junior college in 1985, where he became a Juco national qualifier and an Academic All-American. In 1996 he transferred to Olivet Nazarene University in Bourbonnais, where he received wrestling, football and ROTC scholarships.
Rob became a three-time National Christian College Association champion and a three-time NAIA national qualifier. He also captained the 1987 and 1988 NCCAA team champions. Also in 1987, he wrestled with Athletes in Action in Japan and South Korea. At the end of his junior year in college, Rob was commissioned a second lieutenant in the U.S. Army Reserve. From 1988 to 1994, he taught at Lincoln Community High School and coached wrestling with National Wrestling Hall of Fame Lifetime Service Award winner Floyd Bee.
Rob's first head wrestling coaching position was at Wilmington High School in 1994 and he continued teaching and coaching there until he retired in 2022. At Wilmington, he posted 570 career dual meet wins. His team won three IHSA Class A Dual Team state championships in 2007, 2008 and 2009, becoming the first Illinois public school to win three in a row.
His Wilmington teams qualified for dual team state nine times and brought home six state trophies, 10 conference team titles and 12 regional championships. He coached 129 IHSA individual state qualifiers, 52 state place winners and 10 state champions, including his two sons, Robbie and Jake.
Rob has been an active IWCOA executive board member for 25 years and co-chairman of the fundraising committee, as well as co-chairman for the Illinois/Indiana Duals. He has also served on the Hall of Fame committee since 2016 and is a Past President. In 2021-2022, he served as the sports chair for wrestling for the National High School Athletic Coaches Association.
Rob was a 10-time conference Coach of the Year, IWCOA Coach of the Year in 2006 and 2010 and a National High School Coaches Association finalist in 2010 and 2018. He was inducted into the IWCOA Hall of Fame in 2011 and received the Silver Service Award in 2014, Man of the Year honors in 2015 and Gold Service award in 2018. Also in 2019, Rob served as a Grand Marshal in the IHSA Wrestling State Finals.
Rob and his wife, Tina have three children, Robbie, Jake and Erin, and seven grandchildren.
"It's been awesome," Murphy said. "At first, I was at Lincoln, where I was head track coach and assistant coach in wrestling and football. My first head coaching for wrestling was at Wilmington and that's where I was head coach the whole time. And I actually coached track there, too, for about seven years and the track team finished fourth in the state. And I was an assistant in football for 28 years with coach (Jeff) Reents and on Friday nights, I'm still on the sidelines helping out any way that I can. But I'm not doing the practices any more because my wife and I are retired and we travel and do stuff.
"Like I said at the induction, you're only as good as the people that you surround yourself with and I had a lot of great assistant coaches. I talked about all of the ones that were there that night, but there were other people that weren't there that were great like Eddie Van Duyne, who's been there with me from the start. I've had a lot of great people helping me out. Both of my sons, Robbie and Jake, came back to coach and Jake's still coaching at Wilmington. It goes all the way from them to my mentors, to my friends and guys I wrestled with throughout the years. And it comes down to the table workers and people that run the clock and do the scoreboard, like my wife, Tina, and my daughter, Erin. You can't make the journey by yourself, it's going to be way too hard, you've got to have help.
"What I'm so proud about the IWCOA is that we don't get paid anything, we just do what's best for Illinois wrestling. For a number of years, we were the ones that ran the girls state tournament. And we got it built up to where the numbers were so large that then the IHSA had to look at it. That's what the IWCOA is about. And we did the Frosh/Soph Tournament and the Illinois-Indiana Duals with the big school wrestlers, the smaller school wrestlers and now the girls wrestlers. That's all good stuff. But that's what the wrestling community does. When we ran that state tournament (in 2021), I couldn't get them to stop coming up and saying, thank you so much for doing this. Everybody appreciated it because it needed to be done. And not one person got sick, and that was during COVID. It was the right thing to do at the right time and it turned out perfect. The IWCOA does things that nobody else does because we're a tight-knit family. You might go out there for competition, but once it's all said and done, once a wrestler, always a wrestler."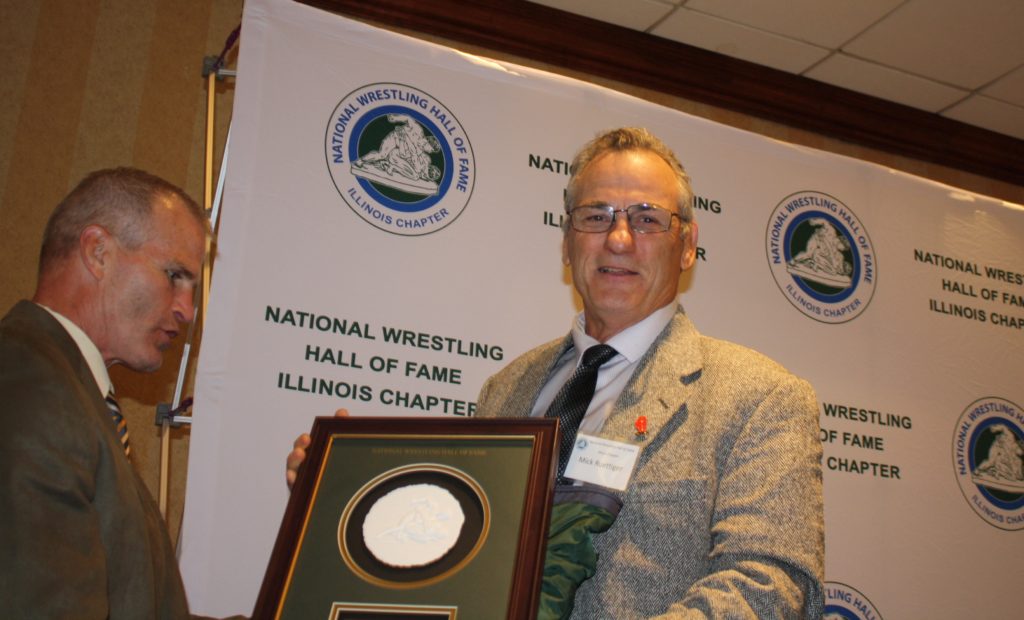 Mick Ruettiger 
Lifetime Service to Wrestling
Mick Ruettiger started his wrestling career in 1973 as a high school senior at Providence Catholic High School. He was a varsity starter in football, wrestling and baseball. Providence started its wrestling program in 1971-72. A broken arm kept Mick off the mats as a junior, but in his senior year, he went 19-3-1, won a Private School League Conference title and placed third in the IHSA Regionals in a one-class system. Mick was also the first Providence wrestler to medal in the IHSA State Individual Series at the Regionals, and he and his brother Johnny were the first to win Conference Championships.
Mick was also the first collegiate wrestler from Providence. He wrestled at Joliet Junior College (1973-1975) under Hall of Famer Henry Pillard, earning a varsity letter and the Hardest Worker Award. Mick went on to Eastern Illinois University (1975-1978), where he wrestled for NCAA Champion Ron Clinton, earning three varsity letters. Mick placed second in three tournaments while placing in two others and defeating two IHSA State Champions.
Mick's coaching career started when he returned to EIU (1978-1979) as a graduate assistant. The university placed second at the 1979 NCAA Division II Championships, producing seven All-Americans with two National Champions. In 1979-1981, Mick served as a varsity assistant at Mount Saint Joseph in Baltimore, helping the school to add two more titles to its 12-year win streak at the Maryland Scholastic Private School State Championships. MSJ also won the 1980 Eastern Prep Nationals and third place in 1981.
Mick returned to Illinois to coach at Plano with his first head coaching job (1981-1982), producing a dual meet record of 11-7 with one state qualifier. Plano also had one wrestler start his collegiate career at the United States Naval Academy.
In 1982, Mick accepted the head coaching position at St. Charles High School, where he coached for 15 years (1982-1997), building a dual meet record of 187-117. Mick would return to St. Charles East High School in 2018, where he still serves as an assistant coach.
St. Charles won its first IHSA wrestling trophy in 1997, finishing third at the IHSA Dual Meet Finals, along with a Sectional, three Regional and two Upstate 8 and eight regular season titles from 1990-1997 while posting a dual meet record of 119-29-2. That includes 44 State Qualifiers, 21 State Placers, two State Champions and seven finalists. Also, the 1997 team was ranked 23rd nationally. Mick established the St. Charles IKWF Wrestling Club 1985-1986, which helped lead St. Charles to an outstanding 1990s run.
While at St. Charles, Mick also coached for two years at the Prairie State Games. He also wrestled at the Games, winning a Bronze Medal in Greco-Roman and placing fifth in Freestyle. St. Charles also prepared 14 young men to wrestle in college. Five were NCAA I National Qualifiers with one All-American and one NJCAA All-American. St. Charles had six wrestlers graduate from the United State Military Academies and serve in the US Military.
In 1997, Mick took on the head coaching position at the new Neuqua Valley High School, where he coached 20 years until 2018. Those teams forged a dual meet record of 276-148-2 in 19 years of varsity competition. Following retirement, Mick volunteered as an assistant coach in 2017-2018.
Neuqua Valley reached the Sweet Sixteen three times in the IHSA State Dual Meet tournament and won six IHSA Regional Championships, eight Upstate 8 Championships and 16 regular season tournaments and was ranked 11 times in state, including five times in the top six. Its 2006 and 2008 teams were nationally ranked, 18th and 23rd, respectively. Mick's teams at Neuqua Valley produced 55 State Qualifiers, 29 place winners, two State Champions and eight finalists.
In 2000, the Fox Valley Wrestling Club also made its permanent home at Neuqua Valley, focusing on the incoming student athletes. Mick's teams at Neuqua Valley prepared 34 young men to wrestle in college; sent 16 to NCAA Division I, one of which was a D1 Tournament qualifier, one NJCAA National Champion and won All-American twice at the NAIA Nationals. Neuqua Valley also had three wrestlers graduate from the United States Military Academies and serve in the US Military.
Over his career, Mick compiled a total dual meet record of 463-274-4. He has been inducted into the IWCOA Hall of Fame, the St. Charles High School Hall of Fame and the Neuqua Valley Hall of Fame. In 2022, Mick and four of his brothers (John, Tim, Bernie and Mark) served as Grand Marshals at the IHSA Individual State Tournament.
Mick has also been named a Neuqua Valley "Most Influential Educator of the Year," and the Neuqua Valley IKWF Tournament was renamed the Mick Ruettiger Invitational.
"Randy Konstans called me up and said he had some good news for me," Ruettiger said. "It's an incredible feeling, it really is. You get a chance to reflect on the 45 years that I've been involved in wrestling. And you know all of the other people that have been involved with wrestling with you. So it's not my award so much as it is the people that supported me and wrestled for me, and one of the biggest things was they believed in me and my system and how I handled kids, and that kind of brings it all together. I tried to bring that across during my speech, and I could have told a thousand stories. The (Ruettiger) boys were pretty close to each other, but we were also our own person. We had our own world to live in and we had to survive within a 14-kid family and you had to fend for yourself. And the only time that we were together was when somebody got in trouble, because when one got in trouble, we all got in trouble. Dad wasn't there to judge anybody, but all of us. So we learned to deal with it and then go on to the next day.
"I think the reason that I got that job in Plano was because of my last name. I was a guy who didn't have the high school record based on wrestling one year. Butch Cotter, the football coach at Plano, knew our family because they were Class A wrestlers at the time so when he heard the Ruettiger name, he said that I had to be pretty good, so I said to take a chance on me, and he did. When I started at St. Charles, we didn't have a kids club so I got a hold of Mr. Potter and he got some other dads together and we had a Saturday club, and the first day we had it, 100 kids showed up in the back gym. Then we had enough people to do an IKWF club the next year. When that kids club opened up, it took us five or six years to really get competitive at a team level. In the 1990's we had some outstanding teams and just missed getting into the finals of the dual meets. We got pounded by Waubonsie Valley and DeKalb but then started beating them in my last few years and that's how important the kids club was. And our high school parents, whatever we needed to get done, the fine points of the program was done by them.
"I wasn't looking to go anywhere, but the new principal at Neuqua Valley asked me if I knew anyone who was interested in coaching there. I was a dean at the time and one of the positions they needed was a dean so I said that I might be interested in that. When I would go home to Joliet, I could see them building that building. I told her that I had wanted to see the building, so I might as well work there and I got the lead coaching job, not the head coaching job, so I had to reinterview again for that. We had the Fox Valley Wrestling Club, which was an outstanding kids club, but no one was coming to Neuqua, even though they were using our room. After a few years, I went to the parents and we talked about going with our own club and then we built up that program. I was there for 19 years as head coach and I think that we were ranked in 13 of those years."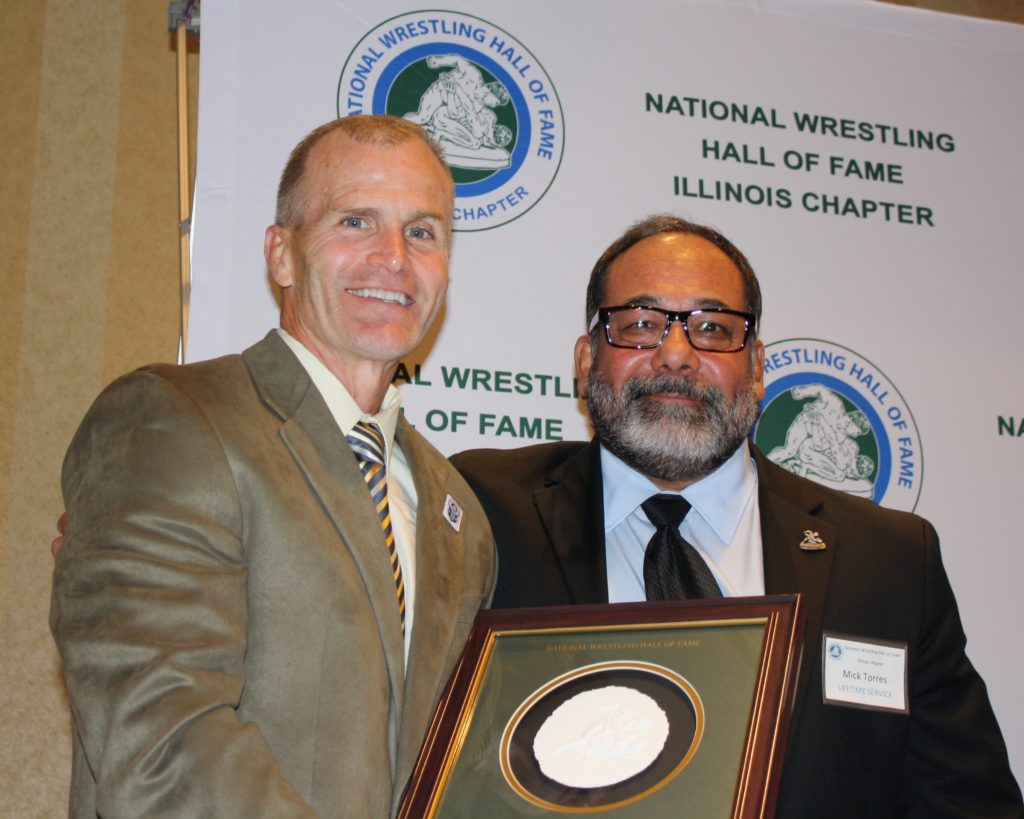 Mick Torres
Lifetime Service to Wrestling
Mick Torres has been involved with the Illinois wrestling community since 1975 as a competitor, head coach, official and athletic director. It has been in the area of wrestling tournament management, however, that Mick has made his greatest contribution to the sport.
Starting in 1994, along with his brother Dave Torres, wife Lisa Torres, and other family members, Mick and his management team at ILWrestle.com have managed more than 200 high school tournaments, mostly in the counties of northern Illinois. When not working on the weekends in high school gyms, Mick has provided training, troubleshooting and consulting on all aspects of tournament management for other tournament directors and the IHSA.
Notable tournaments Mick and ILWrestle have run multiple times include: Al Dvorak Invitational at Harlem; Berman Holiday Classic at Palatine; Moore-Prettyman Invitational at Barrington; Rex Whitlatch Invitational at Hinsdale Central; Leyden; and Hoffman Estates and more than 70 Conference, Regional and Individual Sectional Tournaments, mostly in the northwest suburbs.
Back in the mid-1990s when handheld digital cameras first became popular, Mick was one of the first to snap a photo of the tournament champ getting his hand raised by the official and then quickly transposing it on to a printed awards bracket.
Mick wrestled at Yorkville High School, placing fourth at 98 pounds as a freshman in 1976 and third at 126 in 1978, and he was a state finalist in 1979 at 138 lbs. He was a valuable team member on a Yorkville squad that won the IHSA Team Wrestling State Title in 1976 and finished second in 1977, third in 1978 and second in 1979. Mick finished his high school career with a 102-15 record. He was also an NEC All-Conference tailback in 1978, setting a school record with 16 touchdowns his senior year.
Mick would go on to wrestle at Northern Illinois University, where recurring shoulder injuries ended his competitive career. He graduated in 1983, received his bachelor's degree and teaching certification and went on to teach physical science and become the head wrestling coach at Lake Zurich High School. Mick coached three state place winners and Lake Zurich High School's first state champion in any sport, Al Strobl, at 160 pounds in Class AA in 1991. During his tenure at Lake Zurich, Mick obtained his master's in Educational Administration in 1990.
Mick left the classroom and coaching to become Lake Zurich's assistant principal/athletic director from 1991 to 1994. He returned as an assistant wrestling coach, assistant principal and technology director at Antioch High School from 1994 to 2003 and finished his 37-year career in education as District 128's (Libertyville/Vernon Hills High Schools) Educational Technology Director, retiring in 2022.
Mick was also an IHSA Wrestling Official from 1993-1996. He was nominated for IWCOA Administrator of the Year in 2010 and 2019 and was inducted into the IWCOA Hall of Fame in 2016. Since 2015, Mick has served on the Executive Board of the IWCOA and serves as Secretary on the Board of Directors of the Illinois Chapter of the National Wrestling Hall of Fame. He also currently serves as the announcer for the IHSA Individual, Dual and Girls State Tournaments and most recently served as announcer for the Midlands.
Mick and his supportive wife Lisa have four children (Amanda, Ashley, Zack and Ray) and five grandchildren (Allie, Sophie, Connor, Willow and Benjamin).
"I started out in my speech recognizing my two greatest supporters… I'm just really fortunate to still have my parents around," Torres said. "Mom (Sophie) and dad (Ray) are going to be celebrating their 68th anniversary and they're 89 and 92. I just think to be honored in this way with them there was obviously for me, just so big. And also to have my brother Dave there. Dave was the one that really got me started in tournament management work. He encouraged me to be a teacher, he encouraged me to be a coach and he encouraged me to go on and get into school administration. Ultimately, we both got to that point where we couldn't coach any more because we were both school administrators, so we were like, 'let's do that one thing that we're really passionate about, and that's running a great wrestling tournament."
"Back in the 1980's there really wasn't a lot of software back then to run tournaments, so Dave and I both thought that we could do a better job. So we started ILWrestle and I think our first tournament was 1994, so it's been going on 30 years that we've been running these tournaments, and that's a lot of tournaments. We've got some great roots and both of us are just real passionate about the sport and are lucky that we've been able to give back in a unique way. I tried officiating for a little while after I got out of coaching, but it seemed like the tournament work was just that much more fun. It was the opportunity to see anywhere from 12 to 16 to 20 new teams every weekend. And to see all of the coaches and have an opportunity to interact with officials and just all of the people involved. Both of us ran the same tournaments every year and when you'd go to the Dvorak or Whitlatch year in and year out you know everyone there, from the A.D.s secretary to all of the tournament workers and parent volunteers. It really became where every weekend we had something to look forward to and seeing so many friendly faces. The Berman was our longest legacy with Al and Sally. It started out as a 16-team tournament and grew into a 32-team powerhouse and at one point was rivaling the Dvorak." 
"In the IWCOA, we work hard and we're always looking at ways where we can advance this sport. Now there are a growing number of tournament opportunities for girls and the boys Fresh/Soph Series is another great example of some of the great things that the IWCOA is doing. It's really giving kids and coaches something to look forward to once the regular season is over. The whole Board of Directors of the IWCOA and the NWHOF are just a fabulous group of passionate, hard working individuals that I'm honored to work alongside."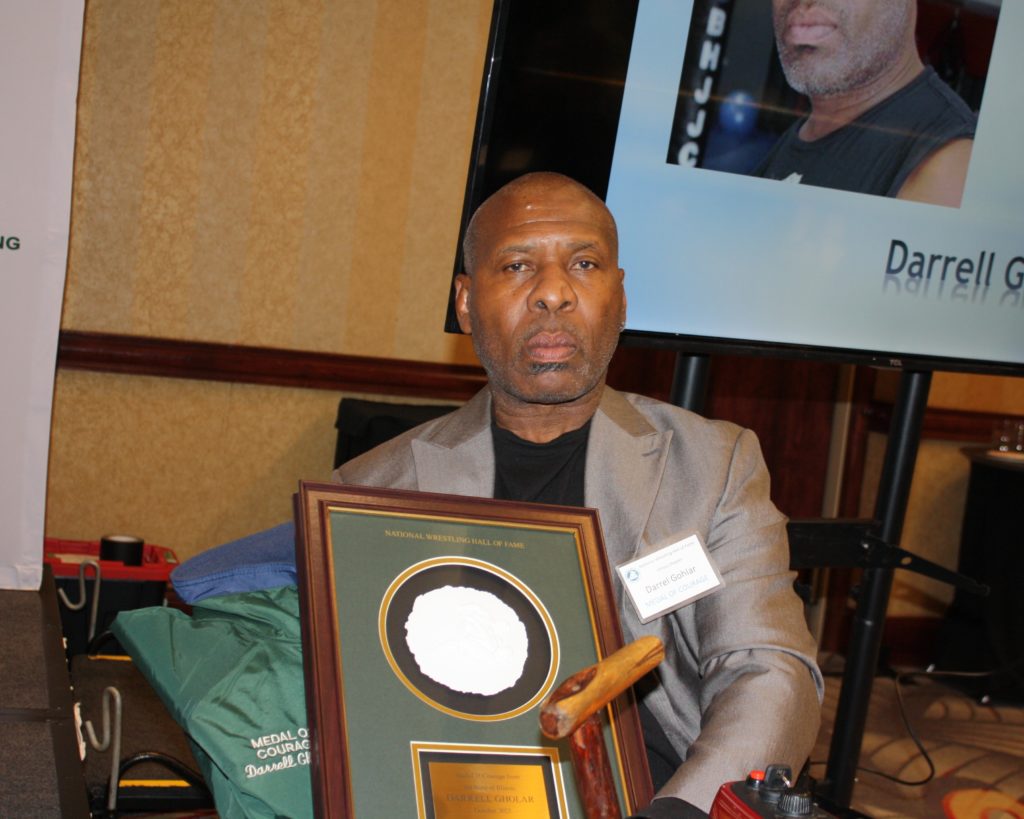 Darrell Gholar
Medal of Courage
Growing up in Chicago, Darrell Gholar attended Chicago Dunbar Vocational High School, where he wrestled and played football. He was an IHSA Wrestling State finalist in 1980 and AAU Wrestling National Runner-up and was named captain of both the football and wrestling team.
After graduating from Dunbar, Darrell attended the University of Minnesota and started his collegiate wrestling career. There he was named to the Freshman All-American Team and served for two years as Minnesota Wrestling Team Captain. Darrell graduated from Minnesota in 1985 with a Bachelor of Arts degree in world literature.
His desire to wrestle moved forward as he became a three-time United States Greco-Roman National Champion, an alternate for the 1988 Olympic Team and Captain of the 1986 United State World Team. He also served as assistant coach at the University of Minnesota in 1985-1986 and as assistant coach at Drake University in 1986-1987.
Darrell then became a successful professional fighter, starting his professional fighting career in 1998. In 2000, he captured the World Vale Tudo Championship. A middleweight champion, he vacated the title in 2001 when he retired from professional fighting.
Darrell also became a finalist for a Jerome Fellowship in playwriting. He was a Walt Disney Pictures screenwriting fellowship recipient, where after completion he was offered a position writing for Walt Disney Pictures Touchstone Division. While writing for Disney, Darrell wrote and directed "The Dancer" at the Ivar Theater in Hollywood.
He then co-produced "Looking for Bruce," a full-length feature film. In 2003, Darrell was named one of the world's top 200 living poets and was invited to read in Washington D.C. at the National Society of Poets 2003 National Convention.
In 2013, Darrell suffered a massive stroke due to high blood pressure complications. He was unconscious for several days and when he awoke, he was completely paralyzed on the right side of his body. Doctors were shocked he had survived and told him they were surprised he could even talk.
Darrell faced the huge task of rehabilitation; in his words, "I was so scared. I started working out right away. It was the only thing I knew to do." Insurance limits would restrict his rehabilitation, but Darrell approached his rehabilitation with the same gusto he did throughout his wrestling and fighting career. He would work out two or three times a day, research for information about rehabilitation of his condition and did all he could do each day to improve himself.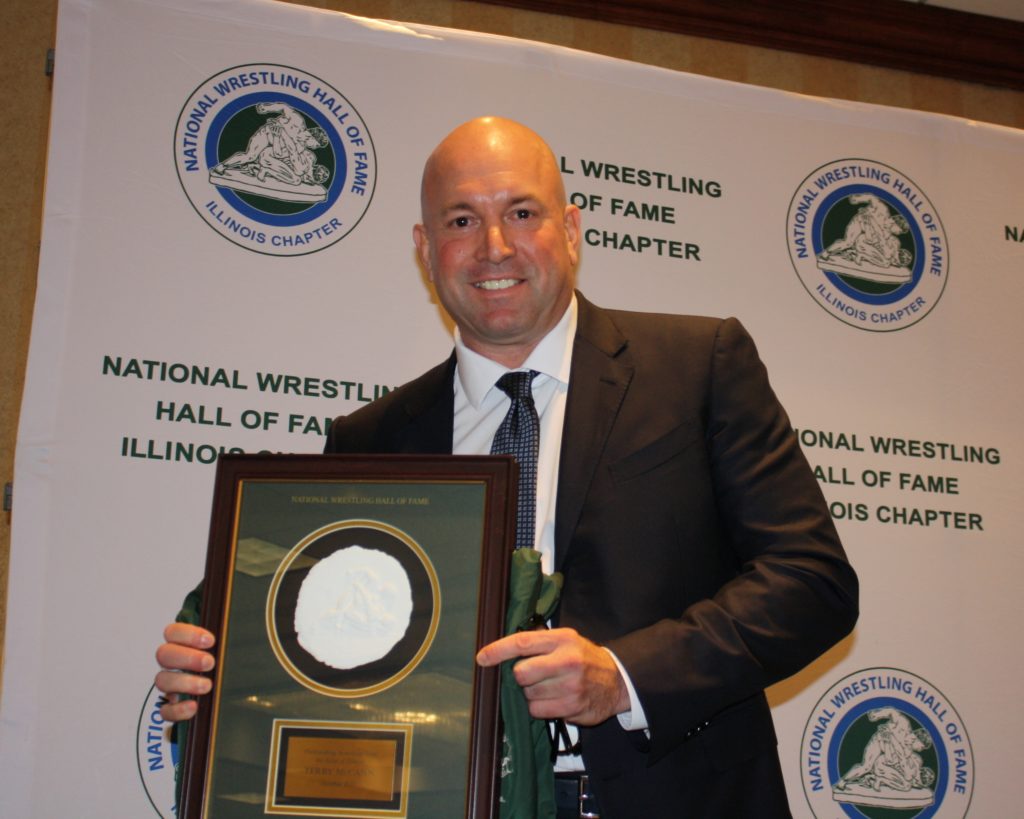 Terry McCann
Outstanding American
Terry McCann attended Notre Dame College Prep High School when he wrestled for Hall of Fame coach Augie Genovesi. At Notre Dame High School, Terry was captain of the football team under legendary coach Mike Hennessey and coach Augie's wrestling team.
Terry was a two-time Regional Wrestling Champion, Conference Champion, Cadet Greco-Roman State Runner-Up, Cadet National team member and IHSA state qualifier in 1994. In 2016, Terry was inducted into Notre Dame High School Hall of Fame.
After Notre Dame High School, he continued his education at the University of Iowa, graduating in 1998. After graduation from the University of Iowa, Terry entered the Insurance Industry, beginning his career with AIG then CRC as a wholesale broker where he worked his way to vice president, senior vice president, and ultimately president of the Chicago office.
In 2010, working with partners Tim Turner and Ed McCormack, they joined legendary entrepreneur and founder of AON Corporation, Pat Ryan. Together they formed Ryan Specialty, a wholesale insurance brokerage and specialty insurance underwriting platform, that structures complex insurance programs for large corporations.
From infancy, they developed RYAN (NYSE) into a multi-billion dollar global leader in the specialty insurance business. Terry serves as president of the RT Chicago office, one of the largest business units for RYAN which has a market cap of over $12 billion.
In 2021, Terry and his partners led RYAN Specialty to a listing on the New York Stock Exchange. RYAN (NYSE) was the second best performing IPO of 2021 with over 700 listings on the NYSE that year.
Terry is recognized as one of the leading professionals in the industry, garnering numerous awards including National Broker of the Year in 2018 by Business Insurance magazine as well as 2017 Construction Broker of the year by Insurance Business America Magazine. The entire office was honored nationally in 2020.
Wrestling has had an indelible influence on his life and his wrestling roots run deep. Terry's brother Kevin has been honored with the National Wrestling Hall of Fame's Medal of Courage for his bravery, and his father Dennis is an Illinois Wrestling Coaches and Officials Association Hall of Fame inductee as a coach, as well as in the Chicago Catholic League Hall of Famer. Terry's Mom Jane, an accomplished nurse, has always been a leading inspiration for him. He has never seen anyone as tough and loving as her.
The principles of wrestling – toughness, perseverance, persistence and commitment to excellence – has been his guiding philosophy for his successful business career. Terry uses a familiar Dan Gable quote in tough times: "After wrestling, everything else is easy". Work ethic, leadership and emotional intelligence define Terry's style.
Although his corporate executive position places a heavy demand on his time, Terry still finds time for multiple philanthropic endeavors. He is a financial supporter of Beat The Streets, Boys and Girls Clubs of Chicago and has funded scholarships and financial aid for students and athletes at Francis Xavier Warde School, Saint Ignatius College Prep in Chicago and Notre Dame High School. He has served as a director of the Evans Scholars Scholar Foundation since 2013.
Terry lives in Chicago with his Wife Eileen and children Colin (15), Caroline (13) and Kevin (11). Above all else, he loves his time with his family and all their activities and athletics.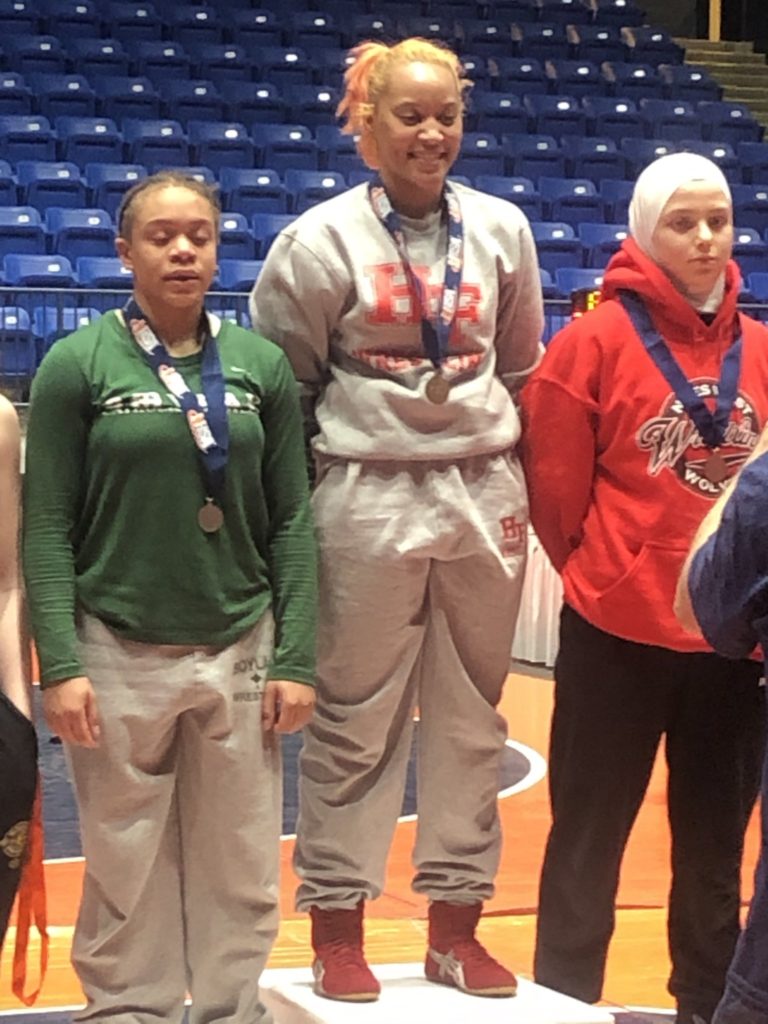 Attalia Watson-Castro
Tricia Saunders High School Excellence Award
The Illinois Chapter of the National Wrestling Hall of Fame honors Attalia Watson-Castro, a Homewood-Flossmoor High School graduate, as its 2023 recipient of the Tricia Saunders Excellence in Wrestling Award.
The award is named for the four-time World Champion and women's wrestling pioneer. Saunders was the first woman to be inducted as a Distinguished Member of the National Wrestling Hall of Fame in 2006 and was inducted into the United World Wrestling Hall of Fame in 2011. Each award recipient is evaluated on excellence in wrestling, scholastic achievement, character, citizenship, and community service.
Attalia is two-time IHSA State Girls Individual Champion, winning the title at 135 pounds in the state's inaugural year of 2022 and then again in 2023 at 130 pounds. She also won two girls' state folkstyle titles, at 135 in 2022 and 130 in 2023. In Fargo Freestyle competition, Attalia earned All-American honors by finishing fourth at 135 in 2021.
In addition to her outstanding wrestling career, Attalia was involved with her school's Food Drive as well as coaching several youth sports.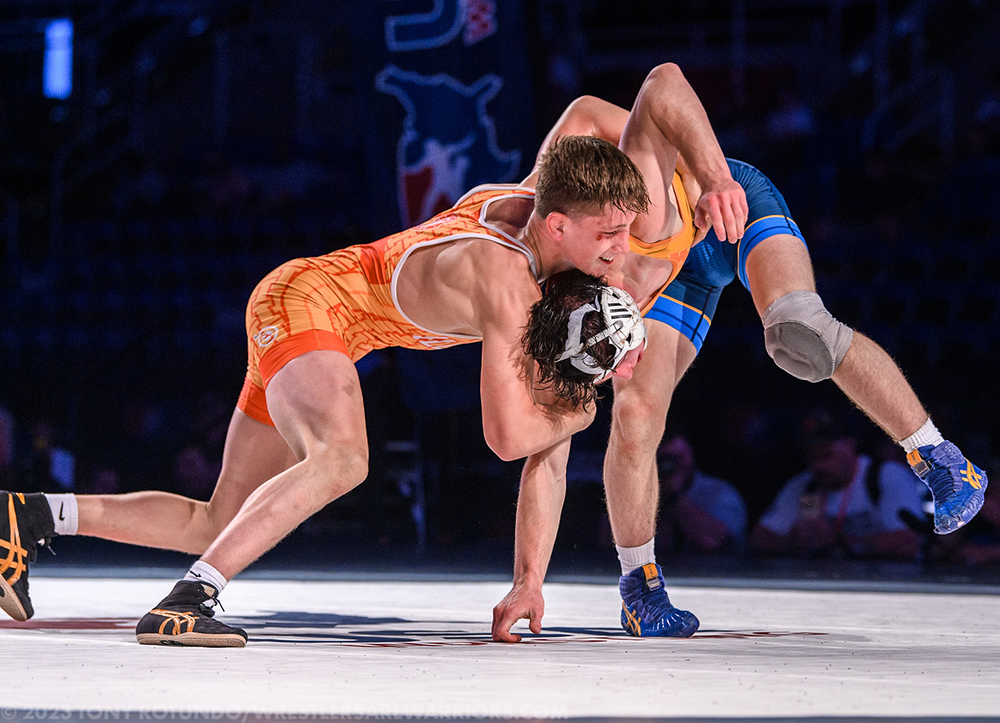 Kannon Webster
Dave Schultz High School Excellence Award
The Illinois Chapter of the National Wrestling Hall of Fame honors Kannon Webster, a Washington Community High School graduate, as its 2023 recipient of the Dave Schultz Excellence in Wrestling Award in honor of the late Olympic and World Champion.
Each award recipient is evaluated on excellence in wrestling, scholastic achievement, character, citizenship, and community service.
Kannon is a three-time IHSA State Champion for Washington Community High School, winning titles in 2023 at 145 pounds, in 2022 at 132 pounds and in 2020 at 106 pounds. He also helped the Panthers to capture the 2023 IHSA Class 2A Dual Team Tournament title with a 28-27 victory over Joliet Catholic Academy.
In international style competition, Kannon is a six-time Fargo Nationals All-American. In Freestyle competition, Kannon has four Fargo National All-American finishes including winning the 145 pound championship last summer.
In addition to his Fargo success last summer, Kannon won the U20 Pan American Championship, finished second in the U20 US Open and second in the U20 World Team Trials Tournament.
In Greco-Roman competition, Kannon is also a four-time Fargo All-American including winning the last two championships. His 2022 title included him being named the tournament's Outstanding Wrestler.
Kannon was a member of the Washington High School National Honor Society. He has helped out with the Washington Youth Wrestling Club as well as volunteering with the Special Olympics. He is continuing his wrestling career at the University of Illinois.