Wrestling Officials Clinics begin Oct. 8 – Don't miss your opportunity to support Illinois wrestling and earn income!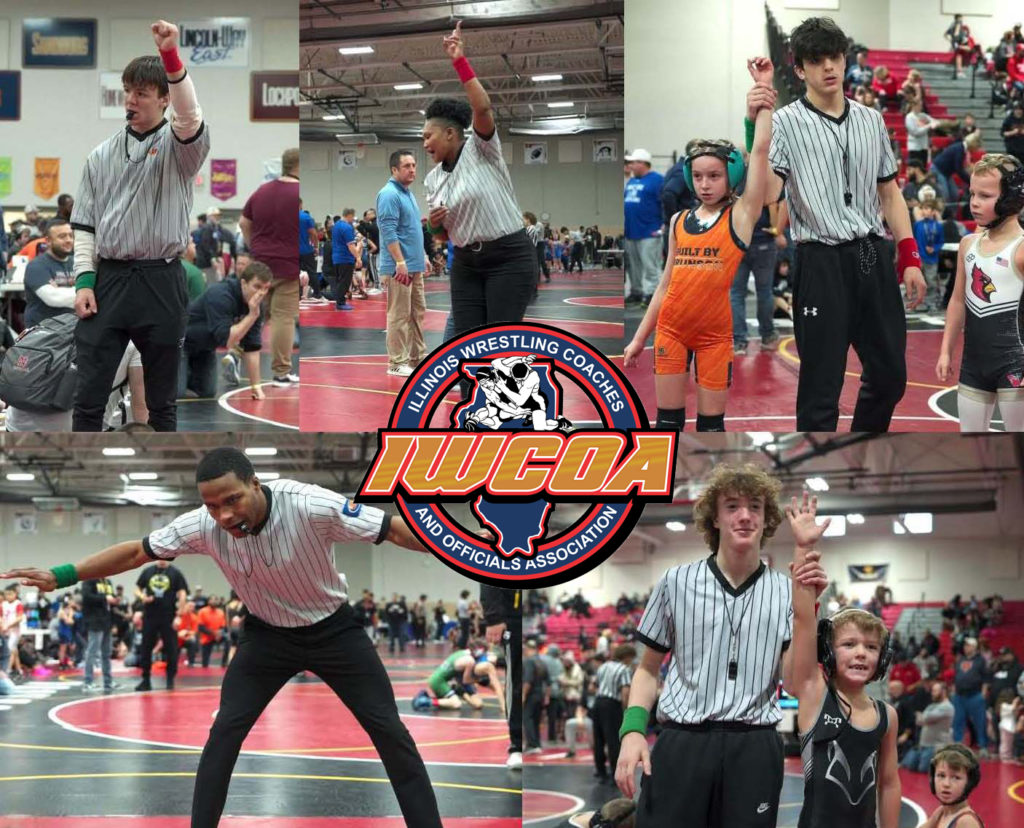 The Illinois Wrestling Coaches & Officials Association (IWCOA) needs wrestling officials!
Becoming a wrestling official is a great way to support our great sport and get paid to do so. Beginning wrestling officials can schedule the days and times that they want to work. During the week, an official can make $62-$109 per day, $150-$280 on Saturday, and $150-$250 on Sunday.
For example: If you work Thursday, Friday, Saturday, and Sunday you can make $424-$748 for the week!
The IWCOA provides free training for first year officials. Please visit IWCOA.NET, choose the officials tab and then choose "Interested in becoming and Official". Alternatively, you can scan the QR code below with your cellphone camera, complete the interest form, and we will contact you with more information.
For more information on how to become an Illinois wrestling official, visit us at https://iwcoa.net/officials/.
2023 Wrestling Clinics and Live Rule Interpretation Meetings
Sponsored by the IWCOA
The IWCOA in cooperation with the IHSA is pleased to announce 2023-24 season wrestling officiating clinics and live rule interpretation meetings that will accommodate both beginning and experienced officials. The IWCOA has a long-standing tradition of supporting better officiating throughout the state of Illinois via their wrestling officiating clinics. Each person attending any of these clinics will receive credit from the IHSA for a Level one/two clinic and rules interpretation.
---
UPCOMING CLINICS
All clinics require you to be an active paid IWCOA member ($35), or to pay an "at the door" fee of $50. It is preferred that you become an IWCOA member before the clinic (saves you $15) and register online at IWCOA.NET. If you choose to use paper and snail mail: memberships and pre-registrations via mail must be postmarked 5 days prior to the event (mail-in form also available on IWCOA.NET). Again, the cost will increase to $50 if paid at the event. Lifetime/Hall of Fame members are not exempt from the membership fee when it comes to clinics ($35 online and pre-registered or $50 at the door).
All clinics will start promptly at 9:00am and conclude at 1:00pm. There will be a free lunch served from 1:00pm until 1:30pm. A live IHSA rules interpretation meeting will begin at 1:30pm.
Please contact your IHSA Head Clinician, Tony Clarke (847-721-1132) or email clarkeanthony@comcast.net if you have any questions.
October 8 – Online
October 15 – McHenry High School
October 15 – Rock Falls High School
October 21 – Mt. Vernon High School
October 21 – Plainfield Central High School
October 22 – Beat the Streets Chicago
October 22 – Mascoutah High School
October 28 – Lincoln High School
October 29 – Mahomet-Seymour High School
November 4 – Naperville Central High School
November 5 – Rockford East High School
November 5 – Springfield (Southeast) High School
November 19 – Online