St. Charles East edges Marmion Academy to win first 3A title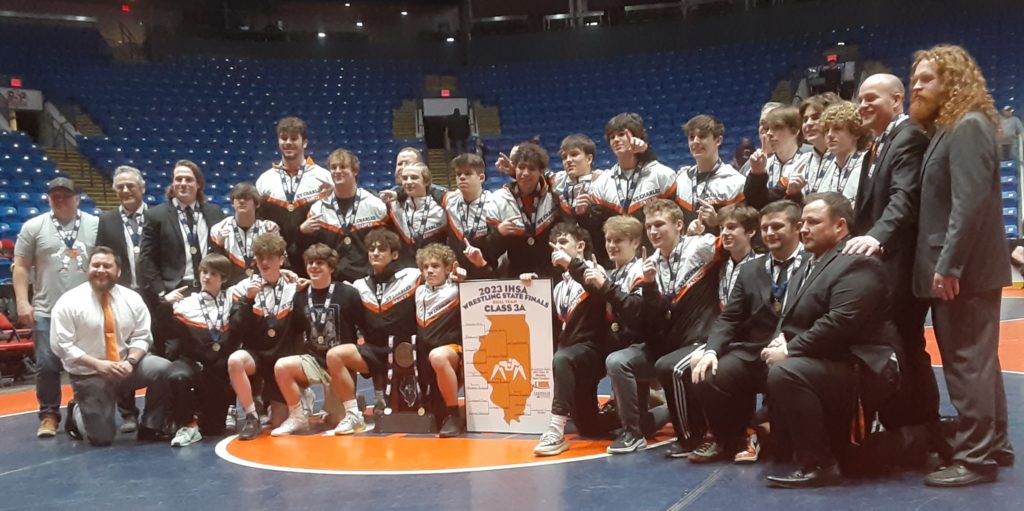 By Mike Garofola.
BLOOMINGTON – Whatever the price of admission, it was well worth the cost to enter the doors of the Grossinger Motors Arena in Bloomington last Saturday.
After the IHSA Class 1A Dual Team State Finals between Coal City and Yorkville Christian thrilled the big crowd with a one-point finish, followed by yet another one-point decision from the 2A combatants, Washington, and Joliet Catholic Academy, there was hardly enough oxygen remaining in the building to survive the drama of the Class 3A State Finals.
In a high-energy and emotionally-charged final between rivals and state powers St. Charles East and Marmion Academy, it would be St. Charles East who would lift the championship trophy, much to the delight of its orange shirt crowd, who would rise from their chairs in unicent to to wildly cheer when AJ Marino recorded his decisive 15-5 major decision in the final match to give the Saints a hard-fought 28-24 victory over the Cadets.
"We talked as a team for the past month about how it was going to come down to each and every point counting in the final results, and that's exactly what happened in our quarterfinal opener on Friday, and again with Marmion Academy in the final," said Saints head coach Jason Potter.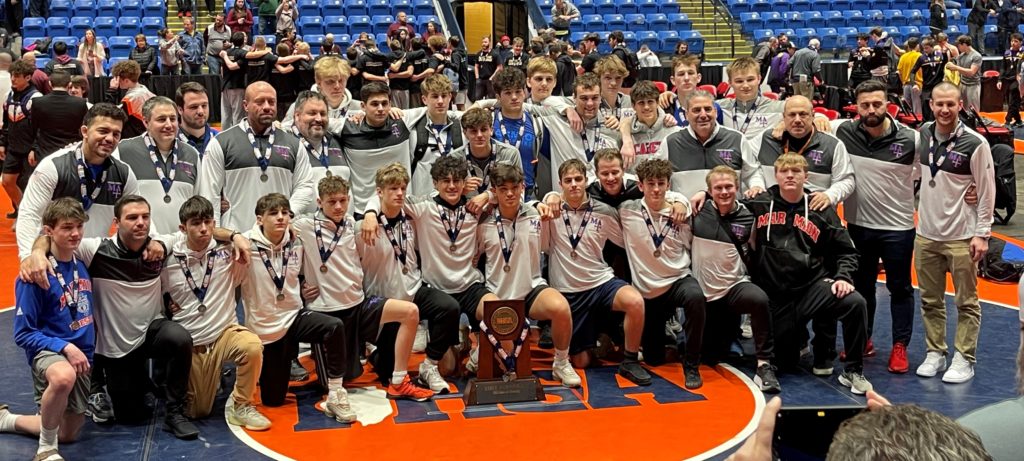 "Our goal right from the start of this season was to position ourselves in a spot where we could qualify as many of our guys to Champaign, and, of course, advance into dual team state where we felt we could compete for a state title," said Cadets head coach, Anthony Cirrincione, whose men did just that by sending 12 to the individual state tournament, and overwhelmed Downers Grove South in its dual team sectional to earn a berth into the last eight standing in 3A play.
A look back to 24 hours prior to the Saints' victory will show perhaps the real story of the tournament for Potters' club who were in the fight for their lives in a quarterfinal contest with another high-profile opponent, Mount Carmel, who had the eventual champs chasing the Caravan right up until the final two bouts of the match.
"Wow," was the first response from Potter, who one day later would wipe his brow and then shake his head when asked about the Mount Carmel contest.
"It felt like a final all throughout, (we) actually won just six of 14," continued Potter. "(Mount Carmel) on paper, was a bad matchup for us, so we knew it would take an entire team effort to get the job done.
"Avoiding bonus points against some of the best guys in the country, much less the state, was an incredible task to ask of our guys but they seized upon the moment, our guys fought to avoid giving bonus points away, and the other guys did well to capture bonus points for the cause.
"We obviously were in trouble, and running out of time, but Brandon (Swartz) came through with a big win at (195) and when (Christian) Wilson kept his loss to just a decision, it set up an opportunity for us to win with Austin (Barrett) and (Dom) Munaretto coming up."
To set the stage for the Swartz, Barrett, and Munaretto heroics: after the Caravan dynamic duo of Colin Kelly and Rylan Breen added seven points to the scoreboard with their respective 17-7 major over Lane Robinson, and 6-0 win over Brody Murray, it gave the Caravan an 11-point advantage at 27-16.
Swartz would save the day for the Saints with his 11-0 major over Michael Baca to draw his teammates closer at 27-20 and neutralize William Jacobson's 9-4 decision one match later over Christian Wilson at 220.
"Mount Carmel was a great team, and we all knew we had to be at our best in order to advance, and for me, to have maybe the biggest match of the year in this quarterfinal, I knew that I had to go out and get a bonus point win to help keep us in the match," said Swartz.
That junior Swartz came through when called upon is a testament to having good health, while feeling your best, both mentally and physically after coming back from an injury.
"I had a sports hernia, which really set me back but during these last few weeks of the season, I've been feeling really well and peaking at the right time also," said Swartz, who finished the year at 23-13.
Austin Barrett (41-10) and 106-pound state champion Dom Munaretto (54-0) got pins in the final two matches to give the Saints a 32-30 victory, which sent them into their semifinal with Yorkville.
"Mount Carmel, Marmion, and us were the top three teams all year in 3A, so when we saw it was Mount Carmel in our quarterfinal on Friday, we all kind of figured it would be a toss-up as to who would move on," admitted Barrett, who will play football next fall at Indiana University.
"It would come down to bonus points and although we only won six matches, we only gave up one bonus point loss, and that's how you stay close to great teams, and win in the end," opined Barrett, whose pin at 2:48 set the stage for his rookie teammate who needed just 1:42 to close out the Caravan.
The smashing success of Marmion Academy, and the Saints in their respective semifinals, made it clear as to who were the rightful participants in-this, the 39th dual-team state tournament.
The Cadets, after their 36-31 win over Hersey in its tournament opener, sent off a stubborn Lockport club, 36-30, scoring the last 17 points to dash the hopes of the Porters of advancing to the championship meet for the second time.
Teddy Perry jump-started the Cadets' strong finish with a tech fall at 220, followed by back-to-back pins from heavyweight Sean Scheck and freshman Nicholas Garcia at 106.
"We came here to get in the final so all of us knew we had to go all out right from the start of the tournament in order to achieve that goal, and have the chance to become state champions," said Perry, who finished a marvelous career with a 43-8 record this season, which included majors at the CCL and regional tournaments.
The Cadets senior will attend the University of Chicago in the fall, where he will continue his wrestling career, while also managing the difficult academic life of pre-Med.
While the Cadets were polishing off No. 8 Lockport, the Saints, with a new lease on life, came out of the blocks with the wind in their sails, racing out to a 32-3 advantage over No. 9 Yorkville, en route to an impressive 44-25 victory.
"We were more like ourselves in that semifinal with Yorkville (again) a very good team, but one that we felt if we competed at a level that we know we can, would end up in our favor," said Potter.
Once the final was set in stone, all it took was the shrill whistle from the referee to start, what would be a classic contest – one that clearly defined wrestling – which many outside of the sport believe is just an individual sport, and not one where tactics play a big role in the eventual outcome, where, particularly in a final between two evenly-balanced clubs are fully aware of what one or two points either way can decide the outcome.
Both sides had one mission, to claim the big trophy for the first time for their storied programs.
The final began at 126 pounds, and while many thought the opener would feature the 126-pound state final from a week ago, Ben Davino vs. Jameson Garcia, tactics proved otherwise.
Davino (54-0) recorded a pin, as expected, however the Saints junior was hit for an unsportsmanlike conduct penalty after his victory to erase one of the six points that he earned.
Garcia (44-5) answered with an 11-6 decision over Ethan Penzato, an important result that kept the Saints advantage to 5-3.
"Though Penzato lost his match, the fight he showed to avoid bonus points against a nationally-ranked, and three-time state finalist was impressive, and, in the end, helped us win this thing," said Potter.
The Saints (22-1) were back on its front foot, using a 14-10 victory from state runner-up Tyler Guerra (49-6) over Brody Kelly, followed by a major decision win by 145-pound state champion Jayden Colon (44-5) over Santino Scolaro to increase the lead 13-3.
Cirrincione would correctly point out the valiant efforts from both Kelly and Scolaro to stay away from techical falls and pins would help the cause.
Senior Tegan Chumbley (21-18) recorded an important win over Gavin Connolly, using a nearly two-minute second period ride to insure his 2-1 triumph.
Collin Carrigan (27-8) who fought all throughout the weekend in Champaign, only to come up short in his bid for a state medal in the 152-pound weight class, did all that he could to add extra points to the Cadets side of the scoreboard, only to have Anthony Gutierrez, who placed sixth, concede to a 10-7 result.
This see-saw battle would continue with the Saints' duo of: Lane Robinson (39-17) and Brody Murray (40-7), both state medal winners a week ago, giving their club six points after their tight, tense decisions over Michael Phillips, and freshmen, Joey Favia at 170, and 182.
"I am beyond proud of Lane, who, from the very start was a young man who we all knew would be special, he was great in the room, got through some early season struggles, and had a tremendous finish to his season," said Potter.
"We received so many great efforts from guys who were battling state medal winners, which helped us stay close before our upper weight guys could take over," said Cirrincione.
Jack Lesher (37-6), the state champion at 182, would provide the inspiration for a 12-0 run from the Cadets, with teammates Teddy Perry, and Sean Scheck helping their club to overcome a 19-9 deficit.
"For some of us, this was the very last time to be wrestling, so we were 'all in' for this final, with a shot at history for the Marmion Academy program," said Perry.
When Scheck (38-9), who third at state at 285, used a takedown with 30 seconds left to outlast Austin Barrett 6-1, it marked the second time in a week the senior beat Barrett, with the first coming in the wrestleback semifinals.
"Austin is one of my favorite stories this season because he was a big-time football recruit who fell in love with our sport, and despite people telling him to forgo wrestling to focus on football, he continued to work hard, and took a lot of pride in knowing he is a very good wrestler, who will now have a great collegiate career in football," Potter said.
The Cadets fans, despite watching their short-lived 21-19 lead disappear after their club gave Dom Munaretto a forfeit win at 106, sensed the chances for their heroes were to rise with freshman Nicholas Garcia (32-6) facing the Saints' Wrigley Schroeder.
A super quick takedown from Garcia thrilled the Cadets' faithful, believing a pin would eventually come from the rookie sensation, but Schroeder defended with all his might, conceding a penalty point for stalling, while crafty enough not to allow his opponent to turn him to his back.
The 6-0 victory drew both clubs level at 24, with AJ Marino waiting patiently in the wings against Donny Pigoni.
"Wrigley has been a part of our lineup for years, and is the youngest of three who have wrestled for us," said Potter. "(Wrigley) did a great job of staying focused when his individual goals were not met for the season to win some big matches to help us get here, and against Nicholas, although not 100 percent healthy, fought hard to avoid bonus points to put us in position to win this final with just a decision."
Marino (43-10), who was third a week ago in Champaign, and figured this contest would come down to his result – was pacing like a caged lion in anticipation of his match with Pigoni, and when called to the mat, the Saints senior raced to the table as if hurled through the air via catapult.
"I was just awful in my 8-6 loss in our semifinal against Yorkville, it made me so upset, that I went back to the hotel and just screamed while in the shower to let all of my emotions out for good (knowing) that I had one more chance coming to make a difference tonight," admitted Marino, who moved with his family from Texas during the offseason.
"We didn't know what to expect from AJ, but I am very proud of the growth he has shown, both on the mat, and as a person," Potter said.
"He thrived in pressure situations, and there could not have been any more pressure on him when this final came down to his match – likely the biggest pressure cooker he's ever been involved in, he believed in himself, and took care of business."
Indeed. Thirty seconds into this 120-pound contest, Marino registered a takedown, then went about adding points through takedowns that brought a chorus of two's from the Saints faithful, who stayed on their feet all throughout an impressive second period of scoring, right up until the final whistle with a 15-5 score in favor of Marino, who lept into the arms of Potter.
"I had so many tears of joy when I got that big hug from Potter," admitted Marino, who was nearly crushed by his teammates after his win gave the Saints a 28-24 victory, and its first-ever state title.
"This was an amazing night for St. Charles East wrestling, one that we have pointed towards from the first day we got together," began Potter.
"We always thought we had a chance, and the turning point in the season for us came when we lost to Joliet Catholic Academy, that loss drove home the point that every point counts in a dual, and everyone needed to do their job, just as they did this weekend."
"We couldn't sit back and count on our superstars to bail us out, and from the loss to JCA, the focus, and drive took off, and we began to build confidence as the season went on.
"(Marmion) has so much talent, and an unbelievable coaching staff that put together a game plan that kept us at bay, and after we got our emotions back in check, it became as tight, and intense of a final that everyone expected so hats off to Anthony, his staff, and team, especially a young man like Jameson Garcia, who gave it all that it had tonight."
"With regards to Jameson, replacing him will be impossible," began Cirricione.
"He has every quality you want in a young man, and more, he had great success here with us, and will continue to do so when he moves on to Harvard."
"The program will move forward, and other men will carve out their own paths to becoming the great wrestler like Jameson is, and was."
Cirrincione will look to replace just a handful of seniors in addition to Garcia, Tyler Aters, Michael Phillips, Scolaro, Chumbley, Perry and Scheck, but the man in charge of the Cadets will have plenty of marvelous men back to lead the way.
"Of the next group of guys, Jack Lesher is our undisputed leader. He was our vocal leader all throughout the season, and is one of the best young men you will ever come in contact with."
Donny (Pigoni) and Collin Carrigan will continue to lead with their relentless dedication to the sport, they have tunnel vision with regards to their goals of becoming great at wrestling."
"Nicholas (Garcia) is already carving his own path to glory, and is a different kind of competitor, doubt him, and doubt his will at your own peril. He can rise to the occasion like few I've witnessed."
Cirrincione and his staff would not use the absence of the injured Zach Stewart (32-6) at 120, who may have made a difference if the talented freshman was able to compete.
"Zach is another kid that just loves to wrestle, and he will become a star very soon as well," Cirrincione said. "Losing him at the end at state was a real disappointment for all of us, especially Zach, and do we believe the dual might have had a different outcome if he competed. well, that is irrelevant."
"We came out and competed and fought until the very end, we just fell a little short, but man, did our guys compete!"
The Cadets (18-2-0) who would trade the top spot in the IWCOA polls all season long with the Saints, brought home their fifth state trophy in their ninth trip, with the last coming in 2019 when current assistant, Nathan Fitzenreider, led the club to a third place finish with an overall record of 22-3-0.
"The seniors that will graduate made their presence felt, and that presence will remain as our programs continue to improve, it's a family here, and all these boys will be a part of each others' lives forever, that's what makes Marmion wrestling so special," said Cirrnicione.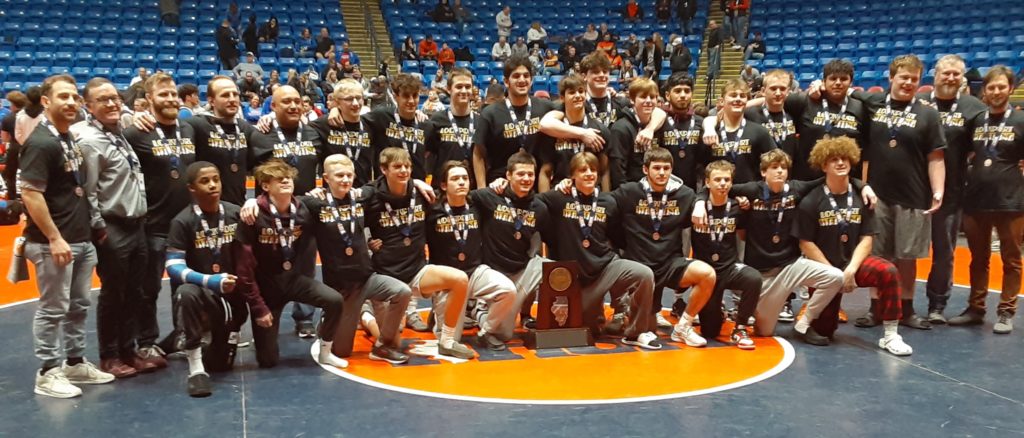 The driving force behind much of the success at Lockport Township for several years has come from the Oster Family.
Brothers Jake, Jameson and Shayne Oster collected eight state medals from 2004-2016 at Lockport Township, which included one individual title for each one, so, perhaps it was only fitting it would be an all-Oster meeting when the Porters and Yorkville met in the center circle for the third place match.
Jameson, the new man in charge of his alma mater, defeated Jake, the head coach at Yorkville, 45-16, to claim the Porters' fifth state trophy, while Yorkville earned its sixth in program history, but first as a 3A team.
It was the first time in state history that teams led by brothers met in the state finals. A year ago, the Porters, who were then coached by older brother Josh, defeated Yorkville in the sectional, in the first time in state history that squads that were led by brothers squared off to see whose team would go to state.
"This wasn't about an Oster vs. Oster dual, or family bragging rights, it was a match between two programs that had a very successful year, with both having very good rosters who worked hard to earn state trophies," said Jameson Oster, who won a Class 3A title in 2009 at 119 to finish with a 41-6 record.
"I was really excited to have our guys wrestling Jameson's team, they were a little better than us to go home third overall, but I am really proud of my team for the season they've had, and happy for Lockport as well," said Jake Oster, who won a Class AA title in 2004 at 112 to finish with a 40-2 record.
Both clubs would easily advance to Bloomington with lopsided sectional victories, Lockport Township won 42-22 over Lincoln-Way West while Yorkville dispatched Edwardsville 35-23.
"It's been an interesting year for us to say the least, the boys overcame some adversity, but kept their heads down, stayed the course to get themselves here this weekend, so, obviously, I am really proud of the effort put forth by these guys," said Jameson Oster, who watched Brayden Thompson, No. 1 in the nation at 182, transfer to Stillwater High in Oklahoma just after the new year.
"It was such a hectic season for us, but this was a very good team, that had a great season, and although we did not get into the state final, I am very proud of our third place finish, and it's something we should all be happy with," opined senior, Logan Swaw, who fell short in his bid to win a state title to Conant's top-ranked Ethan Stiles in the 160-pound final.
The Porters senior finished his brilliant career with a 48-2 overall record, and will continue on to the University of Illinois.
"The fit here at Illinois is with (Michael) Poeta, and the proximity to home, plus knowing the field that I will go in (Kinesiology) is something I will thrive in (here) at Illinois because of the excellent program they have," said Swaw, who hopes to be a Physical Therapist one day.

"(It) was a great finish to our season," said Jake Oster. "The guys worked really hard this season, we had a very good start to the year, struggled a little just before the new year, but bounced back to finish strong to get to team state, and it was really fun having our guys go against Jamesons' at Lockport."
The Foxes won 14 of their first 15 dual meets and then dropped four straight to state powers Marmion Academy, Lockport Township, DeKalb and St. Charles East, before winning out to advance to state.
"We have a lot of young guys on the team who really stepped up to do well on the varsity this season," said Hunter Janeczko, who finished 24-6 and was one of just three seniors on the big roster.
All of the lower weights for the Foxes are either freshmen or sophomores, including sophomore Jack Ferguson (43-12), who was one win away from placing in Champaign.
"The goal is always to be on top of the podium in Champaign, and although I fell short, I feel like I helped Ben (Alvarez) as much as I could to win his state title at 220," said Janeczko, whom Alvarez (42-2) heaped plenty of praise onto the shoulders of his teammate as a big reason for his state title. Janeczko finished fourth at 195 while sophomore Luke Zook (44-8) was third at 170 to give the Foxes three state medal winners.
Despite seeing the end to their seasons come far too soon, the performances of Hersey, Mount Carmel, Warren Township and York during this season hints of a continued bright future for all four clubs.
Perennial state power Mount Carmel, which, as noted, came 'this close' to advancing into second-day action. With 10 of its starting lineup back next season, there's little doubt that head coach Alex Tsirtsis will conjure up another magnificent season, which should include plenty of team, and individual hardware.
"The coaching staff (here) is the absolute best, and with so many guys back, there's no doubt in my mind that Mount Carmel wrestling will be a power next year," said four-time state champion Sergio Lemley (37-1), who will wrestle in the fall at the University of Michigan.
The Caravan (10-4-0) who were the No. 3 team before the state series began, will have five returning state medal winners back, beginning with state champ Seth Mendoza (39-2) and followed by a terrific group of teammates.
State runners-up Edmund Enright (21-4), and Colin Kelly (28-3) will challenge for the big prize, as should Damian Resendez (24-12) and Rylan Breen (25-11), who both earned fifth place state medals while freshmen Liam Kelly (26-14) fell one win short of a medal.
As young as Mount Carmel was, so was coach Brad Janeceks' club from Warren Township.
The Blue Devils (15-5-0) who cruised into their first dual team state appearance in program history, did so with a starting lineup made up of just two seniors, and a pair of ultra-talented freshmen who made their mark during their rookie campaign.
Aaron Stewart (45-2), who at various times in the year was near, or on top of the 152-pound weight class, made a strong push towards winning it all in what was a first class 16-man field, until claiming third overall.
Another freshman, Royce Lopez (39-13), a state qualifier at 160, lost in the quarterfinals of wrestlebacks and was unable to join Stewart on the podium.
Sophomore Jonathan Marquez (106, 34-10) advanced to state as did senior Evan Onstad (32-7) who manned the spot at 138 all season long.
"What a great room to be a part of this year, with the new guys that came in, and the unbelievable coaching staff we have, it was no surprise to me that we had the success this season," said Onstad.
Mid-Suburban League champion Hersey (12-5) advanced to its first dual team appearance since 1997 when Rick Mann brought the Huskies to the event.
The Huskies needed to get past long-time league rival Prospect in the dual team sectional to book their place, and did so for the second time this season.
Coach Joe Rupslauk's Huskies will lose a pair of four-year veterans, Aaron Hernandez and Oleg Simakov, who were both state qualifiers and have been key figures in the revival of a program that when both were freshmen, was unable to field a full starting lineup.
Of the seven who qualified to state, five will return, Daniel Lehman, Abdullaokh Khakimov, Esteban Delgado, Max Mukhamedaliyev and Anthony Cambria, who combined for nearly 200 victories this season.
The future looks bright for the York Dukes (24-10), whose exciting 38-32 win over Schaumburg in sectionals ensured the program's first ever state dual-team appearance.
In that contest, the upper weight strength of: Evan Grazzini (195), Austin Bagdasarian (220) and Dominic Begora (285) would score the last (15) points to help the coach Nick Metcalf's Dukes overcome a 32-23 deficit to dash the hopes of the Saxons of their first trip downstate.
Bagdasarian will return for the Dukes, as will Danny Decristofaro (170, 43-9) and the dynamic duo of Zach Parisi (44-6) and Sean Berger (40-4), who finished fourth in state at 132.