Coal City edges Yorkville Christian in 1A dual team finals to win first state title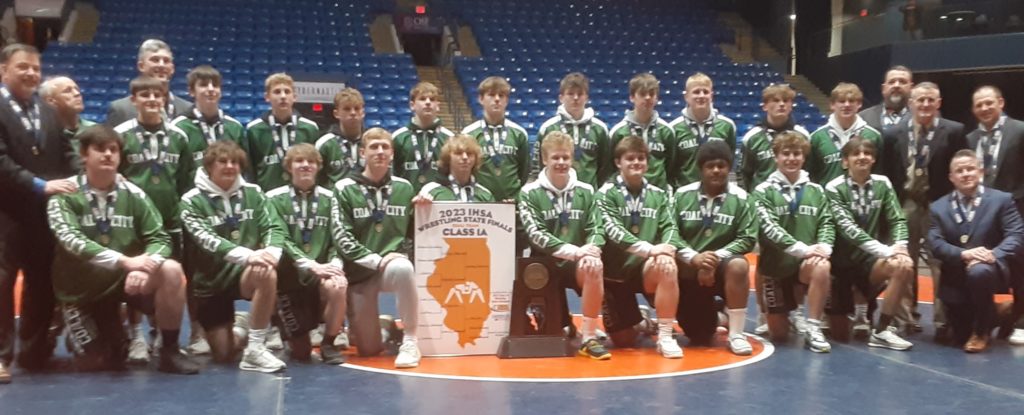 By Curt Herron
The quest for a state championship that began in the first IHSA Dual Team Championship in 1984 and that has seen numerous close calls since that inaugural competition has finally been realized.
Coal City, making its 12th appearance in the tournament and a runner-up on six occasions under four different coaches, finally was able to walk away as state champions on Saturday, but only after surviving a determined effort from the defending champions.
IWCOA Hall of Fame inductee coach Mark Masters had led teams to the finals on three previous occasions and also was an assistant coach on an earlier second-place finisher. To finally capture the elusive state championship, the Coalers would understandably need to wrestle an excellent strategic dual meet in order to deny Yorkville Christian of its second state title during its brief history.
But after the disappointment of second-place finishes in 1984, 1995, and 1998 under coaches George Dare, Sean Poston and Brett Porter, and in 2016, 2019 and 2020 under Masters, the Village of Coal City can now paint its water tower with the proclamation – 2022-23 IHSA Class 1A State Champions – that it achieved with its hard-fought 32-31 victory over the Mustangs, who lost twice against 1A opponents, with a 48-23 loss on December 15 to the Coalers the other setback.
This is the third IHSA championship that has been won by Coal City. The first was coach Ken Miller's 14-0 football team that won the Class 2A title in 1993 and the other was in 2010 when coach Brad Schmitt led a 40-0 softball team to the Class 2A title.
The acknowledged team to beat in Class 1A all season brought a 40-2 record to Grossinger Motors Arena with its only losses coming to top-ranked Class 2A squad and runner-up Joliet Catholic Academy and a Lincoln-Way East team that was ranked in the top 10 in 3A.
After sending all 14 of its individuals to the IHSA Individual Finals in Champaign, Coal City beat Chicago Hope Academy 75-3 to earn its 12th state appearance and guaranteed its tenth trophy with a 65-6 triumph over LeRoy/Tri-Valley in Friday's quarterfinals. Another finals spot was assured with a 46-14 victory over Lena-Winslow/Stockton.
From the time that senior Derek Carlson kicked off the final round with an impressive acapella version of the national anthem through freshman Brody Widlowski's dramatic fall in the next-to-last match that started the celebration for the large contingent of Coalers fans, Coal City put on a near-perfect dual meet exhibition, by getting bonus points, winning close matches and not allowing many big losses.
Coal City received falls in the title dual meet from Mataeo Blessing, Michael Gonzalez and Brody Widlowski, major decisions from Braiden Young and Joey Brenemen and close decisions from Brock Finch and Brant Widlowski.
Yorkville Christian got falls from Jackson Mehochko and Aiden Larsen, a major decision from Tyler Martinez and close decisions from Noah Dial, Drew Torza and Jackson Gillen while Ty Edwards received a forfeit win since the Coalers were up by seven points.
Masters, whose record in 435-149 in 20 seasons, has taken six teams to state since 2015 and all of them have placed in the top three, with his first team and the 2018 squad both finishing in third place. He is assisted by Jim Looper, Nick O'Bert, Joe Widlowski, Greg Keigher and Zach Berman.
"You know what, taking second four times gets kind of old," Masters said. "It was a great senior class and I couldn't be prouder of those guys. They're high class, high character kids who did a great job of leading our program. All the way from our youth program, we've had the right coaches in the right places throughout these kids' careers. And our freshmen, that's our very first group of our tots.
"It was great with Brody Widlowski, and if we pin, it's over. He went out as calm as could be and he executed and put it away. Mike (Gonzalez) doesn't let anything phase him. He goes out and he fights hard and he's explosive.
"Especially at 82 and 95, those guys (Braiden Young and Joey Breneman) came up with big bonus points with seconds left on the clock. You know, that was the deciding factor because they had a stud at 120 so we wanted to make sure we were ahead by seven going into that match. Mataeo has been that guy all year, he's always going, 'hey coach, I want to wrestle that guy. Give me the tougher match at 52.' We want to get the matches we want, and that's exactly what happened. We got the matches that we wanted and our guys did what they had to do to win.
"We had a discussion about how in our society, everybody is always about living a life of comfort, but not these guys. They were built for greatness and I told them, 'you've just got to be you.' It's the same circle like you have at practice at home, don't make it any bigger than what it is, and that's exactly what they did. They just came like it was a regular match, and obviously they knew the implications would be a little bit heavier, Nobody backed down and we wrestled so well."
Yorkville Christian's impressive first two state appearances saw a dominating performance from coach Mike Vester's 23-6 squad that resulted in a championship in its debut in 2022 and then just missing out on capturing another state title in its return visit to Bloomington.
After defeating Riverdale 42-28 to earn its second state trip, the Mustangs, who finished 22-6, captured a 49-27 quarterfinals victory over Auburn and earned their spot in a second-straight title meet with a 47-24 win over Oakwood/Salt Fork in the semifinals.
Vester is 58-13 in his third season of leading the program, which hoped to become the third to repeat as state champions in the state's smallest class since the three class tournament was introduced in 2008-2009, joining Wilmington and Dakota. He is assisted by Brody Vester, Travis Martinez, Michael Esquivel and Nick Loomis.
"They did a good job of keeping points off of the board," Vester said. "Some of the guys we thought we were going to dominate, they did a good job. We left a lot of points on the table. I went back in my head and I think we should have won that dual by seven or eight points.
"We had one real close one that would have been a major decision that would have tied the dual, and we got a major decision against us at the edge of the mat with like three seconds remaining. And they got a reversal and back points and that changed things because literally this came to one point or two points for winning.
"There were a lot of tears today, but not one of them has anything to do with losing the match. It was about losing time with kids that I've been around for so long. And a lot of them are walking away from the sport for good. We have a few who are going off to college to wrestle.
"Knowing that this was their last match and knowing that they were part of our family for so long, that's the stuff that hurts. What I'm blessed for is that I've had these kids and I'm blessed I have some of them coming back and I've got some guys who've been behind them and have been waiting for their chance. There's a culture that's been established. They built the program and it's a tribute to them."
Lena-Winslow/Stockton returned to state for the first time since 2019, when it won its second state championship in three seasons. IWCOA Hall of Fame coach Kevin Milder is 4-for-4 on winning trophies in state finals appearances after the PantherHawks claimed a 40-31 win over Marian Central Catholic to reach Bloomington and beat Canton 42-23 in the quarterfinals and bounced back from their loss to Coal City by winning third place with a 46-23 win over Oakwood/Salt Fork.
Making its state tournament debut, Oakwood/Salt Fork, a co-op of schools in Fithian and Catlin, followed up on its 46-31 win over Anna-Jonesboro to reach state and then coach Michael Glosser's Comets defeated IC Catholic Prep 39-31 in the quarterfinals to assure their program of a trophy. While Salt Fork, Catlin and Jamaica had won state trophies before in sports, Oakwood had not.
Canton (28-10) made its first tournament appearance after beating Kewanee 57-24 in the sectional. Coach Zach Crawford's Little Giants had a banner year qualifying a school-best six individuals for state. This was the third regional that the program had won and first since 2009. Canton lost four duals against 1A teams and three of those were state qualifiers, 1A champion Coal City, 1A third-place finisher Lena-Winslow/Stockton and Auburn, who also fell in the quarterfinals.
Auburn (26-4) was back at state for the second time in three seasons after defeating Cahokia 48-32 in the sectional. Coach Matt Grimm's Trojans made their third state trip since 2017 with the highlight being the last time that they got to state in 2020, when they took fourth.
LeRoy/Tri-Valley (24-2) earned its first state trip since 2014 and its fifth overall after winning 46-27 over El Paso-Gridley in the sectional. Coach Brady Sant Amour's Panthers had won 23 dual meets in a row after suffering their only loss, a 46-34 defeat to Normal Community, on December 1, the first day that they competed this season.
IC Catholic Prep only took part in a handful of dual meets but it defeated St. Laurence 51-28 in the sectional to make its second-straight state appearance for coach Jason Renteria and the school's third overall since 2018. The Knights were one of only two teams who also were at state a year ago, with runner-up Yorkville Christian, the 2022 champions, being the other.
State Championship Meet
Coal City 32, Yorkville Christian 31
Coal City (43-2) and Yorkville Christian (22-6) were ranked one-two throughout the season so it should come as no great surprise that the two programs met for the IHSA Class 1A Dual Team championship at Grossinger Motors Arena in Bloomington and after settling for second its previous six title meets, the Coalers prevailed 32-31 to win their first title while preventing the Mustangs from repeating as champions.
In the opener at 126, Coal City's Brock Finch captured a 4-0 decision over Tristan Gleason and at 132, Yorkville Christian's Noah Dial edged Jake Piatak 4-3 to create an early 3-3 tie.
The Coalers won the next two matches to go up 12-3 as Brant Widlowski got past Grason Johnson 6-4 at 138 and Mataeo Blessing followed with a fall in 0:52 over John Isaac Gray to make it 12-3.
The Mustangs won the next three matches to take their first lead at 13-12 at the midway mark of the meet. Drew Torza was a 3-2 winner on an ultimate tiebreaker over Landin Benson at 152, Tyler Martinez followed with an 8-0 major decision over Jack Poyner and Jackson Gillen captured a 6-2 decision over Derek Carlson at 170.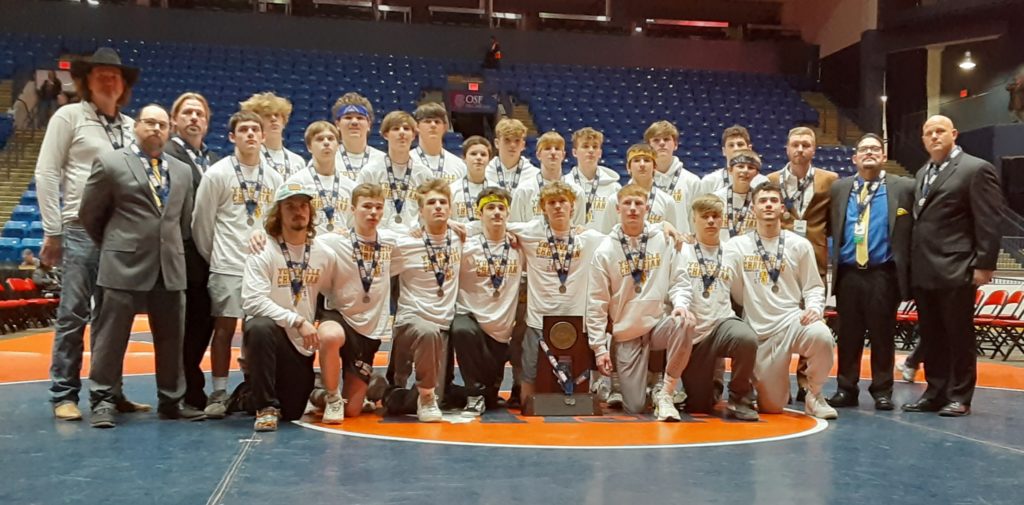 "Yorkville Christian has a lot of solid guys, so some times a win for us was not giving up a pin or a major, and we did that a lot," Carlson said. "If we didn't win the match, we were fighting like hell not to give up bonus points."
When asked which was more difficult, singing the national anthem or wrestling last year's state champion who just missed being a two-time title winner, his answer was surprising.
"The national anthem, for sure, my legs were shaking," Carlson said. "That's why I wanted to take this opportunity because I thought it was super cool.
"We care about each other more than about ourselves. We are a selfless team. We care about how others perform before how we do and that just pushed us further every day in the practice room and on the mat. And we have a great roster of coaches this year."
Coal City responded with two major decisions that came about due to late points as Braiden Young won 16-8 over Jeremy Loomis and Joey Breneman claimed a 10-0 victory over Christopher Durbin at 195 to give their team a 20-13 advantage with five matches remaining.
"It's amazing," Young said. "We have kids that work and we never give up and we always keep fighting and it showed. We have kids that get put to their back, fight it off and keep going. And we have kids who get taken down and then get right back up, they just keep going.
"Bonus points are huge. This is our first state championship in school history for wrestling. It's amazing, we've got the whole town out here, it was a really good experience.We've been together a long time and it's a great thing to see when everything clicks together. I will remember everything. Some times our practices were hard, but you were with your buddies, and especially hanging out with them has been amazing. It's a great group and I'm going to miss them."
"There's nothing like this, it's just awesome," Breneman said. "All of the hard work that we've put in and all of the hard work that he (Masters) put us through and trained us, it feels awesome.
"If you looked at the crowd, we had damned near the whole town here and oh my gosh, it got us so pumped."
After Jackson Mehochko won by fall in 0:43 over Drake Dearth to pull Yorkville Christian to within 20-19, Michael Gonzalez got a pin in 1:11 over Garrett Tunnell to again expand the lead back to seven points.
Aiden Larsen gave the defending champions renewed hopes after he recorded a fall in 3:38 over Culan Lindemuth at 106 to make it 25-24 with two matches remaining.
With Ty Edwards looming as the Mustangs' competitor at 120, it was important for Brody Widlowski to try to get a fall, if possible, in order to make the final match a moot point, and that's just what the freshman went out and did.
Brody Widlowski's fall in 1:36 over Eli Foster made it 32-25 and the Coalers gave a forfeit win to Edwards, making this only the fifth time in state history that a state championship was decided by one point.
On the next mat over in another case of a defending champion seeing their hopes of repeating doomed by a very determined opponent, Washington claimed a 28-27 victory over Joliet Catholic Academy in the Class 2A finals.
That became the sixth title dual meet decided by one point and it made history as the first time in the event's history that two dual meets for titles in the same finals were determined by one point.
Coal City also happened to be involved in one of the other one-point title duals, which also was the last time that it had happened. That was in 2016 when Dakota edged the Coalers 31-30 for the 1A title.
The Coalers tied an IHSA record for qualifying all 14 individuals for Champaign from its own sectional. Placewinners for Coal City were senior Breneman (third at 195), senior Young (fourth at 182), freshman Brody Widlowski (fourth at 113) and senior Piatak (sixth at 132) while senior Blessing (145) fell one win shy of earning a medal.
Coal City 's other state qualifiers were seniors Poyner (160), Carlson (170), Dearth (220) and Gonzalez (285), junior Brant Widlowski (138),
sophomores Lindemuth (106) and Benson (152) and freshmen Kenney (120) and Finch (126).
Yorkville Christian had six state qualifiers, including five who won medals. They were senior Gillen (second at 170), who won a title last season; junior Edwards (second at 120), senior Martinez (third at 160), senior Torza (sixth at 145) and sophomore Larsen (sixth at 106) while senior Durbin (182) also advanced to state.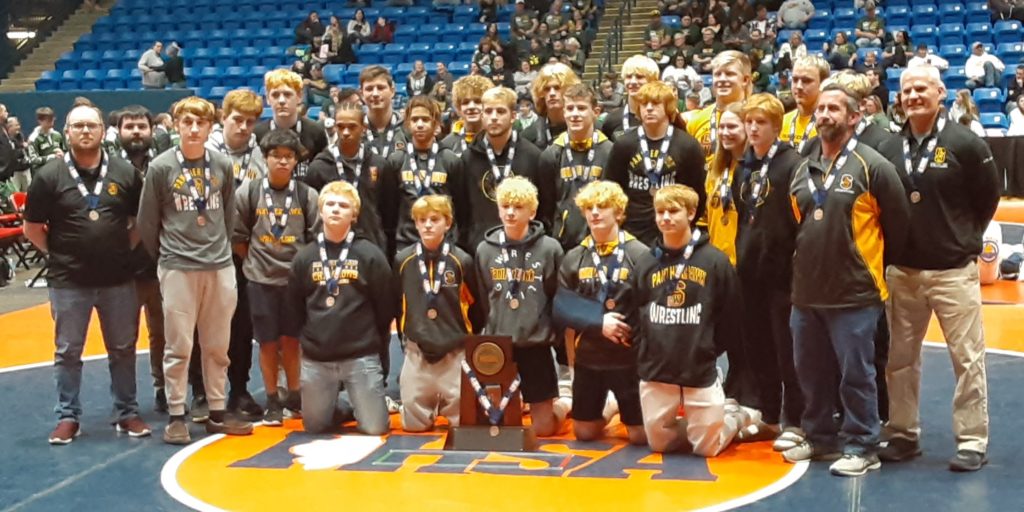 Third-place Meet
Lena-Winslow/Stockton 46, Oakwood/Salt Fork 23
The third-place dual meet was the story of a program that's enjoyed some of its biggest moments in recent years that was able to win its fourth trophy in its fourth appearance at the dual team finals,
The other was the tale of another co-op program that was making its state debut in the competition and not only was able to get a trophy in its initial attempt, it claimed the first state trophy for any sport for one of the two schools that it is involved in the cooperative arrangement.
So it's very easy to see why both Lena-Winslow/Stockton (34-6) and Oakwood/Salt Fork (22-12) were pleased to battle for third place and the chance to finish behind Coal City and Yorkville Christian.
Oakwood/Salt Fork started fast, getting two quick falls to grab an early 12-0 advantage. Pedro Rangel got a pin in 1:20 over Mauricio Glass in the opener at 126 and Carter Chambliss added a fall in 0:58 over Mark Detwiler.
Lena-Winslow/Stockton got its first victory from Carson McPeek, who recorded a fall in 1:30 over Taylor Owens but the Comets answered with a 17-7 major decision from Reef Pacot over Karl Hubb at 145 to claim a 16-6 lead.
"The first-time ever," Pacot said of his team making its state debut. "So getting that fourth is awesome. We were the underdog in the tournament, for sure, so to come out with fourth is awesome.And the next few years are going to be awesome."
However, the PantherHawks started to take control following four-straight falls, receiving the first in 3:07 from Garrett Luke over Bryson Capansky, the next from Jared Dvorak in 1:58 over Saul Carrillo, another one from Eli Larson in 5:17 over Dalton Brown and the last from 182-pound state champion Griffin Luke in 0:23 over Ezekiel Smith to put Lena-Winslow/Stockton in front for good at 30-16.
"Everyone had something to prove," Dvorak said. "We lost our semifinals match and we felt down, but they all fought back and I was impressed with everyone. Everyone fought to the end and they all gave it their all out there. We were ready for this moment, especially me. I was disappointed at state and didn't finish how I wanted to, and lost two overtime matches.
"I pinned, won a major decision and I pinned. I'm glad with how I did after not placing at state.And I'm proud of my whole team. We have a bunch of young kids so hopefully we can be back here next year."
Jace Phillips captured an 8-3 decision over Harley Grimm, Mike Haas won a 12-0 major decision over Doug Myers and Henry Engel got a fall in 1:32 over Kade Fleming at 285 to extend the PantherHawks' advantage to 43-16.
The Comets won the next two matches, with Brayden Edwards claiming a 7-0 decision over Reece Demeter and Tyler Huchel adding a 15-6 major decision over David Prater at 113 before Lena-Winslow/Stockton's Arrison Bauer closed out the meet with a 6-2 decision over Jack Aister.
2020 IWCOA Hall of Fame inductee coach Kevin Milder has now led his PantherHawks to four trophies in four state finals appearances since 2012, when they took second place. The highlights for the program came in 2017 and 2019 when they won their two state titles.
Lena-Winslow/Stockton had five state qualifiers and two medal winners, senior Griffin Luke (first at 182), who took second last year, and his brother, senior Garrett Luke (third at 152), who was a state champion last season. Other qualifiers were senior Engel (285) and juniors Dvorak (160) and Haas (220).
Milder has a 547-148-2 record in 29 years at Lena-Winslow/Stockton. He's assisted by Jared Hermann, Seth Milks and Josh Oates.
"We really closed the season out strong," Milder said. "I guess some of our kids that you'd say were lesser-known have really stepped up. Going back to Tuesday when we beat Marian Central, Jared Dvorak had a huge win to kick start us and Arrison Bauer has been on a tear and Jared had a great weekend.
"Garrett Luke is wrestling with an injured elbow and he's been grinding out some big wins for us. It was just a complete total team effort. Even our guys that lost, they were fighting hard to limit team points. Just a total team effort this week and I'm proud of the guys. Even in our Coal City match that we lost, I felt like we competed, we just weren't winning matches.
"Just being able to come out of our regional, number one, was huge because there was a lot of power and heavy hitters there. And beating Marian Central was no easy task and then Canton in our first round, they came to wrestle and we had a really good match against them. Our kids stepped up and I'm just super happy for our seniors to go out that way. We had four and all four were able to win in their last match. Bringing home a state trophy in any year is great."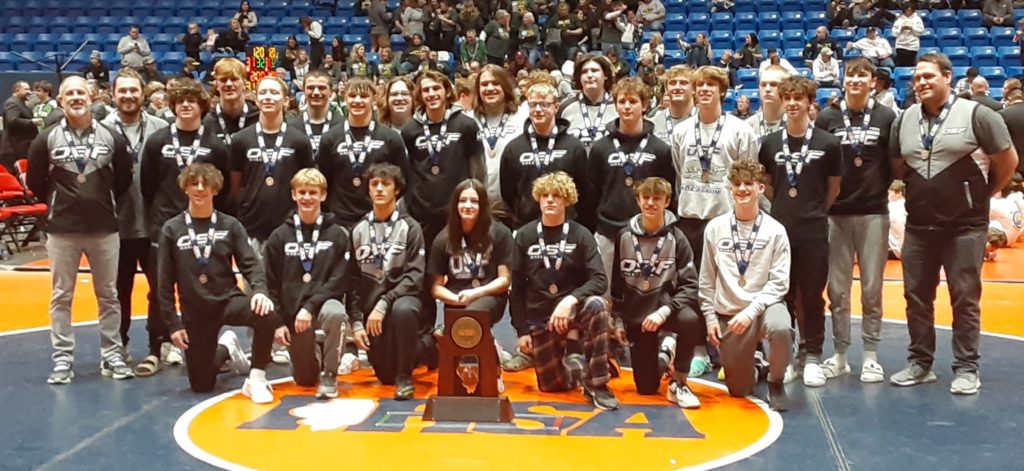 Another highlight for coach Michael Glosser's Comets in their historic season is that they qualified five individuals for state and had one medalist and two others who fell one win shy of being All-Staters. Senior Pacot (second at 145) was the team's lone medalist while sophomore Rangel (126) and freshman Huchel (113) both fell one win shy of claiming a medal. Junior Capansky (152) and sophomore Chambliss (132) were their team's other state qualifiers.
Glosser, who has led his teams to 19 or more dual meets in the last five full seasons, is one win away from 200 victories with a 199-106 record in his 12 seasons at Oakwood. He is assisted by Vince Chambliss and Brendan Watson.
"It's pretty special. "Glosser said. "I've got a group full of competitors and it's been awhile in the making. We've had to beef up our schedule a little bit to try to get some tougher competition to get the guys a feeling of what it's like to get to this level against teams like this. About five or six years ago we ended up beginning this co-op and they have a great feeder program with Vince Chambliss and his brother (Darin) is their school's principal. So it's all worked out and you saw this weekend how it helps.
"The guys trust me and they've bought in. It's a hard-nosed room where there's battles every day and they compete for everything, and that's what we preach. Of course we want to win, but forget about the winning and losing, if I can build a room full of competitors, guys who are buying into our philosophy and what we're trying to preach, then this is the kind of stuff that happens.
"You know that they had to feel the pressure since they're high school kids. But with the kind of mentality that we've had all year, we treat the first match of the year like it's a state championship, so we don't try to place a huge importance on our conference and county, on regionals and sectionals, we're wrestling from the beginning of the year like these are state championship matches.
"So when you get here, we preach to be a competitor and to have fun, because if you're not having fun, you're not going to go out there and wrestle the way that you want to wrestle. Our kids came here and had fun and they competed and special things happened for them."
Semifinals Meets
Yorkville Christian 47, Oakwood/Salt Fork 24
The Mustangs won three of the first four matches to take an 18-3 lead and after the Comets pulled to within 18-9 in the next match, Yorkville Christian won the following five to build up a 41-9 advantage that helped it to capture a 47-24 victory, which assured it of its second-straight visit to the state championship dual meet.
Edwards opened with a fall in 2:21 over Aister at 120 before Rangel won a 7-1 decision over Gleason. Dial followed with a fall in 2:46 over Chambliss and Johnson got a pin in 1:02 over Owens to build the Mustangs' lead to 15 points.
After Pacot got a fall in 1:33 over Gray at 145 to make it 18-9, Torza won a 13-3 major decision over Capansky, Martinez pinned Carrillo in 1:06, Gillen was a 9-3 winner over Brown, Durbin won a 15-6 major decision over Grimm and Mehochko got a fall in 0:34 over Smith .
The Comets won three of the final four matches as Myers got a fall in 0:59 over Xander Oliver at 220 before Yorkville Christian got its last victory at 285 when Tunnell won with a pin in 1:37 over Fleming. Edwards won the last contested match with a 4-0 decision over Foster before Huchel received a forfeit victory in the finale.
Coal City 46, Lena-Winslow/Stockton 14
Lena-Winslow/Stockton opened its semifinals dual with Coal City with a win and it strung together three more victories a bit later, but other than that it was all Coalers, who had five-consecutive victories after the opener and concluded the meet with another run of five wins.
After Bauer prevailed with a 1-0 decision over Kenney in the opener at 120, the Coalers took over with Finch recording a fall in 3:11 over Glass and Piatak following with a pin in 0:43 over Detwiler. Brant Widlowski won an 8-5 decision over McPeek at 138 and then Blessing was a winner by technical fall over Hubb and Benson completed the early run with a pin in 5:38 over Jimmy Goebel
The PantherHawks tried to turn the tide with three-straight victories as Dvorak won an 11-3 major decision over Poyner, Larson prevailed 3-1 over Carlson and Griffin Luke captured a 14-3 major decision over Young at 182 to pull their team to within 26-14.
Coal City countered with three-straight decisions as Breneman won 7-1 over Phillips, Dearth captured a 5-2 victory over Haas and Gonzalez won 3-0 over Engel. Lindemuth added a fall in 0:42 over Demeter and Luke Munsterman got a win by technical fall over Prater.
Quarterfinals Meets
Oakwood/Salt Fork 39, IC Catholic Prep 31
In a matchup of two programs who were hoping to assure themselves of their first trophy, it was the newcomer who prevailed over a squad that was back at state for the second year in a row and left dejected as the third time at state wasn't the charm for them.
Coach Jason Renteria's Knights took a 19-15 lead midway through the dual but Oakwood/Salt Fork got pins in the next two matches and a forfeit win a bit later to go up 33-19 and although IC Catholic Prep won all of the rest of the contested matches, it forfeited at two more weights and that helped the Comets to capture a 39-31 victory.
As a result, Oakwood, which is in Fithian, assured itself of its initial trophy in any sport, not just wrestling. According to IHSA records, Fithian was playing basketball in 1916-17, so this is the first trophy won by the school in over a century of competition. Its co-op partner Salt Fork, which is in Catlin, won state titles in both boys and girls track and field while Catlin won a boys basketball title and a former school in that district, Jamaica in Sidell, had also won trophies.
Huchel started the meet at 113 with a fall in 1:01 over Clara Samayoa before Saul Trejo won by technical fall over Aister and Omar Samayoa captured a 9-6 decision over Rangel to make it 8-6. Chambliss briefly put the Comets back in front at 9-8 when he won a 4-1 decision over KC Kekstadt at 132.
Following a pin by Bryson Spaulding over Owens in 0:39 and Pacot pinning Justin Grace in 0:57, Joseph Gliatta won by technical fall over Blake Barney at 152 to put IC Catholic Prep up 19-15 at the midpoint.
Capansky followed with a fall over Will Bryk in 0:43 and Dalton Brown added a pin in 2:22 over Nate Brown to give Oakwood/Salt Fork the upper hand again. Foley Calcagno followed with a win by technical fall over Grimm and Smith received a forfeit win at 195.
IC Catholic Prep got a 4-0 decision from Vinnie Gonzalez over Myers and Isaiah Gonzalez followed with a win by technical fall over Flemming at 285 but that wasn't enough as Edwards received a forfeit win in the finale to wrap up an historic moment for the Comets.
"I'm very excited," Capansky said. "It was a good experience overall, and I loved it. I think that our schools do very well and we're very close. Team family is what we preach all of the time.
"It was a fun weekend and I'm very proud of my team. I think that we did very well."
It capped a special season for IC Catholic Prep where several members of a state championship football team also got to qualify for team state in wrestling. Also the team had three state placewinners, just missed getting another one and two other qualifiers.
Senior Isaiah Gonzalez was the state champion at 285 after taking second place the past two years. Senior Trejo, a state champion in 2020 and 2021, took third place at 120 after not competing last season due to injury. Freshman Calcagno finished sixth at 182 while junior Gliatta fell one win shy of getting a medal at 152. Juniors Omar Samayoa (126) and Spaulding (138) were the team's other qualifiers.
Coach Jason Renteria has taken both of his Knights teams to state and this was their third appearance in the dual team finals. He is assisted by Joe Calcagno and Randy Spaulding.
Yorkville Christian 49, Auburn 27
Yorkville Christian kicked off its quest to repeat as state champions when it met Auburn in Friday's quarterfinals. While the Trojans (26-4), who were making their third state appearance and first since 2020 when they placed fourth, only trailed 18-15 through the first six matches, the Mustangs broke things open by winning all of the next six matches as they claimed a 49-27 win that advanced them to the semifinals against Oakwood/Salt Fork.
Auburn's Drayven Hamm started things off with a 9-2 decision over Foster at 113 and Edwards got the Mustangs' first victory with a fall in 0:39 over Jasmine Brown. Two-time state champion Joey Ruzic responded with a fall in 3:56 over Gleason before Dial answered with a pin in 0:48 over Walker Britz and Gray followed with a fall in 0:27 over Jayden Brown. Grimm continued the run of falls with a pin in 1:15 over Johnson to pull the Trojans to within three points at 145.
But the Mustangs started to break things open as Torza won a 9-0 major decision over Quinten Chizmar, Martinez followed with a fall in 2:54 over Colby Willhite and Gillen received a forfeit victory.
Yorkville Christian expanded on its lead as Loomis pinned Joey Barrow in 2:51 at 182, Durbin pulled out a 6-4 decision over Skylar Fay and Mehochko followed with a pin in 0:40 over Clinton Lovens before Cole Edie and Ryer Parker received forfeit wins.
Coach Matt Grimm's Trojans had six qualifiers and three medalists. Junior Ruzic (first at 120) won his second-straight title while seniors Edie (second at 285) and Grimm (third at 138) also placed at state. Other state qualifiers for the team were senior Fay (182), junior Barrow (170) and freshman Hamm (106).
Grimm, who collected his 300th win in his 16th season as a coach, is 294-119 in 15 years at Auburn, which co-ops with both Franklin and New Berlin, with all three state teams and the fourth place finish in 2020 are the program's highlights. He's assisted by Gary Wilmarth.
Coal City 65, LeRoy/Tri-Valley 6
Coal City only lost one match in a dual meet that was its second-biggest victory in its 12 appearances in the competition, behind only a 75-4 win over Walther Christian in the quarterfinals in 2016, the year of its fourth second-place finish, and the first of those for Masters.
LeRoy/Tri-Valley (24-2), which had won 23-straight dual meets since suffering its lone loss by a 46-34 score to Normal Community on its first day of competition, which was December 1. Making their sixth state appearance and first since 2014, the Panthers were only able to win one match, and that was in the finale and was a forfeit victory after the Coalers had won the first 13 matches.
Brody Widlowski started things at 113 with a 3-2 decision over Kobe Brent before Kenney won by forfeit and Finch followed with a 2-0 win by sudden victory over Brock Owens and Piatak collected a 3-0 decision over Colton Prosser at 132 to quickly make it 15-0.
In its next nine victories, the Coalers recorded seven falls, a win by technical fall and a decision. Brant Widlowski won by fall in 2:16 over Jack Green at 138 before Blessing claimed an 8-3 decision over Connor Lyons, The next four matches were pins with Benson over Bo Zeleznik in 1:13, Poyner over Ethan Conaty in 3:28, Carlson over Jackson Ritchie in 1:57 and Young over Adam Moore in 1:14.
After Breneman won by technical fall over Drendon Stickling, Dearth got a fall in 4:23 over Jacob Bischoff and Gonzalez won by fall over Tate Sigler in 1:15 before Brady Mouser got a forfeit victory.
Coach Brady Sant Amour's Panthers had three state qualifiers and one placewinner, junior Bischoff, who took sixth place at 220. Sophomore Mouser (106) fell one win shy of getting a medal while sophomore Brent (113) also qualified. Sant Amour, who's led the program since 2019-20 and has posted a 62-16 record at the school, is assisted by Brian Roberts, Sean Kennedy and Josh Sexton.
"Our kids did an incredible job competing all season," Sant Amour said. "Coal City has a great program and really not a weak spot in their lineup. We had a few injuries the past couple weeks that I don't think really would have changed the outcome but definitely had an effect on our ability to compete.
"Most of our starters are sophomores and juniors so we'll get to work this offseason and hopefully come back next year with a better final result."
Lena-Winslow/Stockton 42, Canton 23
Lena-Winslow/Stockton assured itself of its fourth trophy in its fourth dual team appearances after falling behind 10-3 following the first three matches and then claiming wins in eight of the next nine.
Canton (28-10), which made its first appearance in the dual team tournament, only lost three other duals to Class 1A teams during the season, to eventual champion Coal City, to fellow quarterfinalist, Auburn, and to Oregon, which was one of the five top-10 teams in the Polo Regional, which was won by Lena-Winslow/Stockton.
The Little Giants' Jack Joachums won a 19-8 major decision over
Prater in the opener at 113 before Bauer captured a 3-1 decision over John Davis and Trevor Hedges increased Canton's lead to 10-3 after he recorded a fall in 1:29 over Glass.
Detwiler started the PantherHawk's run of five-straight wins with a 3-2 decision over Brandon Eaton before McPeek won by fall over Will Phillips in 2:44 and Hubb captured a 6-3 decision over Wesley Chaney. Garrett Luke followed with a fall in 1:42 over Wyatt Sego and Dvorak won with a pin in 1:27 over Danny Murphy.
Canton's state champion at 170, Joseph Norton, won a 12-0 major decision over Larson to cap his 54-1 season. Phillips followed that with a 6-2 decision over Aden Greene before Griffin Luke won by fall in 0:50 over Rob Mayall and Haas got a pin in 3:12 over Grant Kessler. The Little Giants won the last two matches as Asa Reed got a pin in 4:59 over Engel and Maddux Steele won 6-0 over Demeter.
"It was a pretty tough season," Bauer said. "We were all just trying really hard to get here.
"We worked real hard for this. And the future looks very bright. I'll remember our seniors. They're really funny and they're really good wrestlers."
Canton had a program-best six state qualifiers and tied its mark for most medalists with three and just missed getting one more. Beside senior state champion Norton (first at 170), senior Hedges (fourth at 126) and freshman Steele (fifth at 106) were All-Staters while senior Davis (120) fell one win shy of earning a medal. Senior Reed (285) and junior Murphy (160) were the team's other two state qualifiers.
Zach Crawford has posted a 120-61 record in his seven seasons as the Little Giants head coach and his team improved significantly on last year's 21-11 record. He is assisted by Andy Mulholland.