Throwback Thursday – 1989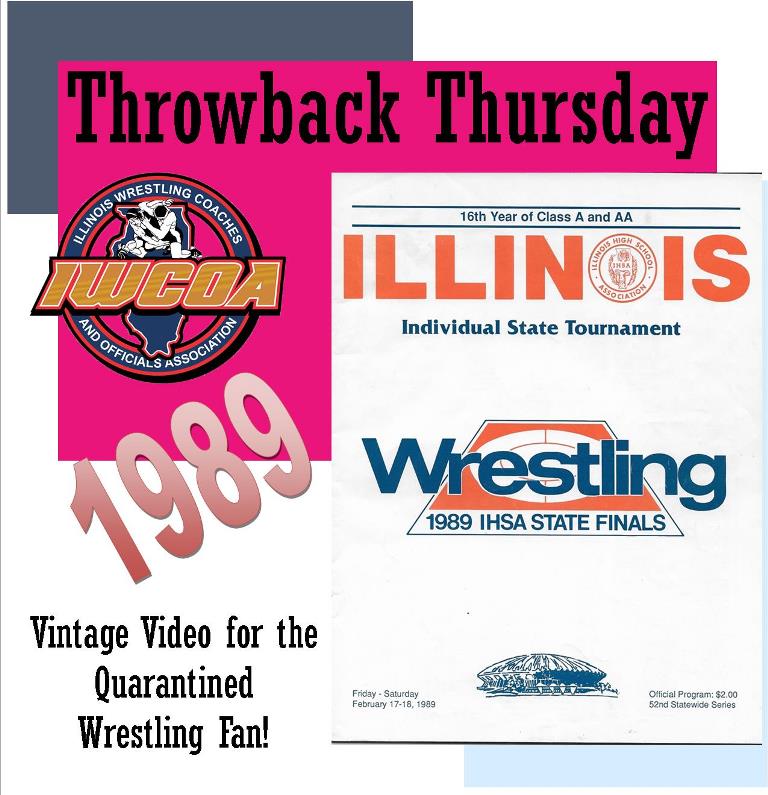 Between 1987 – 1991, Chicago-area sports broadcasting brought us the IHSA State Individual and Dual Team Wrestling Championships. Many wrestling fans, like our own Rob Sherrill, recorded these broadcasts on VHS tape and stored them away … for days like today!
The conversion from VHS to YouTube is never perfect.
The quality is poor, but the memories are golden!
In 1989, Chicago SportsVision became SportsChannel. Perhaps in an effort to cut back from the 10-hour 1988 marathon, SportsChannel chose to only feature one of the two championship Individual and Dual Team contests. Most of the featured matches were of Class AA competitors. This protocol would continue for the next two years.
1989 Individual State Championships – https://youtu.be/1vKXZSg0XYI
Class AA Brackets : Class A Brackets
| | | | |
| --- | --- | --- | --- |
| | | | ** Feature Match |
| 103 | 6:50 | Class AA | Joe Esparza (Joliet Central) vs. Bill Walsh (Mt. Carmel) ** |
| | | Class A | Mike Mena (Sterling Newman) vs. Parr Schoolman (Clifton Central) |
| 112 | 17:00 | Class AA | Jeff Mirabella (Elgin) vs. Andy Gardner (Springfield-Lanphier)** |
| | | Class A | Jason Gonski (Kankakee-McNamara) vs. ThaDavidson (Litchfield) |
| 119 | 30:52 | Class AA | Shannyn Gillespie (Evanston) vs. Abby Myers (Cahokia)** |
| | | Class A | Daryl Grennan (Sterling Newman) vs. Todd VanLue (Harvard) |
| 125 | 43:05 | Class AA | Ken Gerdes (Providence) vs. Chuck Wagner (Oak Lawn) |
| | | Class A | Brett Camden (Mahomet-Seymour) vs. Jeff McCombs (Sandwich)** |
| 130 | 56:43 | Class AA | Shelly Resendez (Homewood-Flossmoor) vs. Terrell Sandifer (Thornton)** |
| | | Class A | Jason Heinold (Mahomet-Seymour) vs. Mike Putts (Peotone) |
| 135 | 1:11:38 | Class AA | Stan Valle (Notre Dame) vs. Joey Gilbert (Andrew)** |
| | | Class A | James Heinold (Mahomet-Seymour) vs. Mark Edwards (Kaneland) |
| | | | Joey Gilbert becomes first Class AA 4X State Champ |
| 140 | 1:24:05 | Class AA | Mike Palazzo (Glenbard North) vs. George Hoffman (Joliet Central)** |
| | | Class A | Dan Barclay (Clinton) vs. Steve Wood (Harvard) |
| 145 | 1:36:15 | Class AA | Sean Bormet (Providence) vs. Jim Czajkowski (St. Laurence)** |
| | | Class A | Steve Kelly (Sterling Newman) vs. Pat O'Connor (Glasford Illini Bluffs) |
| 152 | 1:47:55 | Class AA | Paul Andreotti (Marist) vs. Mike Frecking (Warren)** |
| | | Class A | Aaron Fancher (Mahomet-Seymour) vs. Sean McKeon (Tolono-Unity) |
| 160 | 2:00:02 | Class AA | Darnell Thomas (Cahokia) vs. Bill Guide (Mt. Carmel)** |
| | | Class A | Terry Bagwell (Tolono-Unity) vs. Eric Bloch (Argenta-Oreana) |
| 171 | 2:14:03 | Class AA | Kip Hennelly (Downers Grove South) vs. Tuhan Waller (Thornwood) |
| | | Class A | Steve Rusk (Orion) vs. Roy VanDeVeer (Mahomet-Seymour)** |
| 189 | 2:25:26 | Class AA | Sherif Zegar (Oak Lawn) vs. Mike McClarence (Providence)** |
| | | Class A | Pat O'Neal (Port Byron-Riverdale) vs. Chris Steadman (Richmond-Burton) |
| 275 | 2:47:10 | Class AA | Kevin Nolan (Marist) vs. Jim Remsey (Rockford East)** |
| | | Class A | Steve Weekly (Sandwich) vs. Sean Hickerson (Orion) |
1989 Dual Team State Championships – https://www.youtube.com/watch?v=roygSem4JE0

0:00 – Class A Summary Only – Mahomet-Seymour vs. Tolono (Unity)
9:58 – Class AA – Providence Catholic vs. DeKalb