Top-ranked wrestlers abound at Oregon
By Gary Larsen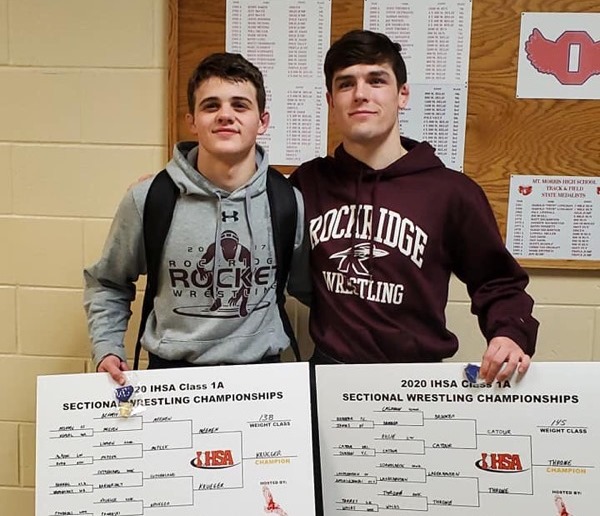 Not many teams have two unbeaten and top-ranked wrestlers in their practice room, and the room at Rockridge might be the only one in Illinois where two unbeaten No. 1's are banging heads.

And for the most part, Dallas Krueger and Nolan Throne keep things under control.

"It only happens a couple times a year that it escalates and coaches have to get between us," Throne said. "But we're really close. We fish together and hang out a lot outside of wrestling."
Throne (145) and Krueger (138) both won sectional titles at this year's 1A Oregon Sectional, and both head to Champaign without a loss and with a No. 1 ranking next to each of their names, per Rob Sherrill's IWCOA rankings.

The time they've spent getting after each other in practice for four years has gone a long way for the two seniors.

"All four years, we've always been close in weight, and we've been able to have some battles," Throne said. "It's always good to have guys go at each other full force like we do. We've made each other so much better as wrestlers."

Krueger (43-0) won an 11-5 decision on the Oregon title mat at 138 against Adam Meenan of Rock Falls, while Throne (46-0) won by fall over Orion's Allen Catour at 145.

Neither Krueger nor Throne are strangers to the awards stand in Champaign.

Krueger has placed 4th, 5th and 6th in Illinois and Throne has placed 2nd and 3rd in Champaign. The two Rockridge seniors have thus posed for pictures on every step of the podium inside the State Farm Center except one.

And the desire to scale the highest step on that podium has been palpable in the Rockridge practice room.

"That hunger is there. It's their senior year," Rockridge coach Lucas Smith said. "They've both always been driven but this year there's a higher motor to get where they want to be at the end of the year."

Krueger set a new career pin record at Rockridge this year, while Throne set a new career mark for tech falls. Both program records were held by former Rockridge great Steve Amy. Throne's lone remaining goal is to climb to the top step of the podium in Champaign.

"I want it bad," Throne said. "Just the thrill of getting (to the finals) last year and taking third the year before — I've broken records for my school and pretty much done everything I can and this is the last step, the last thing I want. It's everyone's dream and it's been a goal of mine since junior high."

Like Rockridge, both Dakota and Riverdale are sending multiple Oregon sectional champions to Champaign.

Riverdale's Colin Altensey (106) and Bryan Caves (220) won sectional crowns, as did Dakota's Maddux Blakely (113), Phoenix Blakely (120), and Andrew Wenzel (170).

Both Caves and Wenzel are also currently ranked No. 1 in their divisions. Caves was a state runner-up at 195 last year and he'll be joined by Riverdale state qualifiers Brock Smith (113) and Trystan Altensey (170).

Wenzel is a returning state champion for Dakota. He went into last year's state finals ranked second before winning it all in his first trip downstate.

"I knew I could probably place and I just went out there to wrestle and have fun," Wenzel said. "I just kept winning and was able to get to the finals and it was awesome to win it all."

Wenzel won by fall on the sectional title mat at 170 in Oregon on Saturday against Johnsburg's Ethan Shedbalkar. He's looking forward to walking into the rarefied air of the State Farm Center again this year.

"You feel the awe of that arena and I feel like I can take that and use it, and have fun with it," Wenzel said. "I'll train, keep my weight in check, and get ready to go down there and have some fun again."

Sectional runners-up Aidan Nardin (160) and Evan Riggle (182) will join Wenzel and the Blakely brothers downstate for Dakota.

Two additional top-ranked wrestlers won sectional titles in Newman Central Catholic's Kyle Tunink (152) and West Carroll's Ethen Doty (132).

Tunink (41-1) won a 5-0 decision over Alleman's Jack Patting on the title mat, while Doty (37-2) dominated his way to a sectional crown.

Like Wenzel, Doty returns to Champaign as a state champion, having won the 1A title at 126 last year.

West Carroll coach Jeff McIntyre sees the same Doty he saw last year — strong on his feet and a hammer on top — with a few tweaks.

"He's wrestling well and just goes out and goes about his business," McIntyre said. "He changed up a little from what he did last year, we've tried to encourage him to use other parts of his repertoire and he doesn't have to win with only a few things, he can win with a lot of things. So he's been changing up and it's been working for him."

Other sectional champions at Oregon included Harvard's Nik Jimenez (126), Winnebago's Bryce Faworski (160), Johnsburg's Justin Peake (182), Dixon's Sebastian Quintana (195), and Byron's Tyler Elsbury (285).

Quintana won a bracket at 195 that included four Illinois wrestlers ranked in the top 10 at 195
.
Other state qualifiers from Oregon:

106: Garrett Luke (L.-Winslow); Isaac Bourg, (Yorkville Christian); Ethan Struck (Marengo).
113: Brock Smith (Riverdale); Donovan Crumpacker (Stillman Valley); Dillon Raab (Lena-Winslow).
120: Aiden Livingston (Stillman Valley); Jase Grunder (Erie); Joe Resendez (Marengo).
126: Colton Linke (Morrison); Carlos Sanchez (WInnebago); Jaden Rice (Lena-Winslow).
132: Marey Roby (Lena-Winslow); Billy Taylor (Alleman); Braulio Flores (Sandwich).
138: Adam Meenen (Rock Falls); Winston McPeek (Lena-Winslow); Luke Bennett (Genoa-Kingston).
145: Allen Catour (Orion); Simon Rillie (Lena-Winslow); Connor Brooker (Putnam County).
152: Jack Patting (Alleman); Jason Hermann (Lena-Winslow); Noah Schnerre (Orion).
160: Aidan Nardin (Dakota); Michael D`Orazio (St. Francis); Marcus McKenna (Polo).
170: Ethan Shedbalkar (Johnsburg); Trystan Altensey (Riverdale); Case Harmston (Lena-Winslow).
182: Dalton Wood (Richmond-Burton); Evan Riggle (Dakota);Logan Jennings (Stillman Valley).
195: Brock Wood of Richmond (Richmond-Burton); Nathan Rosas (Harvard); Josh Bynum (Sherrard).
220: Peyton Lind (Byron); Erik Garcia (Genoa-Kingston); Gavin Mason (Seneca).
285: Nate Portz (Fulton); Charlie Jagusah (Alleman); Jose` Garcia (Genoa-Kingston).