SSC shines at Hinsdale South
By Curt Herron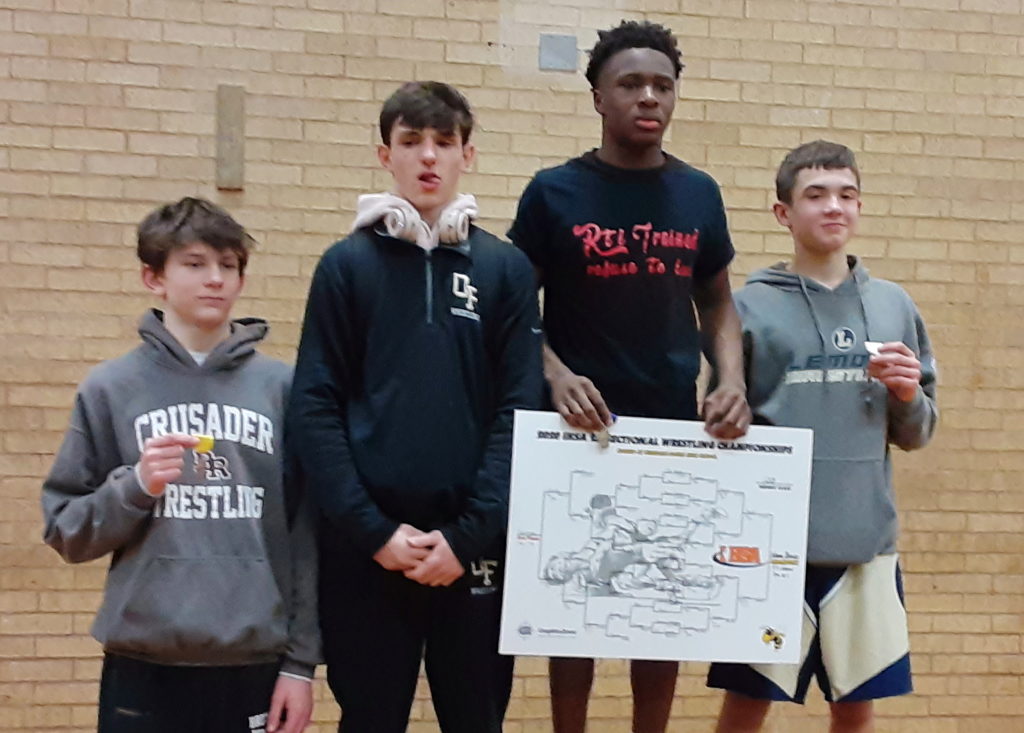 South Suburban Conference programs were definitely the big winners in the Class 2A Hinsdale South Sectional.

The conference was represented by eight schools from Chicago's south suburbs and although their qualifiers made up just under one-third of the individuals in the sectional, they claimed 57 percent of the qualifiers and had 79 percent of the finalists.

But the most impressive accomplishment was that the SSC finished with 13 champions, with Lemont claiming six, TF North getting five and
Oak Forest having two with De La Salle Institute being the only other school with a first-place finisher.

Lemont led with 10 qualifiers while TF North and Oak Forest each had seven. Brother Rice and St. Laurence had four qualifiers, Comer, Evergreen Park and Fenwick had three qualifiers and Hinsdale South and Tinley Park had two who advanced.

Coach John St. Clair's Indians, who have been at or near the top of Rob Sherrill's IWCOA website rankings for Class 2A teams all season, received titles from Drew Nash (126), Ray Hernandez (132), AJ Heeg (138), Grant LaDuke (152), Alex Tagler (170) and Apollo Gothard (220) while Kyle Schickel (145) took second place.

Nash (14-0), a senior who's a three-time qualifier and a placewinner in 2018, won the 126 title with a fall in 3:38 over Oak Forest sophomore Tyler Evitts (29-17).

"I broke my thumb in the last football game and was out for a while, so it's good to be back," Nash said. "I'm ready to go. I took some time off and I've been feeling better than ever. The team has something special going this year."

Hernandez (31-7), a junior who earned his first state trip, pinned Evergreen Park senior Edwin Opoku (22-9) in 3:59 in the 132 finals.

"I'm really excited for the state series since it will be my first time there," Hernandez said. "My teammates push me every day and Kyle Schickel is a big part of it. We've put so much work in and we're a dedicated team that is ready, both individually and teamwise."

Heeg (31-6), a freshman, won the title at 138 after being unable to continue after Oak Forest junior Jack Coyle (24-5), a three-time qualifier, was called for a controversial slam.

LaDuke (35-1), a senior who qualified for the fourth time and placed the last two years, scored two points late to win 4-2 in the 152 finals over Richards' Rocco Palumbo (25-5), a senior who's a three-time qualifier.

"I'm super excited," LaDuke said. "I think that our team performed very well today. I'm looking forward to individual state, and then team sectionals and team state are right around the corner. With the bond we've created we're like a big family and everything is rolling."

Tagler (15-0), a sophomore who makes his first state trip, won the 170 title with a fall in 1:37 against Oak Forest senior Chris Nowicki (28-12), who is a two-time qualifier.

"I was just trying to control the pace of the match and controlling what I was doing, and not what he had to do," Tagler said. "In the room, I have a lot of partners who push me hard and that's why I haven't lost yet."

And Gothard (41-0), a junior who's a two-time medalist and runner-up in 2019, recorded a fall in 3:31 over Tinley Park sophomore Leno Campbell (32-7) in the 220 finals.

"This season has been so awesome," Gothard said. "This year our team has been special and we got 10 qualifiers. It's been years and years for me of wanting to win everything."

TF North had a great showing by qualifying seven and winning five titles. Capturing championships for coach Tim Springs' Meteors were Trevor Reed (106), Nasir Bailey (120), Sincere Bailey (145), Bilal Bailey (160) and Donte Reed (195).

Sophomore Trevor Reed (30-3) pinned Riverside-Brookfield junior Quintin Godlewski (21-9) in 5:37 to win the 106 title while freshman Nasir Bailey (37-2) won 6-1 over Oak Forest senior Anthony Schickel (30-4), a two-time medalist and runner-up in 2019, in the 120 pound finals in a clash of the top-two in the state.

"It feels good, but I want to get the job done next week," Nasir Bailey said. "This team is like a brotherhood. I have my two brothers on the team and it's a once-in-a lifetime opportunity."

Sincere Bailey (33-6), a junior two-time placewinner, avenged losses to Lemont senior Kyle Schickel (35-3), a three-time state runner-up, in the 145 finals in another clash of top-two competitors. Bailey took a 7-2 lead but the gap closed due to stalling penalties but Bailey got the final two points to claim a 9-6 win.

"Winning this doesn't bring that much satisfaction because I know it's not over," Sincere Bailey said. "When I was on the podium, it reminded me of how I was losing so it's not over until state."

Bilal Bailey (37-2), a senior two-time finalist and state champ in 2019, won 11-3 win in the 160 finals over Fenwick senior Matt Zuber (17-5), a three-time qualifier. And senior Donte Reed (24-6) got a fall in 1:53 over Comer senior Michael Odulaja (26-8) to win the 195 title.

"I'm real excited and happy for both of my brothers," Bilal Bailey said. "And especially Sincere since he had a few losses to the same guy and turned it up. This year we won a lot of duals and today we got a lot of people that qualified for state, so it's very exciting."

Oak Forest received titles from Caden Muselman (113) and Julian Ramirez (285) while Schickel (120), Evitts (126), Coyle (138) and Nowicki (170) placed second.

Freshman Muselman (38-3) beat Glenbard South senior Hector Andres (18-6) by technical fall in the 113 finals while top-ranked senior Ramirez (39-1), a three-time qualifier who was fourth in 2019, got a fall in 2:14 over Fenwick sophomore Jimmy Liston (20-8) in the 285 finals.

"It feels good winning the sectional since I think I have a really good shot to be at the top of the bracket," Ramirez said. "I've been working on my stamina since I'm smaller than most heavyweights, I really have to use my speed and be able to go all three periods with kids."

De La Salle senior Mikhel Teverbaugh (27-3), a two-time qualifier, edged Bremen junior Basilio Betancourt (33-4), a three-time qualifier, 6-4 in the 182 finals.

"Winning this sectional title means a lot," Teverbaugh said. "I went against him on my senior night and ended up losing. I told myself I had to come back even stronger. He beat me bad so I promised everybody that it wouldn't happen again."