Washington tops Joliet Catholic Academy for Class 2A crown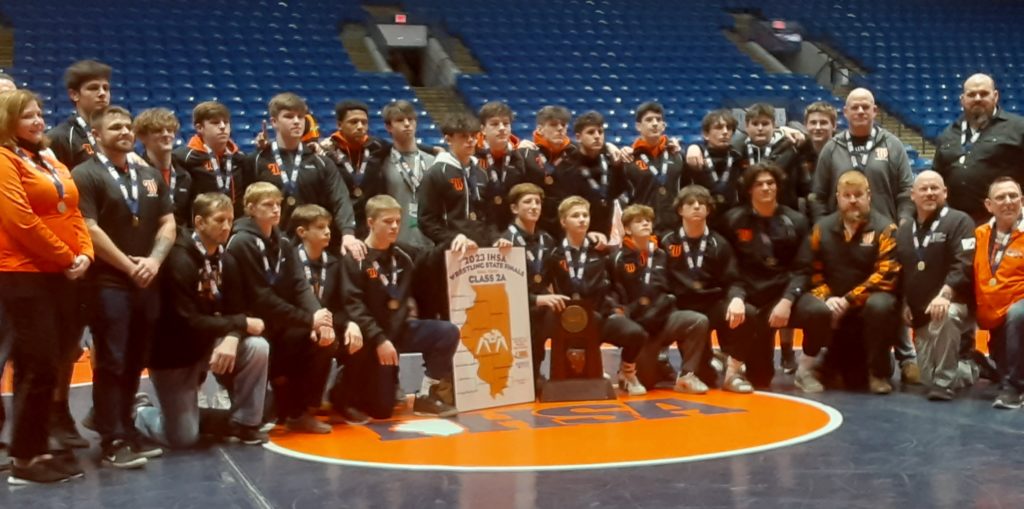 By Patrick Z. McGavin
BLOOMINGTON – The greatest moment for any wrestler is the joyous ritual of having his hand raised at the end. Few things are so emotionally satisfying.
Throughout the season, Noah Woods had an enviable success rate. He enjoyed his moment of exultation on nearly 40 different occasions.
In the most consequential match of his life, the Washington sophomore won by losing.
Woods stayed tight against Joliet Catholic Academy's Aurelio Munoz, nullifying his desperation and his constant pressure that provided the necessary margin of victory for his team.
Woods' loss by a 6-2 decision preserved the Panthers' narrow margin and helped secure a riveting 28-27 victory over the defending state champions in the Class 2A Dual Team State Championship Saturday at Grossinger Motors Arena.
With Washington holding a four-point lead heading into the last match, Woods had direct, unambiguous directions. Losing was fine. Just keep the score within seven points.
"Before the match, everybody was hyping me up and saying don't give up the major, and I was just pumped up with a lot of adrenaline," Woods said.
"I got into the middle, and I kept looking at the score and the clock, and I just did whatever I had to in order to hold off. I did, and we won."
Washington captured its fifth state dual championship in the last seven years.
By dethroning the favored Hilltoppers, Washington gained a measure of revenge. The teams met last year in the dual sectional in what amounted to the de facto state championship.
The score ended in a tie, though Joliet Catholic Academy won for an unsportsmanlike-like infraction and tiebreaker against the Panthers.
JCA was not seriously challenged at the subsequent state series, essentially flattening the field.
This was the third-straight year the teams met in the postseason.
That sectional defeat snapped a string of six-consecutive state championship appearances. The Panthers won four-straight titles from 2016 to 2019 before losing by four points against Lemont three years ago. The pandemic disrupted the state series in 2021.
"That was really tough drawing them in the team sectional last year," Washington's Cael Miller said. "We took that, and we built off of that and I feel like that's a big part of what got us here tonight."
This year's state final felt preordained from the moment the dual brackets were issued, and the two powerhouse teams were put on opposite sides.
The individual state championships at State Farm Center in Champaign also largely predicted this outcome.
The two programs dominated with a combined nine finalists. Joliet Catholic Academy had three individual state champions out of its five finalists. Washington had two state champions and two runner-up finishers.
Washington (25-8) defeated Mahomet-Seymour 50-23 in the quarterfinals on Friday night and dominated third-place Wauconda 52-20 in the semifinals earlier Saturday.
In the win over Wauconda, the Panthers only lost two contested matches. The other two losses were forfeits to preserve their wrestlers for the state championship match.
Joliet Catholic Academy (15-8) had no troubles in the lower bracket. The Hilltoppers shut out first-time state qualifiers Jacksonville 69-0 and dominated Geneseo 50-15 in the semifinals, giving the luxury of even working in several secondary and back-up wrestlers in anticipation of the Washington matchup.
Duals have their own logic, style and meaning. Strategy and individual matchups are subject to optimizing strengths and mitigating weaknesses.
It is also to some extent the luck of the draw, in this case, the weight class at which the meet begins. The championship and third-place matches began at 126 pounds.
That was the strength of the Panthers' order, leading into their elite middleweight performers. Washington seized the early advantage by winning four of the first five matches.
With the exception of the win by technical fall of three-time state champion Kannon Webster over Luke Hamiti at 145 pounds, Washington developed the early lead by winning highly-contested matches.
By contrast, Joliet Catholic Academy was constantly forced to chase from behind.
On both sides the stars did what was expected of them. The two teams brilliantly and tactically moved their best wrestlers around. That became a scintillating turn of events.
Webster (54-0), the 145-pound champion, and 220-pound state champion Justin Hoffer posted dominant performances. Hoffer defeated Hunter Powell 16-6 by major decision.
Peyton Cox, who finished second at 132 pounds, punched up to 138 pounds, and produced one of the best matches of the finals.
Going up against the state runner-up at 138, Jake Hamiti, Cox broke the scoreless tie with a second-period escape. He used a brilliant turning action in the closing moments for a riveting 4-0 decision.
Washington's Blake Hinrichsen, who finished second in the state at 170 pounds, defeated Zach Pomatto by major decision, 21-8, at 182.
"It's great," Hinrichsen said. "As a senior, we were really motivated from last year after the loss, it was driving us all season. I really didn't want to lose and I know that our team really didn't want to lose again because there were a lot of us that never lost that type of a dual.
"We had two state champs, Justin Hoffer and Kannon Webster, I took second and Peyton Cox took second also and we had three other placers. We're all one team, we're all one family, we have it on our shirts, hashtag family and we try to bring that out. It's not just a team, it's a family and we're fighting for each other, and not just ourselves."
Five of the Panthers' eight victories were decisions, beginning with a 3-0 win by Eli Gonzalez over George Hollendoner in the opener at 126 pounds. Those decisions were the difference in the finals.
Cael Miller, the son of coach Nick Miller, made the most of his second chance. After losing both of his state matches in Champaign, Miller proved to be another unsung hero for the Panthers.
In a great back and forth match involving sons of the head coaches, he used a second-period takedown for a grueling 3-2 victory at 152 pounds over Connor Cumbee, who was fourth at state and is the son of JCA coach Ryan Cumbee
"For the individual state tournament, I didn't have the outcome I wanted," Cael Miller said."When I got back to the room, I just kept after it, and I got the results I wanted. Last year, that loss to JCA in team sectionals was really a bummer. It was tough drawing a team that good in the sectional. But we took that one to heart and got back in the room right away.
"We were hungry. We came off of a great weekend at individual state with seven placers, that's really something that we're proud of. But that's just one step in the goal. Growing up around this program and watching the teams from the past winning the titles was really something special to watch and made me want to be a part of that."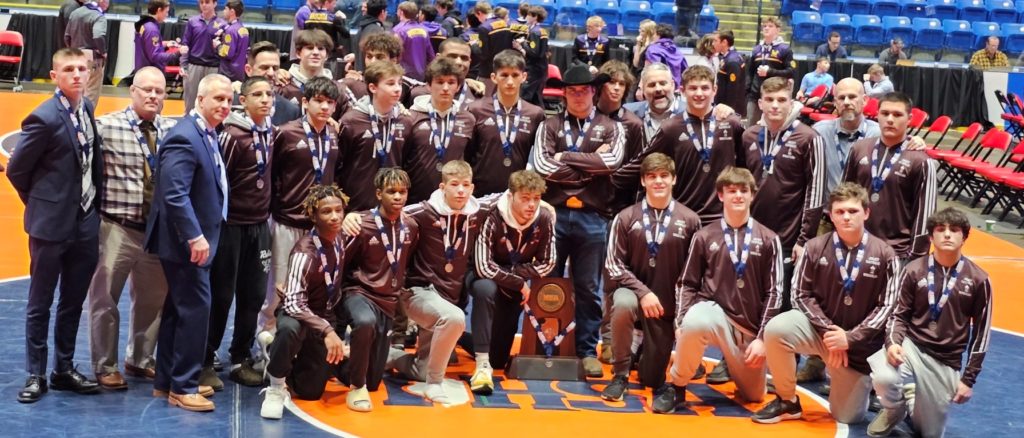 Joliet Catholic Academy had its own actions and maneuvers.
Three-time state champion Gylon Sims closed out his extraordinary career with steely and mesmerizing performance jumping two weight classes to 132 pounds in a showdown with third-place state finisher Wyatt Medlin.
The two responded with a match of the ages, a classic back and forth clash that showcased Sims' speed and athleticism against the power and range of Medlin.
It featured four ties and three lead changes with Medlin seemingly having the edge with a late third period reversal for a 7-6 lead.
Just as he did in the 120-pound state championship final against Aurora Christian's Josh Vazquez, Sims engineered a late escape that occasioned overtime. Sims then pulled out the incredible 8-7 tiebreaker.
"There were a lot of swing matches, and that is pretty much what it came down to with the winners or losers of that," Sims said. "I think tonight just showed it could come down to chance if you have two really good teams."
Joliet Catholic Academy had its own magic up its sleeve. State finalist Nico Ronchetti, who was second at 182 pounds, leapt up a weight class and edged Josh Hoffer, who finished sixth at 195, with a 5-3 decision at 195 pounds.
"They matched up well against us, and they did a good job," Sims said. "In a state championship dual, it's as much about tactics and strategy as results.
"What matches are you going to keep close, and what matches are you going to keep down. Are you wrestling not to give up points, or are you wrestling to score as many points as possible? They were very smart. At the end of the day, they come out as champions."
By winning four of the first five matches, Washington jumped out to the 14-3 lead.
Joliet Catholic Academy state champion Mason Alessio posted the first finals fall with his 33-second masterpiece against Braden Baker, securing a cradle that converted into a dominant final performance.
"They had the early momentum, and that helped them a little bit," Alessio said. "It probably doesn't get talked about enough, but just starting the meet at an odd weight, at 126 pounds, and that was just a subtle difference.
"It's all another step in the process, and getting ready for the next level and wrestling in college," said Alessio, who finished with a 47-3 record.. "Tonight, we knew it was going to come down to one or two swing matches, and unfortunately they didn't go our way. It was still a great season."
Alessio defeated Washington's Zane Hulet in the state quarterfinals en route to his championship at 160 pounds.
On Saturday, Hulet moved up to 170 pounds, and he defeated Maximus Vela 8-1 and that, combined with Hinrichsen's major decision, extended the Panthers' lead to 21-9.
"I had to go out there and wrestle and really try to help rescue my team," Hulet said. "I was wrestling a new kid. This was a great experience, especially for the younger wrestlers, the juniors like myself.
"We grew up watching all of the state championship teams, and this was a lifelong goal for us. We looked up to those teams from 2018 or 2019, and we wanted to be just like them."
Washington conceded the heavyweight bout, where two-time IHSA champion and 2021 IWCOA title winner Dillan Johnson won by forfeit.
Family connections ran deep on both sides, especially with head coaches being able to work with their own sons.
The night also proved a deeply special one for the Woods' family. Noah Woods was the unorthodox headliner.
His younger brother, freshman Symon Woods, also stepped up when called upon. His 8-5 victory over Noah Avina at 106 pounds gave the Panthers what turned out to be an insurmountable 10-point cushion leading into the final two matches.
Symon Woods ended up with a virtually identical record as his older brother. Noah Woods (37-17) qualified for state at 113 pounds. Symon (36-16) came up just short.
Like Cael Miller, he made the most of his final chance.
"I just tried to wrestle my best, and work out of good positions," Symon Woods said. "At the end, we got kind of tired, but I just kept wrestling, and kept the pressure up."
Of course, anything is possible. Class 3A state champion St. Charles East utilized back-to-back falls to clip defending state champion Mount Carmel by two points in the quarterfinals.
Freshman Jason Hampton, who took fourth place at 113, gave the Hilltoppers a final chance with the fastest work of the night, a 28-second fall of Logan Makiney.
That narrowed the score to 28-24 in favor of Washington, with one final match left at 120 pounds.
Munoz was the rare JCA wrestler with more losses than victories leading into the final match. He showed tremendous grit, resilience and toughness.
He gave the Hilltoppers a chance. On several occasions, he nearly caught Noah Woods for a dangerous moment.
"I couldn't have done it without my brother," Noah Woods said. "He went up against that crazy good kid, and he got me so hyped before the match.
"I knew I had to wrestle, and not do anything dangerous or sloppy, and not get majored. I knew it might come down to me, and I was ready."
Nick Miller pointed out the clear fact that Joliet Catholic Academy was a wholly different type of opponent than their first two state teams.
"We were the better wrestling team in both of those matches from top to bottom," Nick Miller said. "We knew that it was going to be a fight.
"I said to just keep taking your time, even in matches that we lost.Just as we predicted, we knew there were going to be matches where it was just a dogfight, and we had to win those matches."
By any standard, Joliet Catholic Academy had an extraordinary season. The Hilltoppers were the only team to beat 3A state champion St. Charles East. At both the individual and team level, they were a cut above.
"Everybody on our team just wrestled so hard," Sims said. "Obviously we could have gotten better results than we did, but we are so proud of this season. We are never going to forget all the work that we put into this."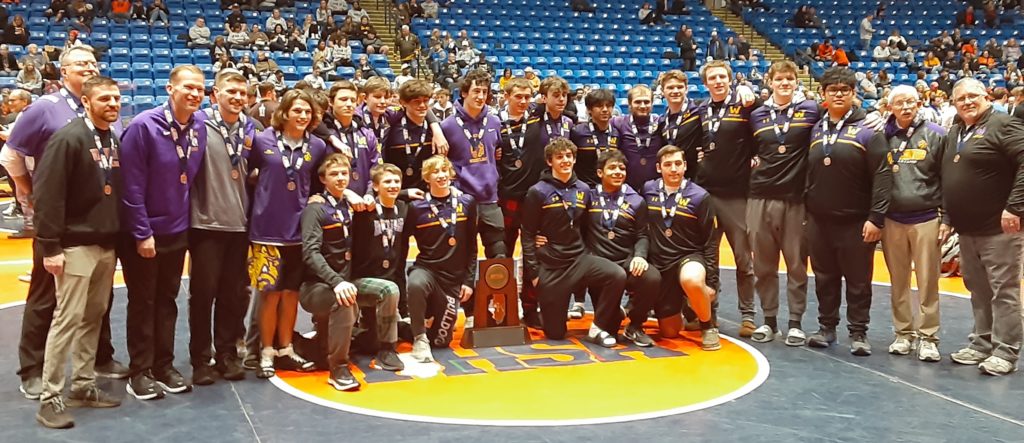 Third Place Match
Wauconda 37, Geneseo 36 (criteria)
Wauconda not only added to its 2017 trophy for finishing second to Washington in Class 2A in its initial state finals appearance by claiming third place but it also made history in its second trip to the state finals by becoming the first team to win two dual meets on criteria at one dual team state finals.
In the third-place match, there was a 36-36 tie between the Bulldogs and Geneseo and the outcome was determined by tiebreaker D, the greater number of matches. On that account, Wauconda won 37-36.
In Friday's quarterfinals, Wauconda and Deerfield, who took second to Joliet Catholic Academy last season, wound up tied at 39-39 and tiebreaker I, the most first match points scored, gave the Bulldogs the victory 40-39 and assured the program of its second trophy. In the semifinals, Wauconda lost 52-20 to eventual champion Washington.
Since the dual team tournament began in 1984, there had only been five dual meets that had been determined by criteria, with the last of those in 2008 in Class A when Oregon beat Lisle for third place in the final year of the two-class tournament.
There actually had been two wins by criteria in one year, in 1989, when Dakota beat Riverdale in the quarterfinals in Class A and Providence Catholic defeated Marist in the Class AA semifinals.
The Bulldogs also become just the second team to win two one-point dual meets at state, with Wilmington also accomplishing that feat in 2007 in Class A when it beat Harvard by a point in the quarterfinals and Vandalia by one point for the championship. And it's just the third team to be involved in two one-point dual meets. In 1997 in Class AA, Waubonsie Valley beat Granite City by a point in the quarterfinals and lost to St. Charles by one point for third place.
It was a great debut season for coach Trevor Jauch, who won three Class 2A titles for Crystal Lake Central from 2009-2011 when he competed for coach Justen Lehr and was on a third-place team as a sophomore and second-place squads as a junior and senior.
The Bulldogs (9-5) shattered their old mark for state qualifiers by having nine individuals who advanced to Champaign this season.
"I'm very pleased with a third place finish," said Jauch, who's been an assistant for the Bulldogs for five years. "This is the second medal in history that Wauconda has earned. My coaching staff has put a tremendous amount of time, effort, and energy into getting these guys ready. Ryan Jauch, Chris Prostka and Bob Kenison bring so much to the table when it comes to preparation for our athletes.
"These guys were prepared and excited to compete. Our guys continue to buy into the program and do the small things right. We talk all the time about attitude and effort and it is important that our guys wrestle a full six minutes every match. Some guys went out and did their job which is incredibly important when it comes to dual team series. I hope this third place trophy becomes the expectation and our guys should expect to be down in Bloomington every year.
"We rostered 21 and the majority of them got a match there and everyone has a job. Ideally this will grow our numbers and get more interest out for the sport of wrestling. I run our youth program, as well, and I know that those numbers are growing, which is awesome."
The Bulldogs' top state performers were second-place finishers Gavin Rockey (106) and Nate Randle (113) and Nick Cheshier (152), who fell one win shy of winning a medal. Other qualifiers were Lucas Galdine (120), Cooper Daun (132), Logan Andrews (138), Cole Porten (145), Sean Christensen (182) and Michael Merevick (195).
"It was really fun and a great experience," Rockey said. "I like the bonds that we have. We've all been wrestling for a lot of years together growing up and doing club. So we're all friends. And this year it all just kind of worked out and everyone came together.
"It came down to the wire twice. It came down to me for Deerfield and then it went all the way down to (tiebreaker) I and then it came down to Nate for Geneseo."
Only seven teams in the state in all classes had more qualifiers than did the Bulldogs, and just JCA and Washington in Class 2A. And the good news for Wauconda is that Christensen is the only one of the qualifiers who is graduating and the team only had a couple of other seniors. Of the 21 individuals on the state dual team roster, 11 of them are freshmen and sophomores.
"It felt really good and it was really exciting for all of us to be able to do all of that," Cheshier said. "It was a really fun season. We got new coaches who are really great and we were really working hard and we accomplished a lot as a team.
"Most of our guys should be returning, so I'm looking forward to next year. We all just have a great connection and we all worked really hard this year together. It's just a great bond that we've built. We just have to keep doing what we're doing already, just work hard and follow our goals."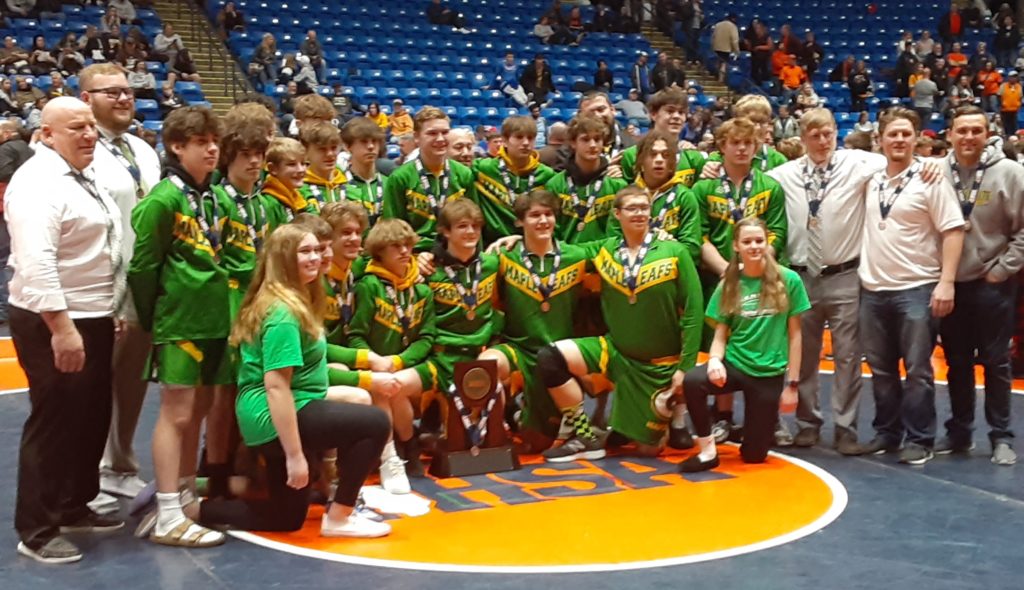 Geneseo (22-3) also enjoyed one of its best-ever seasons, only losing one dual meet during the regular season, and it didn't suffer its initial loss to an Illinois opponent until the final day of the season.
This was the fifth time that coach Jon Murray has led one of his Maple Leafs teams to 20 or more wins in a season
This was the fourth state tournament appearance for Murray's program and the first since 2015. That completed a run of three-straight trips to the state finals and the Maple Leafs were the state runner-up to Montini Catholic in both 2013 and 2014 in Class 2A.
At the IHSA Individual Finals the Maple Leafs were recognized with two special honors. Murray, who's 339-102 in 21 years leading the program, was announced as one of this year's inductees for the IWCOA Hall of Fame. And Larry Kanke, the Maple Leafs' coach for 32 years and a longtime official who was a class of 2002 IWCOA Hall of Fame inductee, was honored as one of four Grand Marshals, along with Roy Snyder, Randall Konstans and Mike Garland.
"We have two pictures on our wall, one from the 2013 team and one from the 2014 team and challenged them to put 2023 next to them, because those were the only trophies we've had," Murray said.
"This is a completely different group of kids, so I'm proud that they seemed motivated to get it done. We ask them one thing, to just give yourself, your team and your community your best effort, and that's all that we can ask. If you give your best effort, then the wins take care of themselves.
"Their heart is what does it. Making the weight, doing the workouts, and then during the six minutes out there, just represents the effort that they've already put into the practice."
Geneseo qualified 13 individuals for the rugged Rochelle Sectional but was able to advance only three of those to Champaign, Zachary Montez (132), Malaki Jackson (138) and Kye Weinzierl (145) and Montez was its lone medal winner, taking third at 132 after losing in the quarterfinals to the eventual champion, Mascoutah's Santino Robinson, and then closing the competition with four-straight wins.
"The last time was 2015 so getting it this year is awesome," Montez said. "No one really expected us this year but we just kind of came together and started doing our thing and getting pins and everything.
"Everyone comes into the room every day and is working hard and is pushing themselves. That's what I really like about this team."
The Maple Leafs only had five seniors on their dual team state roster, Bryce Bealer, Aiden Damewood, Landon Shoemaker, Jack Snyder and Tim Stohl. So with 15 individuals back from a team that claimed one of the four Class 2A trophies, Geneseo may be in line to enjoy another run of success, like the teams from 2013-2015 enjoyed.
"I've always looked up to those teams," Stohl said of the second-place state squads. "No matter how tired I'd be, I'd look up at the board and see all of the state champs and state placers and then on the other side of the room, the second-place teams in 2013 and 2014. When we faced Sycamore earlier in the season, they weren't this team, they were still good but they were missing a lot of people.
"I didn't have the best season this year but this is like icing on the cake. Hey, if we can get up on the board, then kids over the next few years are going to be looking up to us, too."
In the third-place meet, the Bulldogs got a fall from Galdine in 2:42 over Bealer in the opener at 126 but the Maple Leafs won the next three matches to go up 14-6 as Jackson won by technical fall over Kaden Hebert, Montez followed with a fall in 1:38 over Ty Curran and Weinzierl won a 3-0 decision over Andrews at 145.
Three Wauconda wins worth15 points put it back on top at 21-14 midway through the meet at 170. Porten edged Josh Hock 4-3 before Cheshier won by fall in 3:46 over Damewood and Zac Johnson followed with a pin in 5:15 over Logan Palmer.
After Shoemaker pulled Geneseo to within 21-18 with a 9-1 major decision over Christian Cendejaz, the Bulldogs took their biggest lead of the meet at 27-18 with a fall from Christensen over Aaron Betcher in 3:49 at 195.
The Maple Leafs moved in front at 30-27 following a fall from Stohl over Merevick in 4:38 and another pin, this one in 3:09, by Levi Neumann over Joe Scianna. But Wauconda tied it at 30-30 when Rockey won a 10-7 decision over Tim Sebastian at 106.
The Bulldogs moved in front at 36-30 on a pin by Nate Randle over Grady Hull in 1:36 at 113 before Devan Hornback tied things again at 36-36 when he won by fall in 1:07 over Nick Ruiz.
Semifinals dual meets
Washington 52, Wauconda 20
The Panthers won the first three matches to take a 17-0 lead and eight of the first nine as the Bulldogs only won two matches that were contested and collected two late forfeit wins.
Recording falls for Washington were Noah Woods (120), Gonzalez (126), Webster (152), Hinrichsen (182), Justin Hoffer (220) and Sean Thornton (285) while Medlin (132) and Hulet (170) got wins by technical fall and Cox (145) won 10-6 over Porten and Miller (160) claimed an 8-7 decision over Johnson.
Wauconda received a fall from Merevick (195) and a 10-5 decision from Andrews (138) over Timmy Smith while Rockey (106) and Randle (113) received forfeit wins to conclude the match.
Joliet Catholic Academy 50, Geneseo 15
The Hilltoppers won the first three matches to go up 13-0 and also nine of the first 10 matches before the Maple Leafs won the next three and then JCA closed the meet with another victory.
Recording falls for JCA were Sims (126), Luke Hamiti (145), Alessio (160), Rochetti (182) and Pomatto (195) while Issac Clauson (170) won by technical fall, Nolan Vogel (132), Cumbee (152) and Hampton (113) won major decisions and Hollendoner (120) claimed a 15-8 decision over Hornback.
Geneseo got a fall from Stohl (220) while Montez (138) won 5-2 over Jake Hamiti, Neumann (285) beat Alex Dalach 9-3 and Sebastian (106) claimed a 6-0 decision over Avina.
Quarterfinals dual meets
Washington 50, Mahomet-Seymour 23
Mahomet-Seymour (32-8) got a fall in the opener to grab an early 6-0 lead but Washington (23-8) rattled off eight-consecutive wins to assure the Panthers of their seventh state trophy since 2015.
Recording falls for Washington were Gonzalez (126), Cox (138), Webster (145), Miller (152) and Hinrichsen (170) while Noah Woods (120) got a win by technical fall. Medlin (132), Hulet (160) and Justin Hoffer (220) captured major decisions and Symon Woods (106) closed out the meet with an 8-1 decision over Colton McClure.
Getting falls for Mahomet-Seymour were Caden Hatton (113), Mateo Casillas (195) and Camden Harms (285) while Brennan Houser (182) collected a win by technical fall.
Casillas, who finished with a 54-1 record, won the state title at 195 and Houser took fifth at 182 while Donovan Lewis (138) and Colton Crowley (220) both fell one win shy of All-State honors. Other state qualifiers for Mahomet-Seymour were Hatton (113) and Harms (285).
It was an historic season for the Bulldogs, who have been coached since 2006-07 by 2011 IWCOA Hall of Famer Rob Ledin. This was the 20th state appearance for the Bulldogs, who took third place last season and have gone to state five times under Ledin, with this being their fourth trip since 2017.
"We had a great year," Ledin said. "We had many all-time records that we captured: 32 wins for our team was a team-best; Mateo Casillas had 175 career wins, which ties Brett Camden for the all-time best; And he also had the most career falls, with 85, And Brennan Houser set the record for most career technical falls with 49 and most career near fall points with 655.
"As a team we placed first as a team at the Neuqua Valley Scuffle, second at Granite City, first at our own Marty Williams Invitational, first in the Apollo Conference; Regional dhampions and Sectional Dual victory to qualify for the Final 8 Dual Team Tournament. I'm very proud of our Bulldogs!"
Wauconda 40, Deerfield 39 (criteria)
Deerfield (17-6) saw its hopes of claiming a second-straight state trophy get dashed when Wauconda captured the first of its historic two dual meets that were won by criteria. The Bulldogs got the extra point to break a 39-39 deadlock based on tiebreaker I, which is the most first match points that were scored
After Wauconda opened the meet with a win by technical fall from Randle (113), Deerfield got pins from Luke Reddy (120) and Jordan Rasof (126) and a major decision from Jackson Palzet (132) to go up 16-5. But the Bulldogs responded with four-straight wins, getting pins from Andrews (138), Porten (145) and Johnson (160) while Cheshier (152) won a major decision to give their team a 27-16 lead.
Chris Mauer (170) got a pin and Aiden Cohen (182) won by technical fall to pull Deerfield even at 27-27 before Christensen recorded a fall at 195 to put the Bulldogs up by six. But the Warriors responded with falls from Garvin Crews (220) and Jordan Meyers (285) to go up 39-33 with one match left and after Rockey got a fall in 4:26 in the finale, the Bulldogs prevailed on criteria to assure themselves of the second trophy, with the other one in their previous trip to state, in 2017, when coach Michael Buhr led them to the state championship dual meet, which they lost to Washington.
Deerfield had three state qualifiers and two of them earned All-State honors while the other fell just short. Cohen took third at 170, Rasof was sixth at 126 and Reddy fell one win shy of a medal at 120.
Like many of the teams in the field, much of Deerfield's state team featured individuals who could make another run at the state finals next season. The Warriors only had five seniors, Renzo Morgan, Jordan Meyers, Will Holtz, Grant Goldsmith and Cohen.
This was the fourth state finals trip for coach Marc Pechter's Warriors, who also won a trophy in 2017 after claiming a fourth-place finish.
Half of Deerfield's defeats came over the course of two days at DeKalb's Flavin Invite, where it lost to Class 3A programs Hinsdale Central and Moline and also fell to Father Ryan of Tennessee. It also lost a dual at the early-season Antioch Tournament to Class 3A Mundelein. The Warriors' only loss to a Class 2A team prior to the state finals was against Crystal Lake Central.
Joliet Catholic Academy 69, Jacksonville 0
Jacksonville (33-4) ran into a buzzsaw in its initial appearance in the IHSA Dual Team Finals as it dropped all of its matches against Joliet Catholic Academy in the quarterfinals, suffering a 69-0 defeat.
Coach Dustin Secrist's Crimsons had gone 15-1 since falling to Class 1A quarterfinalist LeRoy/Tri-Valley at the High School of Saint Thomas More New Year's Challenge. Their only loss against a Class 2A team came late in the regular season when they fell to Glenwood.
Jacksonville had two state qualifiers, Collin Reif (152), who took sixth place, and James Cotton (160). The Crimsons are another team who had only five seniors on their state roster, Ian Willner, Keaton Wilhelm, Luca Thies, Mason Meyer and Reif.
JCA got falls from Avina, Hampton, Vogel, Jake Hamiti, Ronchetti and Johnson, a forfeit victory from Powell, wins by technical fall from Sims, Alessio and Vela and decisions from Munoz, Cumbee, Luke Hamiti and Pomatto.
The Crimsons' best efforts were Meyer losing 8-6 in sudden victory to Pomatto at 195, Reif falling to Luke Hamiti 2-1 at 152 and Deshawn Armstrong dropping a 6-4 decision to Munoz at 120.
Geneseo 50, Brother Rice 17
The Maple Leafs opened with three wins and built up a 26-3 lead over the Crusaders (9-7) midway through the meet as they assured themselves of their third state trophy and first since 2014, the year they repeated as a state runner-up to Montini Catholic. It also was the program's fourth trip to the dual team finals, with its last one in 2015.
Geneseo got falls from Hull and Bealer and a 4-1 decision by Hornback over Oliver DAais in between to get off to the fast start. After Bobby Conway won a 13-9 decision over Jackson for the Crusaders' first win at 132, Montez and Weinzierl captured major decisions and Jack Snyder claimed an 8-5 win over John Fitzpatrick..
Brother Rice got a fall in 1:59 from James Crane (160), a win by technical fall from Charles Connolly (182) and an 8-4 decision from Gambino Perez (195) over Shoemaker while Geneseo received falls from Damewood, Stohl, Neumann and Sebastian during the final half of the dual meet.
Conway, who finished with a 26-1 record, claimed first place at 126 to lead the Crusaders' four state qualifiers. Perez placed fourth at 195, Connolly fell one win shy of getting a medal at 182 and Fitzpatrick was the team's other qualifier.
It was the second year in a row that coach Jan Murzyn's Crusaders advanced to dual team state and for the second time, they fell in the quarterfinals and saw their season end on the first day of the event.
All of the Crusaders' defeats came against quality opponents, which includes three who teams who competed for titles, Coal City, Marmion Academy and Yorkville Christian, and another squad that lost in the quarterfinals to the eventual champion, Mount Carmel.