3A WRESTLING AT STATE DAZZLING
by Mike Garofola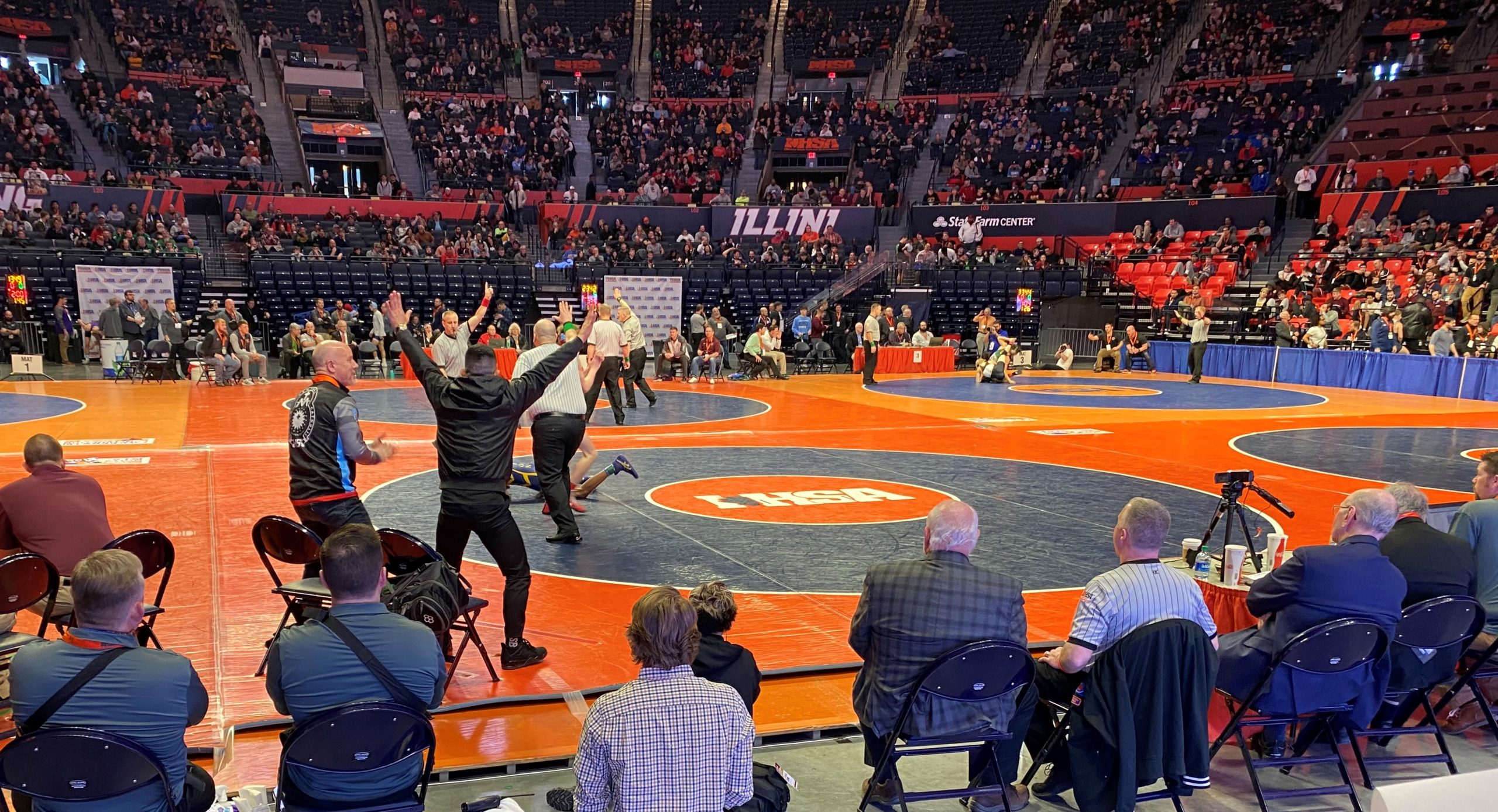 When the product is so rich and talented all across the 14 weight divisions, it doesn't take long for recognize just how extraordinary it is after the first whistle opens the final session inside State Farm Center in Champaign.
This was the case on Saturday night when a big crowd would be treated to one terrific 3A final after another – keeping the eyes of an appreciative audience glued to the main floor of this host venue.
Montini Catholic, as it would one week later at the dual-team state tournament, would dominate the proceedings as it celebrated (5) of its own claiming the top prize by nights end.
Michigan-bound Dylan Ragusin would earn his second consecutive title at 126, while teammates: Joe Fernau (106), Joe Roberts (152), Trevor Swier (182) and Josh LaBarbera (220) would all grab their first.
Fernau's rise to glory came at the expense of high profile opponents – as he went past the three best in the state in order to achieve success.
Fernau would defeat-then No. 1 Charlie Farmer (Moline, 45-3) in the quarterfinals, 3-1, then send off No. 1 Will Baysingar (Prospect, 48-1) by decision, 4-3, before edging No. 4 Sammie Hayes (41-2) of Sandburg in the title match.
"I learned a lot last year training in our room around so many great wrestlers, and even though it was a tough freshmen year at (113) – it helped me get over a bit of a rough start this season when I took some bad losses," said Fernau, after his early third period take-down proved enough to defeat Hayes, 2-1.
Big men would rule in the finals – none perhaps bigger than Yorkville senior, Nick Stemmet, who capped a magnificent four-year career by lifting the championship trophy at 195.
Stemmet, on his way to wrestle next fall at Stanford University, was anointed the top spot in the IWCOA state polls from the very beginning – and the Yorkville star never allowed any of his rivals take it away en route to his title.
"Nick is a brute, he overpowers his opponents, attacks at will, and never stops attacking," says Yorkville head coach, Jake Oster.
The take-down machine was in fine working condition here in Champaign, opening on Thursday with a major decision victory to advance – then finishing up late Saturday night with a pin at 1:41, smashing the old record set by Dundee-Crown, and Purdue University star, Christian Brunner, who registered a pin at 3:39 in his 195-pound final in 2016.
That Stemmet roared past the competition at state is no surprise to those who watched him during this past season.
During the regular season, Stemmet won four majors (Barrington, Dvorak, Sycamore and Suburban Prairie Conference) – doing so with two major decision victories, six tech-falls, and five pins.
Standing just behind…  
Sandburg Mike Bosco was always looking up at Ryan Boersma (Providence Catholic) and Lloyd Edwards from Edwardsville in the state polls as the season went along – but as the old saying goes: it doesn't matter where you start – but where you finish.
Despite standing 6-5, the Sandburg senior was an undersized heavyweight, but when it counted, Bosco was bigger than everyone else – witnessed by his a marvelous post-season effort – which ended with earning the 285-pound state title.
"With me being a lighter heavyweight than my opponents, it was all about using my quickness, length, and athleticism to keep the other guy off balance and guessing at what my next move would be" said Bosco following his 3-2 victory over Reynolds to end championship night.
In this, his first ever state tournament appearance, Bosco would help his club win a regional title, then qualify for dual-team state, while claiming regional and sectional titles for himself.
Oak Park-RIver Forest senior, Josh Ogunsanya, who placed fourth overall a year ago, made his last stop here the best of his career when he beat Connor Gaynor of Mt. Carmel, 4-3 to win the 145-pound crown.
Ogunsanya, who came into the tournament behind Fidel Mayora (Montini Catholic) and Gaynor in the IWCOA polls – sent Mayora into wrestle-backs in fine fashion with a 5-3 victory in the semifinals to set up a date with Gaynor.
The hard fought win over Mayora would avenge an 8-7 loss to the Montini Catholic star earlier in the season.
Even at 2-2 after two periods, Ogunsanya 42-4) would take the lead for good with a third period take-down en route to well deserved title.
Ogunsanya, who will wrestle next fall at Ivy League Columbia, did not concede one offensive point in his three days in Champaign.
Edwardsville senior Luke Odom has his foot on the gas pedal from the start of the post-season, and right on through and into his 160-pound final in which he won 3-1 over Bradley Gillum of DeKalb.
"It's all about the coaching staff at Edwardsville, they've been there all throughout my career, and especially last year when the state tournament did not go my way," admitted Odum, who suffered an injury in his opening match – ending any chances of a state title.
"(That) injury was all the motivation I needed for my offseason training – and I've come back better than ever to win tonight, which is a dream come true."
The lone defeat for Odum (50-1) came at the hands of Keegan O'Toole in the final of the Cheesehead Invite in Wisconsin.
Odum will move on to wrestle next season here in Champaign, a place in which he says has been where he's always wanted to be since his start in the sport.
The dynamic duo of Sergio Lemley (113) and Noah Mis (132) have some time before deciding upon their college address – but in the present time – the Mt. Carmel duo can enjoy their individual state titles they garnered here.
For the second time in a week, the freshmen (Lemley) beat 2019 state champion Diego Sotelo (Marmion Academy) to claim his championship bracket board, while Mis was his title in a very difficult weight class that saw top rated Nico Bolivar (OPRF) lose in the quarters, at the same time Mis (36-4) defeat No. 3 Evan Stiles of Montini Catholic.
"Noah is so long – his length makes him near impossible (when) he's on top," began Caravan head coach, Alex Tsirtis.
"You saw how tough he was when he beat (Stiles) in the quarters (technical fall) and how equally nasty he was when he got the lead on (Jack) Milos and never let him get anything going in that third period, and he carried it on through in his final with (Tommy) Curran from DeKalb."
Mis would defeat No. 4 Milos (47-2) 7-3 in the semifinals, then Curran in his final, 9-2.
There would be no denying Joel Vandervere of his 138-pound championship on Saturday after the Warren Township junior cruised through regionals, then sectionals, and, for that matter, his three days in Champaign to give the program its first title since 1966, when Dennis Murphy did so at 103.
"Ever since losing in my final last year in overtime, one of my goals was to get back into the state final, and win it all – there was no way I was going to have that feeling of finishing second," admitted Vandervere, one day after beating Fabian Lopez, of DeKalb, 9-0.
"Joel is obsessed with being the best (his) work rate is so ridiculously high, and it matches his desire to be one of the best, if not the best in the nation is what drives him during his time in the room, and outside of the room," says Warren assistant, Jim Ouimette.
That drive is what will send Vandervere to Northwestern in the fall of 2021.
"There isn't a better place for me that combined incredible academics with the sport of wrestling, so my decision to go to Northwestern was an easy one in the end," says Vandervere, who was a Super 32 champion during the offseason.
Belleville West junior Josh Koderhandt (43-0) would share that same empty feeling as Vandervere would have after his state final defeat last season here to Colton Drousias from Mt. Carmel.
"(That) loss stayed with me all during the summer, and right up until the start of this season," said Koderhandt after his 6-4 defeat of Vincent Robinson (Marian Catholic) in his 120-pound final, and back in December following his championship won at the Rex Whitlach in Hinsdale.
"If there was anything that I needed to keep me motivated to work and train harder than I've ever done was that loss to (Drousias) it was that one," continued Koderhandt, who gave his program its fifth state title in program history.
Koderhandt credits former Bloomington High School star, and former state champion, Savin Haywood for his success after he began training with the 2018 state champion.
"Having Savion in the room is great for all of us, especially me because he's a big, strong guy, whose in great shape, and has so many years of experience under his belt, including in college," says a grateful Koderhandt.
Haywood would compete at Old Dominion University after his graduation from Bloomington, then transfer to SIU where he's put aside wrestling for academics.
Academics is where David Ferrante shines – but the Huntley senior would shine brighter than most on Saturday night following his impressive 8-2 victory over Luke Rasmussen of Barrington to win his second state title.
The four-time state qualifier, and three-time state medal winner is regarded as the best ever in porgram history, and would have been regardless of where he would finish at 170 pounds.
State Farm Center has been a tasty second home to Ferrante who won back-to-back titles in 2019 and 2020, in addition to a fourth-place medal his freshmen year (but) the arena also proved to one for heartbreak – something of which the affable Ferrante appreciates more than ever before.
"When you come in here as a freshmen, and leave with a state medal in your first visit, you sometimes take things for granted," begins Ferrante.
"It was difficult the following year when I came away from here with nothing, when especting something – so there was a lesson to be learned from it all."
"When that final whistle ended my match with Luke – it was a tremendous relief for me because I know how much I've put into my training, and the sacrifice to get to this point, which could have never happened without the support of my family, teammates and coaching staff."
The constant 24-7 work that Ferrante put into his quest to be the best never took its toll on his academics, something both he and head coach, B.J. Bertelsman are proud of.
When asked for information on the work Ferrante puts into the classroom, Bertelsman would respond: "Do you have all day."
A small sampling of Ferrante's achievements from Bertelsman included:
No. 1 in his senior class of 756.
Twice named all-academic at The Clash.
National Honor Society member
Up for numerous academic awards at Huntley
Heading to Northwestern as a pre-med student
"Northwestern would reach out to me following my freshmen year, and I went on to train there during the summer, and later met Andrew Howe (Northwestern assistant) – who I instantly connected with, and have continued training with him since then," says Ferrante.
The Huntley star considered Cornell of the Ivy League, but the combination of being a part of a program he's became familiar with, competing in the Big 10, and knowing the academic resources available to him at Northwestern all made for the perfect partnership.
Ferrante would finish 48-2 on the season, which included two victories at dual-team sectionals, and dual-team state, giving him 160 for his career, just behind: Zach Spencer (164) and his brother Sammy who's atop the leader board with 169.
Ferrante goes out as the program leader in pins with 104.