Class 1A state champions survive crowded field
By Patrick Z. McGavin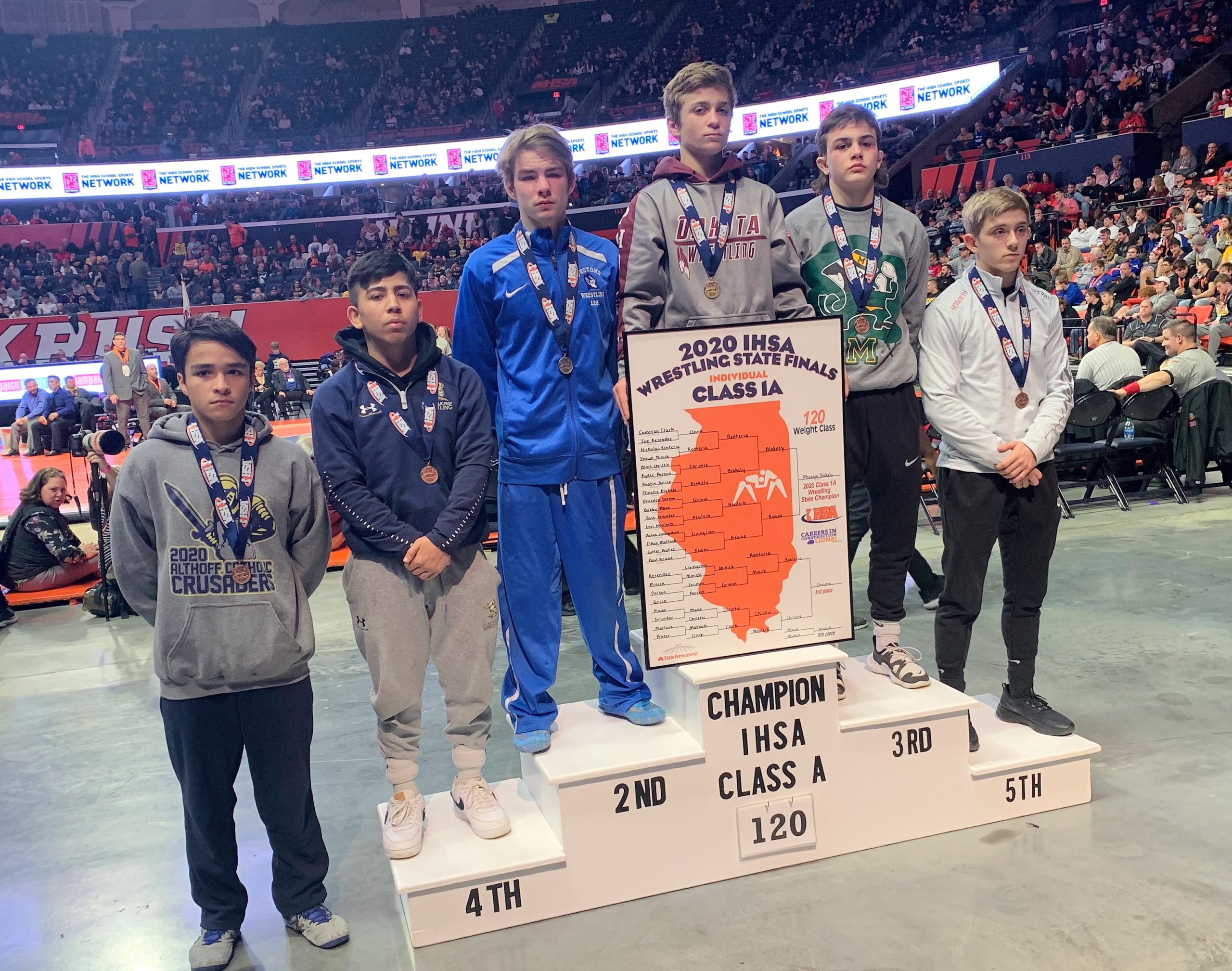 Tristan Daugherty never looked to settle. Circumstances somewhat conspired against him during his first three years at the individual state championships.
He was always right there, as good as it gets, but just not quite able to ascend the very top of the medal stand. A year ago, wrestling in Class 2A at 126 pounds, Daugherty finished third.
Context is everything. The two place-winners ahead of him, Joliet Catholic's DJ Hamiti and Washington's Brody Norman, had multiple state championships to their credit.
Hamiti and Norman just won Class 2A state titles.
"I have always dreamed of being a state champion," Daugherty said.
Harvard sophomore Nik Jimenez was like a younger iteration of Daughtgerty—a precocious and striking talent who proved his value against many of the best wrestlers in the state.
Jimenez entered the Class 1A state championship at 126 pounds against Daughterty ready to make a statement. 
Instead he was served a lesson in the art of savvy, experience and a preternaturally gifted wrestler looking to go out on top.
"My success is a function of my work ethic," Daugherty said. "I'm willing to go into practice every day looking for ways to get better. I just feel as though there are not many people out there who work as hard as I do."
Jimenez posted a first-period pin and two commanding decisions to reach the title mat. But his run ended there against Daugherty, the senior from Notre Dame (Peoria).
"My shots were there, and I just did what I have been doing all year long and that is being very physical," Daugherty said. 
Daughterty made state history with his technical fall victory at 5:13 (20-5) Saturday night at State Farm Arena at the University of Illinois. 
He not only captured his first state title. Daugherty also established a record for career victories in the state series with 17.
"It's crazy," Daugherty said. "I didn't even know I was up for that record. Just hearing my name associated with that is fantastic. I got out there and it worked. Everything I ever dreamed of finally came true."
By its very nature, the Class 1A state finals has always been a rush. Just surviving the gauntlet is a striking achievement by itself. The small-school classification has the greatest concentration of schools. 
That volume means talent flows in all directions, and just surviving the regional and sectional rounds is often a war of attrition. A new ruling in how schools are classified meant several programs—like Daugherty's Notre Dame—dropped a class.
An already tough, deep and talented field became ever more impossible to negotiate. The Class 1A field featured an astonishing nine returning state champions.
No match illustrated the heightened stakes, drama, intensity of feeling and flat out terrific contrast as the 170-pound final. 
At the top of the bracket was junior Logan Deacetis of Prairie Central, the defending state champion at 160 pounds who entered the match riding an astonishing 110-match winning streak.
Deacetis had decimated his half of the bracket with his strength, power, technique and athleticism. He had two quick pins and a technical fall.
His counterpart, Dakota junior Andrew Wenzel, was the defending state champion at 170 pounds. He was 39-2 entering the final, his only two losses coming against Huntley state champion David Ferrante.
Just to get to the final, Wenzel had to survive previously unbeaten Nate Critchfield of Mount Carmel 4-3 in the semifinal round.
"It's so important having that experience of being in a state final," Deacetis said. "It's such a high pressure event, and some guys really struggle with that."
Deacetis ran his record to 57-0 with his 3-2 victory over Wenzel..
"He is so good at his takedowns, and I just had to make sure that I was able to follow through on my combinations and get to my takedowns and not let him finish his," Deacetis said.
The 195-pound title echoed the 170-pound match as Deacetis's teammate Brandon Hoselton entered the final seeking his third consecutive state championship.
He was also trying to extend his extraordinary winning streak of 115 matches.
Coal City senior Daniel Jezik was a three-time state finalist. He finished second at 160 pounds in Class 1A as a sophomore and captured the Class 2A 182-pound individual title as a junior.
Hoselton administered Jezik his only defeat of the year—3-2 in overtime last December 21.
The power, strength and contrasting styles between the two were enthralling to see. Hoselton flashed quickness while Jezik found ways to keep him off balance. 
Jezik (50-1) pulled out the 3-2 victory.
The field also marked the primacy of youth, especially at the lower weights.
Immaculate Conception freshman Saul Trejo Jr. defeated Althoff's Matthew Minick 5-0 at 106 pounds. Trejo (28-3) also beat Minick by 5-3 decision earlier in the year. His combination of balance, speed and quickness set him apart. 
The familiarity of going up against Minick proved invaluable.
"I had no mistakes compared to the last time I faced him," Trejo said. "I just knew what to do. I studied him and I executed everything perfectly."
He took great significance in what his victory personified.
"This means a lot because it inspires my other teammates to know that you can be (physically) little and yet do something so big. It's just going to grow our program."
At 120 pounds, Dakota freshman Phoenix Blakely lived up to his name. He rose against a stacked field that included defending 1A 113-pound champion Levi Neulieb (30-4) of Heyworth and Peotone senior Paul Keane (44-2), an individual runner-up at 120 pounds last season. 
Keane dominated Neulieb in the semifinals with a 17-3 majority decision. Blakely defeated Immaculate Conception sophomore Nick Renteria (37-9), who stunned presumptive favorite and No. 1 ranked Cameron Clark (40-2) of Illini Bluff in the quarterfinals.
Blakely (37-7) adjusted his style tactically on the go and found the means to dispatch Keane 3-1 in the championship. 
"Coming in I never wrestled him before, and I knew it was going to be tough," Blakely said. "It was going to be hard because he wrestles on his knees. I had to match up with his level."
Blakely turned the tide with a dramatic late takedown.
"I kept going down to one knee and getting closer to him," he said. "I knew eventually my arm drag would work. In the last second I got him, and that was amazing. I have been working so hard for this. 
"I never thought I'd get this far."
Oakwood junior Gage Reed embodied the tenacity and drive of finishing close to the top and after finishing fifth last season at 113 pounds, he made the leap.
Working against an exceptionally deep field, Reed (43-3) broke through and defeated sophomore Tavius Hosley of Unity 3-0 in the 113-pound championship. 
His aggressiveness marked his weekend in Champaign.  "I just stayed with my game plan that I developed with my coaches," Reed said. "It was just non-stop offense, just shooting and shooting.
"It worked all the way up here. That'ss what I had in mind when I came up here, and that was all I wanted to do from now on.
On a night of remarkable performances, Litchfield junior Will Carlile (41-0) put an exclamation point. A year after finishing fourth at 120 pounds, Carlile defeated two defending champions en route to the compelling 2-0 victory over Ethen Doty of West Carroll in the 132-pound championship.
That was the exclamation point. Carlile's 12-5 decision over No. 1 ranked Gabe Spencer of Heyworth in the semifinals was equally impressive.
Spencer (39-2) finished second as a freshman at 113 pounds and won the 1A state championship at 120 pounds last season. He defeated Marey Roby of Lena-Winslow 8-2 for third place.
In the championship, Carlile executed a deft reversal in the third period.
"It is something I have always dreamed of, and never imagined it would happen, especially against the kind of wrestlers I was matched up against," he said.
Small school powerhouse Rockridge dominated consecutive  middle weights by winning titles at 138 pounds and 145 pounds.
Senior Dallas Krueger (47-0) closed out an overpowering season with a pin of the No. 2-ranked Adam Meenen of Rocks Falls at 4:40.
The victory was Krueger's third of the year against the highly skilled Meenen (45-7). His quickness, power and speed proved an unsurpassable combination.
"I had to prove it three times this year against the No. 2 kid in the state," Krueger said. "To go out there and pin the last kid, which I had not had the chance to do in any of the previous matches, was really special.
"It's the greatest feeling in the world to have this bracket in my hands and win this championship."
Krueger had previously finished fifth, fourth and sixth respectively.
A season after finishing runner-up at 145 pounds, Rockridge senior Nolan Throne withstood a brilliant and sustained effort by Althoff senior Anthony Federico for the 3-2 victory.
The third time also proved magnificent for Newman senior Kyle Tunink (45-1). He defeated Alleman junior Jack Patting for the third time.
His 5-1 victory gave him his first state title and second individual trophy. It marked a sweet culmination after he qualified though failed to place last season.
Winnebago's Bruce Faworski also upended the traditional thinking by blitzing presumed favorite Makail Stanley of Argenta-Oreana with a majority decision 14-4 in the quarterfinal round.
That propelled him to the 160-pound title against Coal City's David Papach. Faworski's aggressive and intuitive style proved decisive in the 8-6 victory.
He finished fifth at 145 last season.
"I like to come out very aggressive in the first period and keep pushing through and break down my opponent mentally," Faworski said. "I just went with my gut. It feels great to see what I've done."
Camaraderie is one of the animating features of the tournament. Althoff junior Joe Braunagel had different motivations shaping his experience at 182 pounds after watching teammates Matthew Minick (106) and Anthony Federico (145) be deprived of state championships.
"I wanted to do it for them," Braunagel said. "They really wrestled hard, and this made it all the more meaningful for me."
He already stunned the field by deposing of defending champion Micah Downs with a third period fall in the semifinals.
"I have been in the finals seven times before, and this was the first time I won it," Braunagel said of his 5-4 victory over Justin Peake of Johnsburg.
The 1A began with a bang and ended with a roar with two epic clashes at 220 and 285 pounds, respectively.
In a rematch of the Oregon sectional championship, Bryan Caves (48-1) edged Peyton Lind of Byron 4-2 with a late takedown. Caves beat Lind (42-3) in overtime a week earlier. 
The last two matches linked the three classes in a way that could not have been foretold. Byron had two state finalists at 220 and 285 in 1A. Lemont had two finalists at 220 and 285 in 2A. Sandburg had two representatives in 220 and 285 in 3A.
Lemont went 2-0, Sandburg 1-1 and Byron 0-2.
Westville junior Hayden Copass completed a perfect run (26-0) with the thrilling 3-1 victory over Tyler Elsbury of Byron. Copass finished state runner-up in 2A last season, while Elsbury was state runner-up in 1A.