Montini's exclamation point of dominance
By Patrick Z. McGavin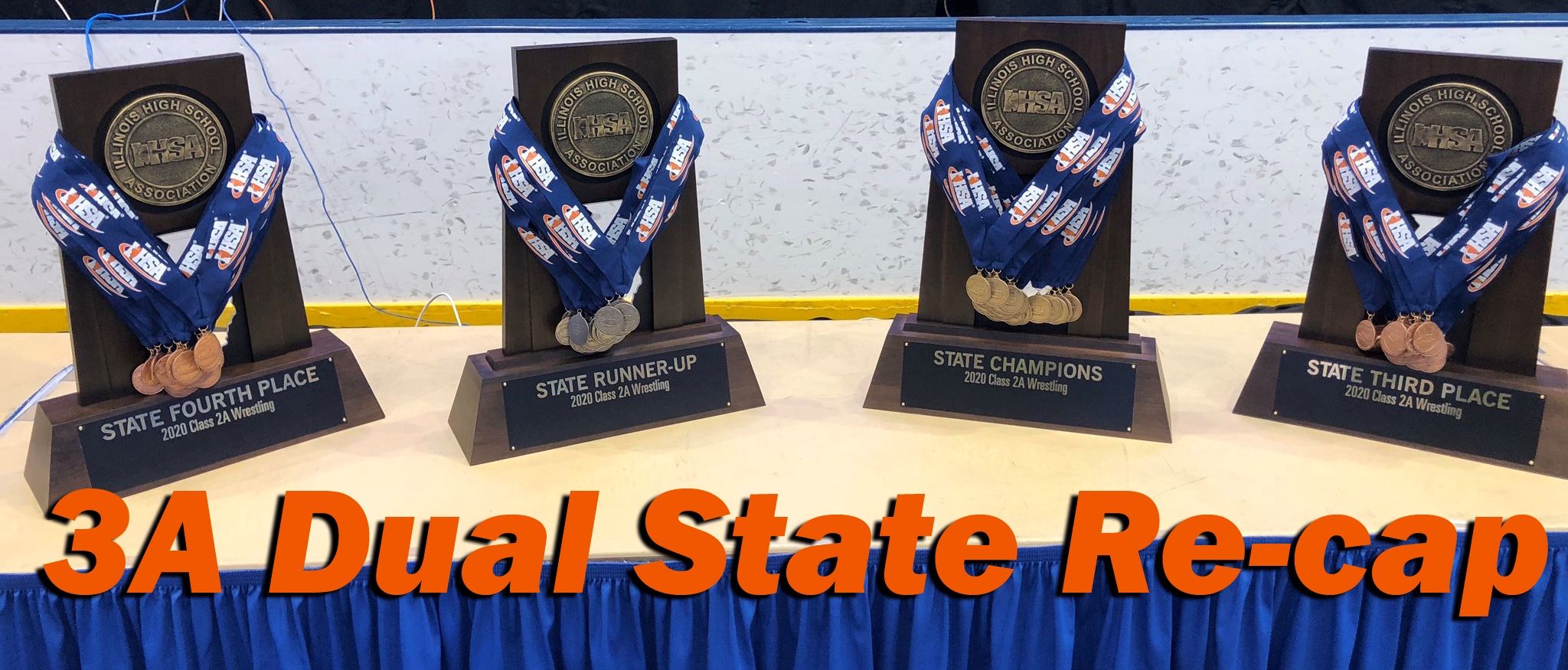 Joe Roberts set a blistering and dominant tone that proved impossible to top.
"Everyone on this team put in the work," Roberts said. "Everyone on this team is such a good person, such a hard worker.
"Everyone here deserves this."
The individual Class 3A state champion at 152 pounds, Roberts showcased dazzling quickness, technique and power in overwhelming Mount Carmel's Colby Lopez 25-9.
With that performance, Montini marked the start and end of one of the most dominant all-around individual and team performances in the history of the sport.
Already riding high after producing an unprecedented five individual state champions and 11 all-state wrestlers, Montini went to an even higher gear.
The Broncos made another grand statement with its 37-9 victory over Mount Carmel for its third consecutive 3A team dual championship at Grossinger Motors Arena in Bloomington on Saturday night.
Against powerhouse rival Mount Carmel, Montini won the first six matches in running out to the commanding 20-0 advantage.
"Coming into this weekend, the team came into this knowing we are the greatest team to ever step on the Illinois mats," senior 220-pounder Joshua LaBarbera said.
"An undefeated season, ranked No. 3 in the country, something in 3A that had never done that before."
Montini is a 21st century phenomenon. Since winning its first dual team championship in Class A in 2000, the Broncos have won 16 state championships this century.
Montini (24-0) and Mount Carmel (12-2) have been joined at the hip all year—the equivalent of a shotgun marriage—as the two standard bearers of Class 3A wrestling.
The two have stood atop the 3A team rankings since the preseason.
As great as Mount Carmel has been this season, Montini stood above the fray—at a whole other level.
"They were an extremely competitive team," Mount Carmel coach Alex Tsirtsis said. "I think every single guy who wrestled today did not miss a match for them the whole year.
"If they did miss any, it was just a short time."
The final score is somewhat misleading. Mount Carmel wrestled well. Montini won seven of their 11 matches by three points or fewer.
"They really prepared well for us," LaBarbera said. "You could tell in a couple of specific matches, with (Trevor) Swier, myself, a couple of other kids, they knew what our bread and butter was.
"They were focused. They probably watched a lot of film because as soon as we got to our ties, they knew what we liked to do in those situations. I think that was their goal, to keep the matches close and try to steal them at the end."
In many instances, the team dual final represented the fourth or fifth time specific wrestlers locked up against each other this season.
At 120 pounds, Vazquez and Colton Drousias staged a rematch of their third-place match at the University of Illinois. It marked the sixth time this year the two have confronted each other.
Vazquez reversed the individual state outcome with a 4-3 decision. Their clash illustrated the fullness of how inextricably bound together the two programs were.
Mount Carmel performed very well. The experience of performing at the highest levels proved too difficult for even a team as skilled and versatile as Mount Carmel to puncture Montini's privileged air of invincibility.
"It is just about going out there and executing and doing what you have to do and what the coaches tell you what to do," Mount Carmel senior Jalen Grant.
Grant, the 285-pounder who finished fourth at the University of Illinois, ended the Broncos' run with a painstaking 3-0 victory over Colin Baker.
"We could not get it done today, but I think everybody tried their best," Grant said.
At the 3A individual state championship one week earlier, Montini had five state champions: Joseph Fernau (106), Dylan Ragusin (126), Roberts (152), Trevor Swier (182) and LaBarbera (220).
The Broncos had five first-place finishers, four thirds, a fourth and a sixth. Montini became the first program in 3A history to qualify wrestlers at all 14 weight classes.
Ragusin (45-3), Swier (44-6), Fidel Mayora (44-6), Roberts (42-5), Brayden Thompson (41-11) and Nick Gonzalez (40-14) either reached or surpassed the magical single-season victory total of 40.
Nain Vasquez (39-13) and Fernau (37-9) were on the verge.
Mount Carmel produced two individual state champions in freshman Sergio Lemley (113) and junior Noah Mis (132).
The Caravan also a state runner-up with junior Connor Gaynor (145), a third-place finisher with Drousias (120) and a fifth-place finisher with senior Ashton Breen (160).
Michael Kelly (152) and Nik Mishka (220) each qualified for the quarterfinals.
The brackets worked out and the two powerhouse Catholic League programs stood at opposite sides. Montini and Mount Carmel blitzed through the field.
The Broncos decimated previously unbeaten Lockport in the quarterfinals and won 13 out of 14 matches against Barrington.
Mount Carmel matched Montini by conceding just one match against Minooka in the quarterfinals and took care of business with Sandburg.
Mount Carmel was the only Illinois program to prove competitive against Montini during the season. On December 7, the Caravan led 26-12.
On that day, Roberts initiated the comeback with a major decision over Lopez as the Broncos won the final five matches for the 32-26 victory.
The closest any Illinois program came within Montini was 31 points.
"I think this opportunity is truly a story of me being blessed," Roberts said. "Having five state champs was just crazy. We all came together. Our bond is pushing us past these teams.
"The difference between the beginning of the season and now is the work that has been put in all year."
The dual team championship produced the match up everybody wanted.
The results favored Montini. The Caravan contended at virtually every weight other than the two technical falls registered by Roberts and Fernau.
"They were all competitive matches," Tsirtsis said. "We need to build off those guys who did a good thing and finish strong. That needs to be contagious for the rest of the guys on the team and we will go from there."
The marquee match-up favored a clash of two state champions. The 126-pound state champion, Ragusin jumped up a class to meet the Caravan's Noah Mis.
Mis dominated Montini's Ethan Stiles with a technical fall in the quarterfinals at the University of Illinois. An injury prevented Stiles from competing on Saturday.
Ragusin was up to the challenge.
"I am confident in my skills in whatever weight class I go," he said. "I feel like, pound for pound, I am the best wrestler in the state of Illinois.
"I wanted to fulfill that."
Ragusin conceded some size and length against Mis. His quickness and power neutralized his opponent's normal aggressiveness.
A four-time state finalist who won backup-to-back individual state titles, Ragusin kept Mis off-balance with his superb footwork and grace.
Ragusin's 6-3 victory symbolized the depth of Montini's power and strength.
"The coaches asked me if the points were tight, would I be willing to go up a class and wrestle him," Ragusin said. "There was no better way to end my last high school match then to go and beat the state champion a weight above.
"Everybody is surprised but us about the outcome. We know how hard we work. Everything that we do, we always do the right things.
"Montini wrestling has definitely molded me into the man I am today."
Lemley executed a late reversal for his 3-2 victory over Gonzalez at 113 pounds. Alex Lalezas (126) won by the same score over Logan Swaw
Mayora closed out the run with a 3-1 victory over Gaynor, reversing the individual state dynamic where he finished third to the runner-up place of Gaynor.
After everything was said and done, Montini was simply too much—for Mount Carmel and the rest of the field.
"We are too disciplined, too focused, too mentally strong and too conditioned," LaBarbera said.
In the third-place match, Barrington won the first six matches to defeat Sandburg 40-28.
The Broncos (26-3) secured the best finish in program history and also established a new record for single-season victories.
The most telling match played out at 220 pounds as junior Evan Roper dominated state runner-up Kevin Zimmer 11-4.
"It was a bit of redemption because obviously he was in the state finals and I wasn't," said Roper, who finished third at the University of Illinois.
After losing in the quarterfinals in consecutive seasons, Barrington struck back by defeating rival Huntley 34-28 in the quarterfinals.
Roper's major decision proved the Broncos' only points against Montini.
Barrington answered the challenge with its superb performance to close out the season.
"Ever since we got that draw, we were always saying this year was going to be the year we were going to get that trophy," Roper said.
"The third time was the charm because this was our third straight year down here."
Barrington finished fourth in 2010 and 2012.
Senior Luke Rasmussen (46-1), who finished second at 170 pounds, closed out his remarkable career with a first period pin. He was held out of the sectional and early round performances after he suffered a shoulder injury against Huntley's David Ferrante in the state championship.
"Taking third at team state is really bigger for me than any of my other accomplishments," Rasmussen said. "To be able to do this with my friends and coaches I have been with my whole life is a great thrill."
Barrington won nine matches to close out its dream season.
Rasmussen, Roper and senior Kai Conway (48-6, fourth in state at 160) each earned all-state recognition. Barrington qualified six individuals at state.
Senior Jack Hartman (40-8, 195) and Brian Beers (41-10, 113) also reached the 40-victory plateau. Hartman closed out his career with an impressive first period pin against Sandburg quarterfinalist James Hart.
Sandburg (24-7) captured its first state trophy since the 2015 team that finished state runner-up.
Senior Mike Bosco punctuated his extraordinary season with a 10 second pin at 285-pounds. Until this season, Bosco had never even qualified for individual state.
Despite weighing just 214 pounds, Bosco (46-0) used his angular 6-foot-5 length, athleticism and speed to overpower his heavier opponents in capturing the individual state championship.
Bosco, Zimmer and Hart posted consecutive pins that enabled the Eagles to overcome a 21-6 deficit in beating DeKalb 35-30 in the quarterfinals.
"It is unfortunate we could not get it done, but I am happy with how my season ended," Bosco said.
"I think one of the biggest things we did so well is our team chemistry was so strong. We might have had more talented teams in the past, but everybody on this team is my friend.
"I think that goes a long way."
3A dual team finals
Grossinger Motors Arena
Quarterfinals
Barrington 34, Huntley 28
Montini 59, Lockport 9
Sandburg 35, DeKalb 30
Mount Carmel 55, Minooka 3
Semifinals
Montini 70, Barrington 4
Mount Carmel 57, Sandburg 10
Third-place
Barrington 40, Sandburg 28
Championship Montini 37, Mount Carmel 9