Big dogs bark at Hinsdale Central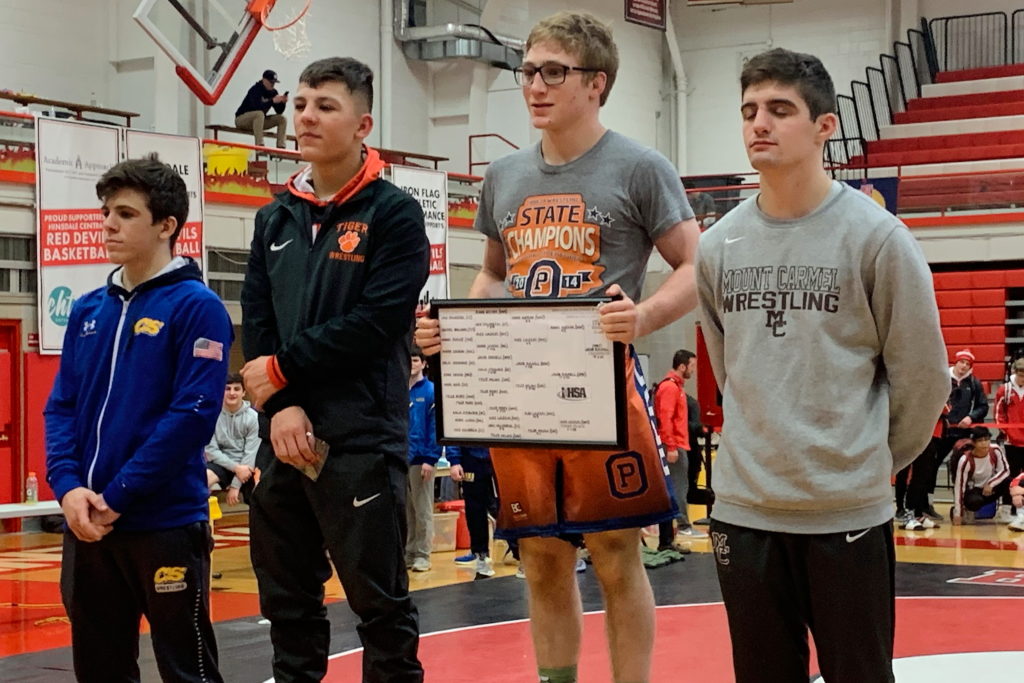 By Patrick Z. McGavin

Few things touch on the consciousness of the athlete like the sense of time slipping away.

Joshua Ogunsanya had the situational awareness to realize the deck was stacked against him. To his credit, panic never set in. It only marked his push to change the outcome before him.

"I just had to remind myself that the match is not over until it is over," Ogunsanya said. "You can't emotionally detach yourself or give up on yourself when you are at a point deficit.

"You have to keep pushing."

In the 145-pound championship of the Class 3A Hinsdale Central Sectional, Ogunsanya confronted one of the state's top wrestlers, Mount Carmel junior Connor Gaynor.

The clash of styles and temperaments created high drama, with Gaynor establishing the apparent edge with a first period takedown.

The moment offered Ogunsanya his own clarity.

"Personally I felt up until that point I was not on offense enough or nearly as aggressive as I needed to be," he said. "There was a point deficit, and it was all about attacking and driving."

Down 5-0 to start the third period, Ogunsanya used a brilliant combination blitz that he turned into a reverse cradle for a stunning fall at 4:42.

One step from the individual state championships at State Farm Arena in Champaign-Urbana, the sectional round is a study of toughness, mental acuity and physical exertion.

Seventeen of the 30 participating programs qualified at least one individual.

Mount Carmel, the No. 2 ranked program in Class 3A dating to the preseason, showed off its depth, talent and versatility with 12 qualifiers.

The Caravan produced seven individual finalists, with four champions, three runner ups, four third-place finishers and one fourth.

Two other top-ranked programs impressed: Oak Park-River Forest had three individual champions and seven qualifiers.

Sandburg had three individual champions and six qualifiers.

Marist had no individual winners but impressed with its depth in qualifying six wrestlers. Marmion and Bolingbrook produced four qualifiers.

Seven schools produced the 14 individual winners, with wrestlers from Marmion (Jacob Tinajero, 138), Waubonsie Valley (Antonio Torres, 170), Lyons (Griffin King, 182) and West Aurora (Dzhabrail Khurshidov, 195) also standing atop their respective podiums.

"On Friday night, I thought we wrestled really flat," Mount Carmel coach Alex Tsirtsis said. "We had a talk Saturday morning, and I told them they had to be ready to battle and count hard for six minutes or longer, because that's what their opponents are going to do."

Sandburg, which will host Oak Park-River Forest in the team dual sectional on February 25, is ranked No. 6. Mount Carmel and Naperville Central is the other dual sectional match at Sandburg.

The Eagles bookended the sectional by winning at the start, with sophomore Sammie Hayes (106 pounds) and senior Mike Bosco (285 pounds).

Sophomore Kevin Zimmer, who tied a school record with his 33rd pin of the season in the quarterfinal round, beat Naperville Central's Angelo Eklou at 220 pounds.

"I think our kids performed well," Sandburg coach Clinton Polz said. "I am always left thinking about the ones that could have been, but I am happy for our qualifiers.

"I think our three champions have a shot at being right there with the top guys (at Champaign)."

Hayes, a preternaturally gifted sophomore, set the tone with his brilliant performance. He recorded two pins and dominated Hinsdale Central freshman Cody Tavoso 8-1.

He improved to 38-1.

"My mentality was to have fun, trust my technique and be as quick as possible," Hayes said. "I think I was aggressive. I think I was definitely having the most fun out of all of my opponents. I was looking to dominate.

"I wanted to be the best kid in the room."

The sophomore moulds his style after his brother Louie Hayes, a former two-time state finalist and individual state champion who was a four-year starter at Virginia.

"I am really looking forward to wrestling in Champaign," Sammie Hayes said. "I have always wanted to do what my brother did. He is a great mentor and coach to me, and I just want to be like him. He has paved the way for me.

"As much as I can follow in his footsteps, the better."

Explosive and dynamic, Zimmer recorded a first period takedown to gain the early advantage. He used his athleticism and strength to subdue Eklou.

He improved his record to 42-3.

Zimmer is an elite three-sport athlete. He played tight end for the Eagles and then shifted to quarterback for their final five games last fall. He qualified last year at 195 pounds.

Ranked No. 6 in his weight class, Zimmer has put his name atop one of the best programs in the state.

"I am glad I made it down last season and that I can experience that again," Zimmer said. "I am feeling really accomplished (about tying the school single-season pin record).

"I still need one more to break it, but it is just really cool to be a sophomore and to be almost leading the Sandburg history. I feel honored to be a part of that."

Like Ogunsanya, third-ranked Bosco dueled a gifted Mount Carmel counterpart in senior Jalen Grant.

He also found a way to recover from a significant deficit.

Bosco's 8-5 double-overtime victory put the exclamation on a brilliant day of individual performances and striking individual narratives.

Zimmer's emergence meant the 213-pound Bosco had to jump up for the 285-pound class. The athletic and explosive senior, also a football standout, has never looked back.

At 6-foot-5, he makes up for his lack of bulk with quickness, length and technical prowess.

Grant showed off his own dazzling combination of power, quickness and strength. With just 10 matches coming into the final, Grant was more of an open book, a considerable unknown.

His only previous loss was against Providence's Ryan Boersma in the Catholic League conference championship.

In the first and second periods, Bosco had the initial single-leg only for Grant to powerfully repel his hold and snap Bosco from behind for the takedown.

Grant led 5-2 late in the second period when Bosco made his move. With Grant looking to ride him out, Bosco engineered a scissor move and caught Grant on his back. The reversal changed the momentum and pulled Bosco within 5-4 to start the third period.

"I knew time was running out," Bosco said. "I had a click, and that was probably the least tired I was the entire match. I felt like I had it, and I knew what I needed to do.

"That move decided the whole match."

Bosco earned the third period escape to tie the match. The first overtime ended scoreless. Grant won the toss and elected to defer. Bosco rode him out in his 30 seconds.

He broke free for his match-winning points. The victory marks his debut appearance at Champaign this week.

"I went there before, but I never wrestled there," Bosco said. "The word I can use is exciting. This is going to be my first time ever. I am a senior and I am undefeated."

Bosco improved to 40-0.

Mount Carmel was the story of the day. The Caravan displayed resilience and the ability to perform at the highest level.

The championship of the 113-pound title marked the only No. 1 versus No. 2 battle.

Freshman Sergio Lemley proved precocious and daunting in taking out two-time state finalist Diego Sotelo of Marmion 4-3 in the 113-pound championship.

Lemley reversed a dual loss against Sotelo at the beginning of the season. He scored all of his points, on a takedown and reversal, during the crucial second period.

"I think the first time we wrestled I had to feel him out and figure out his style," Lemley said. "This match, I knew his game plan and I knew I had to be more aggressive and work on my finishes."

Lemley capably balanced Sotelo's speed and quickness with his crafty countermoves and his ability to generate pace and tempo.

"He is looking awesome, and he keeps getting better," Tsirtsis said. "At this point, it is all we can ask for, and keep the ball rolling for this week."

The defending state champion at 106 pounds, Sotelo fell to 39-3.

In the 120-pound championship, defending state champion Colton Drousias displayed his own dazzling technique and ability to attack from multiple angles to generate points.

He recorded a majority decision victory of 24-11 of Bolingbrook's impressive freshman Luis Bazan. Drousias is now 28-4.

Bazan is 38-8.

"Going into this weekend I was basically just trying to fine-tune everything for the state finals and make sure I am feeling good, wrestling well and scoring points," Drousias said.

Noah Mis (132) and Ashton Breen (160) also captured individual titles for the Caravan. By improving to 31-4, Mis dominated Bolingbrook's Jack Mc Dermott by technical fall.

Breen recovered from a first period takedown by Downers Grove South's Robert Major to pull out the 6-2 victory, handling Major (42-2) his first loss by an in-state opponent.

Mount Carmel nearly matched the 14 qualifiers of top-ranked and defending state champion Montini. The Caravan only failed to advance at the 170 and 195 weight classes.

Noel Rosales (106, fourth), Alex Lalezas (126, third), Colby Lopez (138, third), Michael Kelly (152, second) and Nik Mishka (220, third) also qualified.

Oak Park-River Forest senior Joe Chapman had a pin and technical fall in the preliminary matches at 152 pounds.

In the championship match, Chapman took control with a first period takedown he parlayed into the 5-0 victory over Mount Carmel's Kelly.

Chapman is now 34-6.

The Huskies also qualified Nico Bolivar (132, third), Daemyen Middlebrooks (195, third)

One of the most satisfying stories involved the extraordinary work of Oak Park-River Forest senior Jacob Rundell.

The Purdue recruit won the 106-pound state championship as a sophomore two years ago.

His opportunity to defend his title was interrupted by an illness that caused him to miss the state tournament last season.

The top-ranked wrestler at 126-pounds, Rundell was arguably the most dominant wrestler of the sectional with a pin and two technical falls.

He defeated Wheaton Warrenville South's Aidan Waszak by technical fall at 2:29 to run his record to 38-1.

"I think today just means I was able to stay the course," Rundell said. "This year has all been about getting ready for college. That has been my whole focus."

Rundell's power, balance, speed and technique makes him virtually impossible to slow down. His footwork and combination attack proved unstoppable.

"I was moving my feel really well today, which is something I was not able to do a whole lot earlier," Rundell said. "Now my focus is just on the practices we have.

"I am thinking about the long term."