Class 2A Individual Re-Cap
By Curt Herron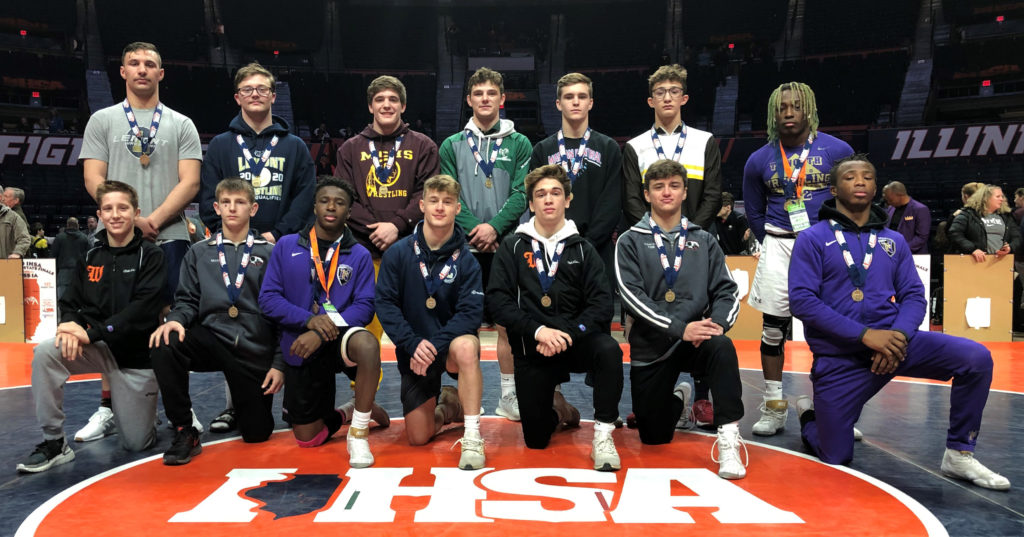 This past weekend's IHSA Class 2A finals featured a lot of very interesting story lines.
There were Thornton Fractional North's Bailey brothers making history by becoming the first family to win three state titles at one finals. And Lemont with its five finalists and three champions, breaking its school records for both feats. Also, Washington having eight of its nine state qualifiers earning all-state honors with two winning titles and another in the finals.
In addition, five unbeaten champs, two unbeaten juniors winning third titles, two four-time finalists, a head-to-head clash of unbeatens and three freshmen winners and it's clear why Saturday's competition at the University of Illinois' State Farm Center was very special.
After all three won titles in the Hinsdale South Sectional the week before, the Bailey brothers made it known that their goal was to make history by becoming the first group of three brothers to each claim a title in the IHSA finals, and they delivered on their promise.
They followed in the footsteps of their grandfather, Walter Futrell, a 1977 champion at Bloom Trail, and their uncle, B.J. Futrell, a champion at Mount Carmel in 2007 and 2008. Senior Bilal repeated as a champion while junior Sincere and freshman Nasir won their initial titles as the Baileys made history for their program, which is coached by Tim Springs, a three-time finalist and state champion at Bremen in 2001.
Nasir Bailey (41-2) got things started for the brothers in the 120-pound finals when he won 4-2 over Marian Central Catholic junior Elon Rodriguez (42-3), a two-time medalist.
"It feels good, but I expected it," Nasir Bailey said. "What was working was just pushing the pace and trying to wrestle every second of the match."
In one of the day's most-anticipated clashes at 145 pounds, Sincere Bailey (37-6) faced Lemont senior Kyle Schickel (38-4) for the fourth time with the junior looking to even the series by following up on a sectional title win. Bailey prevailed 4-3 to capture his first title and third medal while Schickel settled for second-place for a fourth-straight year.
"I had to come into the match with the mindset that I can't let this one slip," Sincere Bailey said. "I understand that I have people rooting for me and I've worked very hard for this and put in a lot of sacrifices for this. Nasir winning before me gave me a sense of satisfaction. Bilal has been my partner since day one. Making history as a family is very satisfying since we put in a lot of work for this."
And at 160 pounds, Bilal Bailey (41-2) claimed his second-straight championship in his third title appearance when he won 6-3 over Jersey senior Zeke Waltz (43-1), a two-time medalist and first-time finalist, to complete the title trifecta for his family.
"I would just like to thank God for everything that he gave me today," Bilal Bailey said. "Allowing me and my brothers to accomplish this is a great thing, and it wouldn't have happened without Him. And I want to thank both of my parents, especially my mother, since I talk to her about a lot of things outside of wrestling and it allows me to keep going forward. Last year it was just me and I'm a lot happier now than I was last year, it's not even close."
Coach John St. Clair's Lemont team got its first title at 126 pounds from senior Drew Nash (18-0), who capped a brief season that began late due to a football injury. He won his first title and earned his second medal by injury forfeit over Washington junior Joey Cape (17-3) at 3:23 when the returning state champ and three-time finalist was unable to finish the match.
"I don't like to win like that, since I really like Joey and he's a good guy," Nash said. "But winning this is a good feeling and I'm excited, especially since I've been working for this moment for my whole life. I think it was a blessing in disguise that I was injured for most of the year because I suffered last year."
The Indians claimed their second title in the 220-pound match when junior Apollo Gothard (45-0) got a 3-1 sudden victory against Glenwood junior Conner Miller (41-1) in a clash of unbeatens. It was the third medal for Gothard, who took second at the same weight last year, and the second for Miller.
"It's the craziest thing I've ever lived through," Gothard said. "It's insane, honestly. I put all my heart into it. I worked all offseason and all in-season. I knew I was going to win this year. I knew it."
In the final title match, Lemont junior Mo Jarad (43-8) followed up on Gothard's success by getting a fall in 4:49 over East Peoria senior Caleb Collins (35-6) to win the 285 title as both won medals in their state debuts. The unranked Jarad fell in the sectional quarterfinals but was able to bounce back to qualify for state.
"I really worked hard," Jarad said. "After my third-place match at sectionals, that's when it began. The coaches noticed it and I had a really big improvement throughout the state meet. I'm really happy that I pinned this kid. It was a relief, a moment that I'll probably never feel again until next year, or who knows."
Washington's nationally-ranked freshman Kannon Webster (46-0) kicked off the finals by winning 12-2 over Joliet Catholic Academy freshman Gylon Sims (41-7) in the 106-pound finals. His father, Matt, was Washington's first state champ in 1995 and is an assistant coach.
"It's awesome," Webster said. "There's are a lot of good guys at this weight and it was great that I was able to come here and win. We're in the training room almost every day just trying to work to get better. Every day I try to do something to get better and it really pays off."
Washington senior Brody Norman (39-2), a runner-up last year, won 7-2 over Civic Memorial junior Caleb Tyus (42-1), a two-time medalist, in the 132-pound finals. Norman had to compete right after teammate Joey Cape got injured and couldn't finish his title match.
"This is my whole life and I live for this and I've grinded, so this is great," Norman said. "I was a little distraught but I still had tunnel vision. My coaches just kept saying to focus on your match. I thought, I'm doing this for Joey. It was so sad, I was almost in tears before my match. I love him and did not want to see that."
Joliet Catholic Academy junior Dean Hamiti Jr. (45-0) won his third-straight state title when he won 3-2 over Lemont senior Grant LaDuke (38-2), a three-time medalist and initial finalist, in the 152-pound finals. Hamiti, who's nationally-ranked, became his school's first three-time medal winner and moved one step closer to joining the elite group of 15 individuals who've won four IHSA championships.
"I didn't really like how I won that one, so I'll just focus on next year and try to win that one by a better point deficit," Hamiti said. "Still, it means a lot to me to bring this back to my school since everyone is happy about it, so it's good. I didn't want to get scored on, but I'm just glad to get the win and keep my undefeated record."
Marian Central Catholic junior Dylan Connell (44-0) joined Hamiti as a three-time champ who was undefeated. In the 170-pound finals, Connell, who's nationally-ranked, won 5-0 over Grayslake Central junior Joey Jens (40-7), a two-time medalist who made his finals debut.
Aurora Christian got the first of its two state championships at 113 pounds when freshman Chris Moore (43-8) won 4-3 over Freeport sophomore Markel Baker (33-3) in the title match.
Then at 138 pounds, Aurora Christian senior Noah Villarreal (41-4) captured his third-straight state title and competed in his fourth finals, including his first in Class 2A. He won 10-1 over Bloomington senior Ryan Gardner (52-6), a two-time medalist who made his first finals appearance.
Morris senior Robby Bates (38-1) concluded his career on a high note by winning the 195-pound title 5-2 over Deerfield senior Cody Goodman (53-2). It was the first state finals appearance for both of the two-time medal winners.
"This is a dream," Bates said. "Since I was five years old and started wrestling, I told myself that I would be a champ some day and today that came true and I'm a state champ. I wrestled a great match against a great opponent. You just have to keep going and you can't stop. All year I said I'm going to be a state champ and I made that come true tonight."
And at 182 pounds, Grayslake Central junior Adrien Cramer (39-1), a two-time medalist and first-time finalist, won the title with a fall in 2:32 over Aurora Christian's Alex Knauf (37-11), who competed in his initial finals and also won his first medal.