Civic Memorial's whale of a day at 2A Mahomet-Seymour Sectional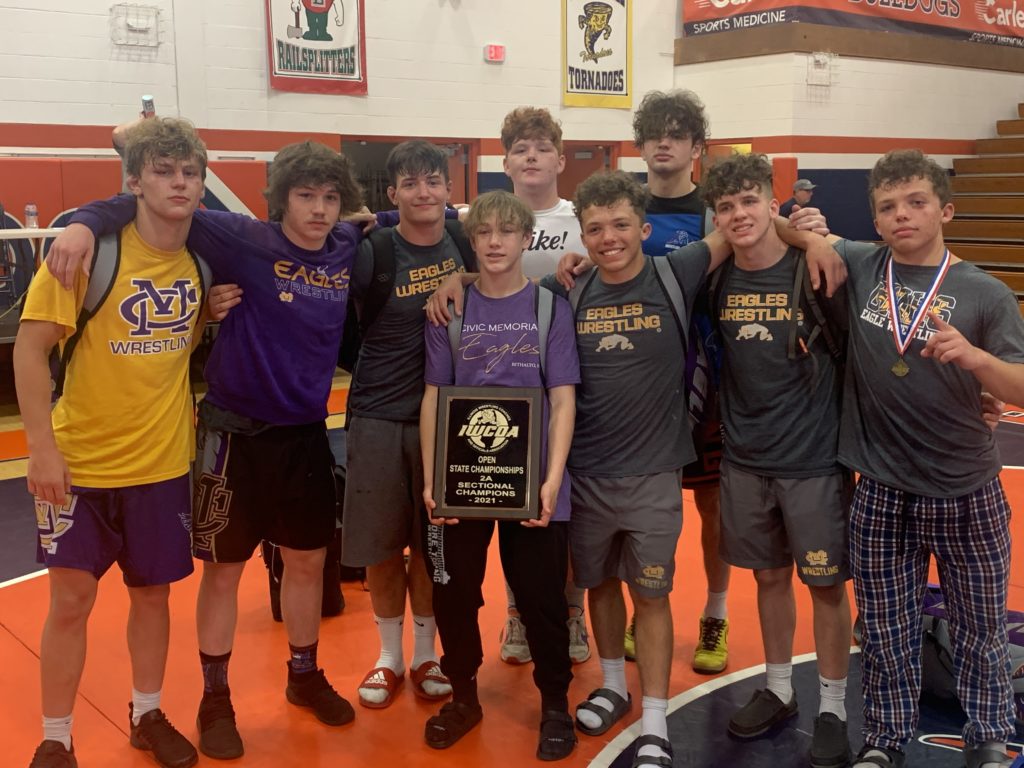 By Curt Herron
When a program has the same number of sectional champions in one day as it had in the previous 10 years combined, it's definitely a very special occasion.
That's just what Civic Memorial accomplished on Saturday when it took part in the IWCOA's Class 2A Mahomet-Seymour Open Sectional in Mahomet.
Coach Jeremy Christeson's squad won six sectional championships, had two third-place finishers and fell one point shy of getting another final-four finisher.
Whether the six sectional titles at one tournament is a school record is unclear, but what is known is that in the two years that the Eagles had more than two placewinners at state, 2009 and 1997, they did not have more than four sectional champions.
Civic Memorial dominated during the middle part of the finals as it won four-straight titles from 138 to 160 and complemented those championships with additional firsts at 126 and 182, to give it six in eight weight classes.
Those performances allowed the Eagles to win the team title with 191.5 points, which was well-ahead of the runner-ups, the host Bulldogs, who took second place with 149.5 points while Glenwood placed third with 137 points and Triad (95) and Mattoon (79.5) were next in line.
The top four finishers at each weight earned trips to Friday's IWCOA Class 2A Open State Championships, which will be at the Bank of Springfield Center in Springfield.
Winning titles for the Eagles were Bryce Griffin (126), Caleb Tyus (138), Caine Tyus (145), Vinny Zerban (152), Abe Wojcikiewicz (160) and Colton Carlisle (182).
"This was a really good tournament today," Christeson said. "We knew that we would get pushed by Mahomet-Seymour, Triad and Glenwood, but we had a real good season and did a lot of traveling in the offseason as a club. I'm just ecstatic that these seniors stuck around because they didn't have to. We're excited that they decided to stay and help mentor the younger guys. We're losing three really good kids but we're kind of just reloading a little bit so we have another good year coming up."
Griffin, a freshman who has a 23-0 record, started Civic Memorial's title run when he captured a 6-1 victory over Triad junior Chase Hall (14-4) at 126.
"It's awesome," Griffin said. "Going into this year I was unsure about what was going to happen, being a freshman, but it's definitely worked out pretty well. The guys on the team are really supportive and it's awesome to be able to train with such high-level guys on a daily basis."
Senior Caleb Tyus improved to 27-0 after winning by technical fall in 5:32 over Triad sophomore Aiden Postma (17-5) in the 138 finals. The two Tyus brothers will be continuing their careers at Southern Illinois University-Edwardsville.
It was the third sectional title for Caleb Tyus, who's a two-time place-winner and a finalist last year. That sectional titles feat was last accomplished at the school between 2009-2012 by David Pearce, who was a three-time finalist and the school's last state champion in 2012.
"We've been practicing and working hard in the room and doing what we need to do," Caleb Tyus said. "I was second last year, so this is what I came here to do, to put on a show and I'm ready. We're solid and we're looking to make history. We had eight guys make it to state and that's never been done before at our school."
Like his brother, senior Caine Tyus, who is 13-0, is a two-time place-winner. He held off a challenge in the 145 finals by Cahokia senior Jalon Strong (14-2) to claim a 9-6 win.
"I'm a senior and this is my first time winning the sectional," Caine Tyus said. "In the past couple of years we had the trouble of getting over the hump and having guys lose in the blood round, but this year we finally got past that. At practice I like that I always have someone to wrestle with."
Zerban, a senior who is 24-0, won 10-2 over Mascoutah senior Kylan Montgomery (15-4) in the 152 finals. He's happy to be back with some of his old friends after competing for the last three years in high school at St. Louis' Christian Brothers College, where he won three state medals and was part of two title teams.
"I'm glad that I came back this year since our team chemistry really came together," Zerban said. "They've always been my brothers, it just took awhile for me to come back. I think this was the best that we've ever done at sectionals. My dream is to win state in Illinois."
Sophomore Wojcikiewicz, who is 25-1, gave his team their fourth-straight title and fifth of the day when he won 7-2 over Lanphier senior Zach Acres (18-4) in the 160 finals. He qualified for state last year as a freshman and hopes to place this year.
"It's great because I think this might be the most people that we've brought to the state tournament, so it will be fun to have a lot of the guys on the team there," Wojcikiewicz said. "When you see your teammates win around you, it hypes you up."
Civic Memorial's final champion was junior Carlisle, who is 25-2, after winning 7-2 over Mahomet-Seymour sophomore Brennan Houser (23-5) in the 182 title match.
"We just worked hard and busted our butts all week," Carlisle said. "Everything that we could do, we did it. We do everything possible that we can to get better. It's really all about how close we all are. We're all like brothers and we've been together since we were little boys. This is amazing."
Mahomet-Seymour and Civic Memorial both have eight qualifiers while Glenwood advanced seven and Triad qualified six of its seven sectional qualifiers. Mattoon, Morton and Mascoutah all have three state qualifiers while Carbondale, Centennial, Lanphier and Lincoln will all send two individuals to state.
The host Bulldogs won the last of their three title matches to give them one champion for the day. He is sophomore Mateo Casillas, who is unbeaten at 24-0 after earning his first state appearance with a 7-5 sudden victory over Bloomington junior Anthony Curry (14-2) in the 195 finals.
"The best thing about being at home is that you have your fans behind you and you want to do it for yourself and for them," Casillas said. "We have eight state qualifiers, and that's awesome. My goal obviously is to do very well at state and to place. It would be a dream of mine just to get my name up on the board."
Glenwood closed the competition with titles in the last two weight classes to assure that it would join Civic Memorial as the only teams to have multiple champions.
Senior Conner Miller, who is 31-0, was champion of a bracket that featured four of the top individuals in Rob Sherrill's IWCOA rankings. Miller got a takedown in the final seconds to pull out a 5-4 victory over Mascoutah senior David Polaski (23-2) in the 220 title match. His training partner, Alex Hamrick, followed up by winning the 285 title.
"This was probably the toughest of all season," said Miller, a two-time medalist and finalist last year. "We've trained all season for this and we're both undefeated going to state, so we want to keep the undefeated streak alive. This is an opportunity we didn't even know if we would have. And I'm excited to be able to wrestle at state again."
In the last finals match, sophomore Alex Hamrick, also stayed unbeaten at 31-0 and joined his training partner Miller as a champion after capturing a 7-0 victory over Mahomet-Seymour sophomore Colton Crowley (24-4) in the 285 finals.
"Anybody that you face is going to be good so you just have to be ready at all times," Hamrick said. "Conner is a great practice partner and it's helped me a lot. But it doesn't end there, since we have backups at 220 and heavyweight that would be starting for a lot of teams. I'm taking it one day at a time and trying to get better every day."
Another senior who is unbeaten is Carbondale's Luke Daly, who is 22-0 after winning the 170 title by an 8-2 score over Waterloo junior Brandon Lloyd (20-4). A state medalist last year, Daly, who will continue his career at Michigan State University, is grateful to those who've worked with him and for having another chance to compete at state.
"The pinnacle in this state is always the state tournament and It's important to get that closure at the end of the year to see how much you've improved, so it's nice that we have this," Daly said. "We have a special coaching staff and I can't thank them enough because they've helped me so much through my whole high school career."
While there was a lot of talent at the middle and upperweights at the sectional, the lowerweights also certainly showed that they'll be a force to be reckoned with at state.
Mattoon junior Brady Foster, who is 16-1, beat an undefeated competitor and captured the 106 title with a 4-3 victory over Glenwood freshman Andrew Davis (29-1).
"This is nice and I'm excited about it," Foster said. "We didn't know if we'd have a state series until halfway through the season so this gives us something to work for. I'm hoping to be the first state champion for Mattoon. I feel like our training happened the right way and set us up to be the best when we need to be the best."
Normal West sophomore Froylan Racey improved to 20-0 to continue his unbeaten season after capturing an 8-1 win in the 113 finals over MacArthur senior Cameron Lee (13-1), a three-time state qualifier. He feels that missing out on a trip to state as a freshman has definitely been good motivation for him.
"I was a sectional alternate and lost the match to go to state to the kid who took fourth," Racey said of last season. "I've been training nonstop since then since I wanted to go to state. When my dad told me that the IWCOA was putting on the state series, it was a perfect opportunity for me to prove myself and show all of the training I've put in."
Morton junior Connor Kidd, who improved to 18-3, captured the title at 120 with a 15-7 win over Glenwood senior Jager Ferguson (12-13) and hopes to do big things at state.
"This isn't like actual state, but it's still a super good tournament where you get to wrestle tough opponents," Kidd said. "It's good for freshmen and sophomores if they qualify and the juniors and seniors still get an alternative series. I've had a couple of losses that I probably shouldn't have, but overall I feel like I've wrestled pretty well."
Jacksonville sophomore Collin Reif, who is 30-2, claimed a 12-4 victory over Lincoln sophomore Isaac Decker (29-6) in the 132 finals to earn his first trip to state.
"I was excited that we actually got a season this year and that we could come here and compete," Reif said. "I'm glad that I got first here, but the season's not over since we have state next week. And I'm so glad that we got to wrestle this year because that's just going to make me better for my junior and senior years."
In third-place matches, Mahomet-Seymour sophomore Caden Hatton (30-2) beat East St. Louis junior Jaymz Young (4-4) by technical fall at 106, Morton junior Zane Ely (19-5) won 6-1 over Centennial freshman Trevor Schoonover (19-7) at 113, Triad senior Chance Seip (14-2) won 12-10 in sudden victory over Waterloo junior Gavin Hearren (18-5) at 120, Glenwood sophomore Thomas Vansacik (30-3) won 8-4 over Morton freshman Steven Marvin (18-7) at 126 and Civic Memorial junior Ben Skaggs (22-6) was a 12-1 winner over Glenwood freshman Ben Maduena (25-7) at 132.
Springfield senior Jesse Stewart (12-4) won by injury default over Mahomet-Seymour senior Logan Hillard (26-3) at 138, Glenwood sophomore Aden Byal (25-7) won by injury default over Lincoln senior Austin O'Donoghue (34-2) at 145, Mattoon junior Kiefer Duncan (19-2) was a 3-2 winner over Mahomet-Seymour junior Braeden Heinhold (22-6) at 152, Mascoutah junior Logan Will (21-4) won 7-4 over Mahomet-Seymour senior Peyton Myers (20-6) at 160 and Civic Memorial senior Briley Christeson (26-5) captured a 9-6 win over Lanphier sophomore Gabe Orosco (19-3) at 170.
Mattoon sophomore Kyus Root (14-4) won by fall in 3:19 over Mt. Vernon freshman Mason Randall (19-8) at 182, Carbondale sophomore Aiden Taylor (22-1) won a 12-11 decision over Triad junior Seth Brooks (16-6) at 195, Mahomet-Seymour senior Daniel Renshaw (28-3) got a pin in 3:54 over Triad senior Collin North (17-5) at 220 and Triad senior Everett Walsh (15-5) won 5-3 over Centennial senior Scottlind Sims (11-5) at 285.