Glenbard North takes 3A Sectional crown in St. Charles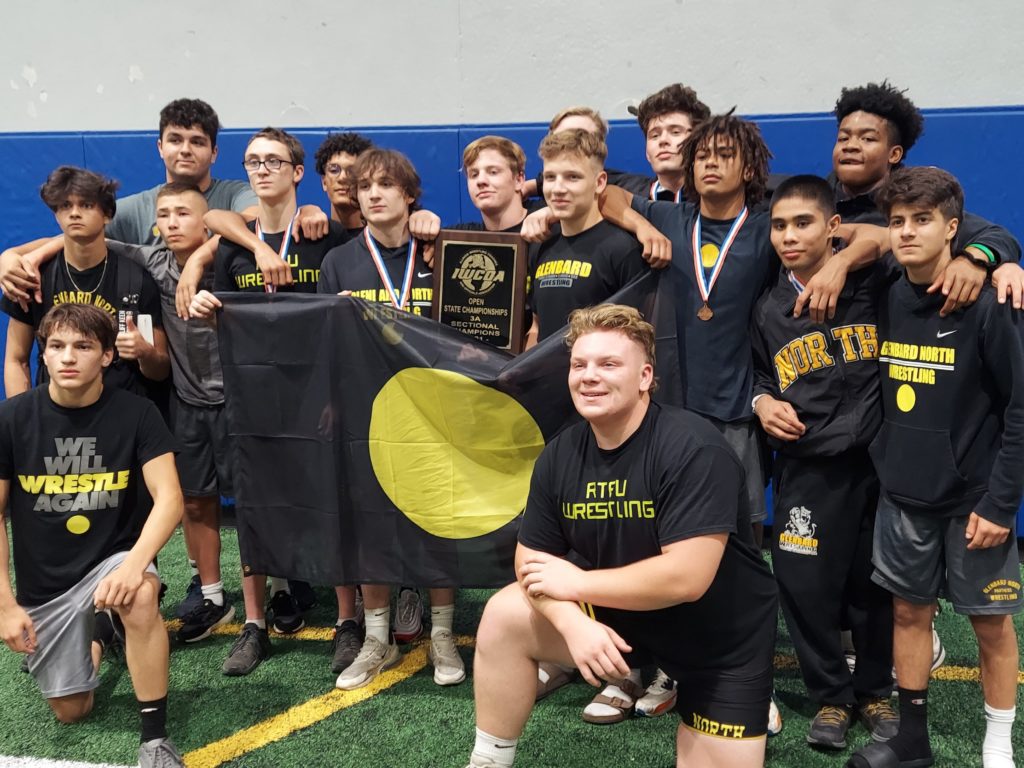 By Gary Larsen
The way he wrestled Saturday, Nolan Allen could be the poster boy for the past, present, and future of what Glenbard North wrestling strives to be.
"He's a machine" North coach Travis Cherry said. "He's got one speed and it's go-go-go. He wrestles hard, he wrestles well, and he's got a great wrestling IQ."
The Panthers' sophomore — currently ranked No. 2 in Illinois in Rob Sherrill's IWCOA rankings — dominated the field at the IWCOA Open 3A St. Charles Sportsplex sectional. Allen used two tech falls and a major to capture a sectional title at 138 pounds.
Allen's domination mirrored what Glenbard North did as a team. The Panthers ran away with the team sectional plaque, scoring 241.5 points to finish 126 points ahead of the field.
Glenbard North had four sectional champions in Allen, Dominick Marre (106), Patrick Curran (195) and heavyweight Paulie Robertson. Five Panthers placed second in Lauden Edwards (126), Matt Chi (132), Cody Dertz (170), Kyler Kradle (182), and Blake Maday (220).
Add a third from Jack Barraca (152) and a fourth from David Gilliam (145), and the Panthers are sending 11 state qualifiers to next weekend's state finals in Springfield.
"It was a good day for us," Cherry said. "We wrestled hard and wrestled well and we got some guys through."
North freshman Marre (21-2) buzz-sawed his way to a sectional title at 106 with pins in his semifinal and title match, stamped by a pin of Maine South's Teddy Flores in the finals.
St. Charles East, which placed second to Glenbard North, got its lone sectional title at 113 from freshman Ben Davino. Davino has wrestled beyond his years this season and he improved to 26-0 with a tech fall win on the title mat against Lake Park's Vincent Merola.
Davino posted pins in his quarterfinal and semifinal matches and has been dominant this year. He's currently the top-ranked 113-pounder in 3A.
"I've been doing this a long time and I've never seen anything like it from a freshman," Saints coach Jason Potter said. "He does everything the right way, he does it at a hundred miles an hour, and you are not going to find another kid in Illinois that trained any harder than he did through the whole covid experience. He looked at it as another nine months to train until he's high-school ready."
Davino has battled some older and stronger upperclassmen this year but has passed his freshman season test with flying colors.
"I didn't really know what to expect but hard work pays off," Davino said. "It just took some getting used to. I invite kids to trade with me all the time that are bigger and stronger, so I'm pretty used to it. I just want to have fun and go out there and dominate."
The Saints' Jake Penzato (120), Matt Sztuk (138), and Elijah Chiaro (160) also advanced downstate by placing second in St. Charles. Potter suffered the fate that most coaches face at sectionals every year.
"You're really happy for some guys and you're devastated for others," Potter said. "Especially your seniors. The greedy side of me always wishes we could have gotten a few more guys through."
The Saints' Charles Fialka and Diego Sanchez came up just short of state qualification but afterwards, Potter spoke to the gratitude that countless coaches feel for their departing seniors.
"(Fialka) really had a good senior run. He went down in weight class and it was a weight class that was extremely deep," Potter said. "Diego Sanchez wrestled at 195 he's just an absolute warrior. He's got very little wrestling experience but he just fights like mad. At the end of the day they can hold our heads high because they've done everything we've asked them to do."
Lake Park's Mikey DiBenedetto (23-2) took the sectional crown at 120 for the fourth-place Lancers, who advanced four wrestlers downstate including Merola at 113, and fellow sectional champions Dominik Malinder (23-1 at 126) and Ryan Riser (21-2 at 182).
DeKalb's Blake McGee (20-0) left St. Charles with his unbeaten season record intact, posting a fall, a tech fall, and then a 10-3 title-mat decision at 132 over Glenbard North's Chi. Allen's tech fall win at 138 came next and his motor seemed to be revving as high at the end of the match as when it started. Allen went 33-14 as a freshman at 126 last year and he's had a breakout season as a sophomore, improving to 13-0 with his title-mat win in St. Charles.
"I've been working a lot on my speed and shots, and I wanted to make sure I was aggressive today, and make sure I was always on offense," Allen said. "The approach is just to keep working. You want to break kids mentally and if the pin is there, you take it."
Conant's Ethan Stiles stayed unbeaten and left no doubt who the top 145-pounder was in St. Charles. Second-ranked Stiles (6-0) earned a major decision and two tech fall wins to become a sectional champion. At 152, Schaumburg's second-ranked senior Grant Hansen won a sectional title and took another step along the path towards a state place medal, something that eluded him last year.
"Last year I came up short at state so this year I wanted to make sure I came out here and did what I needed to do," Hansen said.
After Hansen (24-0) won an 8-2 decision on the title mat at 152 over Wheaton North's Logan Balosky, he spoke about the path he's traveled since last season, aimed squarely at getting him ready for the downstate task at hand.
"I went to train and a new club, with Greg Gomez in West Chicago, and as soon as I hit that room — the partners, the coaching — I started to benefit from it. I went there every day throughout the summer and winter, night times, weekends, or mornings. A lot of what I gained was the mentality to not take (anything) from anyone. It's the mentality to constantly keep going, to attack-attack-attack. After I got there, that got nailed into me."
The title match at 160 saw Batavia's top-ranked Mikey Caliendo improve to 30-0. Caliendo posted a fall and then a tech fall win before St. Charles East's Chiaro injury defaulted to him on the title mat.
The sectional title at 170 went to Conant's Jack Hominac. Hominac won a 6-1 decision for the title over Glenbard North's Dertz in improving to 25-1 heading into Springfield.
Hominac was a state qualifier last year at 170 as well but did not medal in Champaign. But he considers his time at the state finals "a great experience," Hominac said.
"My first match down there was (Huntley's) David Ferrante, who went on to win state. The whole experience kept me hungry for this year. I saw the guys on the podium and I want to be on that podium."
Hominac is hungry, but as a senior he's also making a conscious effort to value what time he has left as a high school wrestler.
"Sometimes it's hard to remember that you're really just trying to have fun but this year, being my last year in high school, it makes me stop and look around every now and then and just kind of take it all in."
Lake Park senior Ryan Riser (21-2) won the sectional crown at 182 with an 8-2 decision over Glenbard North's Kradle. Riser won 9-6 over Kradle in a regional title match one week prior.
"Yeah, but that didn't mean anything," Riser said. "He was just another kid I had to go through. It can help or hurt both of us and today it obviously helped me."
Like many wrestlers present in St. Charles, Riser used last year's sectional struggles to propel himself in his senior year.
"I made a promise to myself that that wouldn't happen again," Riser said. "I want to be a state champ. My coaches at Lake Park just made me a lot better. They helped me focus on my style, how to control the match and make it my match. Now I just go out and do what I do. I'm breaking kids this year, making them not want to come back and wrestle me. I have more technique and overall I'm just a better wrestler than I was last year."
Glenbard North's Patrick Curran improved to 21-2 at 195 with his 9-6 title-mat decision over Glenbard West's Phillip Dozier, and Wheaton North's Cam'Ron Harper (10-1) became a sectional champ with a first-period pin of Glenbard North's Maday at 220.
Glenbard North heavyweight Robertson ended the day's wrestling in St. Charles by winning his sectional crown via fall over Kevin Wingate of Maine East. Robertson (22-1) has added offense to his game this season and it has made all the difference. "Before, I didn't really have any go-to shots. I was just wrestling like a standard heavy weight, like a typical Sumo-match," Robertson said. "Now I'm at a new level."
Cherry took over the Glenbard North program after the the 31-year, hall-of-fame coaching career of Mark Hahn ended last year. Cherry wrestled for Hahn at North, placing third at 215 in 2003, and he has his wrestlers wrestling with the same grit the Panthers were always known for under Hahn.
"It was a very smooth transition from coach Hahn into coach Cherry. We pretty much just picked up where we left off," Robertson said. "Now it's just about going out and wrestling (downstate). We've done everything we can and trained as hard as we can and now it's all on the wrestlers. Our coaches have gotten us to where we want to be so now it's up to us."