Class 1A State Champions stories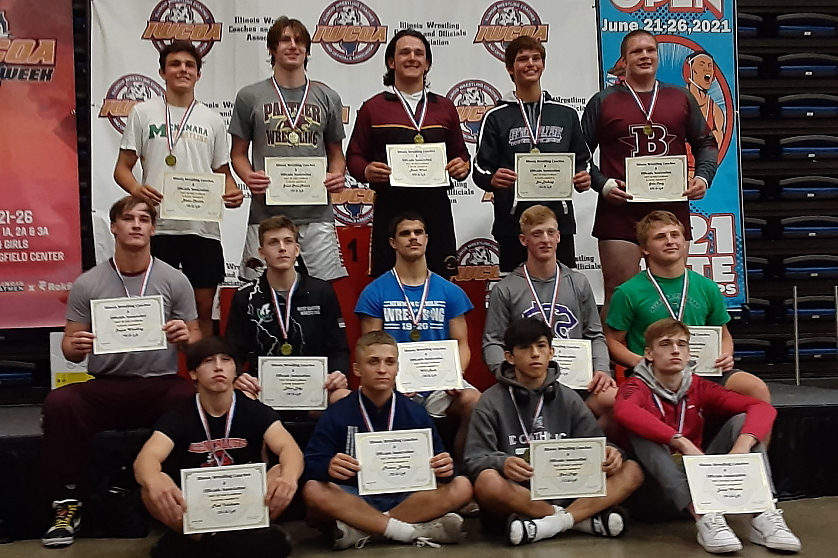 By Gary Larsen and Curt Herron
The IWCOA Open State Championships crowned its Class 1A state champions and place-winners in Springfield on June 24. Here are the stories of those champions:
106 – Jarek Wehrle, Vandalia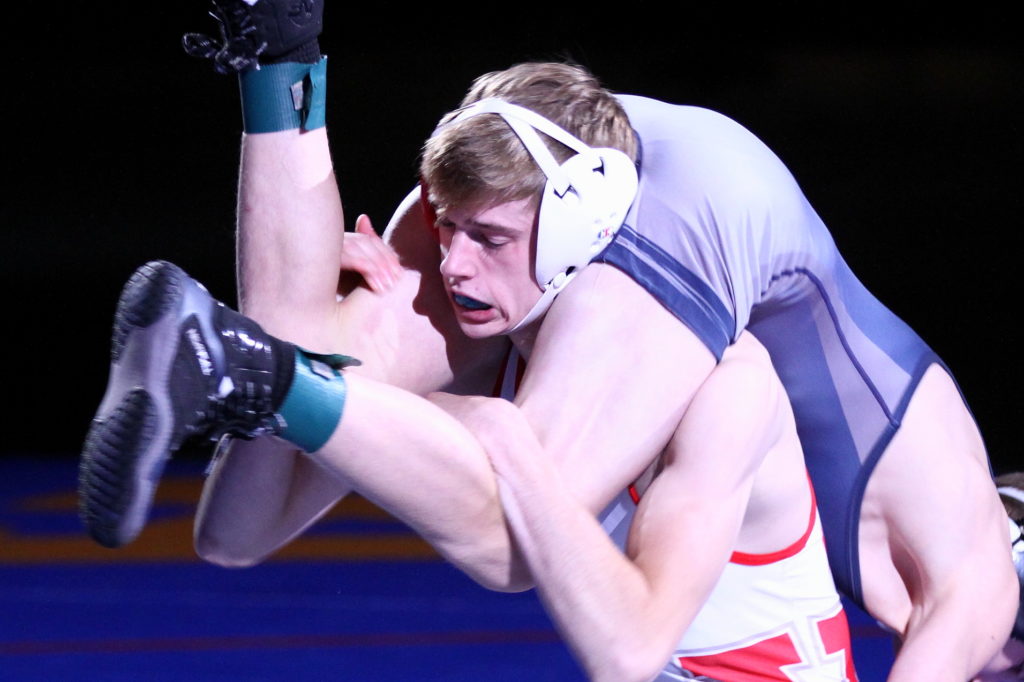 After knocking on the door for each of the past three years, Wehrle was definitely ready for it to finally open for him this year and it certainly did for the Vandalia senior.
Wehrle finished sixth at state as both a freshman and a sophomore and then placed fourth a year ago, so understandably, he not only wanted to be in the grand march but also on top of the awards stand at 106 pounds in the IWCOA Class 1A Open Championships and both things happened on Thursday.
Following two falls and a decision in his first three matches, Wehrle, who finished 43-4, kicked off the finals session with a 7-2 victory over Yorkville Christian freshman Ty Edwards (26-1), who was unbeaten. Wehrle jumped out to a 4-0 lead to help him become the Vandals' fourth champion and the first since Jo-E Smith in 2007.
"This is the one," Wehrle said. "Last year this was my goal, too, but I came up short, so I just had to bounce back and come after this one. I just want to thank God because I couldn't have done it without Him, he's number one. This is really a blessing, honestly. So many seniors didn't think they'd get a match and some people thought it wasn't going to be legit. But I'm really happy with the way they put it on, it feels like the real deal. At Vandalia, we just always have good kids and I'm proud to be another one of those kids."
Wehrle won 8-4 over Farmington freshman Keygan Jennings (27-5) in the quarterfinals and by fall over Coal City freshman Brant Widlowski (20-4) in 3:26 in the semifinals.
Auburn freshman Anthony Ruzic (32-3) claimed third place with an 11-5 victory over Mercer County freshman Ethan Monson (20-3) while Jennings took fifth place after winning on medical forfeiture against Widlowski. In the other semifinal match at that weight, Edwards defeated Ruzic by a 7-4 score.
113 – Saul Trejo, IC Catholic Prep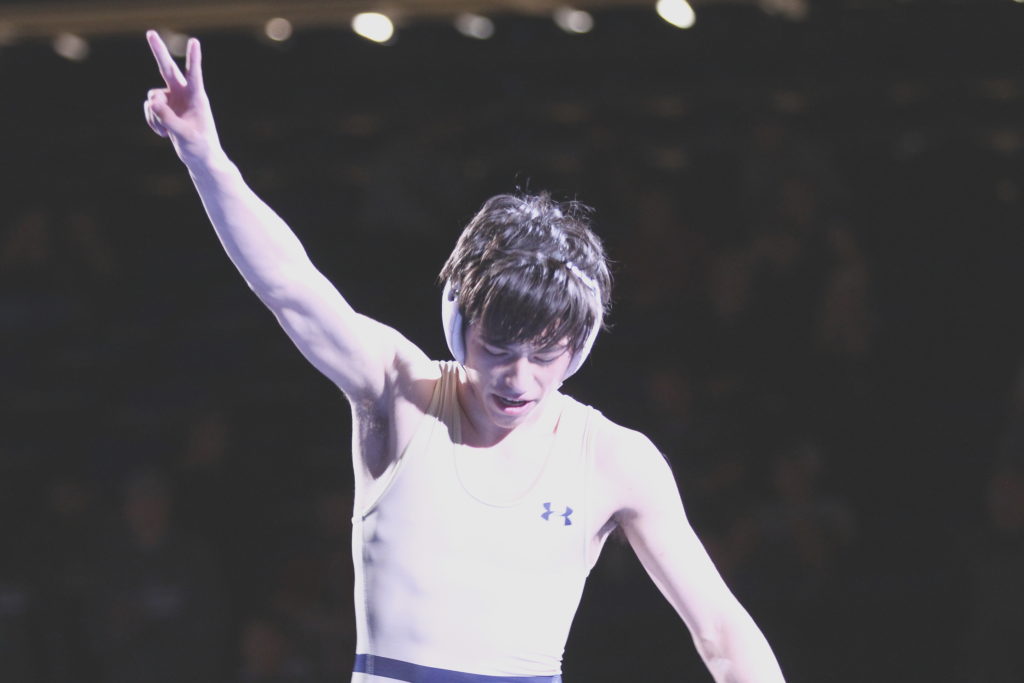 A state title match between two returning state champions went exactly the way it should have gone between Trejo and Oakwood's Gage Reed. There was early aggression from Trejo, a comeback from Reed, and ultimately a 6-5 decision win for the sophomore Trejo to give him his second state championship.
"That was amazing. By far the toughest match I've had this year," Trejo said. "I've heard of (Reed) before but we never met. He's a great kid, a returning state champ, and I knew what he was coming with and I knew I had to defend my title as well."
Trejo went into the state finals ranked second behind Reed at 113, per Rob Sherrill's IWCOA rankings.
Trejo joins former IC Catholic star Joey Bianchini as a two-time state champion for the Knights. He finished the year with a 43-3 record after posting two falls and then a 3-0 semifinal decision over Litchfield's Carter Powell before taking on Reed.
The senior Reed won a state title at 113 as a junior while Trejo won the state crown at 106 last year as a freshman.
Trejo took a step forward in development since last year's state title run.
"I've grown up and matured thanks to my coaches and my team," Trejo said. "It was also about perfecting the moves I had last year so that no defense could stop it. I learned a couple new moves but it was such a short season we all just tried to perfect what we were learning.
"This feels amazing and it gives me thoughts that I can be a four-timer. It doesn't even feel real at this moment but it feels great."
Newman's Brady Grennan placed third at 113 via fall over fourth-place Trevor Hedges of Canton, and Litchfield's Carter Powell took fifth with a 10-7 win over sixth-place Aaron Niemeyer of East Alton-Wood River.
120 – Phoenix Blakely, Dakota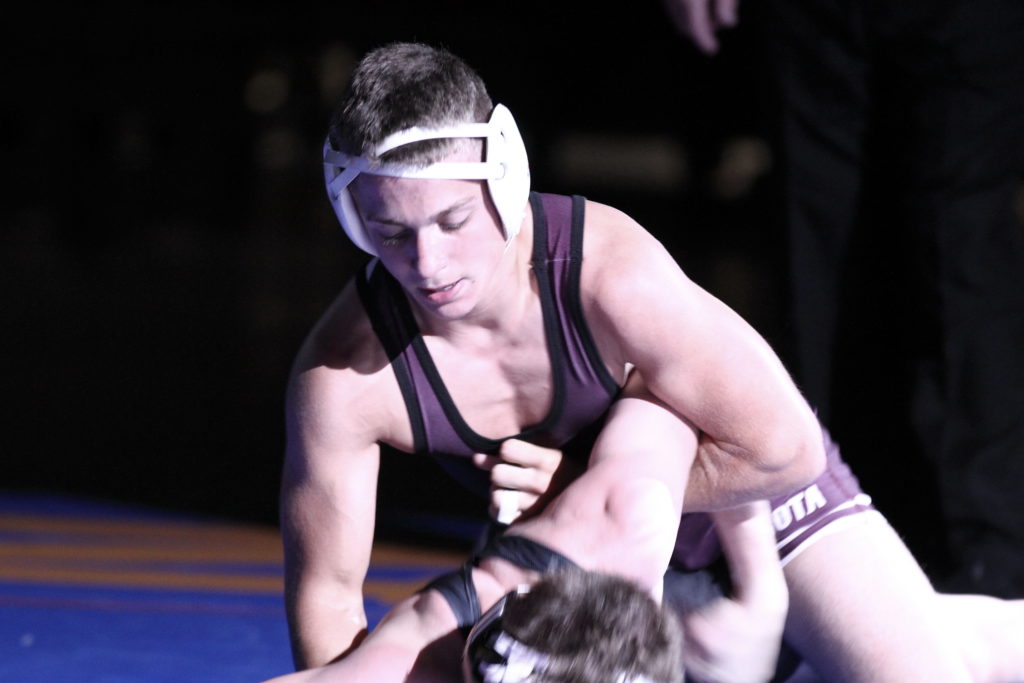 Blakely not only just included himself with an exclusive list of nine Dakota wrestlers who have won two state titles. But he also joins an even more impressive company of those that pulled off the feat in their first two years, Josh Alber and Seth Milks.
On Thursday, the sophomore turned in a second-consecutive impressive display at state when he repeated as state champion after capturing the 120 title at the IWCOA Class 1A Open Championships in Springfield. Blakely improved to 27-1 after capturing a 10-1 victory over Lena-Winslow/Stockton sophomore Garrett Luke (23-5) in the title match.
He won his first two matches with first-minute falls and then recorded another major decision in the semifinals when he claimed a 12-0 win over IC Catholic junior Nick Renteria.
"I'm very proud of how I competed today," Blakely said. " I feel blessed to have this state tournament. My mindset was to demolish everybody I was put up against. Our coaches are amazing."
Luke, who placed third a year ago, had a more difficult path to reach the finals, winning 5-1 in the quarterfinals over Oakwood sophomore Reef Pacot (27-3) and 4-3 in the semifinals over Benton freshman Mason Tieffel (33-1), who suffered his only loss in that match.
Tieffel recorded a 5-1 win over Pacot to claim third place while Renteria was a winner by technical fall in 2:17 over LeRoy senior Josh Sexton (21-7) in the fifth-place match.
126 – Paul Ishikawa, Illini Bluffs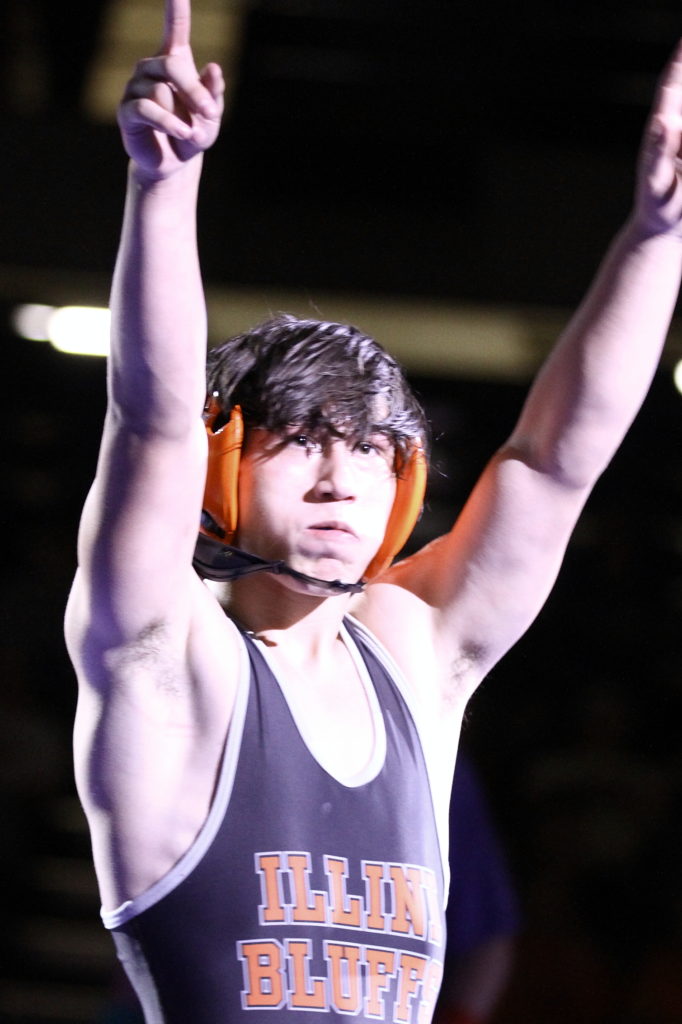 Ishikawa provided one of many moments of title-match drama in Springfield when he secured a takedown in overtime against East Alton-Wood River's Jason Shaw to win a 3-1 decision and become the fourth state champion in Illini Bluffs program history.
Ishikawa is also his program's first state champion in 35 years, joining John Haage (1978), Jeff Threet (1982), and Mark Kawolsky (1986) to stand atop the downstate awards stand.
With only seconds remaining in the first overtime period, Ishikawa saw his chance against Shaw and he took it.
"I knew I wanted to get the takedown in those last couple seconds because I didn't think I was going to ride him out," Ishikawa said.
Ishikawa finished the tournament with a 30-2 record and came into Springfield ranked sixth in Illinois. The sophomore also won an overtime match 7-5 in his quarterfinal against No. 4 Evan Reilly of Sandwich.
Ishikawa then beat Illinois' No. 2-ranked Dresden Grimm of Auburn in the semifinals before taking on No. 1 Shaw with a state title on the line.
"We knew he'd try to cradle me because he's taller and I'm smaller," Ishikawa said of Shaw. "We didn't want to go to bottom but I was confident I could get away. I wrestled him about five years ago and over the summer he beat my brother, so that definitely pushed me to beat him."
Ishikawa finished one win away from medaling at 113 in Champaign last season, when he set the program record for takedowns in a season with 107.
Topping that takedown record in a pandemic-shortened season was a tall order.
"I was trying to beat that this year and take down everyone I could," Ishikawa said. "I moved up in weight sometimes to get the best matches and I ended up with something like 81 takedowns this year."
Zach Foote of Camp Point Central placed third at 126 with a fall over Princeton's fourth-place Matthew Harris, and Seneca's Owen Feiner finished fifth in an 8-2 decision over sixth-place Grimm.
132 – Ethen Doty, West Carroll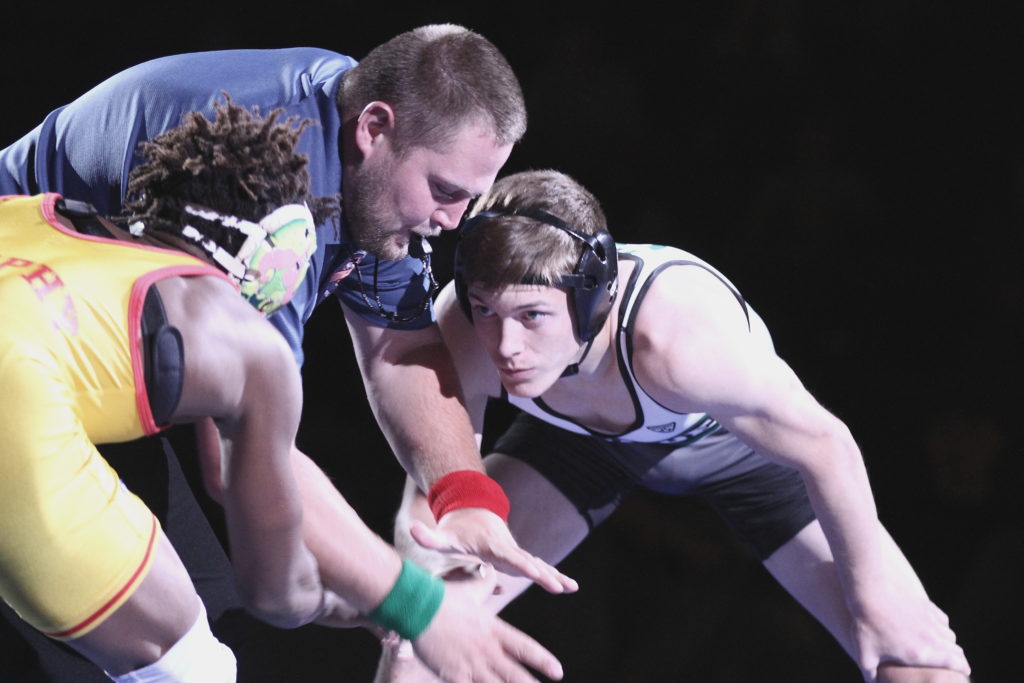 When an individual reaches the height of winning a state title and then falls just short of that level the next year, they need to get back to the pinnacle again and that's just what Ethen Doty did on Thursday.
The senior from West Carroll advanced to his third-straight state finals and won his second title when he claimed a 7-6 victory over previously-unbeaten Murphysboro junior Arojae Hart in the Class 1A 132 finals at the IWCOA Class Open Championships.
Doty, who will continue his career at Upper Iowa University, becomes the fourth individual from a Savanna school to win two state titles, a feat which was last accomplished at Savanna in 1977, when that program dominated Class 1A in the tournament's early years. This is the first time that someone from a school there has been a four-time medalist.
"It was great, it felt amazing," Doty said. "I knew I only had 30 seconds left and I tried to hold my ground at the end. Last year I had an injury and I wrestled through the season with a torn meniscus and I still got second and that even got me more motivated for this year. I loved to be able to get a state series instead of having nothing. Ending on the second place (from last year) would not have been fun."
Doty, who finished 10-1, recorded three straight falls to reach the finals, with each of those lasting less than 75 seconds. He earned his spot in the finals with a fall in 1:14 over Dwight junior Dillon Sarff (24-4) in the semifinals. Meanwhile, Hart earned his spot in the finals with an 8-3 victory over Dakota junior Maddux Blakely (29-3).
In the third-place match, Blakely defeated Sarff 8-3 and in the fifth-place match, Harvard senior Bryce Fiegel (24-5) won by fall in 5:10 over Canton senior Bryce Walton (22-7).
138 – Will Rude, Newman Central Catholic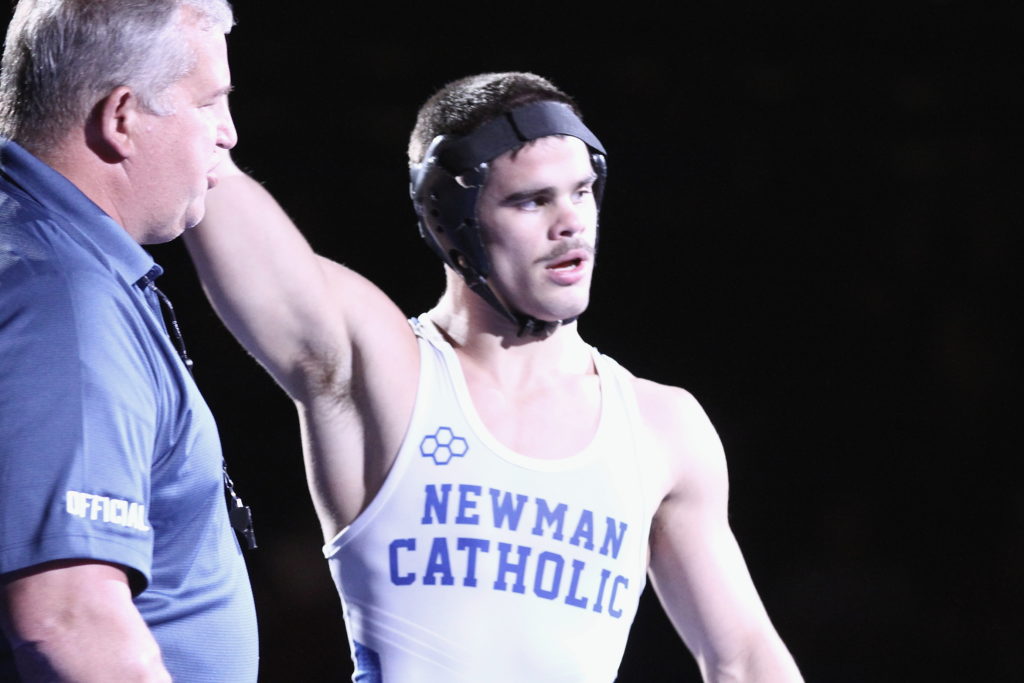 Rude was an undersized nose guard on Newman's football team, and he showed the same relentless pursuit on the wrestling mat this season. In one of the most dominant downstate title runs in Springfield, the junior finished the year with a record of 29-0 after posting three pins and then a 9-0 major decision on the title mat over Dakota's Tyler Simmer.
Rude became the 25th state champion in Newman's storied program history.
"It feels pretty great. It's the best season I've had and it feels amazing," Rude said. "Honestly, I just had great coaches and teammates that helped me through."
Rude went into the state finals ranked No. 1 at 138 and faced No. 2 Simmer for the third time this season in Springfield. Simmer posted two falls before winning by DQ in his semifinal match.
Familiarity between two wrestlers can make for matches that get progressively closer but Rude came out in fifth gear in the title match. "I tried to keep to what I thought would work against him and just tried to mix it up a little," Rude said.
Rude will attempt to become a back-to-back champion next season in his senior year. His advice to younger wrestlers aiming to climb atop the state finals podium is simple:
"I'd say stay determined, work on the stuff coaches say you need to work on, and don't take criticism too hard," Rude said. "Everyone is just trying to help you."
Rude also had a ritual before every match that kept him grounded.
"Something I did personally to help me get ready for every match — and this may seem weird to some people — but I prayed before every match," Rude said. "For me, it was like I kind of had someone else helping me out, and keeping me safe. It's nice to think of that in a sport that's so individual."
Canton's Andrew Hedges finished third at 138 with a fall of fourth-place Trevor Bonk of Camp Point Central, and Oregon's Seth Stevens took fifth on a DQ against sixth-place Ivan Rosas of Harvard.
145 – Blain Christie, Bishop McNamara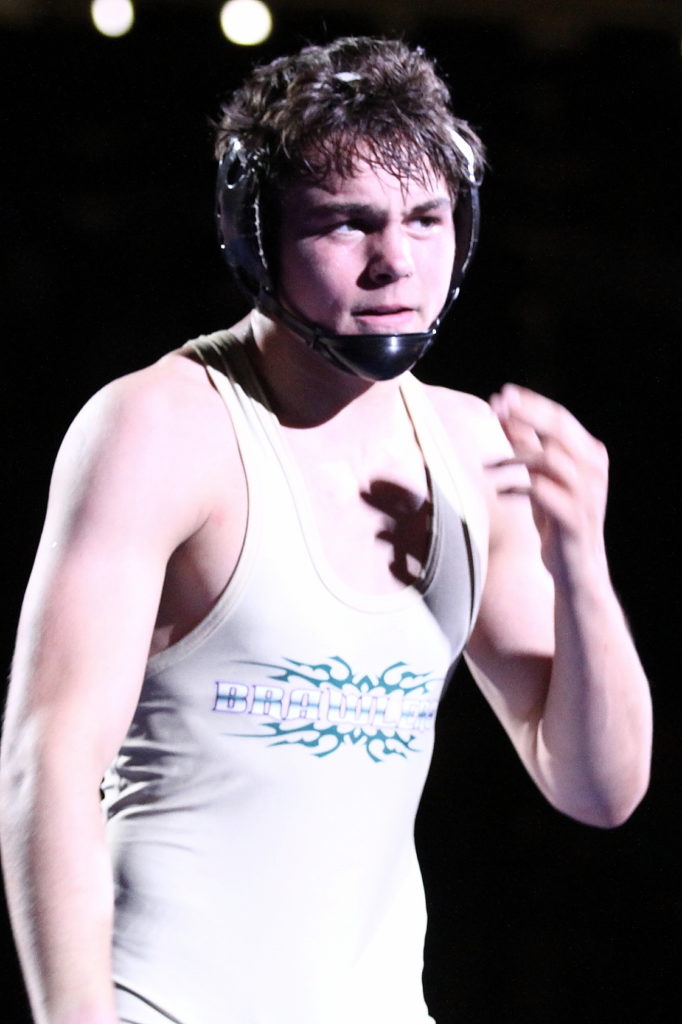 Even though Blain Christie wasn't among thefavored contenders in the 145-pound weight class, the third-place finisher at 120 from a year ago figured that with the success that his program has had in producing champions that he had as good of a chance as anyone.
And that's what the 21-1 senior from Bishop McNamara went out and did as he defeated three individuals who were ranked ahead of him, with the highlight of those being an 8-6 victory over Oregon senior Andrew Herbst (33-2) in the finals.
Christie, who will continue his career at Wartburg College in Waverly, Iowa, is the first individual at his school to win a title since 2016, when Kyle Betourne claimed his second.
After getting a win by technical fall in his first match, he claimed a 9-0 quarterfinal victory over Rockridge sophomore Reese Finch and then won 12-5 in the semifinals over Lena-Winslow/Stockton senior Simon Rillie (28-6) to earn his spot in the grand march. In the finals, he got a takedown in the third period to effectively secure his title win.
"Me and my brother (Luke) did the state series and even though we don't have a lot of wrestlers, the ones that we produce are good," Christie said. "No one has the level of training that we do with Jake Kimberlin, who was a DI wrestler and Anthony Rink, who was on his way to be a DIII national champ. I know with the training that I have what it takes to win and if I get in the right mental state before a match, it's going to be hard to stop me. It was nice to get this one last chance and to accomplish a life-long goal."
LeRoy senior Owen Gulley (26-2) edged Rillie 7-6 in the third-place match while Ridgeview senior Billy Tay (22-3) claimed an 8-3 victory over Reed-Custer senior Adell Gamboa (15-8) to claim fifth place. In the other semifinal match, Herbst advanced to the finals with an 8-4 victory over Gamboa.
152 — Will Carlile, Litchfield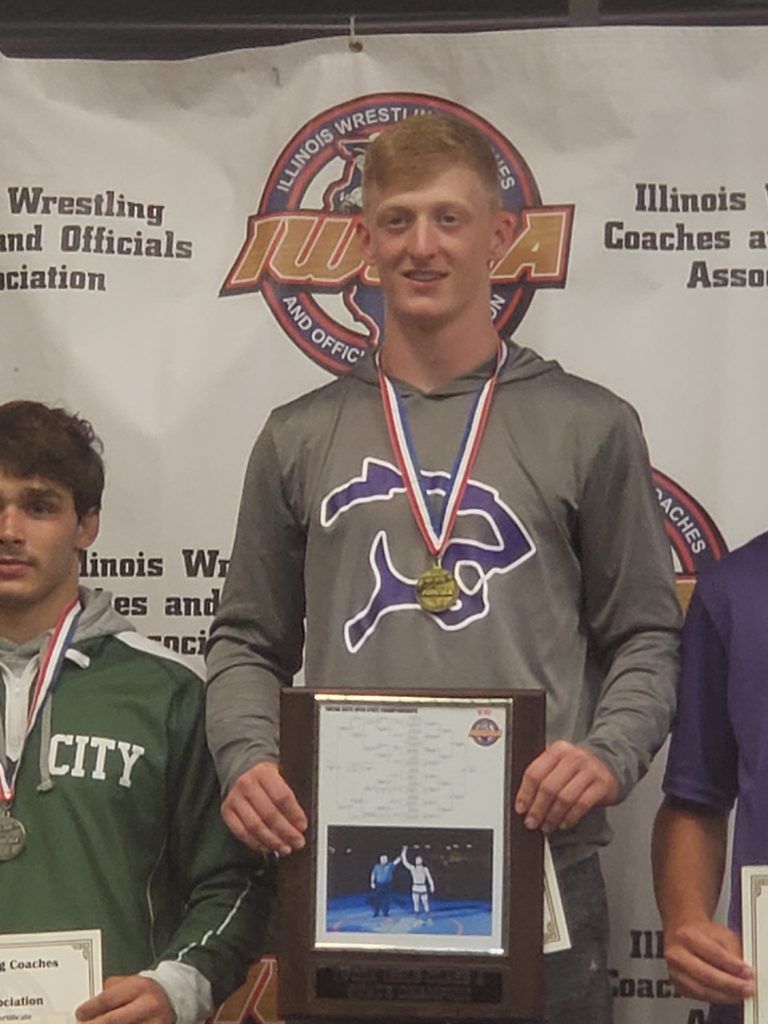 Carlile became Litchfield's first state champion last year and he topped that feat by becoming the program's first two-time state champion this season.
In a battle between top-ranked Carlile and second-ranked Connor Huston of Coal City, one takedown early in the match made all the difference on the title mat. Carlile struck early in the first period to score the only offensive points of the match.
"After you get the first takedown and you're two points up, it helps you focus a little more," Carlile said. "But it was a grind. Everyone knows Coal City has some beasts so I knew it was going to be tough. But I'm a beast on my feet. I knew I could take anyone down and I can't be taken down."
Carlile (26-1) used a decision, a pin, then a major decision to reach the finals and in a year where high school teams were not permitted to compete in weekend tournaments due to IHSA pandemic restrictions.
A lack of tournament wrestling made conditioning an interesting proposition in the post-season.
"The only thing I was fighting in this tournament was wrestling so many matches back-to-back, and getting tired," Carlile said. "But I read the body, kept up on hyrdration, and it worked out pretty good."
Carlile went 41-0 through last year's state tournament in winning the title at 132 pounds, giving him a two-year record of 67-1 as a two-time champ. Carlile will attend SIEU in the fall and has not yet decided whether he'll wrestle there or not, but he's considering it.
His immediate considerations in Springfield after winning his state title had little to do with wrestling.
"This feels great. It feels fantastic. Now I'm going to celebrate with our fans because they always hype me up," Carlile said. "Then we're going to Texas Roadhouse."
Canton's Joseph Norton placed third at 152 with a fall over fourth-place Griffin Luke of Lena-Winslow-Stockton, and Orion's Noah Schnerre finished fifth via 4-2 decision over sixth-place Jake Sinclair of PORTA.
160 – Joe Lashuay, Oakwood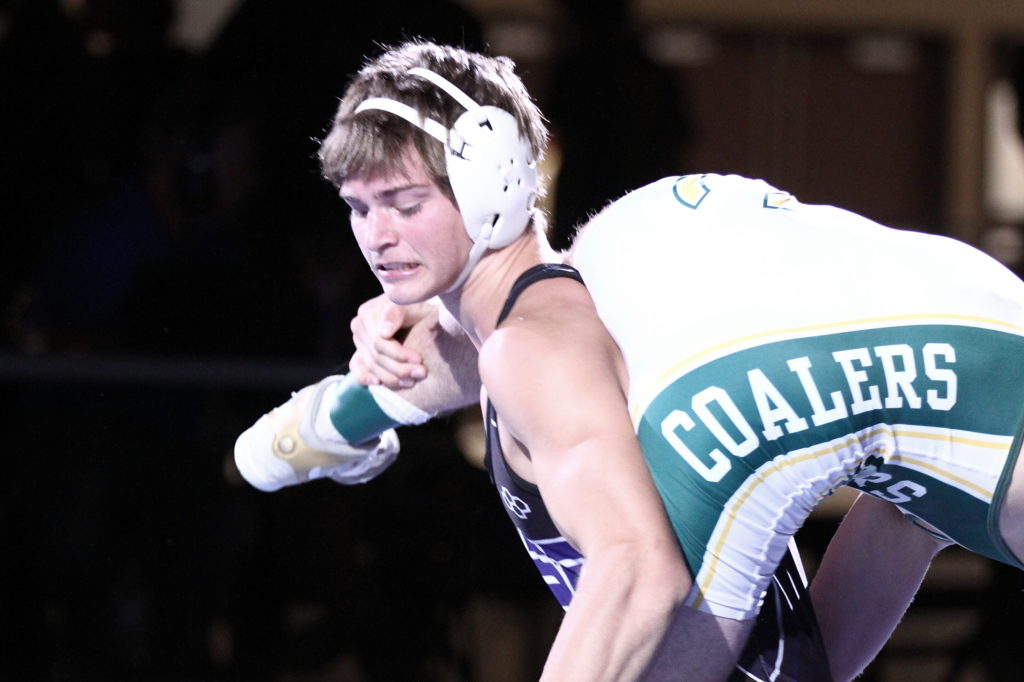 After going 46 years between its first and second state championships, Oakwood only had to wait one year to add a third title to its collection when junior Joe Lashuay capped a 27-1 season with an 11-3 victory over Coal City's previously-unbeaten Zachary Finch 11-3 in the IWCOA Open Class 1A finals at 160.
Lashuay followed in the footsteps of Gage Reed's championship at 103 last season, which was the school's second and first since Charles Lomax won at 119 in 1974 in the initial year of the IHSA's two-class series. Last season, Lashuay made his first state appearance and had a 1-2 showing.
The Comets junior opened Thursday's competition with a fall before winning 9-3 in the quarterfinals over Wilmington's two-time placewinner senior Jack Narine and then won 10-7 in the semifinals over Lena-Winslow/Stockton senior Jason Hermann (31-4), who had placed fourth the past two years.
Lashuay took control in the second period of his title match to give the Comets a state champion for the second year in a row. But earlier in the finals round, the program's hopes of having two title winners and Reed (24-1) repeating as a champ were dashed when he was edged by IC Catholic's Saul Trejo 6-5 in the 113 title match.
"Oh, my gosh, it's so exciting," Lashuay said. "I was worried that we weren't going to have it but I'm so glad that we did, because it was a big deal since the same kids were here, there's no difference. I feel very blessed to have had this season."
Finch (26-1), a junior, earned his spot in the finals with an 8-6 semifinal win over Tremont junior Lucas Wendling (23-6). In the third place match, Yorkville Christian sophomore Tyler Martinez (27-4) claimed a 5-1 sudden victory over Hermann while Wendling settled for fifth with an 8-6 victory over IC Catholic freshman Michael Calcango (11-6).
170 — Jack Patting, Alleman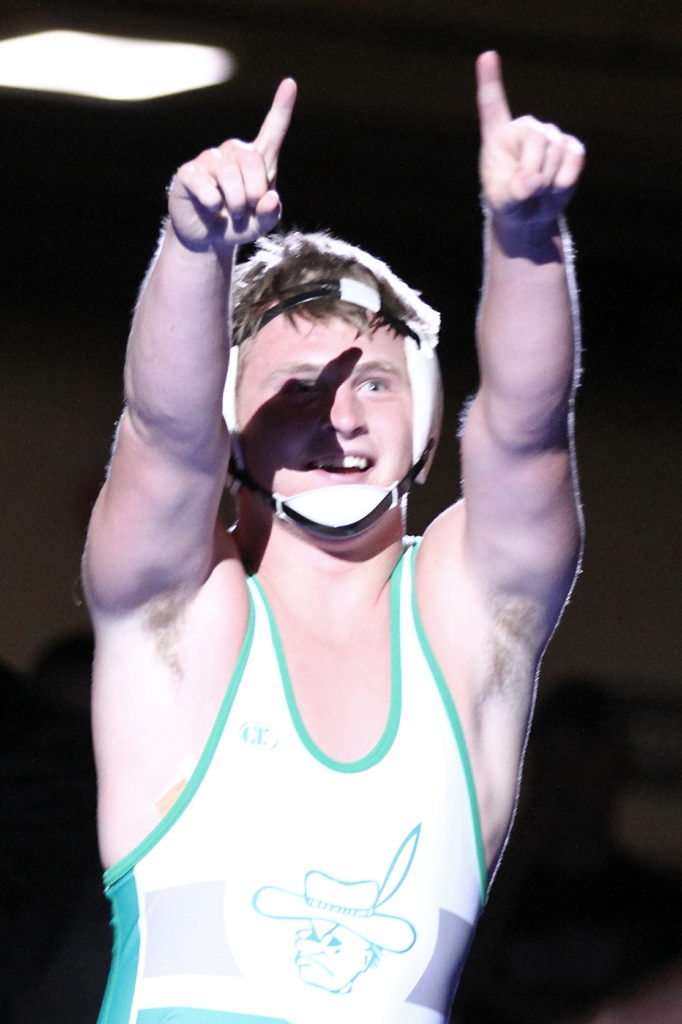 The senior Patting never won a regional or sectional title but he can now put 'state champion' on his list of high school wrestling accomplishments.
Patting won by second-period fall on the title mat at 170 over Lena-Winslow/Stockton's Case Harmston to become Alleman's fourth state champion in program history. And there's nothing like a pin on a state title mat to send you off in your senior year.
"It's not the way I imagined it happening," said Patting, who also placed fourth and fifth downstate in his high school career. "I might have blacked out a little bit but I remember him sitting through when I had him in a front headlock, and it was just a neck wrench like we've practiced, and I put him on his back and then got the pin."
Patting joined Jerome Reyes (1991), Topher Carton (2009) and Christopher Carton (2010) on Alleman's list of state champions.
Fourth-ranked Patting beat top-ranked Harmston at the state finals less than a week after Harmston beat him 4-2 on the title mat of the Sandwich sectional.
"Getting that takedown was they key," Patting said. "That's what it came down to last week when we wrestled and it's what a lot of my matches have come down to, is getting that takedown, riding out to the end of periods and getting out when you can."
Patting rides off into the sunset from Alleman straight over to Augustana College, where he plans to be a two-sport athlete.
"Football and wrestling. I'm doing both," Patting said. "I'm willing to try and see how it works. I'll live at home because I'm only five minutes away from (Augustana)."
Knoxville's Hunter Fox placed third at 170 via fall over fourth-place Mannix Faworski of Winnebago, and Stillman Valley's Austin Abitua finished fifth with a 7-1 decision over sixth-place Petersburg's Bryar Lane.
182 – Grant Sant Amour, LeRoy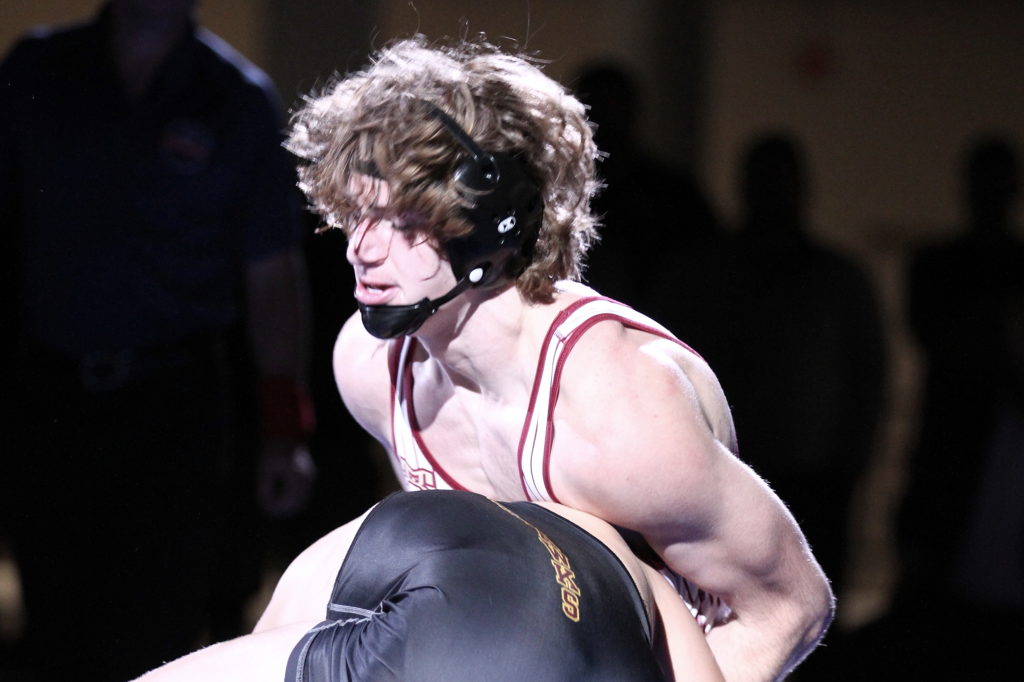 When you become a school's second state champ and its first since 1984, that's a big deal and that's what LeRoy senior Grant Sant Amour achieved on Thursday. And when you finish one place better than your brother did at state, that's even better.
Sant Amour finished 24-2 after winning 5-3 over Lena-Winslow/Stockton senior Jaden Rice (31-1) in the IWCOA Class 1A title match at 182. He took a 5-3 lead into the final period and kept Rice under control to deny him of an unbeaten season.
He used three falls to advance to the title match, with the last of those coming in 3:16 in a semifinal victory over Sacred Heart-Griffin sophomore Cory West (30-2).
Sant Amour, who went 1-2 last season at state, becomes the program's first champion since heavyweight Ron Oliver claimed their only previous title 37 years ago.
Unity senior Ryan Vasey (27-4) took third place after getting a fall in 1:09 over Wilmington senior Aiden Wooters (9-2) while West took fifth with a pin in 1:54 against Perspectives/Leadership senior Nicholas Wilkerson (14-5). Rice earned his trip to the finals with a 10-1 semifinals win over Vasey.
"This feels unreal," Sant Amour said. "Back when I was little, my brother (Hunter in 2015) wrestled and I watched him wrestle in the state championship and he got second his senior year, so my goal was always to do better than him. I wanted to go out strong but I didn't see any way for that before this (tournament) was going on."
195 —Cooper Wendling, Tremont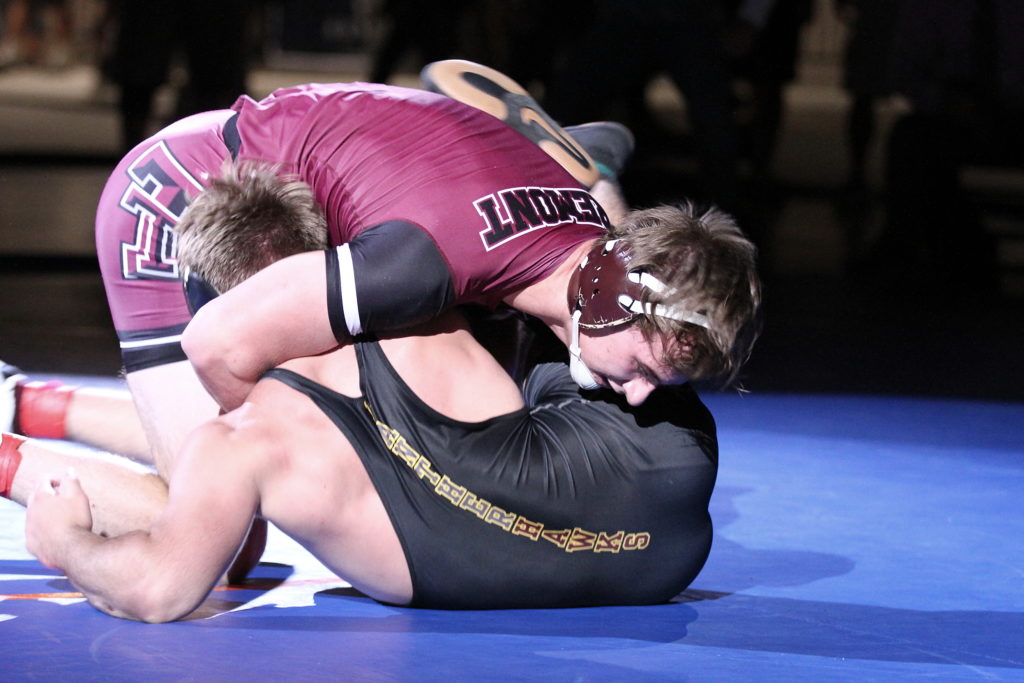 The Turks' junior went into the state finals ranked fourth in Illinois and proceeded to beat all three wrestlers ranked ahead of him in Springfield. With his 10-7 title-match win over Andrew Haas of Lena-Winslow/Stockton, Wendling became the third state champion in Tremont program history and the first in 36 years, joining Kip Crandall (1984) and Russ Witzig (1985).
Wendling also finished a perfect season at 23-0 and he did it all with a simple commitment to the Tremont brotherhood and beyond.
"Every day, putting in the work in the room with my teammates and coaches, and everyone working for what's best for each of us as wrestlers," Wendling said. "I want to make sure my family and friends and teammates understand that they're the reasons I've had the success I've had."
Wendling opened his tournament with a tech fall win and then ticked off three straight decisions to win his state crown. He felt out Hass as the title match unfolded and got the job done.
"He was staying low on his knees so I had to stay at his level but also not open up, because that's what he wanted me to do in that position," Wendling said.
Will Wendling follow the same process next year in pursuit of another state title?
"Nope, not the same thing. I want to make it better," Wendling said. "I won that (title) match but it was close. The goal is to have a tech fall every match and I didn't get that done. So all summer I'll put in the right work and stay around the right people."
Josh Fair of Orion took third at 195 with a 3-2 decision over fourth-place Noah Wenzel of Dakota, and Harvard's Nathan Rosas placed fifth via 1-0 decision over sixth-place Keddrick Terhune of Rantoul.
220 – Brock Wood, Richmond-Burton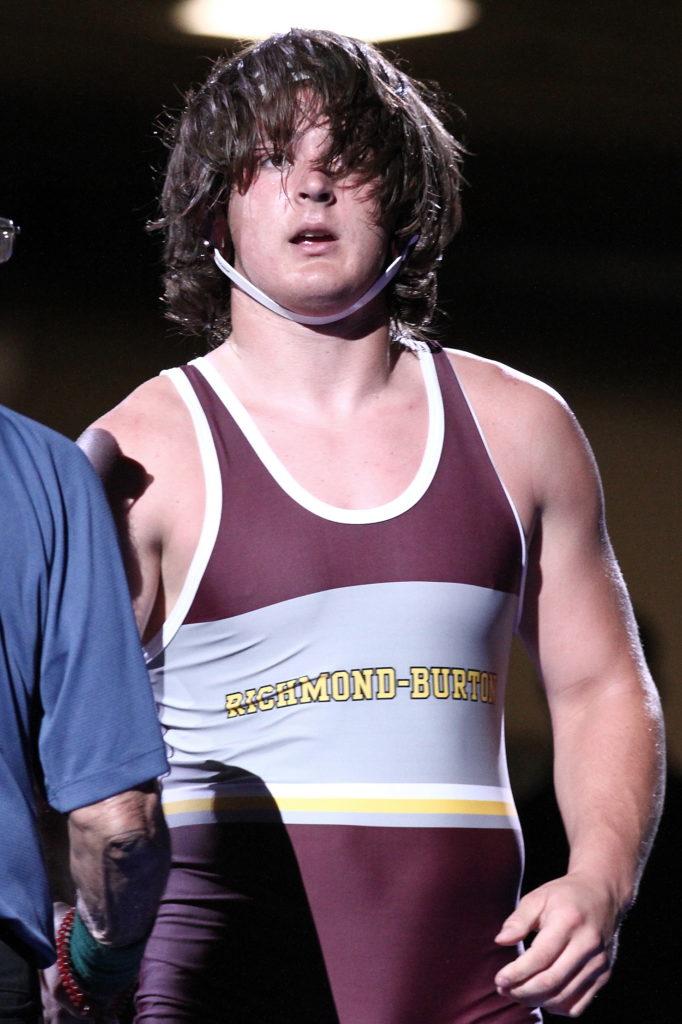 Richmond-Burton junior Brock Wood is quick to point out one of the biggest reasons why he believed that he was able to win the IWCOA Class 1A championship at 220.
And that was getting the opportunity to be trained by not only his school's most famous athlete but also one of the all-time great champions in Illinois, Jordan Blanton.
Wood finished 21-1 following a 5-2 title win over Reed-Custer sophomore Kody Marschner ( 21-2). That followed a 5-1 semifinals win over IC Catholic junior Jadon Mims and two pins, including one in the quarterfinals over Tremont junior John Rathbun (23-6).
"He's really been a huge partner with me," said Wood of Blanton. "I don't know what I would do without him. He opened a wrestling club in Woodstock and on Monday, Wednesday and Sunday, I'd go up there and do a workout with him and he always took so much time working with me on the little things. He's improved my game so much. It's crazy being able to work with a three-time state champ and three-time All-American at Illinois. I owe so much to him and my other coaches, my head coach (Tony Nelson), my dad and Ryan Prater."
Wood, who went 1-2 last year in his only previous state appearance, is the eighth individual from his school to win a title and the first since Gavin Sutton in 2017. Blanton won three titles and only lost once, in the finals, and had a 152-1 record from 2005-08.
285 — Gabe Craig, Benton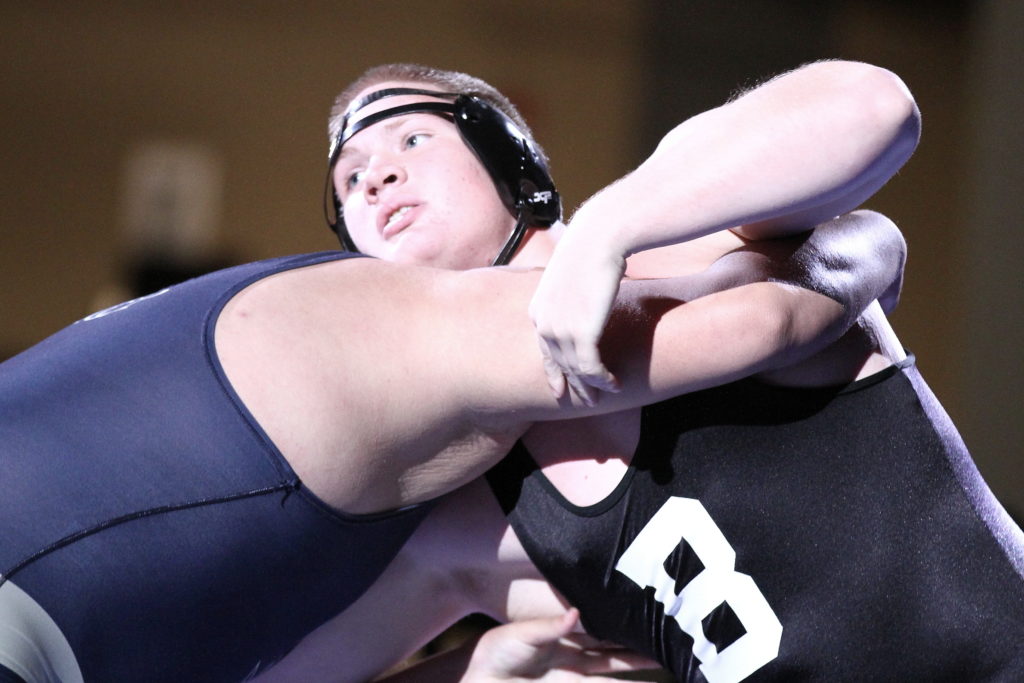 With his 8-2 decision win on the title mat over ICC's Isaiah Gonzalez, Craig became the second state champion in Benton program history, joining Zach Wilson, who won the title at 140 pounds in 2008.
And he quickly thanked the IWCOA for making that possible.
"I'm ecstatic. I can't thank everybody that put this on enough," Craig said. "For them to do this is more than great. They didn't have to do this. Nobody had to do this. If you would have asked me a year ago if we'd have a state tournament, I'd have said no and I probably would have sat back down on the couch."
Thankfully for Benton, Craig got off that couch to become a state champion. The Campbellsville College, Kentucky recruit went into the state finals as a two-time state qualifier, finishing one win away from the medal round as a junior last year.
He took the lessons he learned in Champaign to heart.
"I had to grow up and learn what moves not to hit and learn what situations to get in," Craig said. "It's different because I'm 250 and all your heavyweights are 280. My coaches taught me what I needed to do and without them I wouldn't have been able to do it. They helped me mature and taught me how to wrestle smart."
Craig used three first-period pins to reach the finals and finished the individual season with a perfect 30-0 record.
"It's been four years in the making. It's great," Craig said. "Freshman year I never would have thought I'd be here, or that I'd be wrestling in college. I was going to go to the coal mines and be a basic guy back home. But everything works out, I guess."
Normal's Hunter Otto placed third at 285 with a 3-1 win over fourth-place Nathan Elliot of Seneca, and Yorkville Christian's Michael Esquivel took fifth with a fall over sixth-place Weston Swise of Canton.