Class 2A State Champions stories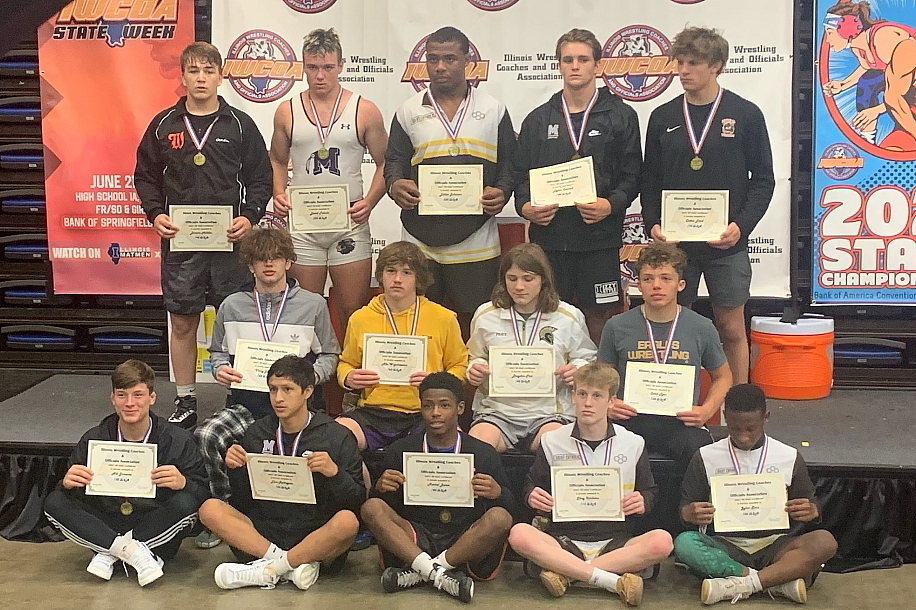 By Curt Herron and Gary Larsen

The IWCOA Open State Championships crowned its Class 2A state champions and place-winners in Springfield on June 25. Here are the stories of those champions:
106 – Gylon Sims, Joliet Catholic Academy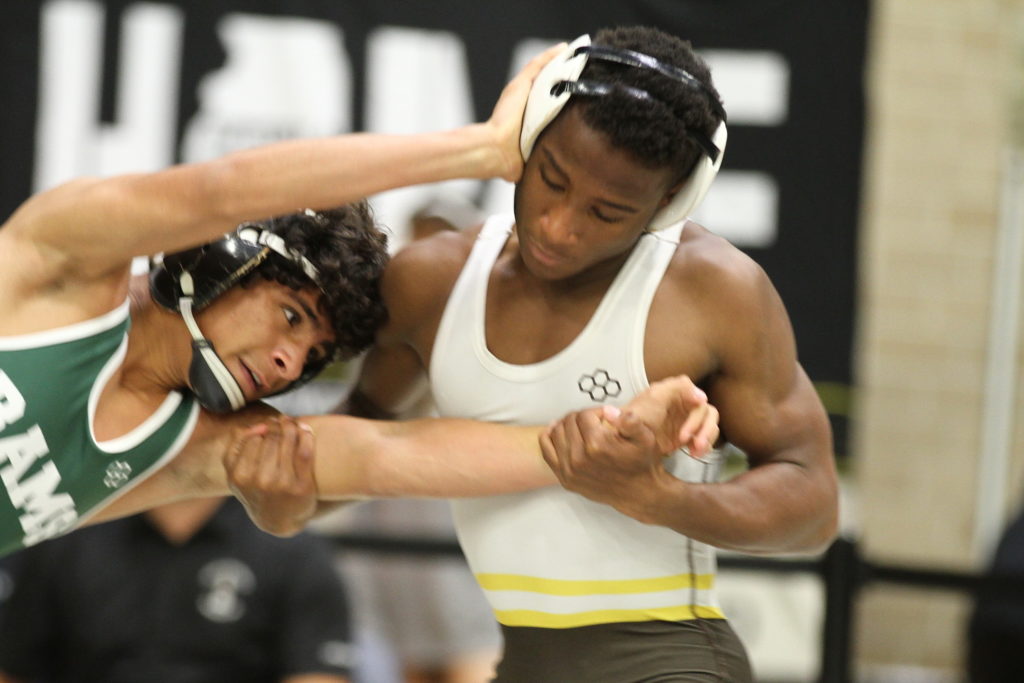 Sims (16-2) was a state runner-up last year at 106, and arguably no one feels the sting of a state tournament loss quite like the wrestler who loses on a state title mat.
But Sims chose to use his experience downstate last year as a revelation.
"Freshman year I did better than I expected to do and me getting second place just made me hungry. It made me open my eyes to my potential and how much I could do," Sims said. "I came back this here planning to win the state title and I did just that."
Top-ranked at 106 in Rob Sherrill's IWCOA rankings, Sims won a 6-3 over No. 2 Josh Glover of Marian Central, then posted a major decision in his semifinal to reach the title mat against No. 4 Brady Foster of Mattoon.
Foster reached the title mat after a pin, a major decision, and then a 6-1 semifinal win over Edgar Albino, Jr. of Antioch.
Sims led 2-1 in the third period over Foster in the title match and found a takedown en route to a 4-2 win, capping his sophomore year with a state championship.
"There's no plan. I just go out there, wrestle hard and give it all I've got," Sims said.
"It feels amazing. I accomplished so much but I'm not satisfied and I never will be satisfied. Now I plan on going to Fargo and after that, heading onto my next season."
Sims is now the third state champion in JCA history, joining Paul Mudron (1967) and three-time champion Dean Hamiti (2018-20).
Afterwards, Sims tipped his hat to JCA head coach Ryan Cumbee and his entire coaching staff.
"They're very passionate and I'm very grateful for all of them," Sims said. "They want nothing but the best for me and that's why I'm glad I chose JCA, because these coaches are going to push me to be the best version of myself.
"I was more of a grit, toughness wrestler last year and now I understand that technique is very important. I didn't really know how to wrestle my freshman year."
Glover placed third at 106 with a 6-2 win over fourth-place Andrew Davis of Chatham Glenwood, and Albino placed fifth with a 5-0 decision over sixth-place Anthony Alanis of Grayslake Central.
113 – Shay Kohorn, Joliet Catholic Academy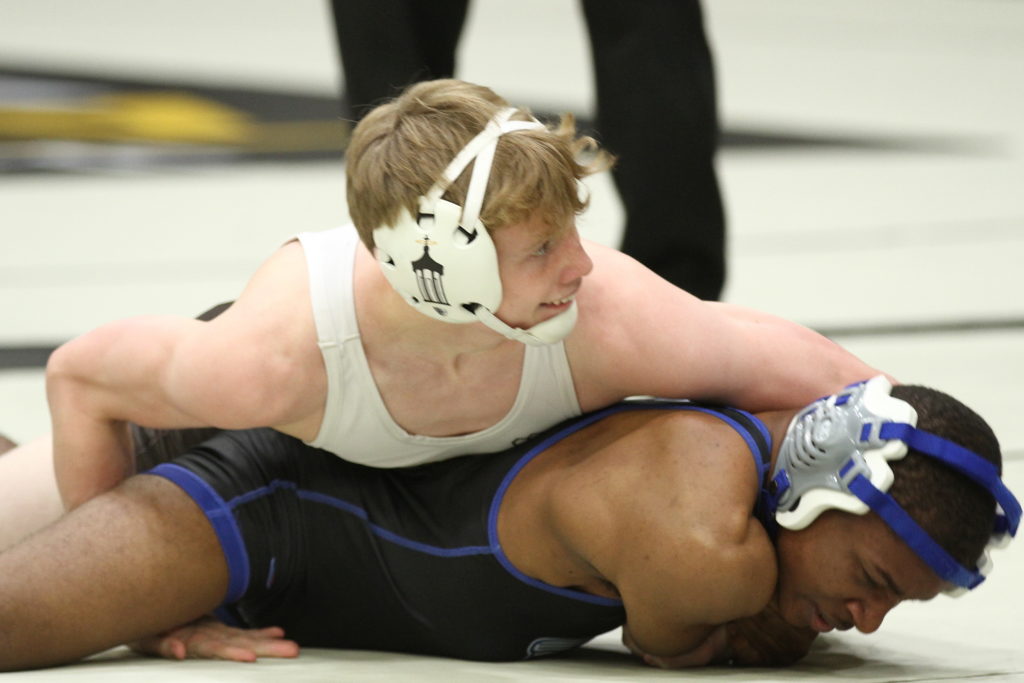 When your training partner wins a state title just before you step on the mat to try to do the same, the huge challenge facing you suddenly becomes a bit less stressful.
That's the position that Joliet Catholic Academy junior Shay Kohorn found himself on Friday at the outset of the IWCOA Class 2A Open Championships in Springfield.
Once Hilltopper two-time finalist Gylon Sims beat Mattoon's Brady Foster 4-2 in an exciting match for the 106 title, Korhorn (15-2) got his chance to duplicate that effort and did just that with an equalling compelling 7-5 sudden victory over Normal West's previously-unbeaten sophomore Froylan Racey (23-1).
The two battled to a 5-5 draw through regulation and then just 10 seconds into the overtime, Korhorn got a takedown to clinch the championship. A year after going 1-2 at state, the JCA junior beat Marian Central Catholic sophomore Charlie Fitzgerald 5-3 in the quarterfinals and MacArthur senior Cameron Lee 9-1 in the semifinals.
"I got taken down going into the second period and that was hard to deal with, but I got right back on my feet and decided that I had to go now since it was the last match of the season, you might as well go out crazy," Korhorn said. "It definitely helped me that (he) Gylon won. I love wrestling with Gylon in the room, we scrap every day. Especially on our feet, we go hand-in-hand, it's just always a battle. And DJ (Dean Hamiti) is a great captain in the room and everyone loves to follow him. Coach Cumbee has built such a great team in these past four years and he does not plan on stopping soon. It's going to be a great program."
The consecutive titles and later a third championship from freshman Dillan Johnson at 285 capped a truly historic day for the program, which was awarded a first-ever trophy for a third-place finish after scoring 97 points. During its history, Joliet Catholic had won only four state titles, with three of those being claimed by Dean Hamiti in the past three seasons and the first back in 1967 by Pat Mudron.
Galesburg freshman Gauge Shipp (23-2) took third place following a 10-7 victory over Prairie Ridge sophomore Tyler Evans (18-5) while Fitzgerald (20-5) won 8-6 in sudden victory over Lee (15-4) to claim fifth place. Racey, who was making his first state tournament appearance, advanced to the title mat with a pin of Shipp in the semifinals.
120 – Markel Baker, Freeport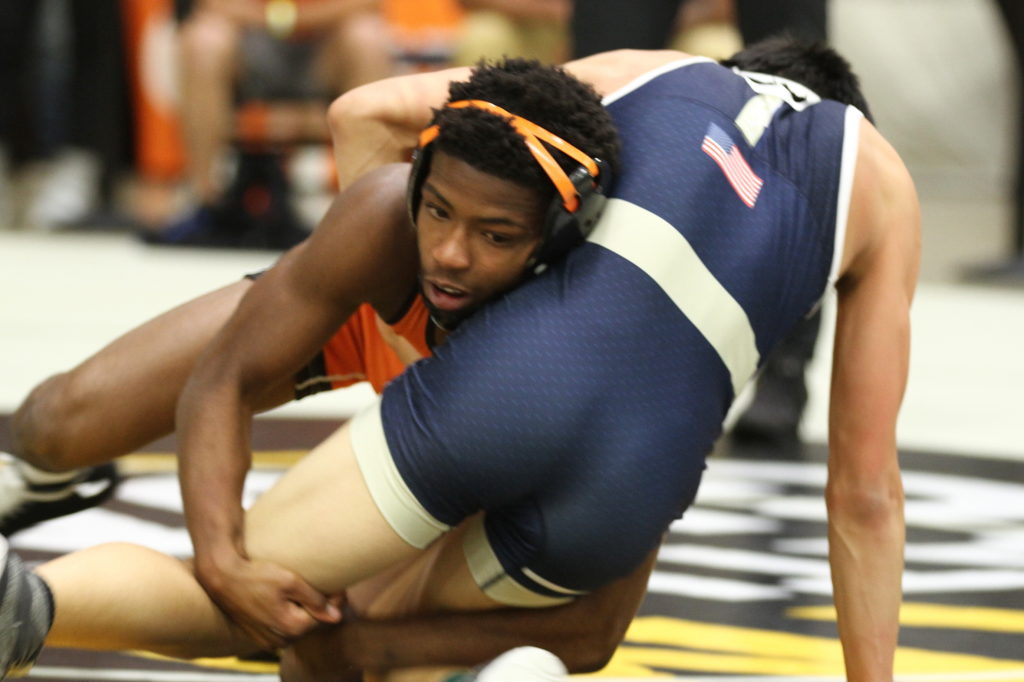 Like Sims, Baker was also a state runner-up last year and he used that title-match loss to toss a shovelful of coal into the blast furnace of his motivation.
"I used it all the time. It's all I was thinking about was that feeling when you lose. It's not the best feeling," Baker said. "It made me want to be more aggressive and want it more, instead of just going downstate just for the show."
Baker fought off an early takedown attempt from Morton's Connor Kidd on the title mat in Springfield, then got one of his own to take a 2-0 lead. The Freeport junior used a Blair bar to a half, early in the second period, before winning by fall.
Baker went into the state finals ranked No. 1 at 120 and improved to 26-0 with the win. He was dominant all day, posting a major, a fall, and then a tech fall in his semifinal to reach the finals.
Baker joined Major Dedmond (2019) and Pete Rhode (1984) to become the third state champion in Freeport history. He managed that feat thanks to some incremental improvement since last season.
"I'm way quicker and work my technique way better this year," Baker said. "Last year I was more of an elbow-control type guy. This year I'm more of a push-the-pace, low-single, snap, go-behind guy," Baker said.
Baker expressed gratitude for Freeport head coach Anthony Dedmond, former teammate Major Dedmond, along with Dakota coach Pete Alber. His plans for next season are obvious.
"Next year I'm definitely looking for another state title," Baker said, "and I have to get better at everything."
Kidd (21-4) reached the title mat with a pin of Marian Central Catholic's Nick Davidson in their semifinal match, after winning by fall and 13-8 decision to open the tournament.
Deerfield's Lucas Wittkamp placed third at 120 by forfeit over fourth-place Davidson, and fifth-place Rocky Almendarez won 10-8 over sixth-place Noah O'Connor of Lemont.
126 – Elon Rodriguez, Marian Central Catholic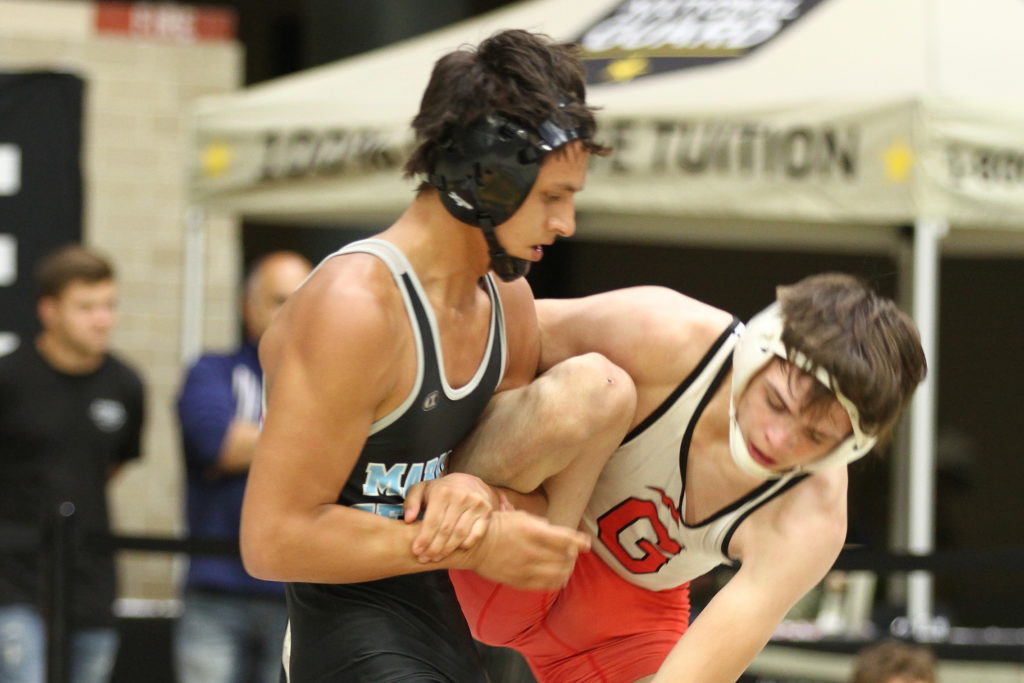 On a day where Marian Central Catholic won the IWCOA Class 2A title, Elon Rodriguez capped an unbeaten season by winning his first state championship and third medal.
The senior finished with a 25-0 record after claiming a 3-2 overtime tiebreaker victory over St. Patrick junior Sean Conway (20-3) in the IWCOA Class 2A Open Championships in Springfield. A year ago, Rodriguez lost a tight title match, falling 4-2 to TF North's Nasir Bailey at 120. Conway, who also won his third state medal and advanced to his first finals, hoped to become the Shamrocks' third champion and their first since Joe Fagiano in 2006.
Rodriguez and his teammates made program history by setting records for champions (three), finalists (four) and medalists (nine) from their 10 qualifiers. Those performances helped coach David Silva's squad to capture the team title with 178 points, which was well ahead of runner-up Civic Memorial, who had 147.5 points. Nik Jimenez (25-0)followed Rodriguez with a title at 132, Dylan Connell (24-0) won at 182 to claim his fourth title and Chris Moore (16-1) took second at 138.
"We had four people in the finals and were looking to go 4-for-4, so I had to start us off with a win," said Rodriguez, who will continue his education and career at Triton College. "Thiswas a perfect way to end it. Honestly, it felt like a dream out there. I'd been to the finals before and it felt kind of normal, but this was very special. It would have been tough (if no tournament) and I feel that we wouldn't have gone as hard. I just wouldn't have gotten better if there wasn't something to look forward to at the end."
Rodriguez earned his second-straight finals appearance with a 12-3 semifinal victory over Glenwood sophomore Thomas Vansacik (32-6). In fact, he won each of his first three matches by 12-3 scores, with his quarterfinal win coming against Triad junior Chase Hall (18-6), a two-time medalist.
In the third-place match, Civic Memorial freshman Bryce Griffin (28-1) won 8-0 over Oak Forest sophomore Caden Muselman (15-6) and in the fifth-place match, Hall edged Vansacik by a 3-2 score. Conway beat Muselman 9-1 in the semifinals after handing Griffin his only loss in the quarterfinals by a 3-2 score on an ultimate tiebreaker.
132 – Nik Jimenez, Marian Central Catholic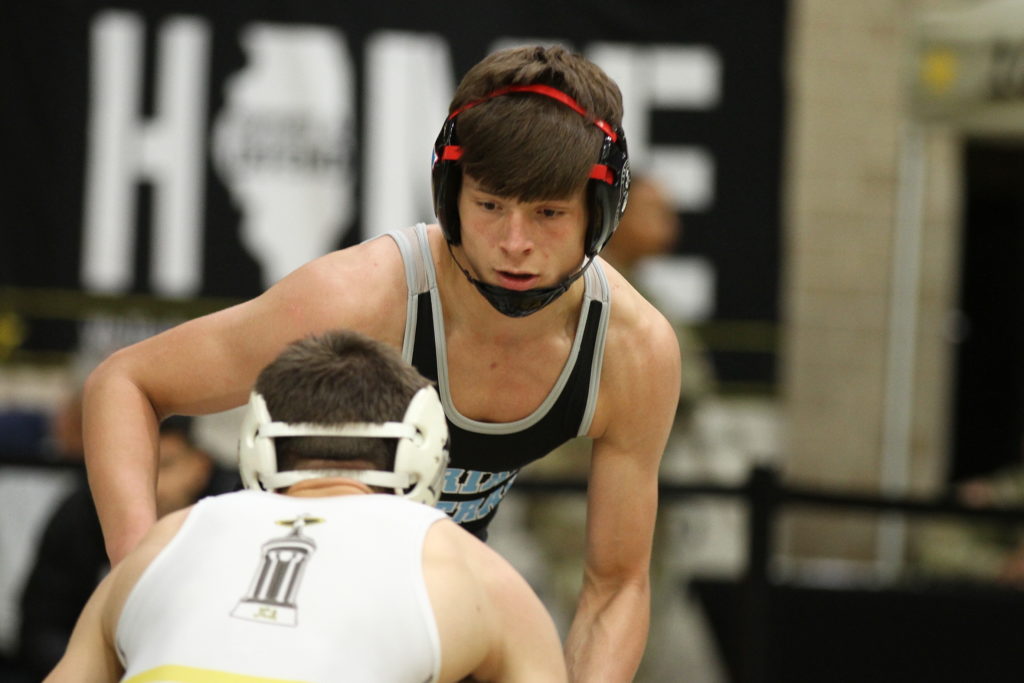 The top-ranked junior finished his individual season unbeaten at 26-0 and became the third state champion in program history, joining four-time state champ Dylan Connell (2018-21), and two-time state champ Rich Powers (1985-86).
Jimenez was a state qualifier as a freshman and placed second at 126 last year in Champaign, as a 1A wrestler for Harvard, before transferring to Marian this year.
Jimenez posted two falls before winning a 7-1 semifinal decision, sending him to the title match against second-ranked Rory Perlow of Deerfield.
"We wrestled in sectionals and I pinned him in the first period, so I knew today was going to be harder," Jimenez said. "But we don't really worry much about scouting at Marian — it's more focused on us, personally, and what we're going to do out there."
Like multiple 2A state champs in Springfield, Jimenez used his loss on the title mat last year to propel him back for another shot at a state title this season.
"It wasn't really placing second that affected me last year, it was how I lost," Jimenez said of his tech fall loss to 1A state champion Tristan Daugherty of Peoria Notre Dame. "Instead of having the attitude of just placing and hoping for the best, I wanted this year to be my year and I just went out and got it."
Jimenez is happy with his decision to transfer to Marian under head coach David Silva.
"Our coaches made me a better wrestler overall," Jimenez said. "I'm always being pushed in the practice room. And nothing changes after this. I'll be back at practice soon and we're always grinding. I can always improved in strength and stamina, and overall I just want to improve myself for next year."
Perlow (25-3) used three decisions to reach the title match, including an 8-1 semifinal decision over Antioch's Anthony Streib.
Joliet Catholic's Owen O'Connor placed third at 132 via 10-2 decision over fourth-place Streib, and Oak Forest's Ivan Corral took fifth with a 5-1 win over sixth-place Collin Reif of Jacksonville.
138 – Caleb Tyus, Civic Memorial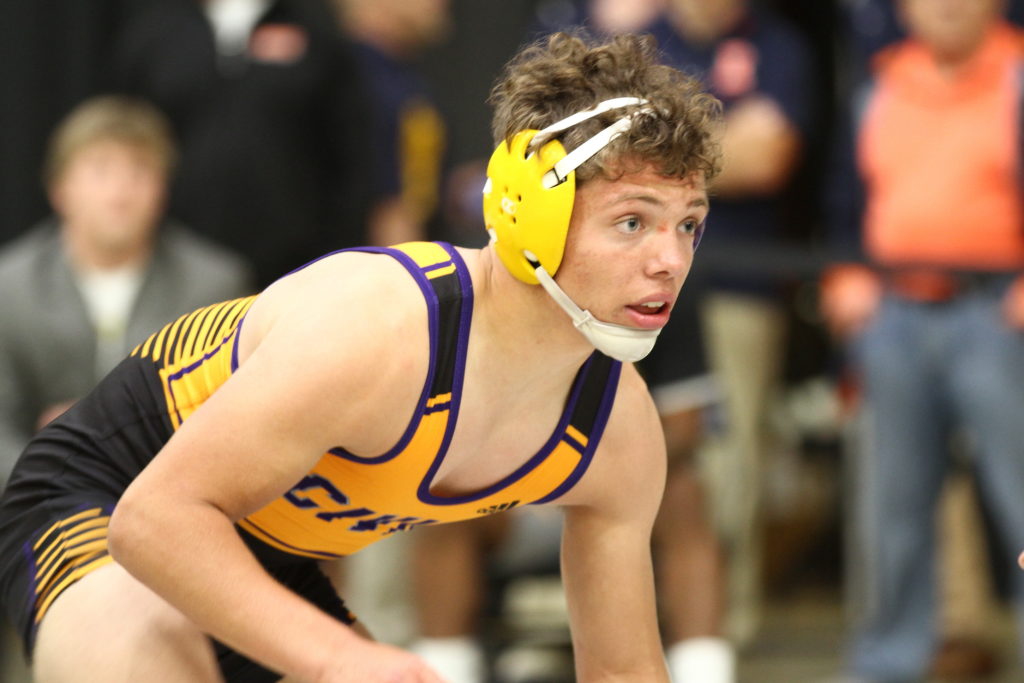 Just about everything went right for Caleb Tyus on his final day of competing for Civic Memorial on Friday at the IWCOA Class 2A Open Championships in Springfield.
The senior capped a 31-0 season by winning his first title by a 7-2 score over previously-unbeaten Marian Central Catholic sophomore Chris Moore (16-1) in the 138 finals while competing in his second straight title match and earning a third top-three medal. Two of his teammates, senior Vinny Zerban and sophomore Abraham Wojcikiewicz, also won titles and two others, his brother, senior Caine Tyus, and junior Colton Carlisle, also were in the grand march before the finals.
About the only thing that didn't go well for him was that his brother, who's also a three-time medalist, had to injury defaultin the finals at 145 against Sycamore's Brayden Peet after struggling to get through his semifinal win. As for team highlights, the Eagles took second place in Class 2A with 147.5 points, which ranked second behind 2A champion Marian Central Catholic, who had 178 points. His team established new program records with three champions, five finalists and six placewinners.
"We've worked hard and it's obviously showing," Caleb Tyus said. "It feels so good in my last year to get second (as a team), it feels crazy. Last year it was only me at the grand march so it feels different now. It was good to have our whole team here."
Caleb Tyus reached the title match with a 5-0 semifinal victory over previously-unbeaten St. Laurence senior Mike Rodriguez (20-1). After getting a fall in his opener, he won 6-1 over Rochelle junior Caleb Nadig (26-5) in the quarterfinals. Moore, who opened with two victories by technical fall, won 3-0 over Rock Island junior Aoci Bernard (22-5) in the semifinals to advance to the finals along with teammates Elon Rodriguez (126), Nik Jimenez (132) and Dylan Connell (182), who all went on to win titles.
Mike Rodriguez won a 7-1 decision over two-time medalist Nadig in the third place while Deerfield junior Lucio Morgan (24-5) claimed a 3-1 victory over Bernard to finish fifth.
145 – Brayden Peet, Sycamore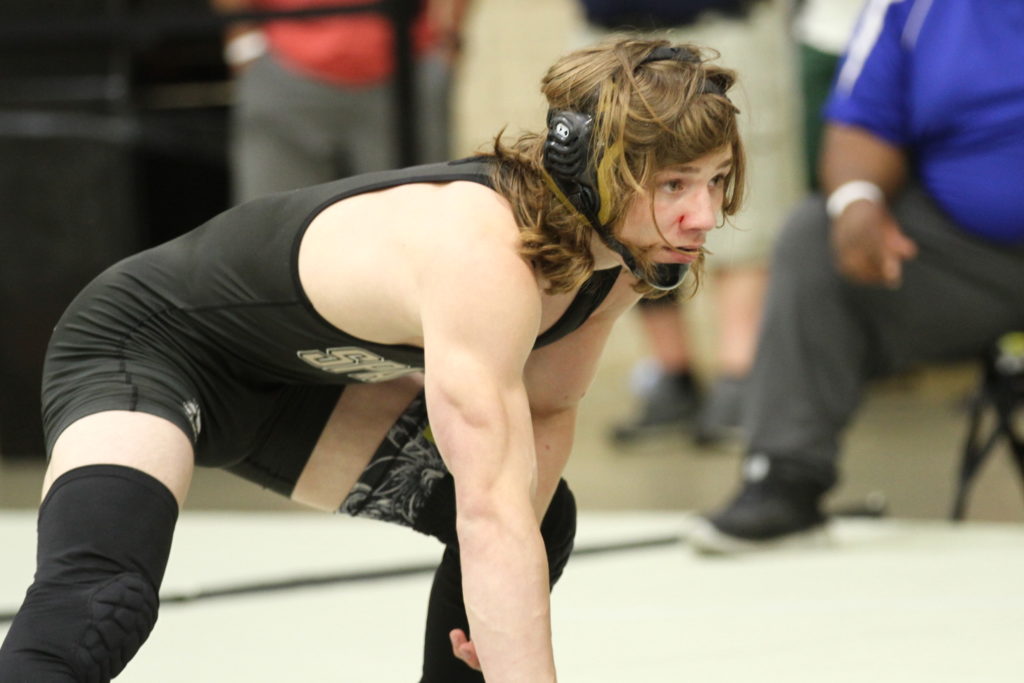 The evolution from underclassmen to upperclassmen often comes down to what Peet experienced from his sophomore year to this season's junior campaign.
"I'm more confident. It's all mental for me. I had the ability last year, I just wasn't there mentally," Peet said. "My wrestling got better since last year but last year my nerves would get to me, until I finally realized that it just doesn't matter. I just have to go out there and wrestle."
Peet used two tech falls to reach a semifinal at 145 against Jalon Strong of Cahokia, winning 9-3 but having to work hard to the final buzzer.
"That kid had endless energy," Peet said of Strong. "He just kept coming and I was just praying I could hold on."
Peet finished the year as a state champion with a perfect 35-0 record. Unfortunately for Peet and Civic Memorial's Caine Tyus, their slated meeting on the state title mat didn't happen. Tyus had to injury default after suffering a leg injury in his 3-0 semifinal win over Crystal Lake Central's Dillon Carlson.
"Obviously I would have rather wrestled in the final. I don't want to win that way. I'd rather wrestle and lose than win that way," Peet said. "So it's like a happy-sad moment. But I'm happy with the season I had. I put in all the work I needed to, 24-7, all the time. I wrestled all year."
Peet became the third state champion in Sycamore program history, joining Austin Culton (2012) and Kyle Akins (2013).
Tyus posted two pins before his semifinal win and finished the year with a 16-1 record.
Carlson went on to place third at 145 via 5-1 decision over fourth-place Anthony Montez of Geneseo, and Strong placed fifth with an 8-4 win over sixth-place Austin O'Donoghue of Lincoln.
152 – Vinny Zerban, Civic Memorial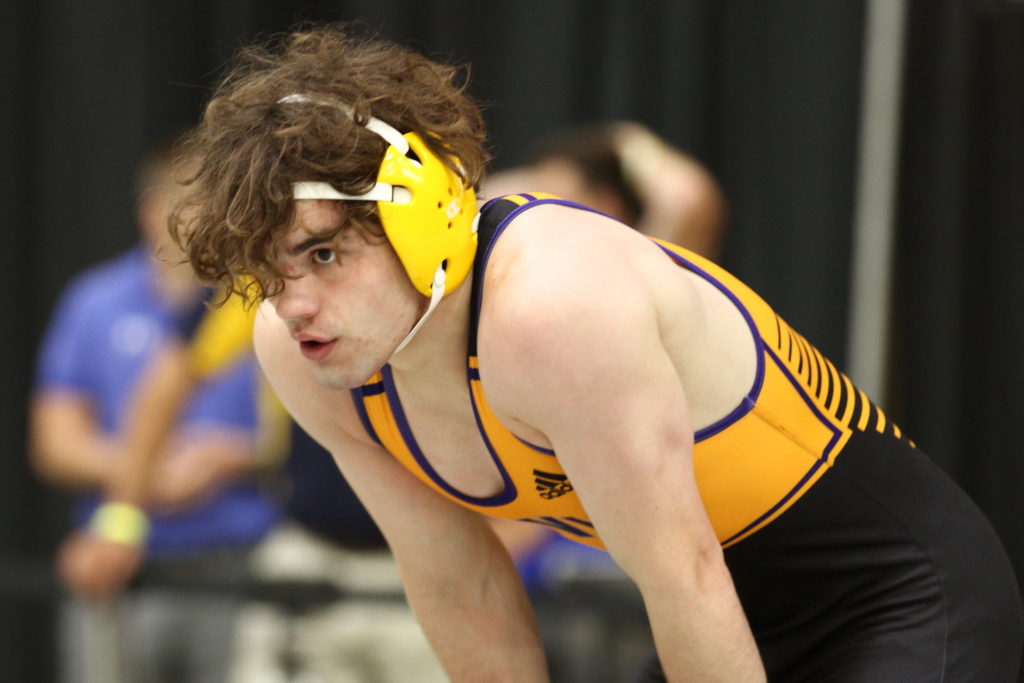 After enjoying a successful three years at St. Louis' Christian Brothers College, where he won a 2019 Class 4A state title and earned second- and third-place medals and also was a member of two team champions, Vinny Zerban decided to complete his prep career along with some longtime friends at Civic Memorial.
On Friday in the IWCOA Class 2A Open Championships in Springfield, senior Zerban completed a 28-0 season by recording a fall in 0:48 over Deerfield junior Benjamin Shvartsman (23-2) in the 152 title match.  
He advanced to the finals with a fall in 3:38 over Sterling junior Andrew Kested (27-4) in the semifinals and posted a 12-5 quarterfinal win over Marian Central Catholic senior Scott Burke (22-4) after winning by technical fall in his first match.
Zerban's efforts helped Civic Memorial to turn in its best showing ever in a state finals. Coach Jeremy Christeson's squad established new records for champions (three), finalists (five) and medal winners (six) which helped them to take second place with 147.5 points, which was only behind Class 2A champion Marian Central Catholic, (178). Joining Verban as champions were Caleb Tyus (138) and Abraham Wojcikiewicz (160) while Caine Tyus (145) and Colton Carlisle (182) took second and Bryce Griffin (126) was third.
"This has probably been the best day in a while," Zerban said. "Last year, I lost a tough semis match while I was wrestling 160. I was out of shape and had to put a lot of work in to get to where I am. I think this is the best team that we're ever going to have. This feels a lot better than winning Missouri's in my sophomore year."
Shvartsman, who won a fifth-place medal a year ago, claimed a 7-0 semifinal victory over Mattoon junior Kiefer Duncan (21-5). After getting a pin in his first match, he won a 3-1 decision over Mascoutah's Kylan Montgomery in the quarterfinals. Burke won by fall in 1:54 over Geneseo senior Bruce Moore to claim third place while Kested beat Duncan by medical forfeit to finish fifth.
160 – Abraham Wojcikiewicz, Civic Memorial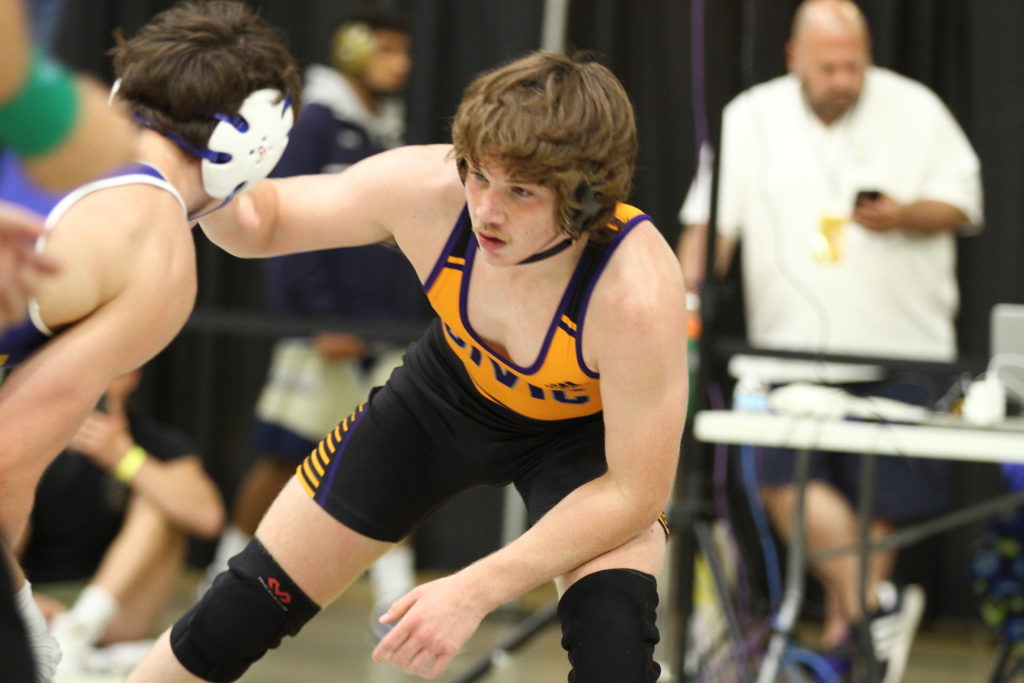 Wojcikiewicz was the lone freshman to qualify downstate last year at 145, finishing with a 39-9 record after the individual state finals in Champaign. He wrestled mainly against upperclassmen last season and lost to a senior and a junior in his two downstate matches.
Wojcikiewicz is not a freshman anymore. This year, Wojcikiewicz was one of five sophomores among 16 state qualifiers at 160 and he grinded his way to a state championship. Wojcikiewicz opened with decisions of 9-1 and 7-1 before winning 5-4 in his state semifinal over Bennett Duggan of Lake Forest.
Wojcikiewicz then posted the lone takedown of the title match to win a 3-2 decision over Boylan's Dathan Wickson. It wasn't the first time Wojoikiewicz (29-1) wrestled the previously unbeaten Wickson (19-1).
"I wrestled him in Iowa and lost to him 8-3," Wojcikiewicz said. "I tried to get my underhooks and get my shots off of that to slow him down, since he was quite a bit quicker than me the last time I wrestled him."
Wojcikiewicz joined teammates Caleb Tyus (138) and Vinny Zerban (152) to give Civic Memorial a third state champion in Springfield. The trio joined three-time state champion Kip Kristoff (1982-83, '85), Mark Kristoff (1982), Jason Christeson (1997), and David Pearce (2012) to give their program seven state champions.
"We have a lot of great guys and we're always working in the room. We build off of each other," Wojcikiewicz said. "It always helps to have lots of good teammates around you to help you get better."
Wickson used a pin and then a major decision win to reach the semifinals, where he won 4-3 over Saint Viator's Gaetano Console.
Duggan placed third with a 7-4 win over fourth-place Console, and Deerfield's Aiden Cohen took fifth via 7-3 decision over Sycamore's Zach Crawford.
170 – Caden Ernd, Crystal Lake Central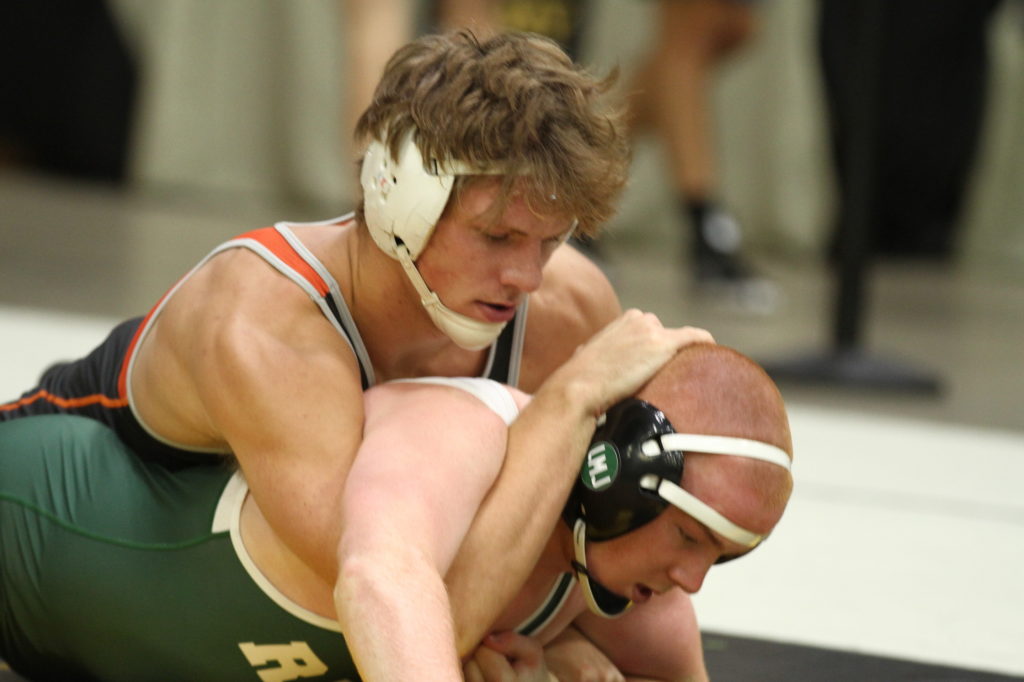 Crystal Lake Central had an impressive run between 2009 and 2017 when seven different individuals accounted for 15 state titles and coach Justen Lehr's program advanced to seven dual meet team finals and won five trophies, including two second-place finishes.
The Tigers hadn't won any titles since that time but that all changed on Friday in the IWCOA Class 2A Open Championships in Springfield when Caden Ernd edged Carbondale's Luke Daly 1-0 in a clash of unbeaten seniors in the 170 title match. Ernd (13-0) got an escape in the second period and prevented Daly (25-1) from doing the same in the third.
Ernd, who placed third last year, advanced to the finals with a 5-1 semifinal victory over Grayslake Central freshman Matthew Jens (28-7) after recording falls in his first two matches while Daly, who placed fifth in 2020, won 7-1 over Crystal Lake South junior Shane Moran (15-4) in the semifinals after getting a pin and a 7-0 quarterfinal victory.
"This is exciting," said Ernd, who plans to continue his career and education at the University of Illinois. "I am thankful that the IWCOA has put this on for all of the kids, but especially the seniors, because I wanted to call myself a state champ. It was an interesting season, for sure, but I made the most out of it. Most of the kids who showed up put a show on, just like the regular high school state tournament. This feels awesome and I can't thank the people around me enough, the coaches, team, family, everyone."
Daly, who will continue his career and education at Michigan State University, hoped to become the Terriers' first state champion since 2017 when Cameron Caffey won and just the third individual from his school to capture a title, with Zane Richards taking firsts in both 2011 and 2012.
In the third-place match, Brother Rice junior Tom Bennett (18-2) won 6-4 over Moran while Jens claimed a 13-8 decision over Geneseo senior Clay DeBaillie (17-5) for fifth.
182 – Dylan Connell, Marian Central Catholic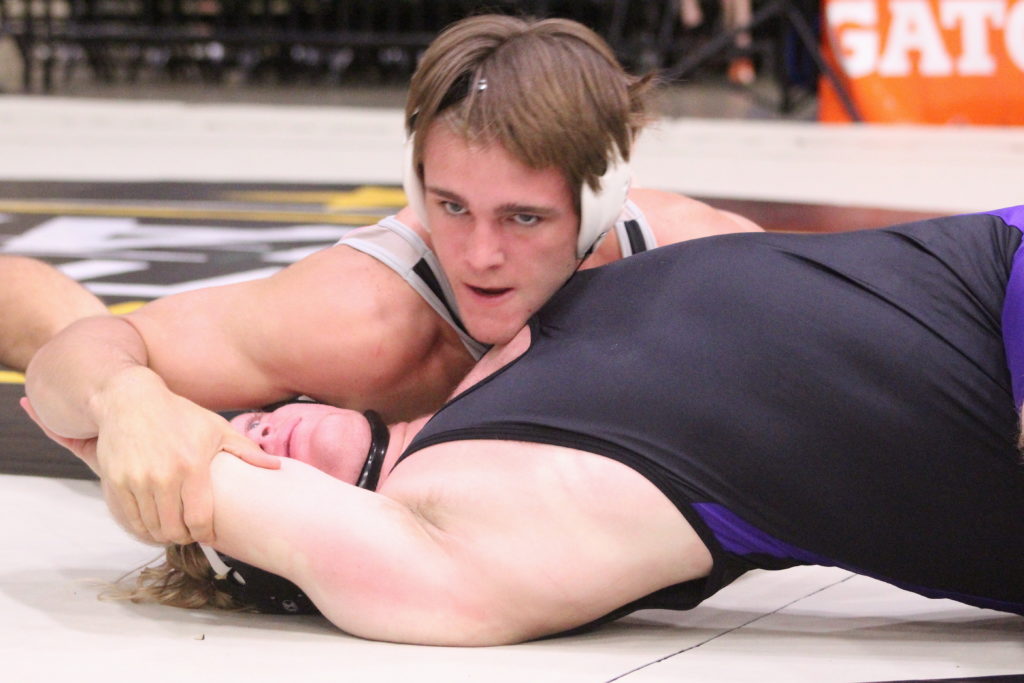 The University of Illinois-bound senior joined the elite ranks of four-time Illinois state champions when he won by major decision in his title match against Civic Memorial's Colton Carlisle.
Per the IHSA website, only 15 wrestlers in Illinois' long history have now managed that feat. Three years ago, as the lone freshman 152-pounder weighing in at the state finals in Champaign, he never imagined four state titles would be part of his future.
"That freshman year, I went to the weigh-ins in Champaign and texted my dad 'these kids are going to kill me'," Connell said. "But I took it one match at a time and kept coming out on top. It's unexplainable and unbelievable. I never thought I'd get to this point."
Martell Boone, Jared Head, and Joey Jens were the names of the first three opponents Connell beat on a state title mat, and he won his first three titles at 152, 160, and 170 pounds.
Connell joined teammates Elon Rodriguez (126) and Nik Jimenez (132) in winning state titles in Springfield to give the program four state champs, including two-time state champ Rich Powers (1986-87).
Connell (24-0) was ranked No. 1 from wire-to-wire this season in completing his quartet of state championships. He posted three first-period pins to reach the title match in Springfield.
"I just had to believe in myself, no matter what happened," Connell said. "I couldn't get my head too high. Everyone I wrestled had nothing to lose and I just had to show what I've been working for. I'll be happy today and then I'll get back to work. I leave (for U of I) in a couple weeks."
And for any top-notch eighth-grade kids' club wrestlers out there, who might have visions of four high school state titles dancing in their heads, Connell has some simple but profound advice:
"Just believe in yourself, your coaches, and don't skip practices and workouts," Connell said. "Keep working and you'll get out what you put into this sport."
Third-ranked Carlisle (28-3) posted two falls and then a major decision win in his semifinal against Lemont's Moe Kahlil.
Crystal Lake South's KT Sivertsen took third via fall over fourth-place Khalil, and Mahomet-Seymour's Brennan Houser took fifth with a major decision over sixth-place Kaleb Lind of Lakes.

195 – Donnie Hidden, Washington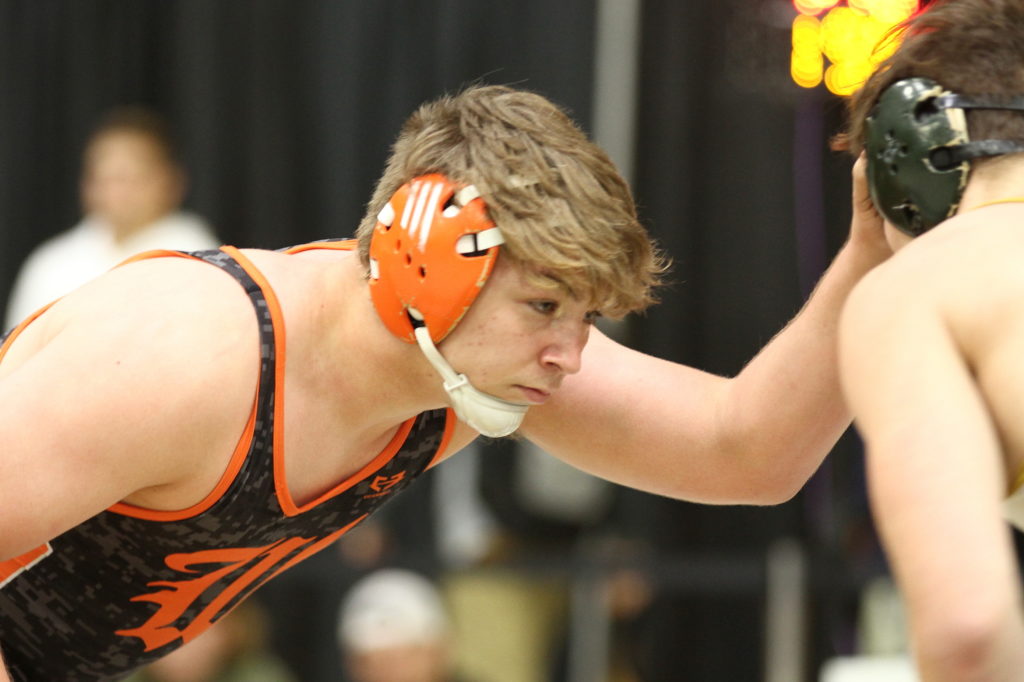 Just when it looked like the 195 pound title match between Washington's Donnie Hidden and Mahomet-Seymour's Mateo Casillas was headed to overtime, Hidden recorded a takedown with five seconds left to give him a 3-1 victory over the previously-unbeaten sophomore in the IWCOA Class 2A Open Championships in Springfield.
Hidden (23-2), a junior who placed fourth last year, is the 11th different Panther to win a state title in the past 11 years. Casillas (27-1), who was making his first state appearance, hoped to become his program's first champion since Andrew Brewer pulled off the feat in 2009.
The Panthers' champion followed up on an opening fall with a 6-2 quarterfinal victory over Carbondale's Aiden Taylor (23-3) and then claimed a 5-3 win in the semifinals over St. Patrick junior Alex Goworowski (20-6).
"That's what we learn, to keep grinding the entire match," Hidden said. "I was just looking the entire match for that small ankle shot off of a bad shot of his, and it finally paid off in the third period, which is perfect and it all went well from there. Thanks so much for (the IWCOA) for providing this tournament. For that, I get to live this experience of finally doing something that I've dreamed of since I was six. There are some kids who aren't here, but the best kids are showing up and they'll always compete with you. Everyone has the drive to be great. I was in the same shoes as the frosh-soph kids my first year and took eighth. Then I came back and got fourth last year and bumped up 40 pounds."
Casillas also opened with a fall and then won a pair of one-point decisions, 3-2 in the quarterfinals over Notre Dame's Sean Swinkle (21-4) and 4-3 in the semifinals over Crystal Lake Central senior Julian Ryerson (21-7) to earn his spot in the title match.
In the third-place match, Ryerson recorded a fall in 1:01 over East Peoria junior Zach Eaton (20-9) and LaSalle-Peru sophomore Connor Lorden (35-4) claimed fifth place when he recorded a fall in 4:55 over Goworowski.

220 – David Polaski, Mascoutah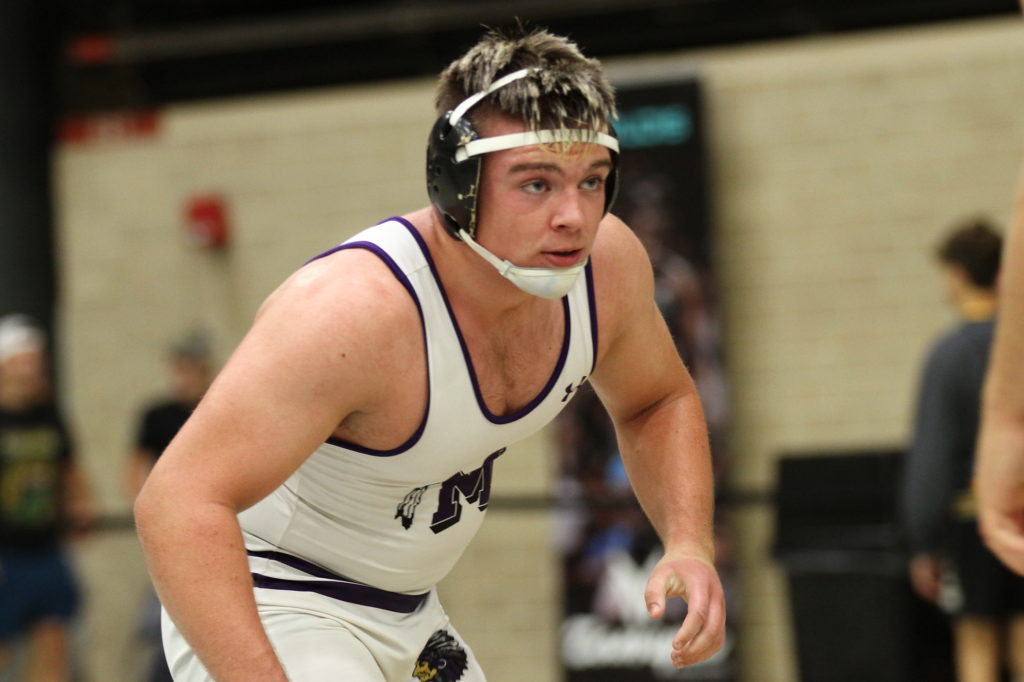 The senior Polaski joined Lavion Mayes (2012) to become the second state champion in Mascoutah history, and he did it by learning how to flip a switch when he steps on the mat.
"In the past I was kind of a passive wrestler. I like to think I'm a nice guy off the mat," Polaski said. "But I was bringing that onto the mat. So I had just had to find a 'demon mode' almost."
Third-ranked Polaski improved to 27-2 with his 9-4 title-mat decision over previously unbeaten and top-ranked Conner Miller (34-1) of Glenwood. Miller topped Polaski at this year's sectional meet.
"He was a well-rounded wrestler. I wrestled him last week and lost to him by a point," Polaski said of Miller. "I didn't take last week as seriously as I needed to and I could have done better. I was up one point with fifteen seconds and I circled out but he took me down. So I knew I had to compete today."
A second-period takedown and near-fall gave Polaski a 6-2 lead after two periods. A Polaski escape to start the third and a Miller takedown made it 7-4 on the way to the 9-4 final score.
Polaski won all four of his state finals matches by straight decisions, including a 5-4 semifinal decision over No. 6 Jake Lester of Grayslake Central.
Miller used three straight decisions to reach the title match, capped by a 6-4 win in a semifinal match against Cary-Grove's Joe Swanson.
Lester went on to place third with a 3-1 decision over fourth-place Swanson, and Mahomet-Seymour's Daniel Renshaw took fifth via fall over Marian's Joe Miller.
285 – Dillan Johnson, Joliet Catholic Academy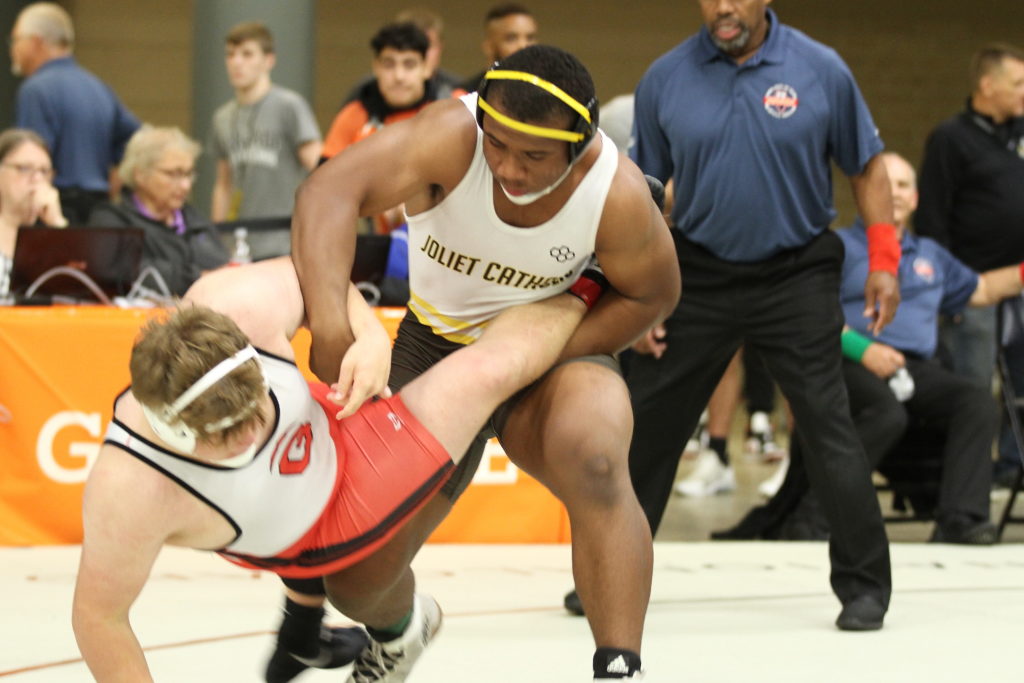 History had already been made by Joliet Catholic Academy's wrestling program before Dillan Johnson even stepped on the mat for the 285 title match at Friday's IWCOA Class 2A Open Championships in Springfield.
After getting title wins from Gylon Sims at 106 and Shay Korhorn at 113, the Hilltoppers had two state champions at a finals for the first time and were already assured of a third place finish. But freshman Johnson made sure that he would add to the special occasion by giving his team its third title of the day when he recorded a fall in 1:56 over Aurora Christian sophomore Braden Hunter to conclude a 20-0 debut season.
Coach Ryan Cumbee's JCA team finished with 97 points, which was nine better than fourth-place Deerfield. Going into the day, the program had won a total of four state titles with Dean Hamiti winning three of those in the past three years and Pat Mudron capturing the school's first title in 1967 when he was the heavyweight champion.
"It feels great," Johnson said. "My dad was telling me about how if I win this it will be a good stepping stone for further success down the line. My coaches have been trying to get me to wrestle like that all year and I finally listened. They make all of the difference and I'm very grateful to all of them. I'm very grateful since for the longest time I thought there would be no wrestling season, then we got the six-week season and then this tournament, so I was happy that we had some type of season."
The freshman champion opened with a fall in 1:59 and then won 20-7 in the quarterfinals over Lakes John Sullivan (12-4) and 11-3 in the semifinals over Glenwood sophomore Alex Hamrick (35-1). Meanwhile Hunter (8-2), Aurora Christian's lone qualifier, followed a fall with a 5-0 decision over Notre Dame sophomore Karl Schmalz (19-6) in the quarterfinals and a 4-3 victory on a tiebreaker over Washington junior Tyler Casey (21-7) in the semifinals.
Hamrick bounced back from his first loss to win 3-1 over Antioch senior Max Ness (19-4) for third place while Casey captured a 1-0 decision over Schmalz to finish fifth.