Frosh-Soph tournament a window to the future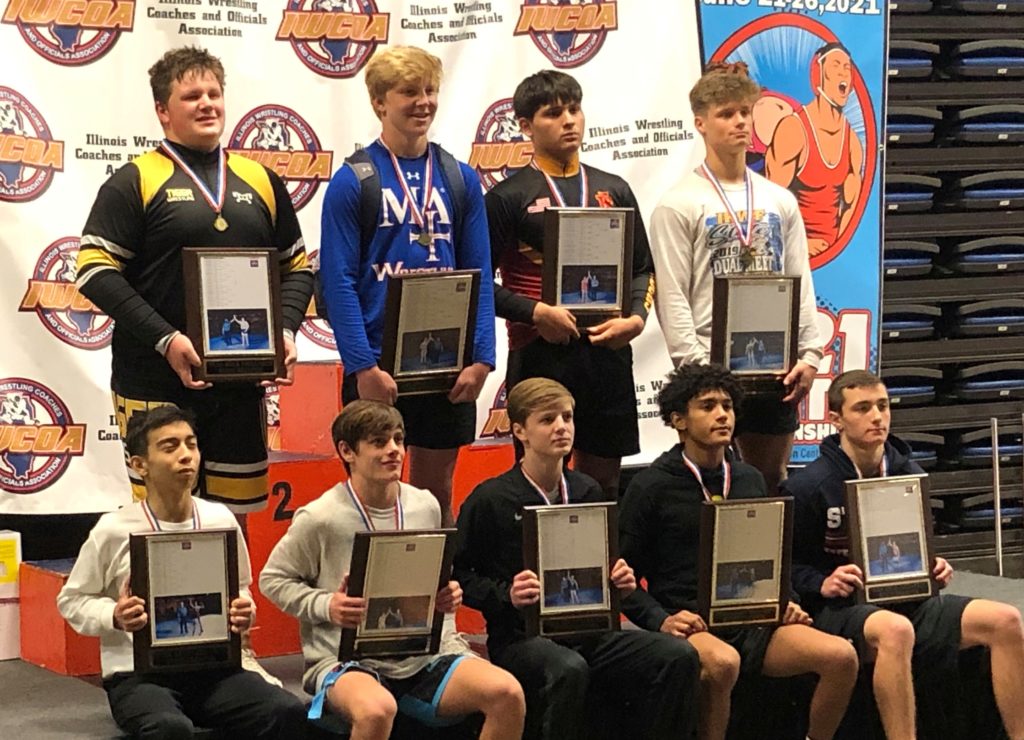 By Curt Herron
With the wrestling community missing out on hosting its IHSA tournament and the schedule of its season pushed to end in late June, there had to be plenty of skeptics who anticipated that the Illinois Wrestling Coaches and Officials Association's signature tournament, the freshman-sophomore tournament, might be an after-though for some possible competitors.
But with a large group of competitors signing up for the event, which created 64-man brackets for all but two of the weight classes, there certainly was no shortage of talent on hand when the athletes took part in the two-day tournament that was held on Tuesday and Wednesday at Bank of Springfield Center in Springfield.
Considering the history of the freshman-sophomore tournament and the number of individuals whose careers have earned a big boost from a strong finish in the competition, it would be wise to keep an eye on some of the unheralded athletes who weren't able to compete at state this season but may be big names in the sport next year.
Here's a breakdown of the champions and the top-eight placewinners in the 15 weight classes that were determined at the week's state frosh-soph tournament.
101 – Jimmy Norris, McHenry
McHenry's Jimmy Norris captured the 101 title by recording a fall in 0:36 over Marmion Academy's Donny Pigoni.
The Warriors athlete won four of five matches with pins of 4:00 or less and his other victory was 10-1 in the quarterfinals.
"It was a good tournament and there were a big handful of kids that were just really good," Norris said. "This was only like my third tournament this year and I won it and it was for state, and that was nice. I'm very happy about this and feel that I can do a lot better next year, as well."
In the third-place match at 101, Romeoville's Brian Farley won 5-4 over Kaneland's Kamron Scholl on a tiebreaker . For fifth place, Yorkville Christian's Raymond Cavey edged Evanston's Marco Terrizzi 2-1 and in the seventh-place match, PORTA's Zaden Cooper won a 7-5 decision over DeKalb's Eduardo Castro.

106 – Anthony Lopez, Berwyn-Cicero Morton
Morton's Anthony Lopez claimed a 2-0 victory over Batavia's Inocencio Garcia in the championship match at 106.
Lopez had a fall and major decision to go with three decisions, including a 5-3 semifinal victory over Marian Central Catholic's Kaden Harman.
"It was very exciting," Lopez said. "Coming from sectionals, where I had a tough bracket, when I came here, I had hard matches against a bunch of good kids. It's been very hard during summers going to different camps and keeping my conditioning up, especially in the pandemic. Everything was worth it. I worked hard and now I'm here."
Claiming third place at that weight was Marian Central Catholic's Kaden Harman, who won by fall in 2:57 over Elk Grove's Grant Madl. In the fifth-place match, Deerfield's Luke Reddy edged Barrington's Neel Talpallikar 2-1 and for seventh, Cumberland's Hank Warfel captured a 12-1 victory over Wheeling's Anthony Pacheco.

113 – Solomon Gilliam, Glenbard North
Glenbard North's Solomon Gilliam recorded a fall in 3:55 over Batavia's Aidan Huck to claim top honors at 113.
Gilliam won all five of his matches with pins with three of them coming in the first period and the other two in the second period.
"I didn't get a lot of good matches this year since I was on j-v," Gilliam said. "It's not an easy lineup to break. It was a big turnout, especially with there being no qualifier for the tournament."
Taking third at 113 was Normal West's Evan Willock, who won 6-0 over Lane Tech's Robert James Zavala. In the fifth-place match, Ridgeview-Lexington's Braydon Campbell was a 5-0 winner over Belleville East's Nicholas Fetters and Illini Bluffs' Avery Speck took seventh with a fall in 1:00 over St. Charles East's Wrigley Schroeder.
120 – Jacob Crandall, Fremd
Fremd's Jacob Crandall scored the lone point to capture a 1-0 victory over St. Charles East's Ethan Penzato in the 120 title match.
Crandall opened with three-straight falls and added a 5-0 victory in the quarterfinals and 10-0 semifinals win to advance him to the finals.
"I just used it as a good opportunity to get better and get some experience," Crandall said. "I had a really tough bracket at sectionals and didn't make it out. So I just used this as an opportunity to get matches and to get better."
Third-place honors at 120 were won by Sandburg's Zac Ritter, who claimed a 3-0 victory over Sandwich's Miles Corder. In the fifth-place match, Bradley-Bourbbonais' Levi Greenlee won 5-2 over McHenry's Lucas Vandiepen and for seventh place, York's Sean VanSleet captured a 4-3 victory over Glenbard North's Christian Chavez.

126 – Grason Johnson, Ottawa
Ottawa's Grason Johnson claimed championship honors at 126 with a 10-7 victory over McHenry's Pedro Jimenez.
Johnson had two falls and a major decision before capturing a 6-4 semifinal victory over Belleville East's Warren Zeisset.
"It was a good experience and a tough tournament with a lot of kids," Johnson said. "I was surprised since I thought I might have a pretty small bracket but it turned out to be a 64-man bracket. I'm definitely excited about the next years."
In the third-place match at 126, Belleville East's Warren Zeisset defeated Beat the Street Chicago's Sean Larkin by technical fall. Alton's William Harris took fifth with a 7-5 victory over Downers Grove South's Connor Kelly while Centennial's Nicholas Pianfetti won by fall in 3:38 over St. Charles East's Joey Berardi to place seventh.
132 – Nico Clinite, South Elgin
South Elgin's Nico Clinite recorded a 10-3 victory over Providence Catholic's Geno Papes to capture the 132 championship.
Clinite won his first four matches with quick falls and he finished with a pair of decisions over Providence Catholic opponents.
"It was very nice," said Clinite of winning the title. "We only had two of us this year but in years earlier there were a lot more, but some of us didn't come here and I have no clue why. I liked overall how our team just got more connected and we went harder than usual because the year was bad."
Placing third at 132 was St. Charles East's Gavin Connolly, who won by fall in 5:00 over Bloomington's Dylan Watts. In the fifth-place match, Providence Catholic's Cale Stonitsch edged Oswego's Sam Mundsinger 4-3 and Wizards' Xander York recorded a fall in 5:00 over Lake Zurich's Nicholas Salerno to claim seventh place


138 – Carlos Perez, Mount Carmel
Mount Carmel's Carlos Perez prevailed 5-3 on a tiebreaker over Providence Catholic's Kyle Lindsey to win the championship at 138.
After getting two victories by technical fall and a pin in his first three matches, Perez claimed four-straight decisions to secure the title.
In the third-place match at 138, West Aurora's Noah Quintana claimed a 7-0 victory over Stagg's Luke Barham. Edwardsville's Makonnen Simmons won 7-3 over Lane Tech's Phineas Merrill to place fifth and Highland Park's Dmitry Derbedyenyev claimed seventh place by medical forfeit over Joliet West's Austin Perella.
145 – Aidan Blackburn, Mattoon
Mattoon's Aidan Blackburn claimed a 16-6 victory over Stillman Valley's Randy Manos to capture the 145 championship.
The Green Wave athlete recorded five-straight falls to advance him to the title match, where he settled for a major decision.
"The final match was tough because he was really lanky, so I just had to work past it and score as many points as you can get," Blackburn said. "I felt really good and pinned everybody with the cradle, which is my favorite move and they're really strong pins. It was nice to have a big tournament where I could face different people. It puts me in a good spot for next year, but I'm going to have a lot of people wanting to beat me next year, too."
Taking third at 145 was Prospect's Connor Munn, who won 5-2 over Lincoln-Way Central's Timothy Key. Joliet West's Gavin Garcia finished fifth after claiming a 2-0 victory over Cahokia's Nicholas Deloach and in the seventh-place match, Hoffman Estates' Julian Bonilla won 10-3 over Libertyville's Charles Clark.
152 – Andrew Dado, Marist
Marist's Andrew Dado won 10-1 in the 152 finals over Centennial's Tyler Easter to help his team become the lone school with two champions.
Dado won three of his six matches with pins and also added a major decision and a 7-0 quarterfinal triumph to go with his big win in the finals.
"A lot of kids came this year and it's an amazing tournament to wrestle in since you get that state experience of wrestling on the big stage," Dado said. "There's good competition here for everybody, no matter who you are. This tournament can also be a big confidence booster going into your next season. When I found out I didn't qualify for the bigger state, I immediately decided to come since I knew I wanted to wrestle here."
In the third-place match at 152, Lincoln-Way East's Domanic Abeja won 7-1 over Rock Island's Amare Overton. Glenbard North's Johnnie Robertson won 5-1 over Pontiac's Hunter Travis to finish fifth and Washington's Cael Miller recorded a fall in 2:51 over Huntley's Alexander Limonciello to claim seventh place.

160 – Ari Zaeske, Lincoln-Way East
In an unusual championship matchup in the 160 finals, Lincoln-Way East's Ari Zaeske edged teammate Zachary Lamonto 3-2 on the ultimate tiebreaker.
Zaeske used a pin, a victory by technical fall, a major decision and a 5-0 win to reach the finals while Lamonto advanced with three falls and two 8-1 decisions.
"This feels pretty good," Zaeske said. "There was a lot of competition and a good bracket and some long matches for you. I liked coming here with my buddies on the team."
Claiming third at 160 was Poeta's Aaron Hernandez, who won 6-3 over Mount Carmel's William Jacobson. For fifth place, Greg Gomez Trained Sedeeq Alobaidi won a 10-8 decision over Conant's Armando Hernandez and in the seventh-place match, Oregon Hawks' Gabe Eckerd was a 4-0 winner over Libertyville's Owen McGrory.
170 – Jonathan Fulgencio, St. Rita of Cascia
St. Rita of Cascia's Jonathan Fulgencio captured championship honors at 170 after claiming a 4-1 title match victory over Lake Zurich's Matthew Luby.
The Mustangs champion had a pair of close matches during his run, winning in sudden victory in the third round and claiming a 14-13 win in the quarterfinals.
"I was expecting to take at least top three, but I didn't know if I would win it, but I won it," Fulgencio said. "I actually qualified for this last year but then it got cancelled."
In the third place match at 170, St. Charles East's Brandon Swartz defeated Oak Lawn's Hani Odeh by an 8-2 score. Fulton's Zane Pannell took fifth place after receiving a medical forfeit over Moline's Pablo Perez and Downers Grove South's Matthew Lapacek took seventh after winning by fall in 4:34 over Prospect's Michael Matuszak.
182 – Jack Lesher, Marmion Academy
Marmion Academy's Jack Lesher won top honors at 182 when he recorded a fall in 2:38 over Libertyville's Cole Matulenko in the finals.
The Cadets athlete recorded falls in four of his five matches and his other victory was a 7-0 triumph in the quarterfinals.
"I'm just really grateful for them for putting this tournament on," Lesher said. "I think this tournament has been run just as well and it was a really good experience. There were a lot of kids here and there was just good competition and it was cool to do the grand march. I have really high goals for wrestling and football and I'm just looking to get better in both sports and working hard."
In the third-place match, Normal Community's Cooper Caraway won by fall in 1:43 over Wheaton North's Eli Cook. Prairie Central's Owen Steidinger took fifth with a fall in 0:22 over Joliet West's Javon Johnson and Barrington's Ayden Salley took seventh following another fall, this one in 2:07, over Jacksonville's Mason Meyer.
195 – Steven Marquez, Rock Island
Rock Island's Steven Marquez claimed championship honors at 195 after he recorded a fall in 2:23 over Mattoon's Leo Meyer in the title match.
The Rocks newcomer won three of five matches with falls with none of those lasting longer than 3:39. His closest match was a 6-2 win in the quarterfinals.
"It was a very good experience and it just gives you a feeling of what's yet to come," Marquez said. "This is my first tournament that I've ever been to and it's my first year wrestling, so this was a good experience for me. I was forced into this sport by my brother (Andrew) since I didn't want him to outdo me in something."
Taking third place at 195 was DeKalb's Lamar Bradley, who won by fall in 2:51 over Larkin's Hector Flores. In the fifth-place match, Lincoln-Way East's David Wuske claimed an 8-2 win over St. Thomas More's Harlin Cuppernell and for seventh place, Orion Chargers' Phillip Dochterman won by fall in 1:59 over Greg Gomez Trained Elvis Muja.
220 – Luke Liberatore, Marist
Luke Liberatore gave Marist its second title of the day when he got a fall in 2:31 over Marmion Academy's Edward Perry in the 220 finals.
The RedHawks athlete recorded four-straight falls to reach the semifinals, where he claimed a 3-1 win over Centennial's Jackson Barnhart.
Taking third at 220 was Centennial's Jackson Barnhart who got a fall over Rock Island's Andrew Marquez, the brother of the 195 champ. Finishing fifth was Mahomet-Seymour's Camden Harris, who won by medical forfeit over Pitbull Wrestling Alliance's Jack Smialowicz and Fremd's Casey Bending placed seventh after claiming a 7-4 victory over St. Thomas More's Henry Wurl.
285 – Wyatt Schmitt, Joliet West
Joliet West's Wyatt Schmitt definitely had a wild ride before claiming the 285 championship with a 3-1 win on a tiebreaker over Edwardsville's Dawson Rull.
The champion of the biggest class got a fall in his first match and then claimed, 4-1, 3-2 ultimate tiebreaker and 5-3 sudden victories heading into the finals.
"It feels great," Schmitt said. "We didn't know if we were going to have the season, so I'm grateful and humbled to have this opportunity to come out and compete and to take home first for my city. This builds a solid foundation for the next three years that I have at my school, so it will be an interesting three years."
Taking third place at 285 was Lanphier's Jeremy Wright, who claimed an 8-2 victory over Grant's Ivan Hernandez. In the fifth-place match, Hampshire's Joey Ochoa won by injury default over Centennial's Braylen Lewis and Downers Grove South's Semaj Croswell won by fall in 0:57 in the seventh-place match over Hubbard's Tyler Washington.