Class 3A State Champions stories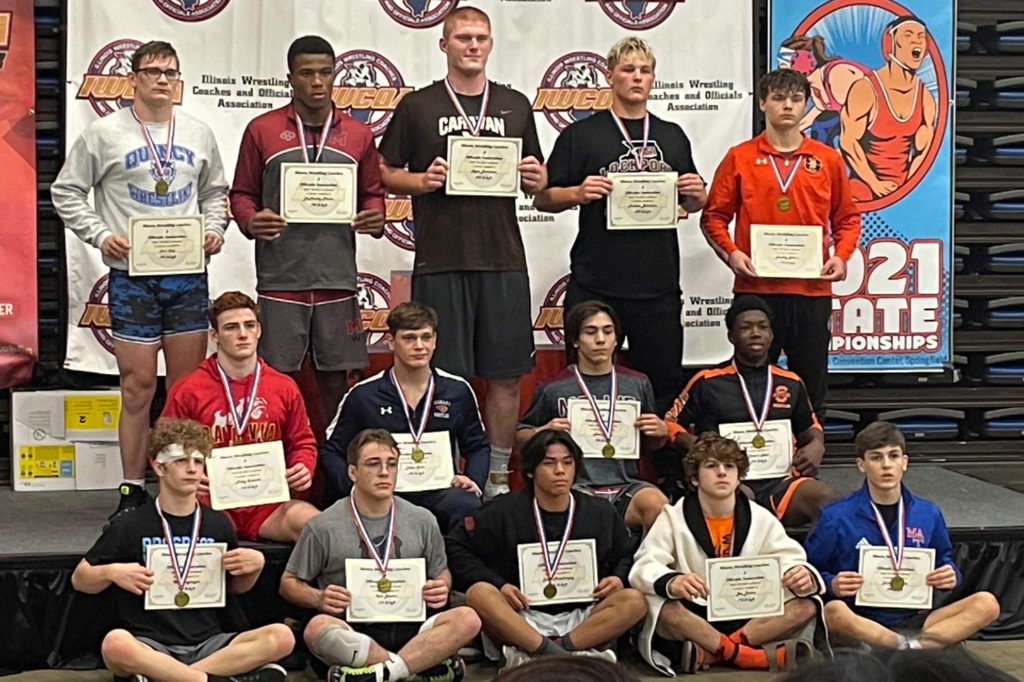 By Curt Herron and Gary Larsen

The IWCOA Open State Championships crowned its Class 3A state champions and place-winners in Springfield on June 26. Here are the stories of those champions:
106 – Jameson Garcia, Marmion Academy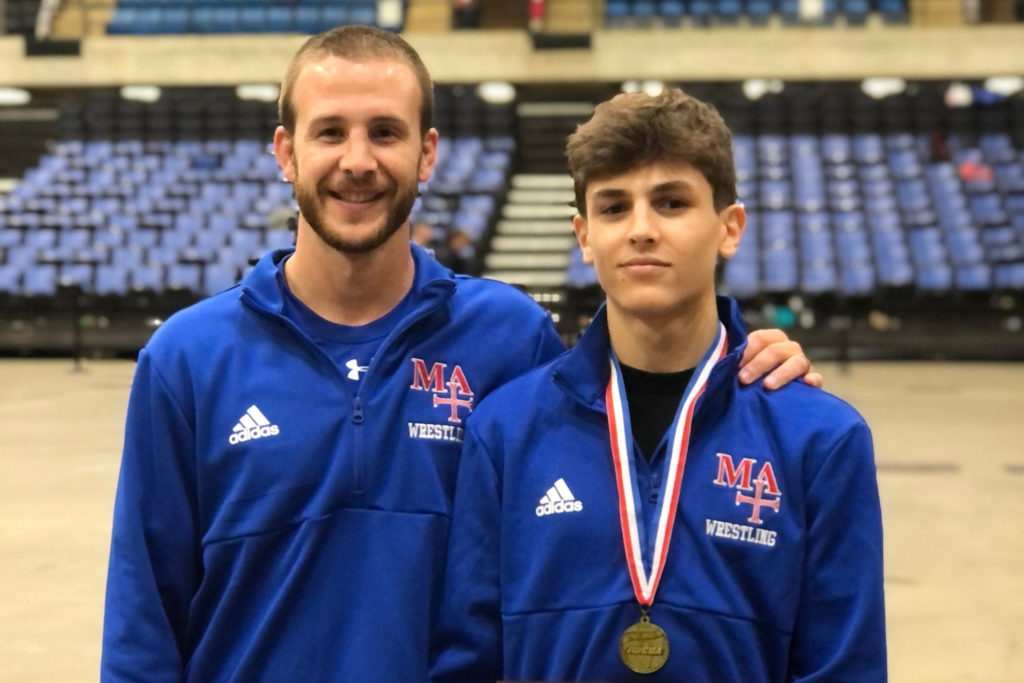 The best wrestlers hold onto a loss like a grudge, the way Marmion's Jameson Garcia did over his state quarterfinal loss in Champaign as a freshman in 2020.
"Last year I lost in the blood rounds so I've been waiting for this day for a year," Garcia said. "That's what's kept me pushing forward and excited to wrestle in this tournament."
Garcia kicked off the 3A title round of the IWCOA Open state championships by putting last year's grudge to rest. The Marmion sophomore won a 5-1 decision in his title match against Andrew's Max Seigel to capture his first high school state crown.
"I knew that if I just continued to wrestle my style, it's really hard for people to do their thing," Garcia said. "(Seigel) is a tough wrestler and had good defense so I just had to create angles."
Garcia (8-0) posted a tech fall, a pin, and then another tech fall in his semifinal match against Glenbard North's Dominic Marre to reach the finals. Seigel (8-1) opened with a pair of straight decision wins and then posted a third in his 4-3 win in a state semifinal match against Jacobs' Dominic Ducato.
In winning the title Garcia became the 13th state champion in Marmion history.
"I was a little smaller last year but I've just continued to do what I do best — hand-fight, get to my shots – and that's really what I do. I also worked on positions that I needed to work on," Garcia said.
Garcia credited his club coaches and a Marmion staff led by head coach Nate Fitzenreider for helping him win a state title.
Marmion assistant coach Sparty Chino believes the sky's the limit for the Cadets' sophomore.
"I know his ultimate goal is to be a three-time state champ, a Fargo champ, then an NCAA champ," Chino said. "He's just a sponge and you can't help but give him information because you know he'll take it and do it in his next match."
Mt. Carmel's Damien Recendez finished third at 106 via 9-1 decision over Ducato, and Marre placed fifth with a tech fall win over sixth-place Wiley Jessup of Fremd.
113 – Ben Davino, St. Charles East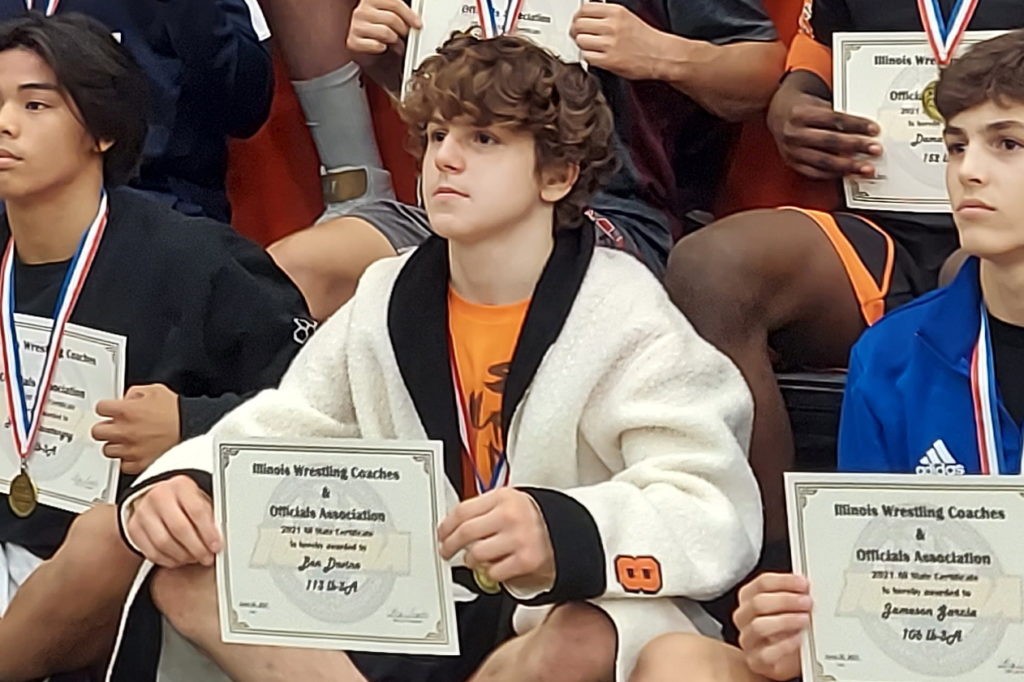 Facing the biggest challenge of an exceptional freshman season, St. Charles East's Ben Davino figured to have hands full against DeKalb senior Ben Aranda in their 113-pound title match in Springfield, and that certainly proved to be the case.
Aranda, trying to complete his career as a champion and also help the Barbs to perhaps win the team title, battled Davino through regulation and overtimes and into a tiebreaker where Davino allowed an escape and was able to get a takedown in the final seconds to help him complete a perfect 30-0 season with a 7-4 victory.
"It feels really good," Davino said. "It's everything I dreamed of. At first, I didn't think that I'd get anything, but I'm super glad that (Rob) Porter helped to put this thing together. It took a lot of effort but it turned out awesome. It was a super exciting match and I didn't believe in myself for some of it, but in the last 10 seconds, I was like, just go, go, go."
Davino had few difficulties prior to the finals, recording a fall in 0:58 in his first match, another in 0:51 over Mount Carmel sophomore Caleb Drousias in the quarterfinals and a win by fall in 1:25 in the semifinals over Marist sophomore Jesse Herrera.
Aranda, who placed fourth a year ago at 106, finished with an 18-2 record. He followed up on a win by technical fall with a fall in 1:35 in the quarterfinals over Lake Park freshman Vincent Merola and then a pin in 4:35 in the semifinals over Lincoln-Way Central junior Joey Malito.
Davino won the fifth title for the Fighting Saints since the district split and the program now has 10 championships that have been won by seven individuals, with coach Jason Potter leading the way with three. Later in the round, the Barbs picked up their 12th title and got their 10th champion when Bradley Gillum won at 170, which helped DeKalb tie Glenbard North for second in the team standings with 93.5 points, which was 5.5 points behind champion Mount Carmel.
Malito (23-1) bounced back from his lone loss to capture a 10-3 win over Herrera (16-3) to claim third place while Glenbard West senior Hunter Bogwill (22-9) won by medical forfeit over Schaumburg sophomore Caden Kirchner (24-8) in the fifth-place match.

120 – Will Baysingar, Prospect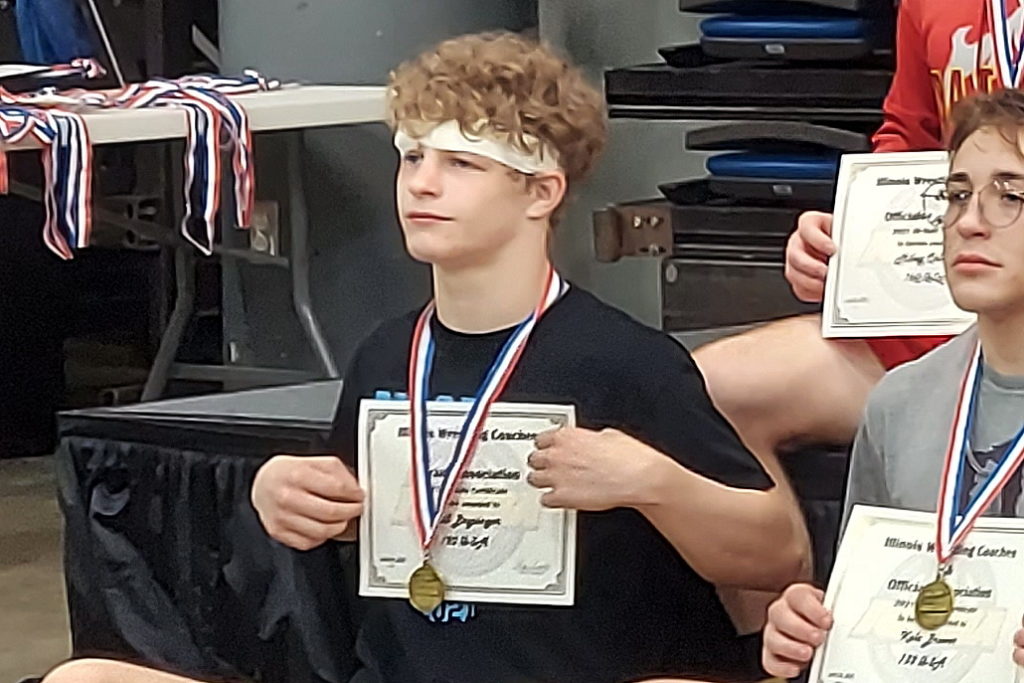 Top-ranked and unbeaten was how Baysingar arrived at this year's IWCOA state tournament and that's the way the sophomore departed the tournament, improving to 20-0 and winning the first state title of his career.
Baysingar won a 6-0 decision in the title match at 120 over Billy Meiszner of Providence Catholic and improved to 68-1 in his high school career through two seasons.
"This feels great," Baysingar said. "I won a title back in kids' club and that was a great feeling there, and it's a great feeling now. It's just pure happiness."
Baysingar went into Springfield ranked No. 1 in Rob Sherrill's IWCOA rankings.
Baysingar placed third in Illinois at 106 last year in Champaign, where he suffered the lone loss of his prep career, a 4-3 state semifinal decision to eventual champions Joe Fernau of Montini.
"That loss has been my motivation for the past year," Baysingar said. "I've been working to get as strong as I can. I really wanted to work on my top (position) and my hand-fighting, I've stayed focused on the best matches I can get so I can prepare for the better opponents.
"I didn't know we'd even have a state series this year and I'm really happy we did. It was a lot of fun."
Baysingar posted a major decision and three straight decision wins in his state title run, capped by his win over Meiszner.  
"I wrestled (Meiszner) before and we've had some closer matches than this one. I won by a point once and a couple points by another," Baysingar said. "I just really wanted to keep the tempo going. Usually the first takedown wins the match so I was focused on coming out aggressive and getting the fist score."
Baysingar joined former Prospect greats Matt Boggess (2009) and Matt Wroblewski (2017) in becoming the third state champion in Prospect history.
Meiszner reached the finals thanks to a 4-2 semifinal win over Sandburg's Sammie Hayes. Stevenson's Lorenzo Frezza placed third at 120 with a 6-4 win over fourth-place Eddie Enright of Mt. Carmel, and Hayes took fifth via fall over sixth-place Caelen Riley of Libertyville.
126 – Jacob Macatangay, Plainfield North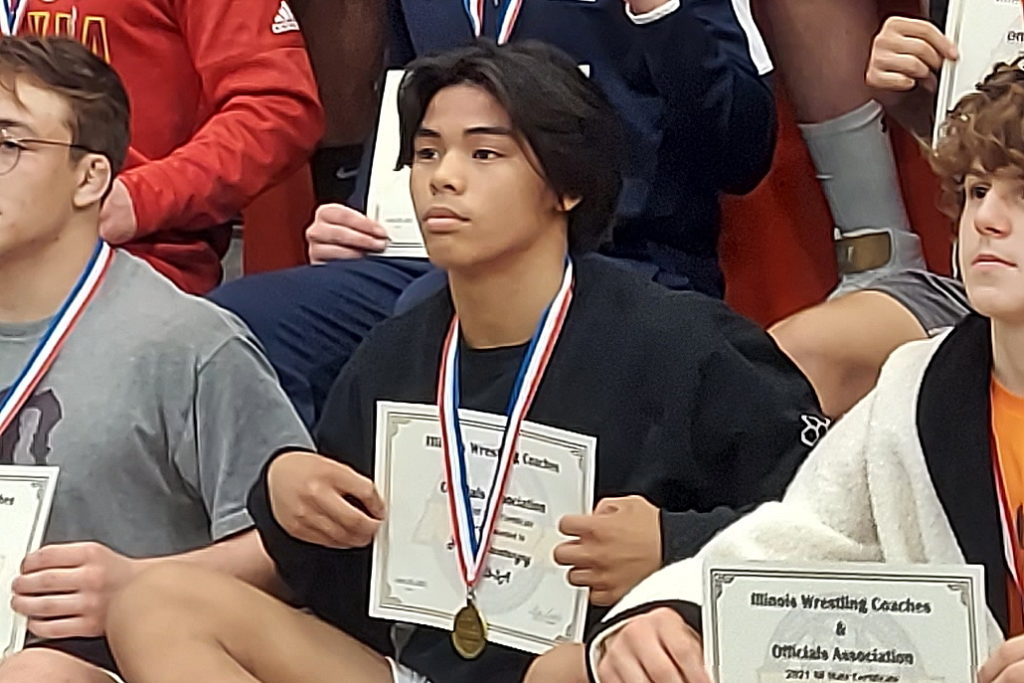 Jacob Macatangay wasted little time in setting the tone in the 126 pound championship match at Saturday's IWCOA Class 3A Open Championships in Springfield.
The Plainfield North junior used a quick five-point move against Lake Park junior Dominik Mallinder and went on to dominate before getting a fall in 2:45 to make him the second Tiger to win a state title, joining Matt Hennessey, who won the program's first title in 2018.
"It was definitely a confidence booster," said Macatangay. "(The five-point move) wasn't my idea for scoring, but it worked out for me. More my ideal was getting my single-leg and getting in shots. But it definitely changed my confidence and helped me to push my offense more, too. I've worked really hard and practiced with my club coach (Mike Rundell) and he has helped me so much with my technique. I was so happy when I heard that they would have a state series. I was glad that I could redeem myself from last year. We started real young when I was a freshman, but our guys are getting more mature and seeing better opportunities as they get older. We've just grown so much."
Macatangay, who placed sixth a year ago at 113, finished the season with a 34-0 record. In the semifinals, he recorded a fall in 1:04 over Fremd sophomore Maddox Khalimsky, he won his quarterfinal match by technical fall in 4:42 over Sandburg senior Matthew Parker and kicked off the day with a 15-2 victory.
Mallinder, who made his state debut and finished with a 26-2 record, hoped to capture the school's seventh title and become the fifth Lancer to win a state championship and the first to do it since 1997, when Jamie Pales took top honors.
He won 7-5 over Hinsdale Central sophomore Cody Tavoso in the semifinals, claimed a 3-2 quarterfinal victory over Stevenson senior Kei Yamato and got a fall in his opener.
Tavoso (20-1), who placed sixth last year, bounced back from his lone loss to claim a 5-1 victory over Khalimsky (19-2) for third place while DeKalb freshman Daniel Aranda (8-4) won 9-1 over Yamato (27-6) in the fifth-place match.

132 – Kole Brower, Moline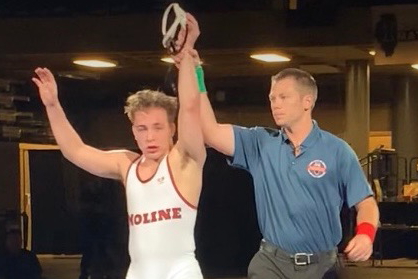 Brower left no doubt who the top 132-pounder was in Springfield, posting two tech falls and two major decision wins during his run to a state title.  
"I just worked hard and told myself that I'm better than everybody else, and that no one should beat me," Brower said. "I train with the top guys and go out and find the best partners I can."
Brower (23-0) won his title with a major decision over Dylan Gvillo (20-2) of Edwardsville. The top-ranked Moline junior won by tech fall in his quarterfinal match against No. 3 Matt Chi of Glenbard North, then did the same in his semifinal win over No. 4 Cole Rhemrev of Stevenson.
After failing to medal as a state qualifier last season, Brower turned on a switch after last year's state finals.
"I worked hard before but I didn't take it as seriously as I could have," Brower said. "I looked at kids as better than me when they were beating me, and now I look at it like I should be beating them. I got faster, learned how to move my feet a little better and I know that I can't hold back and I need to score every time."
Brower became the first Moline state champion since 2014, when Adarios Jones won the title at 285 pounds. Brower and teammates Noah Tapia (138) and DeAnthony Parker (182) all won state titles this year, giving the program its 13th, 14th, and 15th state champions.
"We're good," Brower said matter-of-factly about this year's team. "That's all we are."
Gvillo opened his tournament with a simple decision win and then earned two falls to reach the finals. Rhemrev placed third at 132 in a 10-2 win over fourth-place Chi, and Batavia's Kaden Fetterolf took fifth via 4-3 decision over sixth-place Pierre Baldwin of West Chicago.
138 – Noah Tapia, Moline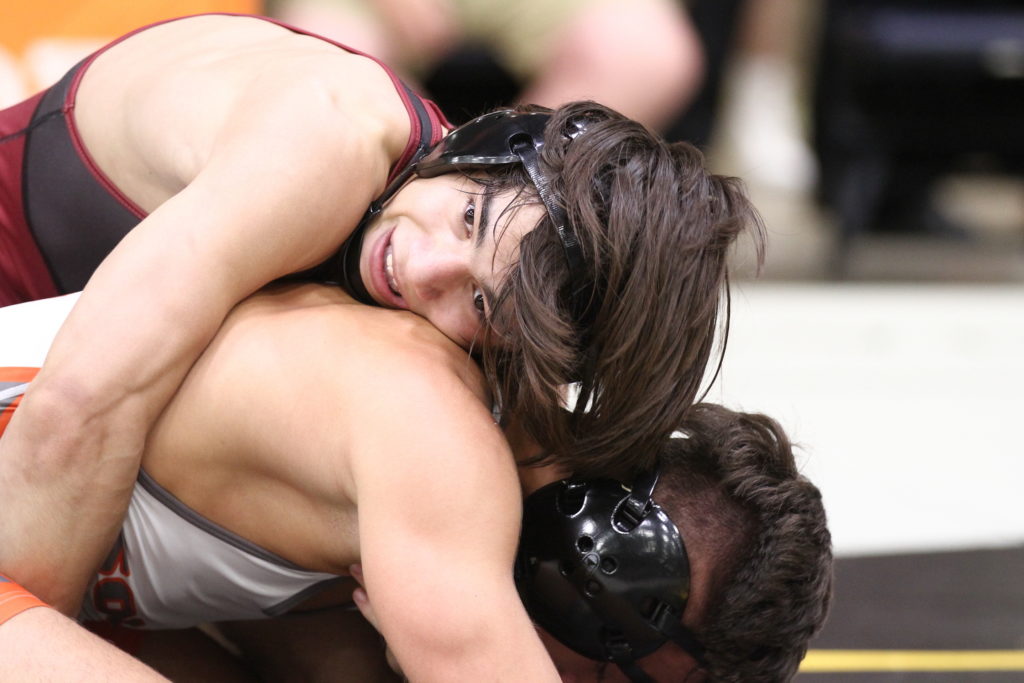 After coming up one win shy of a state medal a year ago, Noah Tapia was determined to not fall short of a much bigger accomplishment this year, winning a state title.
The Moline sophomore got a takedown with 32 seconds left in overtime to win 6-4 on sudden victory over Lockport junior Keegan Roberson in the 138 pound finals at Saturday's IWCOA Class 3A Open Championships in Springfield.
"That was definitely the scenario that you're always imagining of winning the state finals in overtime," Tapia said. "There was a time when me, Kole (Brower) and DJ (DeAnthony Parker) were uncertain if we'd even compete in this. But we kind of all decided that why wouldn't we? This is an opportunity to be in that state tournament or it would have been a whole year that we would have lost. So we came out and performed like this and it feels great. And we got great support from parents, coaches and teammates."
Tapia, who finished 8-0, beat Wheaton Warrenville South senior Aidan Waszak 9-3 in the semifinals and Stevenson senior Arad Peregoudov 17-4 in the quarterfinals. Roberson, who finished 24-3, got an 8-6 sudden victory in the semifinals over Huntley senior Jeremy Jakowitsch and claimed a 9-6 win over Glenbard North sophomore Nolan Allen in the quarterfinals.
It was an historic day for the Tapia and the Maroons, who claimed three individual titles with Kole Brower winning just ahead of him at 132 and DeAnthony Parker taking first at 182 and both finished with 23-0 records. It was Moline's most titles at a single finals, with the previous high being two in 1969 with Paul Carther and Dwight McHenry being the champions. The Maroons now have 17 titles and 15 champions.
And the titles were Moline's first since 2014, when Adarios Jones won. Highlighting the impact of the day, coach Jacob Ruettiger's Maroons had one less championship than they had won in the previous 40 years. The Porters later claimed their 13th title and 12th champion when Andrew Blackburn-Forst won at 220. Had Roberson won, it would have been the third time that Lockport had two champions.
Jakowitsch (29-2) won 4-3 over Allen (15-2) to take third place for the second year in a row while Downers Grove North freshman Harrison Konder (20-4) claimed a 3-2 win over Waszak (23-5) 3-2 for fifth place.
145 – Ethan Stiles, Conant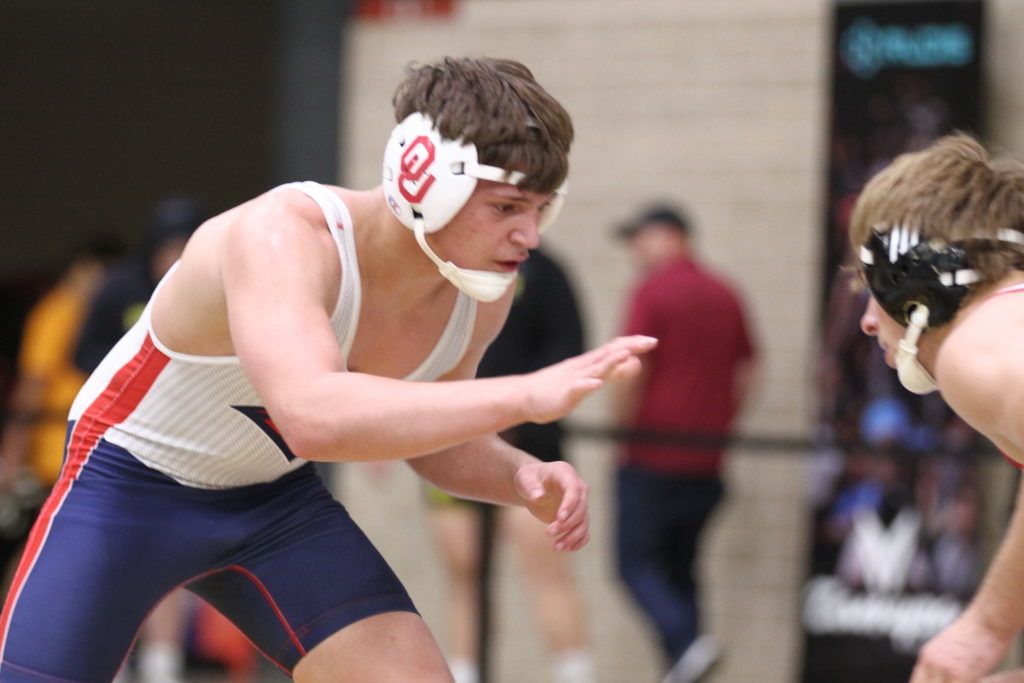 Stiles placed third at 132 as a freshman in 3A last year while wrestling for Montini, before transferring to Conant and becoming the 7th state champion in program history at this year's tournament. The sophomore is also the first state champ for Conant in 21 years, since Jim Kassner won the state crown at 215 in 2000.
Second-ranked Stiles (10-0) won a 12-1 major decision over top-ranked Tommy Curran (13-1) of DeKalb on the title mat.
Stiles kicked off his title run with a tech fall and then a simple decision win, before winning by major decision in his semifinal match against Justin Warnowski of Grant.  
Curran (13-1) opened with a tech fall before winning two decisions to reach the finals, capped by a 3-1 semifinal win over Neuqua Valley's Bryce Boumans.
Stiles used a 5-point move near the edge early in the first period against Curran and never looked back, posting takedowns in the second and third periods en route to his major decision win.
In an interview with Tony LiFonti of Illinois Matmen after the win, Stiles talked about the win over Curran:
"Me and [Curran] have history," Stiles explained. "We both beat each other last year, so I just came into the match knowing that I was going to dominate. I know what it takes to win that match, and that is putting lots of pressure on his head—I knew he would break and that's what happened."
Boumans finished third at 145 with a 5-1 win over fourth-place Warmowski, and Oswego's Zach Sato took fifth via 6-1 decision over sixth-place Jake Matthews of Addison Trail.
152 – Damari Reed, Shepard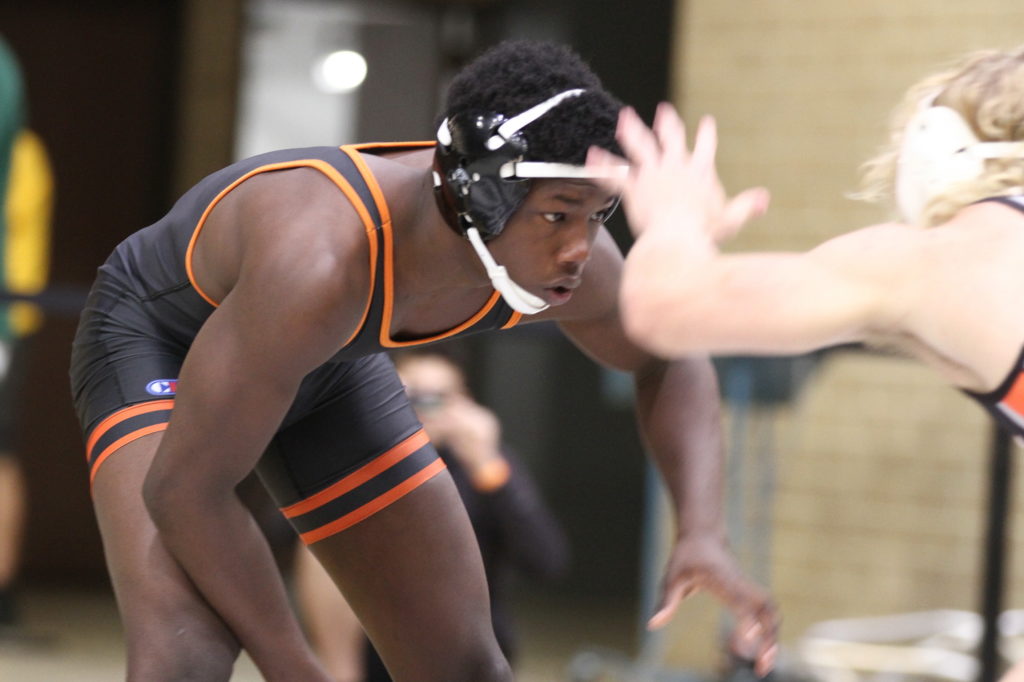 When a school has only had two individual state champions who won three state titles in boys athletics in its 44-year history, it's usually not a good setting for someone who hopes to win a state title.
But don't tell that to Shepard's Damari Reed, who made the supporters of the school in south suburban Palos Heights very proud this week when he captured the 152-pound title in the IWCOA's Class 3A Open Championships in Springfield.
Under the guidance of coach Scott Richardson, the Astros junior fought through overtime matches in the quarterfinals, semifinals and finals and edged Schaumburg senior Grant Hansen 5-3 in an overtime tiebreaker in the title match to give Shepard its fourth title in the sport, with the others won by Paul Kubski (1984) and Paul Cocco (1980, 1981).
"The main thing for me coming from not such a big wrestling school, I have to push harder than any other person out here," Reed said. "My whole thing is focusing and hard work, that's what got me here today. Being from a south suburban high school, I don't really have that many partners that can push me as well as I push them. But I still thank them for showing up for practice and working with me every day and my coach being with me. All three of my matches from the quarterfinals to the finals were all in overtime, and that's called conditioning and hard work. I took on these big, muscle-bound dudes and I'm lean and lanky. I wanted to get my picture in the hallway since they post all of the state champions, so my face is going to be up there."
Reed, who finished with a 15-1 record, won his first match at state in 2019 and lost the next two competing at 119 pounds. He did not participate in the postseason last year. After winning 9-2 in his first match, he beat Lockport senior Nate Ramsey 7-5 in sudden victory in the quarterfinals and then won 6-5 in an overtime tiebreaker over McHenry junior Brody Hallin in the semifinals. Then in the finals, he got a reversal in overtime to secure the championship.
Hansen, who finished 27-1 after suffering his first loss, opened with a fall before claiming an 8-2 quarterfinal win over Libertyville freshman Matt Kubas and following that with a 7-2 semifinal win over Mount Carmel senior Zack Rotkvich. After going 0-2 in his state debut a year ago, he was hoping to become just the second Saxons champion and add to the two titles that Josh Marchok had won in 2011 and 2012.
Rotkvich (15-2) won 3-2 over Hallin (31-2) to finish third while Ramsey (25-3) beat Kubas (26-7) by a 14-3 score to take fifth place.
160 – Mikey Caliendo, Batavia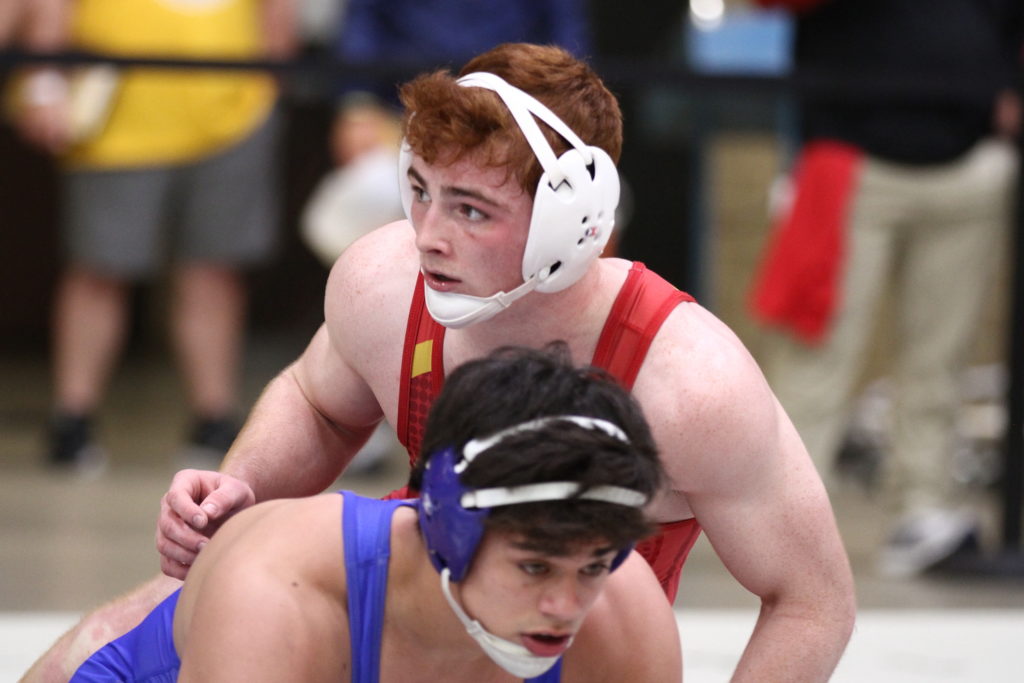 Is it utter domination and a history-making performance you want? Then look no further than the way Caliendo dominated his competition all season, punctuated by the history he made in Springfield for Batavia's wrestling program.
Caliendo was a wrecking ball this year, finishing with a 34-0 record and doing it without giving up a single offensive point in 34 matches. Nobody keeps records on how many wrestlers have gone a whole season without giving up a single takedown or reversal, but you can bet Caliendo reached some rarefied air with that feat in 2021.
Even more importantly to Caliendo, his major decision over Minooka's Jack McClimon on the title mat at 160 made him the first state champion in Batavia history.
"That's always been my goal, since second or third grade in kids' club," Caliendo said. "I always wanted to be up on that wall."
Logan Arlis, son of former Batavia and Naperville North coach Tom Arlis, was a state runner-up at 112 pounds in 2009. Matt Weight also wrestled for a state title at 215 pounds in 2000 and placed second for Batavia.
Logan Arlis is now an assistant coach at Batavia under head coach Scott Bayer, and has Caliendo is grateful for his influence.
"It really means a lot to him and to me that we could get someone on the wall," Caliendo said of Arlis. "He puts in a lot of work for me, pushing me in the room. And training at Izzy Style, of course – that's my second family over there. We're never taking days off.
"I just put in more work and never stopped grinding this year. There are always ups and downs in this sport but even when you're having your worst day, you can't put off going into the gym and working out."
Caliendo posted two falls and two major decisions to win his state crown, and will now head off to wrestle at North Dakota State University.
McClimon (27-2) earned his spot on the title mat with a major decision win in his semifinal match against Tommy Boland of Marist.
Mt. Carmel's Colin Kelly took third at 160 via 7-2 decision over fourth-place Zach Bateman of Sandburg, and Boland placed fifth with a fall against Lockport's sixth-place Paul Kadlec.
170 – Bradley Gillum, DeKalb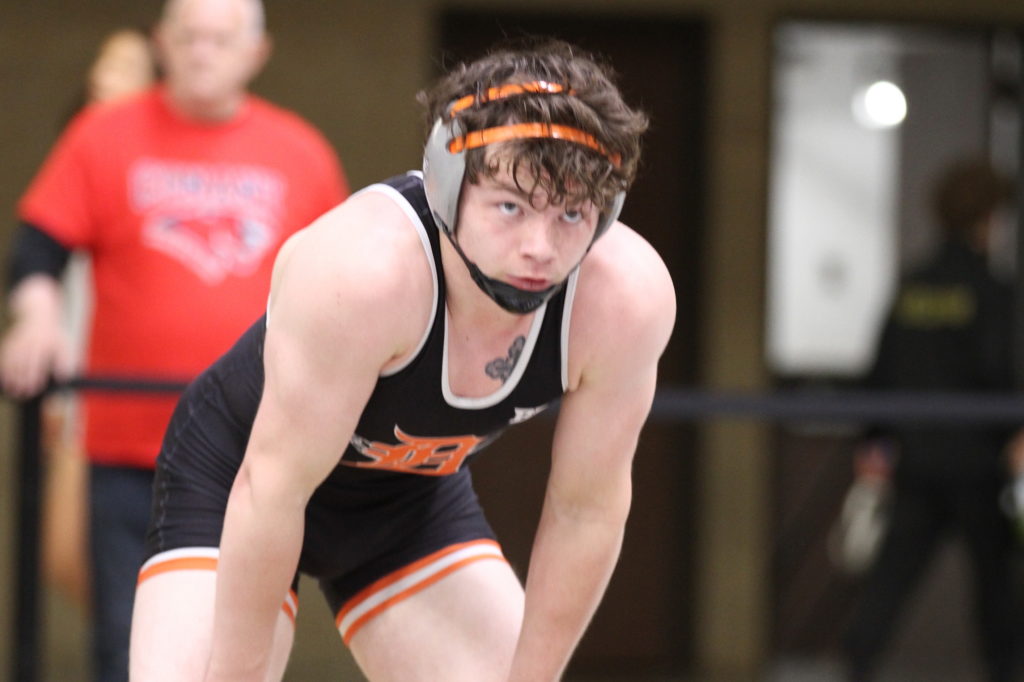 After dropping a 3-1 decision in last year's Class 3A title match at 160 to Edwardsville's Luke Odom, DeKalb's Bradley Gillum was determined to not fall short again.
With Naperville Central junior Antonio Torres trying to upset the party by becoming his school's first champion since 1973, the Barbs junior accomplished what he set out to do and capped an 18-0 season with a 5-2 victory in the 170 title match at Saturday's IWCOA Class 3A Open Champions in Springfield.
"I knew that I needed to step it up just a little bit more," Gillum said. "As a sophomore, it was a great accomplishment to get to the finals already, but I wasn't satisfied with that, I wanted the bracket board. It was very iffy the entire year, but just because COVID hit, it didn't mean that anyone else in Illinois was going to sit back and take the easy way out. All of my friends said that since last year I made it to the finals that I'd better win it the next year. Thanks to everybody who put this together. We could actually have it this year with all of the craziness that we've been through."
That win also helped coach Sam Hiatt's Barbs to 93.5 points, which tied them with Glenbard North for second in the team standings, 5.5 points behind champion Mount Carmel. They had four placewinners in addition to Gillum, with Ben Aranda and Tommy Curran falling in title matches and Daniel Aranda and Bryson Buhk placing fifth.
After recording a fall in 0:17 in his first match, Gillum claimed a 5-4 quarterfinal win over Barrington senior Marko Hennin and then won 11-1 over Conant senior Jack Hominac in the semifinals to advance to the finals for the second time in his third trip to state.
Torres, who went 8-2 after taking fifth place at 170 for Waubonsie Valley last season, was hoping to become the Redhawks' second champion and first in nearly 50 years, joining Doug Chirico, who won in 1973 while there was still one school in the district. Torres opened with a pin and then beat Edwardsville senior Drew Gvillo 12-3 in the quarterfinals and edged Loyola Academy junior Cooper Wettig by a 4-3 score in the semifinals to become the first from his school to reach the title mat since 1976.
Wettig (19-3) beat Hominac (28-3) by a 10-0 score to claim third place while Libertyville junior Josh Knudten (27-5) won 10-2 over Gvillo (21-3) in the fifth-place match.
182 – DeAnthony Parker, Moline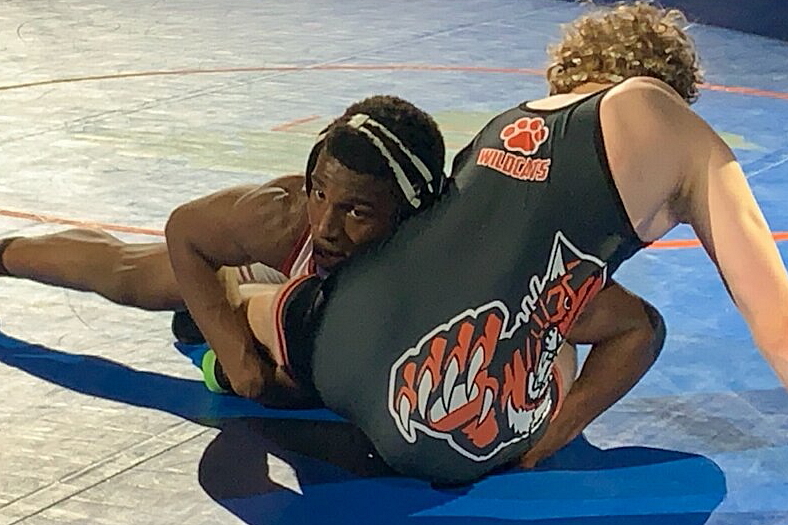 Not 10 minutes after he won an individual state title at 182 on Saturday, Parker already had no plans for any lengthy celebration.
"I'll be back in the room Monday, getting ready for Fargo," Parker said.
Parker (23-0) completed a perfect season and became the 15th state champion in Moline history, with his 10-2 major decision win over Libertyville's Chase Baczek in the finals. He joined teammates Kole Brower (132) and Noah Tapia (138) as one of three Moline state champions crowned in Springfield.
Parker placed third in Illinois at last year's state finals at 182, then put his shoulder to the wheel even harder in the time since.
"I've been traveling all around the country and I have a lot of people that support me and allowed me to do that," Parker said. "I haven't taken a break since last year's state tournament. I've been wrestling ever since then."
Parker entered the state finals ranked No. 1 at 182 and Baczek was ranked second. Parker reeled off three pins to reach the title mat, while Baczek (27-2) posted a tech fall and two simple decisions, capped by a 5-2 semifinal win over Alton's Damien Jones.
Lake Park's Ryan Riser took third at 182 with a 14-7 win over fourth-place Matt Arsenault of Plainfield Central, and Jones finished fifth with a 15-5 major over sixth-place Jackson Tonkovich.
Parker will join Batavia state champion Mikey Caliendo in wrestling for North Dakota State next year.
"We have a really good recruiting class, getting more good guys there, so we can take over (the program)," Parker said. "This feels good but now I have even bigger goals to focus on. I'm looking forward to wrestling in college."
195 – Thomas Culp, Quincy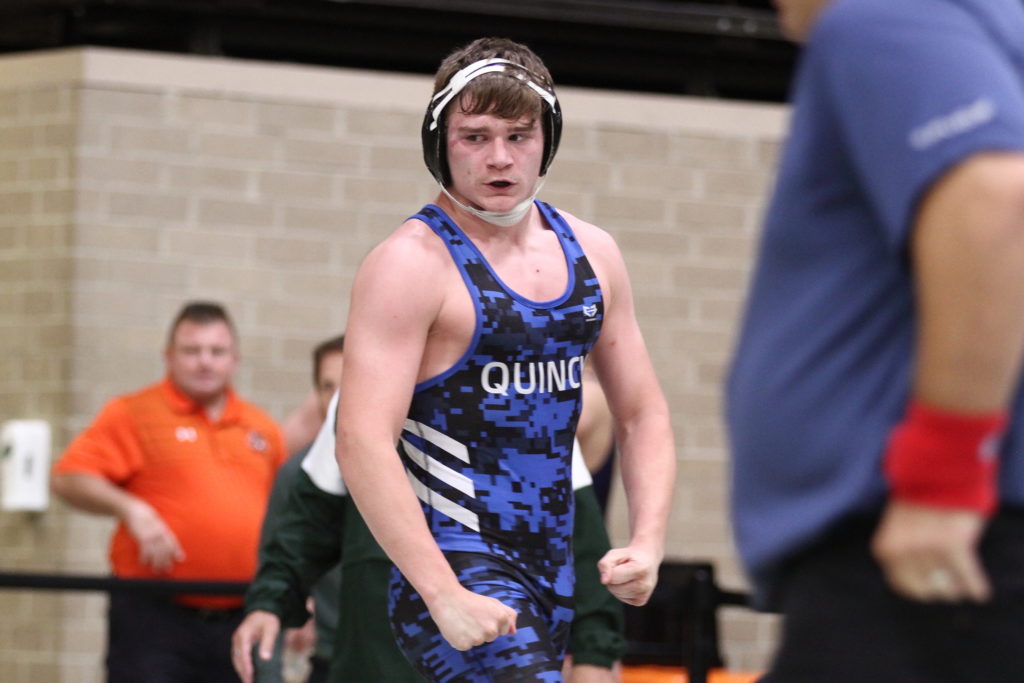 While Thomas Culp realizes that it's tough to round up a lot of wrestlers in a basketball-crazed city like Quincy, he hopes that his accomplishment this week will help some more kids make the shift to the mat.
The Quincy senior concluded a 32-1 season by capturing an 11-4 victory over Glenbard North senior Patrick Curran in the 195 title match at Saturday's IWCOA Class 3A Open Championships in Springfield.
"It's been awhile since we've had one, 21 years, Jermaine Dade, he was really talented," Culp said. "So this is huge. And it just shows that if you go in there and work every day of the week, if you work your butt off, it pays off. We don't really have the most people come out for wrestling down here and we're a 3A school so everyone who comes into the room, we like to go after them. When they said we might not have a state tournament, I almost cried, since I dreamed of winning the state title. It's awesome to throw everybody off, when they say who does Quincy wrestling have any more, and this year we have a state champ and I'm going to represent the school well. Hopefully next year this will bring more kids out, and they'll say, 'Thomas Culp was the state champ' and maybe I'll try that."
Culp won a match at state as a sophomore and got injured in his first state match a year ago. On Saturday, the Blue Devils senior wouldn't let anything stop him as he recorded falls in his first three matches, recording his quickest pin in the semifinals in 0:44 over Glenbard West junior Phillip Dozier and had a fall in 2:49 in the quarterfinals over DeKalb junior Bryson Buhk.
Not only is Culp the first Blue Devils champion since Jermaine Dade won a title in 2000, he's only the fourth in the program's history but the first two title winners were from the 1940s and 1950s so Culp and Dade are the only ones to win titles during the past 64 years. He will continue his career and education at Missouri Baptist University.
Curran, who finished 24-3 and was the top-finisher of the Panthers' five medal winners, got a fall in 3:43 over Marist junior Ghee Rachal (20-4) to earn his spot in the finals. The Glenbard North senior, who was making his first state trip, won his other two matches in falls with his quarterfinal match decided in 1:25 over Lincoln-Way Central senior Andrew Hesse. His efforts helped coach Travis Cherry's Panthers to a second-place finish with DeKalb with 93.5 points while Mount Carmel won the title with 99 points.
In the third-place match, Dozier (24-2) won with a fall in 0:40 over Rachal (20-4) and Buhk (18-5) claimed a 5-3 decision over Hesse (20-6) to capture fifth place.
220 – Andrew Blackburn-Forst, Lockport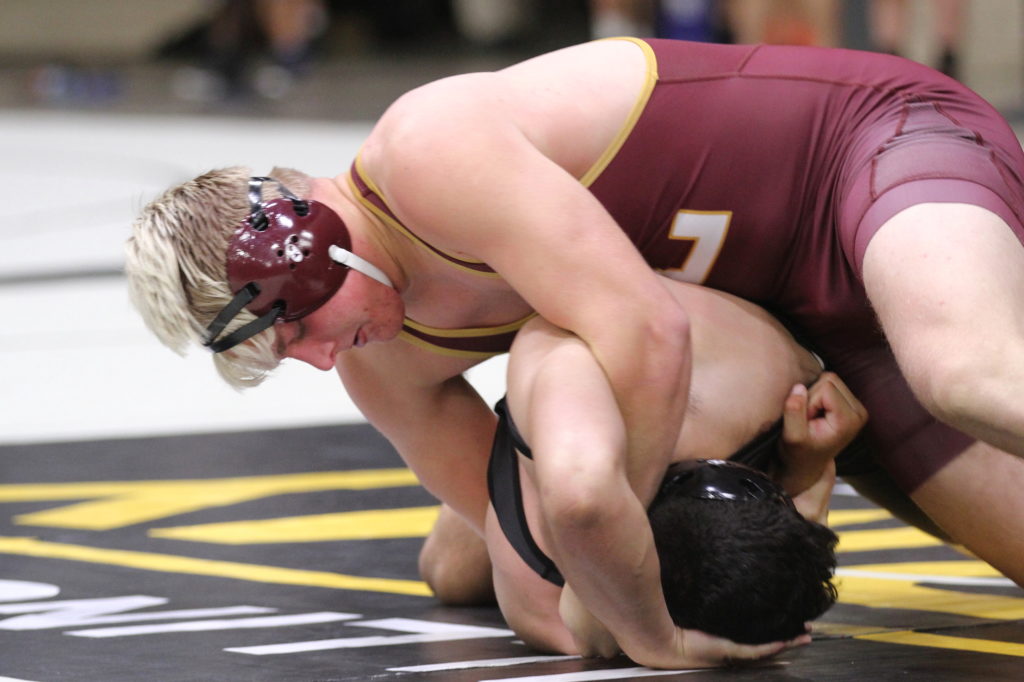 Five years ago, Lockport junior Blackburn-Forst was just a kid sitting in a grade-school classroom. But he already knew what he wanted his athletic future to look like.
"I was about in sixth grade when I heard about all these state champions coming out of Lockport and when I was in eighth grade, they won the state championship as a team," Blackburn-Forst said. "That just made me feel like I was part of Lockport, that Lockport would be my team, and I'd get a chance to be a part of the rich history of the program. And now I'm on the wall with all those other guys."
With his 10-3 state title-match win, third-ranked Blackburn-Forst (17-0) beat top-ranked Evan Roper (30-1) of Barrington to become the 13th state champion in Lockport history. He's also the eighth state champ in Josh Oster's 10 seasons as the Porters' head coach.
Blackburn-Forst used two pins and a decision to reach the finals, stopping No. 4 Ryan Golnick of Jacobs and No. 5 Drew Bielawski of Downers Grove North along the way. Roper won a 6-4 decision over No. 2 Dzhabrail Khurshidov of West Aurora in his quarterfinal, then pinned Naperville North's Dane Tsao in their semifinal match.
Blackburn-Forst led 3-1 in the third period against Roper in the title match and had a 5-point move to make it 8-1. Is that when he smelled blood in the water?
"He's a phenomenal wrestler," Blackburn-Forst said of Roper. "But I smelled blood on that first-period throw. That's when I was smelling it and I was going for it."
Golnick finished third at 220 via 2-1 decision over Khurshidov, and Tsao took fifth with an 11-2 major over sixth-place Bielawski.
285 – Ryan Boersma, Mount Carmel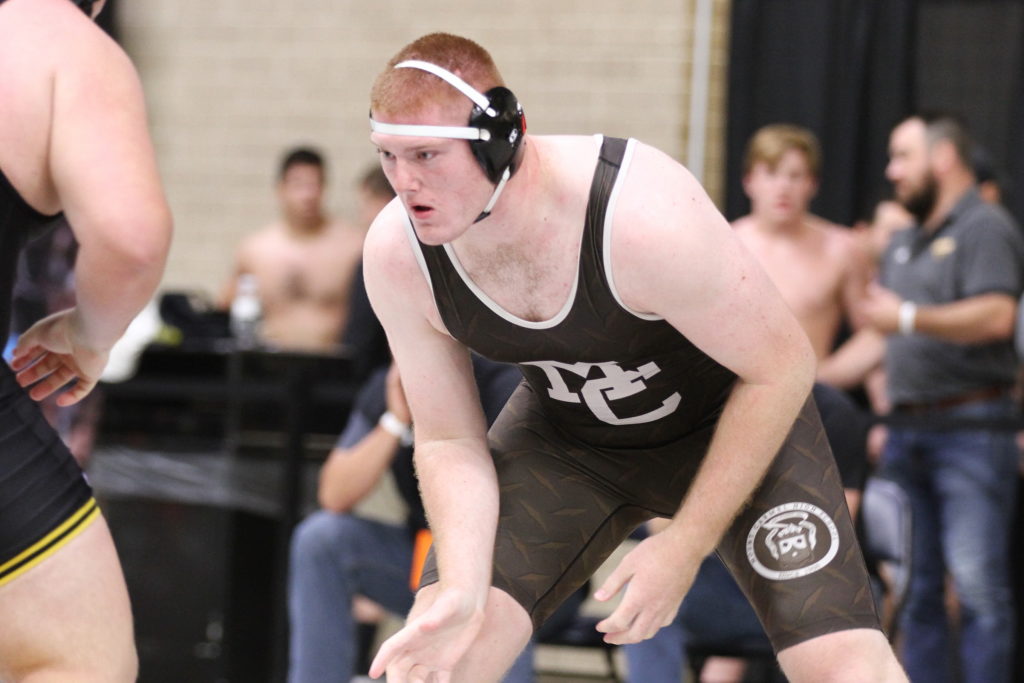 After going to state twice while at Providence Catholic and finishing fifth a year ago at 285, Ryan Boersma was hopeful that his first visit at his new school might result in a title.
It's safe to say that the Mount Carmel junior got more than he bargained for since not only did Boersma win an individual title at 285 pounds in Saturday's IWCOA Class 3A Open Championships at Springfield but he also got to celebrate with his Caravan teammates after their six-man state contingent won the team title.
Boersma, who went 12-0 this season, defeated Belleville West senior Dustin Olmstead 4-0 in a clash of unbeatens in the 285 title match to cap a special day for Mount Carmel, which last won a state championship in the sport in 1994 that featured a run of three-straight title teams for hall of fame coach Bill Weick.
"I won and the team got there, too, which I'm most happy about," Boersma said. "And we only had six guys and we didn't have half of our starters, so all of our guys who came did really well and that was awesome. And what was really big was that they accommodated the guys who wanted to do the junior duals, too, which was huge since we were competing for Team Illinois. And look at what happened, the top four weights were all won by junior dual team members. This will be a day to remember, that's for sure."
Coach Alex Tsirtsis's Caravan, who finished second in last year's dual team competition to champion Montini, got third-place finishes from Damian Resendez, Zack Rotkvich and Colin Kelly and Eddie Enright took fourth to help them win the team title with 99 points, which was 5.5 better than DeKalb and Glenbard North, who tied for second place.
After opening with a fall, Boersma claimed a 6-0 quarterfinal victory over Fremd senior Brian Clay (21-6) and then won 2-1 on a tiebreaker over Glenbard North junior Paulie Robertson in the semifinals for his 100th win. In the finals, Boersma got a third-period takedown to assure that he would be the Caravan's fourth champ in the past three years, following Sergio Lemley and Noah Mis (2020) and Colton Drousias (2019). Mount Carmel now has 22 state champions who have captured 34 titles.
Olmstead, who took third last year at 285 and finished 26-1 after suffering his first loss, got a 4-3 ultimate tiebreaker win over Lishman in the semifinals and had a fall in 3:12 over Maine East's Kevin Wingate in the quarterfinals. He was hoping to become the Maroons' fifth state champion and first since Mech Spraggins in 2013. In the third-place match, Robertson (26-2) won 4-3 by ultimate tiebreaker over Montini senior Colin Baker (10-4) and Lake Zurich senior Alan Pantoja took fifth with a 6-3 decision over West Aurora's Jordan Lishman.