Lena-Winslow/Stockton outpaces 1A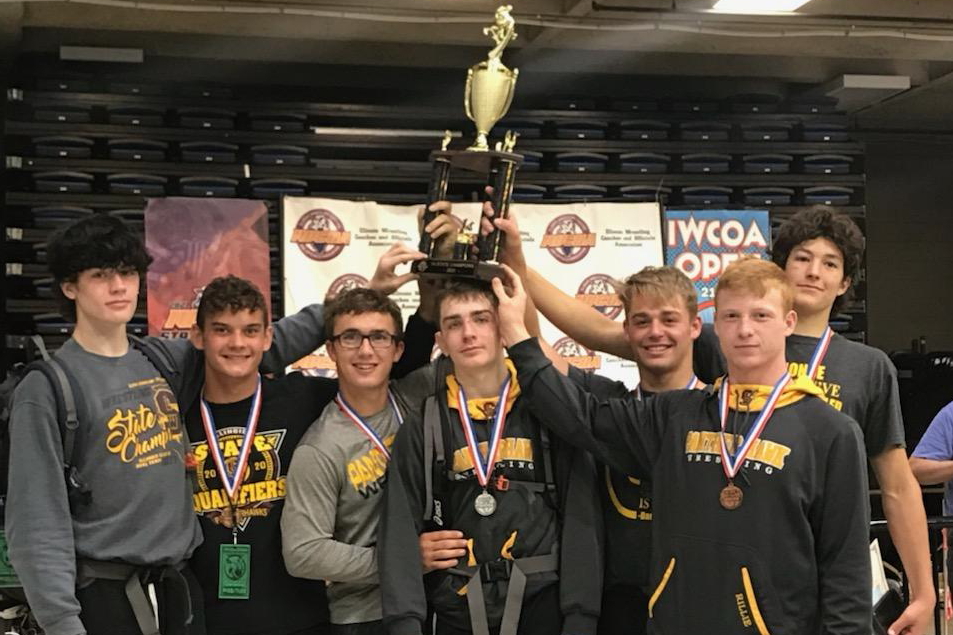 By Curt Herron
You know that a team has turned in a good performance in a major tournament when it loses all of its championship and third-place matches but is still able to win the title before that round even began, and that was the case at last Thursday's Illinois Wrestling Coaches and Officials Association's Class 1A Open Championships in Springfield.
Lena-Winslow/Stockton advanced all seven of its qualifiers to the first- and third-place mats and claimed four second-place finishes and three fourth-place showings, but despite that, the squad had already performed so well throughout the rest of the day that it had captured the team championship before those matches were even contested.
Coach Kevin Milder's co-op team finished with 124.5 points, placing it ahead of Dakota, who took second place with 105.5, and IC Catholic, who placed third with 100.5 points.
The PantherHawks received second-place finishes from seniors Case Harmston (170), Jaden Rice (182) and Andrew Haas (195) and sophomore Garrett Luke (120) while finishing in fourth place were seniors Simon Rillie (145) and Jason Hermann (160) and sophomore Griffin Luke (152).
Four of those matches were decided by three points or less. Dakota and IC Catholic both had five medalists and they each won a title and claimed a third-place victory.
"I'm very proud of the kids," Milder said. "This group really took the season and the tournament postseason very seriously and they worked hard. I had a good core of senior leadership in the room, and that was the core of my team from 2019 when we won the state title.
"Just for them to be able to have the opportunity to kind of have some closure on their high school careers was huge for those guys."
Rice (31-1) suffered his only loss in the 182 finals by 5-3 score to LeRoy's Grant Sant Amour and Haas (26-5) lost 10-7 in the 195 finals to Tremont's unbeaten Cooper Wendling.
Garrett Luke (23-5) fell 10-1 to Dakota's Phoenix Blakely in the 120 finals and Harmston (30-2) lost by fall in 3:24 to Alleman's Jack Patting in the 170 title match.
In the third-place matches, Rillie (28-6) lost 7-6 to LeRoy's Owen Gulley at 145, Hermann (31-4) fell 5-1 in sudden victory to Yorkville Christian's Tyler Martinez at 160 and Griffin Luke (25-5) lost by fall in 2:34 to Canton's Joseph Norton at 152. Hermann and Rillie lost to eventual champions in the semifinals while Griffin Luke fell 8-7 in that round.
"We had a rough final round," Milder said. "We had seven kids place and in the final round we had four in the finals and they all got second and the other three were in the third-place match and they got fourth. But to put ourselves into that position, I thought we wrestled really well.
"And obviously the further you go into a tournament, the tougher the road is going to be. We had some tough matches but I think getting the team trophy was a big boost for our kids. They worked hard all throughout, so to have that result at the end of the tournament was very rewarding for the kids."
Having any sort of a season was very important to nearly all teams, but Lena-Winslow/Stockton's athletes showed their coach a special level of dedication.
"I think we initially went into it happy that we could do something," Milder said of his team's season. "The kids were excited about just getting back on the mat. As the state series got closer, I was really proud of my kids for sticking it out. Some of them were coming to practice after they had graduated or school was out. I was really proud of the kids for keeping up the hard work."
"I know from talking with other programs that they had kids who weren't showing up and other kids didn't get into the tournament for whatever reasons. I commended my kids and said how proud I was that they were just putting in the work to do this. The work ethic is a big piece of it for us, our kids are committed and they work their butts off."
That dedication isn't surprising from a program that Milder has led since 1994-95 and which he led the Panthers to a state runner-up finish for their first trophy in 2012 and state championships in both 2017 and 2019.
Boosted by an impressive 254-20 record during the past 10 seasons, Milder owns a 488-139 record in 27 years leading the program.
This season's team finished with a 21-1 record in dual meets and now has won 20 or more dual meets for seven straight years.
The northwest part of Illinois has been strong in the sport ever since the advent of the two-class system. In recent years, Dakota won four titles in a row from 2013-16 before Lena-Winslow/Stockton claimed its two titles in three years and Dakota captured its sixth title since 2006 last season.
One of the highlights for Milder's team in the regular season was a dual meet that it hosted against Dakota on May 27 in a clash of the top-two ranked teams in Class 1A.
Lena-Winslow/Stockton won four overtime matches to claim a 40-28 victory.
"I think that the programs in our area have made everybody else better," Milder said. "From the youth level, they're just constantly getting tough matches all the way through.
"You've got to have a lot of courage to step on a mat and it's just one-on-one and there's no blending in like in other team sports. There's really nowhere to hide when you're one-on-one on the mat, so it definitely takes a different kind of kid to accept that and to embrace it."
Individuals from the team that helped them win the Sandwich Sectional and Sandwich Super Regional were freshman Carson McPeek (126), junior Zach White (132) and sophomore Henry Engel (220) while those who were part of the Sandwich Super Regional champions were freshmen Noah Draeger (106) and Logan Breed (113).