Dakota returns to 1A glory
By Curt Herron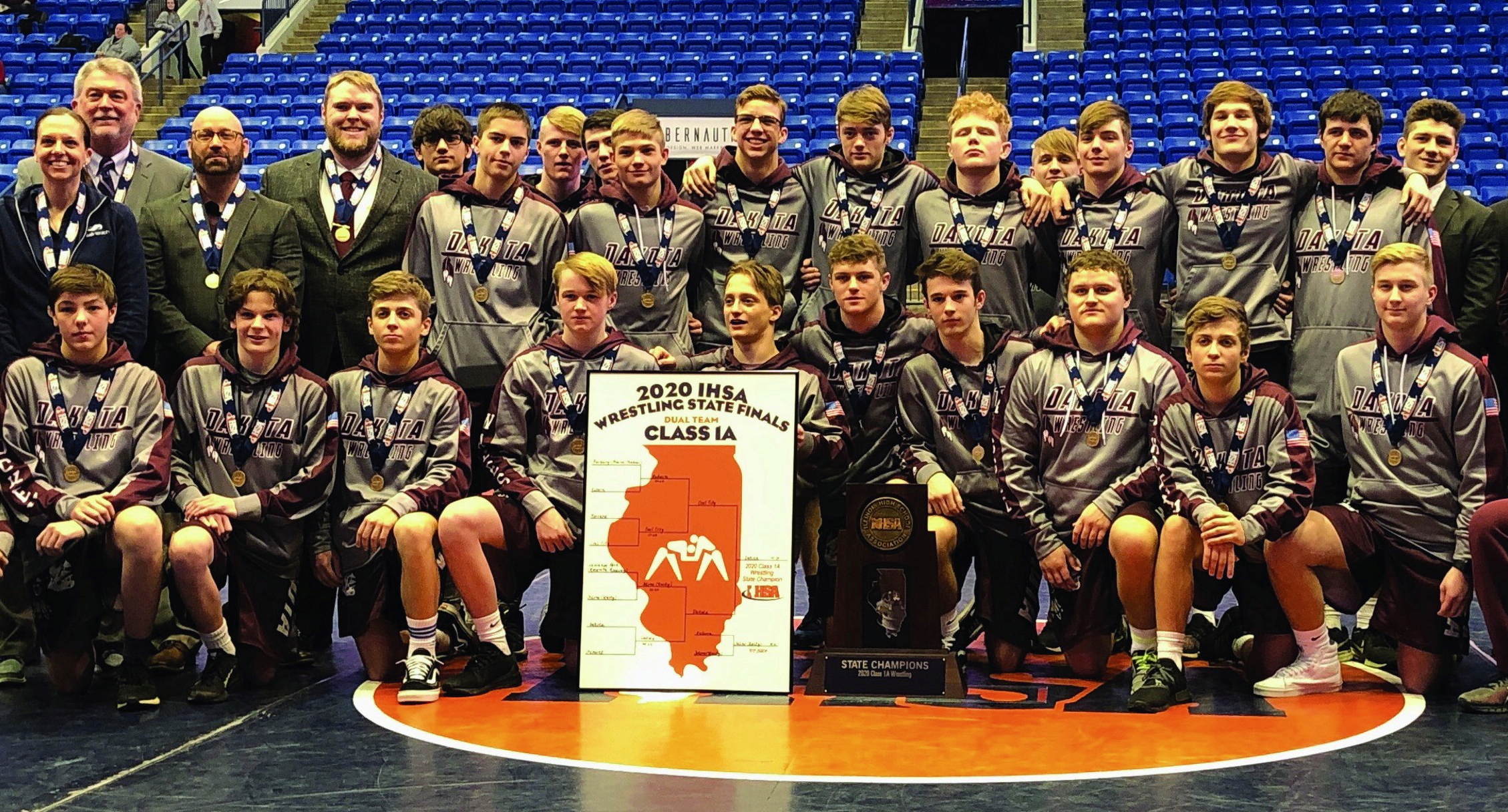 After dominating in the IHSA's Class 1A dual team tournament from 2013-16, Dakota didn't advance to the competition again until this year, but that made sense because another northwest Illinois program, Lena-Winslow/Stockton, won Class 1A titles in 2017 and 2019.
For a program that established a Class 1A standard and shared a small-school record by winning four-straight championships in that class, it wasn't surprising to see Dakota again in Bloomington this past weekend and to have them capture their sixth state title since 2006.
Coach Pete Alber's Indians definitely picked up where they had left off by winning another Class 1A championship, beating Coal City 40-19 to hand the Coalers their sixth second-place finish, including their second in a row with last year's loss coming in the Class 2A finals.
Dakota won its three dual meets by a 43-19.7 margin with the closest one being a 35-27 semifinal win over Unity after opening the day with a 54-13 quarterfinal victory over Tremont.
The Indians also beat Coal City 49-26 on January 4 and were able to avenge a 31-27 loss to Unity on December 7 that was one of four losses they suffered in a 24-4 campaign. Their other defeats came against Aurora Christian, Lockport and Washington, who also were competing in the state finals at the Grossinger Motors Arena.
Unity, which was making its first state appearance since 1990, claimed its second trophy after beating Auburn 48-30 in the third-place meet. The Rockets gave Dakota its biggest challenge, winning five of the first eight matches to lead 18-14 and only trailed 29-27 going into the final match, which Dakota's Lucas Sutherland secured with a fall in 1:03 at 138.
"It feels good, but at the same time, we don't like to be gone that long," said Alber, who was assisted by Josh Alber, Colby Dace, Matt Jacobs and Shad Sutherland. "It was too long of a dry spell for us. Coal City was tough and we respect them, and also Unity, which was awful tough, too, and they beat us earlier in the year. We just came in prepared and these guys were very confident. We didn't have the mental meltdowns, anything like that. I was very happy with our performance.
"We have a good community with great parents and a great administration in our school and they push us. Our administration kept pushing us, 'hey, we need a state championship' and that puts pressure on you. But we're happy to get this. And we're junior-heavy, so we should be competitive next year."
In the title meet, Dakota won three of the first four matches to jump out to a 16-3 lead but Coal City responded with four-straight wins to go up 19-16. However, it was all Dakota after that as it claimed victories in the final six matches, claiming two of those wins with falls.
Dakota's Quinton Heilemeier started things off with a fall in 1:11 over Joey Breneman at 152 and Coaler 160-pound state runner-up David Papach answered with a 6-0 decision over Aidan Nardin. The Indians won the next two as 170-pound state runner-up Andrew Wenzel pinned Ashton Harvey in 30 seconds and then Evan Riggle won 8-0 over Dane Dearth to give their team an early 13-point lead.
The Coalers then won four in a row as 195-pound state champion Daniel Jezik pinned Cody Meade in 3:18, Gage Leake won 5-0 over Martin Snyder at 220, Logan Miller was an 8-3 winner over Dalton Riggle and Evan Rivera put his team up by three points with a 14-6 victory over Ethan Rood at 106.
But Maddux Blakely got a fall in 1:04 over Mataeo Blessing, Conner Elmer won 7-3 over Derek Carlson and 120-pound state champion Phoenix Blakely edged Zach Finch 10-9 at 126. Tyler Simmer got a fall in 4:18 over Lane Kutemeier, Lucas Sutherland won 5-0 over Connor Huston and Kade Wales won 7-5 over Gabe Ludes in the finale at 145.
"It's been a long time coming," Evan Riggle said. "This group of guys have been doing this since we were little. We've got the best fans and had the most people here. I'm done, but these guys have such a great future. We were super confident and knew we were going to win. We were ready."
Coal City, which finished 39-9, opened with a 57-18 win over Harvard, which was making its first trip since 2014. The Coalers followed that with a 39-32 semifinal win over Auburn, which they trailed 20-3 after five matches before winning seven of the last nine, including the final four with wins by Carlson, Finch, Kutemeier and Huston to score the last 18 points.
Coach Mark Masters' Coalers have placed in the top three on five occasions in the last six years, with three of those being runner-up finishes. Other than last season, they've been in Class 1A and the program has posted a 191-33 record, good for an .853 winning percentage.
"Year-in-and-year out they've always had a tough team when they come here, so you know that you're going to get the best that your team is going to see all year," said Coalers assistant coach Jim Looper, who was filling in at state for coach Mark Masters.
"You've got to get here to have a chance and all of these kids do is fight and they do everything we ask them to do on the mat. We laid it all out there, but it just wasn't our day today. Bonus points are a premium and they got a few more than we did, especially early on. Toward the middle, there were toss-up matches and we battled and battled and they just came out on the toss-ups, and that's what you see in a good dual."
Unity's Rockets, coached by Logan Patton, capped a 40-7 season by claiming third place with its second trophy in its first state trip since 1990. And Auburn's Trojans finished 30-3 for coach Matt Grimm and placed fourth for their first trophy in their second state appearance.
In the 48-30 third-place meet, Unity got pins from 113-pound state runner-up Tavius Hosley, Cade Scott, Oran Varela, Logan Wilson, Braxton Manuel, Ben Gavel and Peyton Holt and decisions from Pate Eastin and Micah Downs. Getting pins for Auburn were Mikel Ent, Gervasio Marchizza, Gage Lopez and Caleb Nix while Dresden Grimm received a forfeit.
"We wrestled well today," Patton said. "It's the first trophy that we've brought home in 30 years and it means a whole lot. This is my third year at Unity so we're building the program the right way and coming up with the medal was great. We're a family, we're just tight-knit. No one's harder on our dudes than each other and we give each other a hard time. It's a bunch of brothers who have a great time and really excited for that."
Teams that fell in the quarterfinals were Harvard (25-6), coached by David Schultz; Nazareth Academy (12-10), coached by Denis Laughlin; Prairie Central (35-5), coached by Tyler Webster; and Tremont (20-9), coached by TJ Williams. Harvard made its 14th state trip, Prairie Central its fifth visit, Tremont its second appearance and Nazareth made its debut.