Lemont reaches the mountaintop
By Curt Herron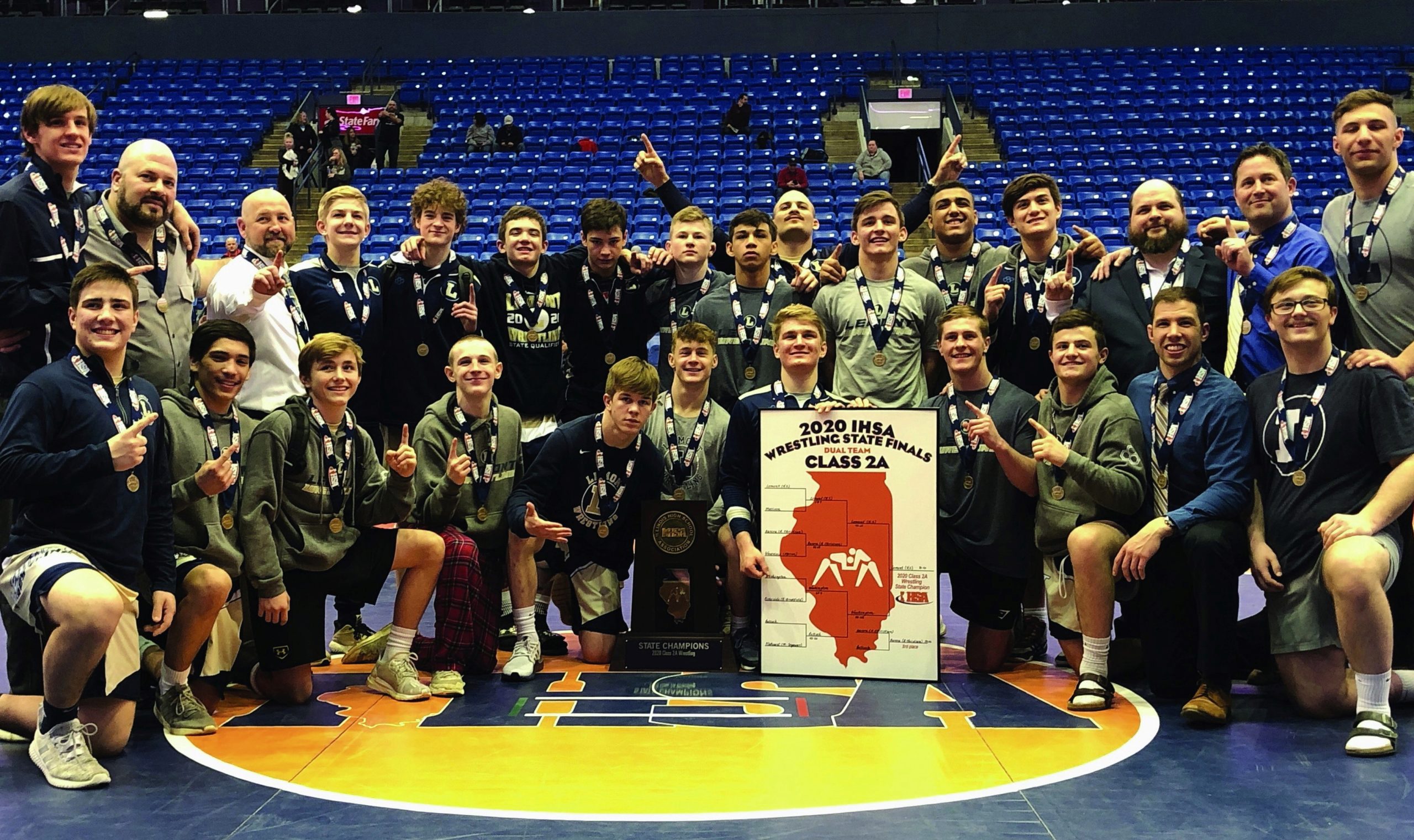 There is something to be said about a program having a strong conviction in trying to accomplish something special. And all throughout the 2019-20 season, Lemont's wrestling team had confidence that it had what it would take to win an IHSA Class 2A title.
That was a big goal for a program that has performed well throughout the years, posting a 262-152 record in coach John St. Clair's 17 seasons, but hadn't had a top finish at the dual team finals since claiming third- and fourth-place trophies during visits in 2010 and 2011.
In 2015, 2017 and 2019, the Indians got to team state but lost in the quarterfinals each time, including last year when they fell 40-31 to eventual champion Washington.
But with a strong group returning along with some good new additions, the Indians were at or near the top throughout the season in Rob Sherrill's IWCOA rankings.
With a lineup that was very solid throughout and with a good number of state-ranked individuals, it's no wonder that Lemont was able to craft a 32-2 record against a lot of teams from schools that are bigger than theirs is and its only two defeats came against a pair of quality 3A programs in Sandburg and Oak Park-River Forest.
Boosted by a great semifinal round at the individual tournament where it advanced a school-best five competitors to the title mat and also set a new school standard with three champions, Lemont entered the dual team finals with a lot of confidence and that was demonstrated by its high level of performance on Saturday at Grossinger Motors Arena.
The Indians lost just two matches in a 58-7 quarterfinal win over Mattoon and then only dropped four matches in a 46-19 victory over an Aurora Christian team that was coming off of a big 32-25 triumph over favored Marian Central Catholic in its quarterfinal dual meet.
Those wins advanced the Indians to the championship mat for the first time in their program's history and they got the opportunity to go up against four-time defending champion Washington to see if they could cap their historic season with a first state championship.
Thanks to three-straight wins to kick off the dual meet and then three more following the Panthers' first victory, Lemont jumped out to a 9-0 lead and then went up 21-3 midway through the dual and it added two more triumphs after that to assure the championship with one match to go as it claimed a 30-26 victory to halt Washington's impressive title run.
"The depth in the room helped push all of the starters," St. Clair said. "Everybody didn't have to go with the same guy all of the time, they could go with different people and have different looks. In this dual, we only went with the starters, but on Tuesday, we had guys who came in and they stepped up. But that's because of the room and the leaders that we have. Lemont wrestling hopefully has another one in them soon since the cupboard is not bare.
"Somebody who was a past champ texted me and said, 'hey, welcome to the club," and it's a pretty good club and it feels cool. When you look at the crowd we had tonight, it was as big, or bigger as anyone else, and that was awesome. That's because all of the people who were here had kids who grew up wrestling in Lemont and they knew that this year was going to be something special, and they followed them through, and I'm so happy for everybody."
Senior Grant LaDuke, the state runner-up at 152, got things started for the Indians in the title meet with a 10-4 win over Cole Watkins. Kyle Zator followed with a 6-1 victory over Donnie Hidden and then Alex Tagler was an 11-5 winner over Jacob Sollberger.
After Tyler Casey beat Mo Khalil 5-2 at 182 to pull the Panthers to within 9-3, Tyler Wilms followed with a 5-2 victory over Steven Apgar and then 220-pound state champion Apollo Gothard recorded a fall in 1:23 over Braeden Weiss and 285-pound state champ Mo Jarad claimed an 8-3 triumph over Dylan Cooper to put Lemont up by 18 points at 21-3.
"We all had that great mindset to just go out there and to wrestle our hearts out," LaDuke said. "For our four seniors, this was our last dual so it was just give it our all. We've been working for this moment ever since we started here."
After 106-pound state champion Kannon Webster received a forfeit victory, the Panthers followed that with a 6-3 victory from Josh Biagini over Tyler Bentley and then Abe Hinrichsen beat Evan Schiffman by technical fall to narrow the gap to 21-17.
But 126-pound champion Drew Nash recorded a fall in just 10 seconds against Ashton Rice and then after 132-pound champion Brody Norman pulled Washington to within 27-20 following a 6-3 win over Ray Hernandez, AJ Heeg clinched the championship victory for the Indians with a 10-5 win over Alec Mihelic. Four-time finalist and 145-pound runner-up Kyle Schickel didn't need to compete in the finale so Blake Hinrichsen received a forfeit win.
"We had a really special team this year," Nash said. "We knew that we had to capitalize and we did and it was a great year and I'm so thankful for everyone and proud of everyone who competed today. I love all of them, they're my family, and I'll never forget them."
After seeing his program competing for a title for the sixth-straight year and then coming up a bit short of a fifth title, third-year Panthers coach Nick Miller was understandably pleased with the efforts of his squad, which finished 22-7 to improve Washington to 139-36 since Bryan Medlin brought the first of his three finalist teams to the state competition in 2015.
The Panthers won the first 10 matches to roll to a 65-3 victory over Riverside-Brookfield in the quarterfinals and then captured a 35-28 semifinal victory over Antioch after winning eight of the first 11 matches to grab a 35-12 advantage.
"They're a solid team, no doubt," Miller said of Lemont. "But we threw our best at them. We made some changes in the lineup that we thought benefited us early on and it didn't play out that way, but they're a good, solid team.
"I give a lot of credit for our success to our seniors. These kids come in for four years and they understand what it means to just give your best and to be your absolute best every day, and they pass that lesson on to the younger kids and that's been a trend for several years."
After finishing first in 2018 and second in 2019 in Class 1A, Aurora Christian made a successful move to Class 2A by capturing its third-straight trophy for coach Justin Pearch with a third-place finish following a 33-26 victory over Antioch. After handing Marian Central Catholic its first loss 32-25 in the quarterfinals, they fell 46-19 to Lemont in the semifinals.
Winning matches in the third-place meet for the 23-6 Eagles were 138-pound state champion Noah Villarreal, a three-time champion and four-time finalist, 113-pound champion Chris Moore, 182-pound runner-up Alex Knauf, 2017 and 2018 champion Cameron Johnson, 2019 champion Joel Mylin, Jack Certa, Mike Esquivel and Braden Hunter.
"We have 14 guys on the team and in the lineup and we have guys bumping up a couple of weight classes, but they're tough," Pearch said. "We prepare them for this time of the season just from the crazy schedule that we have. Aurora Christian is a great culture. From the first time you walk in the door until you leave, it's one giant family."
Getting wins for coach Wilbur Borrero's Sequoits, who entered Saturday with a 21-0 record and won a fourth-place trophy for the third time, were Elijah Reyes, Devin Nobiling, Niall Schoenfelder, Caleb Nobiling, Luke Menzies and Brandon Pinto.
Two coaches led teams to their first state appearances, Brett Porter at Mattoon, which went 18-3, and Nicholas Curby at Riverside-Brookfield, who were 15-9. Coach David Silva's Marian Central Catholic team finished 23-1 in their third-straight trip to state and coach Rob Ledin led 23-2 Mahomet-Seymour to the program's 18th state appearance.