Tournament Roundup from December 3rd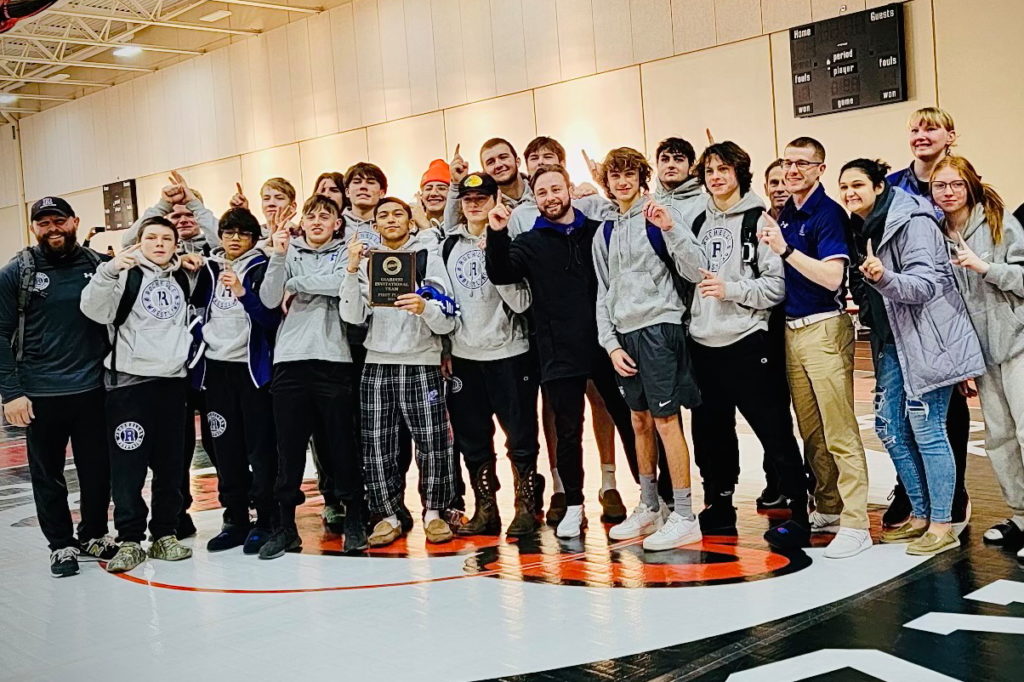 Rochelle makes history, Morton's girls dominate
By Gary Larsen
Rockford East's Giardini Invitational
Nineteen teams rolled into Rockford on Saturday, and ultimately it was Rochelle and Geneseo that battled it out for the team title, with Rochelle (188.5) ultimately edging Geneseo (180.5) to take the crown.
The Co-op team from Belvidere (164) finished third, followed in fourth by host Rockford East (145.5). Kaneland (135), Richmond (130), Hampshire (127.5), Metamora (95.5), Rolling Meadows (71.5), and Winnebago (62) rounded out the top 10 team finishers.
Rochelle's Xavier Villalobos (120) won the Hubs' lone individual title on the day, with an 11-2 major decision against Kaneland's Kamron Scholl. Placing second for Rochelle were Joseph Nadig (126), Grant Gensler (152), Brock Metzger (182), and Kaiden Morris (220). Fourth-place finishes came from Freddie Hernandez (106), Anthony Milburn (113), Brenden Voight (145), and Leo Stoffel (160).
Roman Villalobos (170) and Jaden Cook (285) also placed sixth for Hubs coach Alphonso Vruno.
"The kids wrestled extremely hard on Saturday," Vruno said. "We only had one champ so it took a complete team effort. We performed well in the third round sending four to the third-place matches and five to the finals.
"We were very proud as a coaching staff to accomplish something Rochelle has not been able to do, win the Rockford East Tournament. However, we only went 1-8 in the final round and did not reach our goal of 200 points as a team. We'll be back Monday, happy but also hungry. As my assistant coach Nelson Baker says, "the purple tide is coming."
Second-place Geneseo got an individual title from Zachary Montez (138), plus second-place finishes from Tim Sebastian (106) and Kyle Weinzierl (145), and thirds from Josh Hock (152), Aiden Damewood (170), Tim Stohl (220), and Levi Neumann (285).
Third-place Belvidere got four individual titles, from Brayden Teunessen (106), Bryson Teunessen (113), Antonio Alvarado (152) and Colin Young (160), plus a second from T.J. Mitchell.
Other individual champions at Rockford East were Richmond's Emmet Nelson (126), Kaneland's Caden Grabowski (132), Freeport's Jacob Redington (145), Hampshire's Niko Skoulikaris (170), Winnebago's Lucas Cowman (182), Kaneland's Max Pietak (195), LaSalle-Peru's Connor Lorden (220), and Rockford East's Lee Smith (285).
Also placing second were Rockford East's Joseph Young (113), Kaneland's Kamron Scholl (120), Rockford East's Malik Ali (132) and Dana Wickson (138), and Malachi Cannon (160), Winnebago's Charley Murray (170), and Metea Valley's Jesus Rojas (285).
Finishing third were Richmond's Kyan Gunderson (106) and Klay Madula (113), Rolling Meadows' Alan Velazquez (120), Metamora's Connor Graham (126), Thornton's Fred Osborne (132), Kaneland's Kyle Rogers (138), Richmond's Brody Rudkin (145), Metamora's Karson Hale (160), Richmond's Alex Reyna (182), and Metamora's Adam Sloan (195).
Belvidere's Colin Young scored the most team points in the tournament with 30, while Belvidere's Antonio Alvarado, Kaneland's Max Pietak, LaSalle-Peru's Connor Lorden, and Winnebago's Lucas Cowman each scored 28 team points in the tournament.
Waukegan Girls Tournament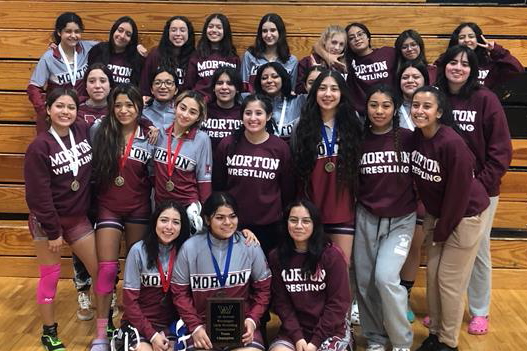 Morton dominated the 18-team girls' tournament in Waukegan, scoring 171 points and sending five wrestlers to the title mat and getting individual titles from Leilany De Leon (130) and Violet Mayo (190).
Ariana Diaz (100), Lluvia Ochoa (105), and Nayeli Rodriguez (110) all placed second for Morton coach Fernando Arriata, who also got thirds from Lilana Garcia (115), Faith Comas (135), Jackelyn Padilla (155), and Sofia De La Sancha (235), and fourths from Emma Valenzuela (115) and Vivian Varela (190).
"All the girls wrestled tough on Saturday and are really showing growth this season," Morton coach Fernando Arratia said. "We have wrestlers who are returning from last season and a lot of new ones who are debuting on the mat and are eager to learn. There were girls who placed but they all wrestled a bunch of tough girls from other schools."
Morton's 26 wrestlers were the most by any team in the tournament, with 16 of them scoring team points. Second-place Grayslake North (85) had seven wrestlers entered, as did third-place Grant (80). Curie (67), Maine South (67), Plainfield Central (64), Riverside-Brookfield (63), Zion-Benton (63), Dundee-Crown (53), and Fremd (53) rounded out the top 10 team finishes.
Second-place Grayslake North was led by second-place individual finishes from Vanessa Alvarez (135) and Quinna Sheets (145), a third from Julia Landmesser (170), a fourth from Rebekah Moncivaiz (155), and a sixth-place finish from Kenya Bahena (120).
Third-place Grant had two individual champions in Snow Khi (105) and Joanna Szelag (120), and a third-place finisher in Cassidy Graham (145).
The day's other individual champions were Montini's Kat Bell (100), Grayslake Central's Gianna Arzer (110), Maine South's Angela Lee (115), Waukegan's Noelani Rodriguez (125), Riverside-Brookfield's Danaly Villagomes (135), Dundee-Crown's Perla Lomeli (140), Lemont's Suzanne Knutte (145), Palatine's Jasmine Hernandez (155), Plainfield Central's Alicia Tucker (170), and Curie's Aaliyah Grandberry (235).
Second-place individual finishers included Saint Viator's Natalie Gubernaut (115), Riverside-Brookfield's Eleanor Aphay (120), Fremd's Zuri Sarmiento (125), Zion-Benton's Delia Alaniz (130), Maine South's Alyssa Gianola (140), Palatine's Sabrina Cargill (155), Waukegan's Valeria Millan (170), and Wheeling's Karina Avila (190) and Jasmine Rene (235).
Others placing third were Curie's Evelin Martinez (100) and Melani Martinez (105), Dundee-Crown's Diamond Rodriguez (110), Riverside-Brookfield's Frankie Abasta (120), Lemont's Molly O'Connor (125), Palatine's Amaya Jackson (130), and Plainfield Central's Miah Banda (140) and Zyon Jordan (190).
Grant's Joanna Szelag scored the most team points in the tournament with 29. Wrestlers posting 28 points for their teams were Dundee-Crown's Perla Lomeli, Riverside-Brookfield's Danaly Villagomes, Plainfield Central's Alicia Tucker, and Waukegan's Noelani Rodriguez.
Sterling's 44th Carson DeJarnatt Invitational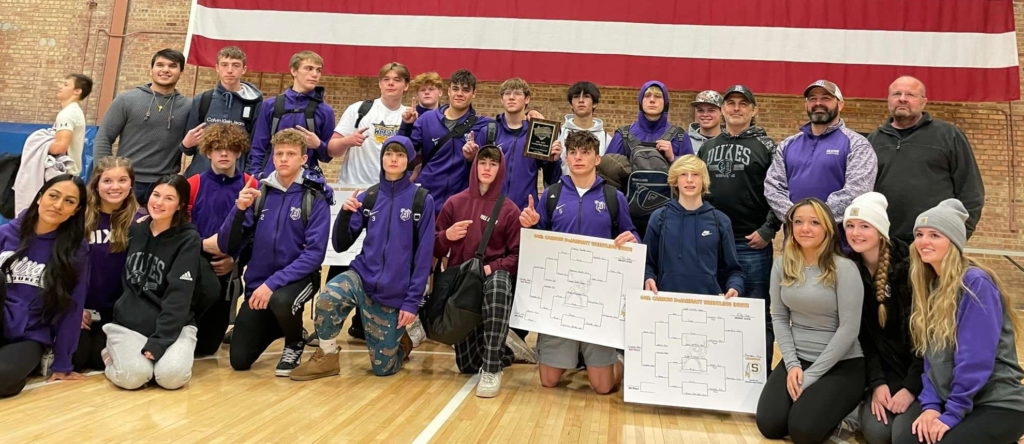 The annual tournament hosted by Sterling saw Dixon score 217 points to top second-place Galesburg (187). Third-place Sterling (186) finished a single point out of second place.
The 8-team field also included Fulton (133), Clinton, IA (116), Erie (85), Oak Lawn (78), and Newman 67).
Dixon's Jacob Renkes (106) kicked of the title round with a 9-4 decision over Galesburg's Josh Larkin, and teammate Ayden Rowley (113) followed suit with a pin on the title mat against Galesburg's Christian Delacruz. Steven Kizman (170) won his title by 6-3 decision over Sterling's Gage Tate, and heavyweight Sean DeVries completed Dixon's quartet of titles with a pin against Fulton's Braiden Damoff.
Placing second for Dixon were Jayden Wiedman (132), Cade Hey (138), and Ethan Mick (195), while James Simpson (126), Jayce Kastner (160), and Owen Brooks (182) finished third, and Alex Reuben (220) placed fourth for the team champion Dukes.
"I'm real proud of the way these kids wrestled," Dixon coach Micah Hey said."They've been working real hard in practice and it's nice to see it pay off for them. It was one of those days where the one-point matches and overtimes went our way. That's always really nice.
"It was great to get seven in the finals and the kids that wrestled back had great contributions, too."
Second-place Galesburg got titles from Gauge Shipp (126), Rocky Almendarez (132), and Dishon Nolen (220); seconds from Larkin (106), Delacruz (113), and Anthony Makwala (152); and thirds from Emilio Torres (170) and Nick Makwala (195).
Sterling's individual titles came from Zyan Westbrook (120) and Isaiah Mendoza (152). Also reaching the title mat and placing second were Thomas Tate (160), Gage Tate (170), and Oswaldo Navarro (220), and Sterling got third-place finishes from Cael Lyons (106), Landon Kenney (132), and Javier Luna (285).
Other individual champions at Sterling were Newman's Carter Rude (138), Clinton's Luke Jennings (145), Erie's Jase Grunder (160), Fulton's Zane Pannell (182), and Erie's Luke Otten (195).
Third-placers also included Oak Lawn's Ryan Bisonaya (113), Clinton's Brody Harrington (120) and Brady Jennings (138), Fulton's Ben Fosdick (145), Skylier Crooks (152), and Chris Carroll (220).
Others who placed fourth were Fulton's Justin Heck (106) and Camryn Lippens (113), Newman's Briar Ivey (120), Clinton's Danny Peters (126), Fulton's Broden VenHuizen (132), Sterling's Dylan Ottens (138) and Austin Clemens (145), Oak Lawn's Hunter Gray (152), Clinton's Peyton Pettengill (160), Fulton's Mason Kuebel (170), Galesburg's John Willis (182), Clinton's Mason Luckritz (195), and Galesburg's Jesse Hendrix (285).
Matozzi Invitational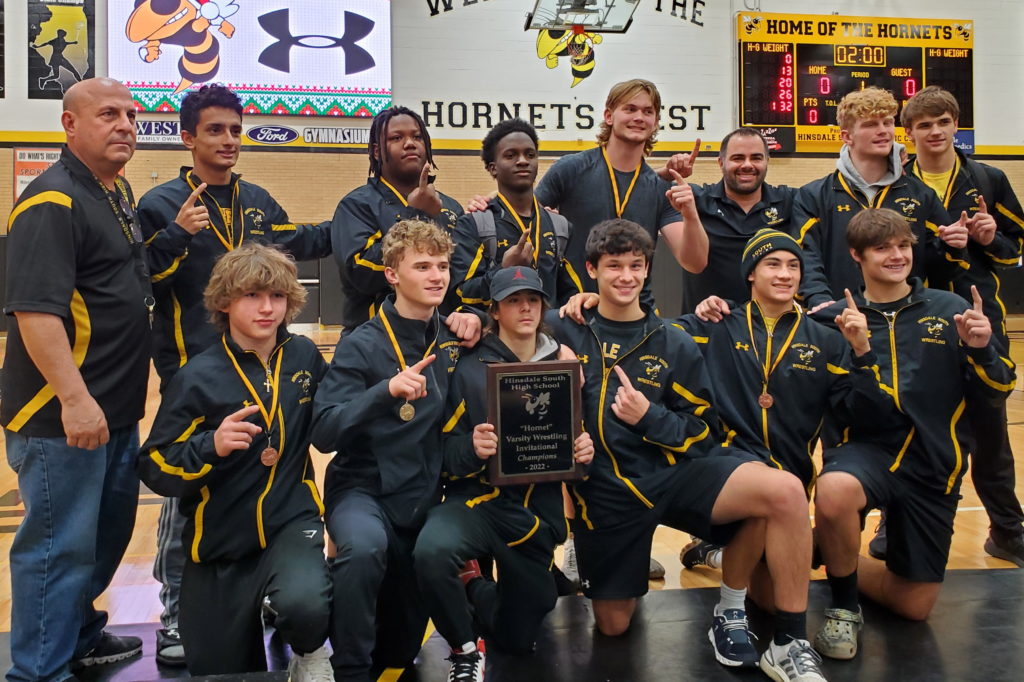 Named for long-time former Hinsdale South coach Mike Matozzi, the 2022 version of the Matozzi invite saw the host Hornets run away from the 10-team field in Darien.
Hinsdale South posted a 216-146 edge in the final team score over second-place Highland Park. Fenwick (112) finished third, followed by Glenbard South (100), St. Laurence (98), Argo (89), Tinley Park (52), and Lindblom (47.5).
Hinsdale South coach Steve Matozzi sent nine wrestlers to the championship mat and got four individual titles on the day. Mikey Wallace (106), Sam Rallo (126), Jovanni Piazza (182), and Griffin Carr (220) all won by fall on the title mat for the Hornets.
"We had an amazing tournament," Matozzi said.
Placing second for Hinsdale South were Toqir Mir (113), Appollo Cobb (132), Noah Ririe (152), Alec Miller (170), and Gavin Slaughter (285). South also got thirds from Alex Schuetz (120) and Andrew Musil (145) and a fourth from Andrew Miller (160).Second-place Highland Park got individual titles from Nate Ferrari (132), Mark Martinez (138), Dmitry Derbedyenyev (152), and Jacques Munkhjargal (195), seconds from Ian Buduan (126) and Emmet Polte (160), and a third-place finish from Darius Robinson (170).
Third-place Fenwick got titles from Aiden Burns (160) and Finn McGee (170), and third-place finishes from Michael Frighia (126) and Max Kenny (132).
Other individual Matozzi champions included Argo's Juan Villa (113), Lindblom's Diego Salgado (120), St. Laurence's Jacob Sellers (145), and Glenbard South's Brian Yun (285).
Wrestlers placing second included St. Laurence's Henry Manning (106), Tinley Park's Carter Leshock (120) and Andrew Koepke (138), Argo's Israel Lopez (145) and Jacob Fries (182), St. Laurence's Xavier Bitner (195), and Glenbard South's Danny Langner (220).
Third-place finishers also included Glenbard South's Xander Nicola (106), St. Laurence's Tyler Malinowski (113), Back of the Yards' Saeed Uliah (138), Glenbard South's Reid SeBahar (152), Logan Price (160), and Yazdan Alifor (182), Argo's Marcin Hodorowicz (195), Tinley Park's Eric Jenkins (220), and Back of the Yards' Fernando Gomez (285).