Girls championships kicks off special week for IWCOA finals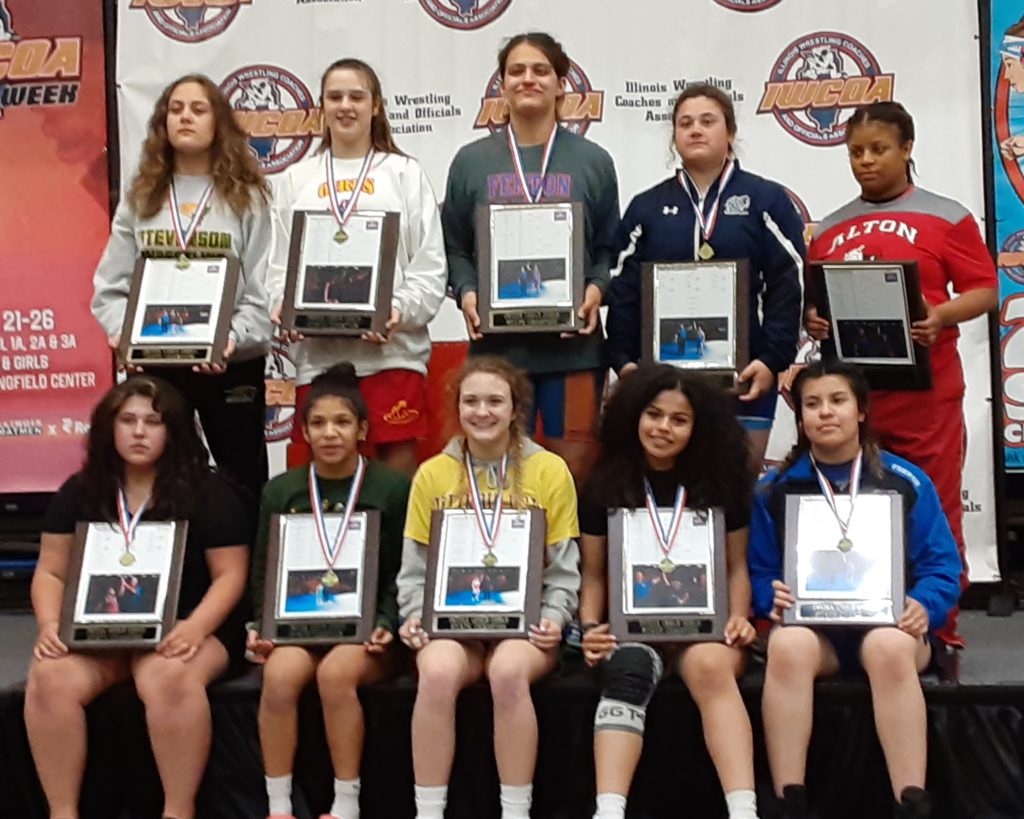 By Curt Herron
There was no better way to kick off what figures to be a special week in Springfield as the Illinois Wrestling Coaches and Officials Association not only again stages finals of the girls and frosh-soph tournaments after being unable to do so a year ago, but it caps the six-day event with its first-ever individual boys finals in each of the three state classes.
Just a week after the IHSA announced that it would hold its first-ever girls tournament in conjunction with the dual team finals in Bloomington beginning next year, there was definitely a lot of excitement for many of the competitors at Monday's IWCOA Open Girls Championship at Bank of Springfield Center in Springfield since not only were they once again able to compete in a state finals competition, the level of respect for their sport has certainly grown greatly in stature with the addition of the IHSA tournament.
The competition featured great stories of girls who have benefitted from their dedication by getting opportunities to continue their careers in college while others had great debuts and will likely make more history as the first competitors in a new state series, and there are some who are just happy to again be able to be able to compete in the state finals.
Fifteen champions were crowned in the tournament, which featured over 160 competitors. And in a good example of the strong interest in their sport throughout the state, each of the title winners represented a different school and athletes from all regions of Illinois were recognized for making it to the top of the awards stand.
Twelve of the weight classes featured enough individuals to have bracketed competitions while the 195, 220 and 285 titles were determined in a round-robin fashion.
What follows is a recap of the title matches with the individual champions highlighted:
285 – Jade Nappier, Marion
Marion's Jade Nappier began the finals at 285 by defeating Taft's Natalia Avina. Nappier just graduated and will be making the transition from a southern Illinois high school student to a college athlete at a school in New York, where she will continue her career at Elmira College, which is preparing to compete in its first season in the sport.
"This was my second time here and I placed third my sophomore year and then favored to take first," Nappier said. "So it was a great opportunity to win this to end my senior season right before I go to college. It will be a beginner program but the coach has got a really good program set up and he's set up with a new facility just for wrestling. It's a big step but I'm super excited about the door that has opened for me."
101 – Natalie Cortes, Lane Tech
Lane Tech's Natalie Cortes claimed a 4-0 victory over Lake Forest's Annika Cottam in the 101 finals. After barely making the tournament as a sophomore and then having no tournament to compete in a year ago, she rolled this event with three straight falls before claiming her first title in impressive fashion.
Cortes, who will continue her career at Colorado Mesa University is coached at Beat the Streets Chicago by Haley Augello, a Lockport graduate that won numerous titles in world, national, collegiate, state and high school competitions and also was a 2016 Olympian, who just happened to be in her corner during the state finals match.
"I'm really sad that I don't get more time with Haley because I'm a senior but I've tried my best to take advantage of her being around," Cortes said. "I'd been practicing with her a lot but this was my first time competing for coach Haley, and she's probably the biggest reason why I got recruited to Colorado Mesa University. Winning this was a really good feeling and I came in really hungry and did my best."
106 – Brooklyn Murphy, Jacksonville
Jacksonville's Brooklyn Murphy, who will be a senior, took top honors at 106 after recording a fall in 4:35 against Huntley's Natalie Majer. Murphy won all her matches by fall, with two of those coming in the opening period.
She enjoyed success at the national level in her freshman season and joins her sister, Jocelyn, an IWCOA champion in 2017 and 2018, as a first-time title winner in the event.
"I pinned my way through the tournament," Murphy said. "I just came in here not worrying about who my competitors were, I knew that whoever would be mentally stronger would win the match, so I just stayed mentally tough the whole time. My sister, Jocelyn, competed in this for two years when it first started and she was the champion both years so I wanted to win this and now I have one more year to tie her."
113 – Cadence Diduch, Freeport
Freeport's Cadence Diduch, who will be a sophomore, won the title at 113 when she claimed a 5-2 victory over Batavia's Taylin Long, who was a state champion in 2019 that will be continuing her career at Campbellsville University in Kentucky, which won the NAIA title this year. Diduch used a fall, win by technical fall, a major decision and decision to reach the finals while Long, who recently went 8-0 in a national competition, followed up on a win by technical fall with two falls to set up one of the day's top finals matches.
After capping her debut season as an IWCOA champion, Diduch can set her sights on achieving even more success in the first few IHSA tournaments.
"This was real nice," said Diduch, who also had a fourth-place finish at nationals this year. "I look forward to the opportunity to be one of the first girls to be able to do that (be in the IHSA tournament) and I hope to keep on winning."
120 – Maya Davis, Glenwood
Glenwood's Maya Davis took top honors at 120 after capturing a 7-2 win over Boylan Catholic's Netavia Wickson. Davis followed up on a win by technical fall with two first-period falls before getting the victory over Wickson, who had won three of her four matches with pins.
Davis, who will be a senior, is not only excited about winning her first state title but has the opportunity to make more history for a program that hadn't had a champion before.
"This was my first season back since my freshman year," Davis said. "I wrestled in the IKWF many times and won a couple of them but this is my first official state title and it just feels awesome. And it's my school's very first state champ so I'm just so happy that I could win the title. This is very special since I've been training with our guys since I was seven and we've all worked our butts off, so to be the first to do this of all of us is just amazing."
126 – Sharon Leon, Downers Grove South
Downers Grove South's Sharon Leon recorded a fall in 0:47 over Vandalia's Lauren Dothager to win the 126 title. Leon recorded falls in three of her four matches, with two of those being recorded in less than one minute. She recently graduated and will continue her career in the sport at Indiana Tech in Fort Wayne.
Her opponent is the third girl in her family that has competed in the IWCOA tournament and she was hoping to join her sister Morgan, who won two titles, as a champion in the competition.
"I'm really surprised by how well state went this year and I'm really grateful that we were able to have this, since for a long time I didn't think that I would have this opportunity," Leon said. "So I'm extremely grateful for those who put on this tournament and also my coaches, Sean Lovelace and Greg Gomez. "I am going to go to Indiana Tech and they have a big girls program so I'm excited to be a part of that."
132 – Sydney Perry, Batavia
Batavia's Sydney Perry won the 132 title with a fall in 3:03 against Yorkville's Natasha Markoutsis. Both competitors not only recorded two falls to reach the finals, their sectional semifinal matches each went 2:26 before Perry, who will be a sophomore, secured a third fall to win the championship.
"I've been wrestling for awhile so I'm used to being on the guys teams, so it's kind of cool since Batavia has its own girls team," Perry said. "It's been cool to be around girls who are wrestling and I see tournaments are expanding. We had never done something like when all of the girls walked out (for the grand march), so it's just really been a cool experience and I'm glad we're getting that. It was a lot of fun

138 – Sara Sulejmani, Stevenson
Stevenson's Sara Sulejmani captured the title at 138 when she got a pin in 0:23 against Wauconda's Keira Dafnis. Sulejmani just completed her senior year and will be competing in the sport at North Central College in Naperville.
Sulejmani, who won the IWCOA title at 145 in 2019, won all four matches in this competition by recording falls, with three of those being resolved in 31 seconds or less.
"It was an amazing experience," Sulejmani said. "In my sophomore year I won the tournament but a lot of obstacles happened in my junior year. But I think that the most amazing part is that everybody who was here adapted to the competition and everything else and I think that it's really special to see everybody have that grit and to fight really hard. And they provided this tournament, so I'm very happy."
145 – Jasmine Hernandez, Palatine
Palatine's Jasmine Hernandez won by technical fall over Berwyn-Cicero Morton's Hilda Gonzalez in the 145 finals. She added another win by technical fall to go along with a pin and a semifinal win by major decision to wrap up a dominating finals appearance.
Hernandez, who was a sophomore but plans to graduate early so she will be a senior, believes that competing in wrestling has been a life-changing experience for her.
"This is very exciting and hopefully I can tell my future kids about it one day," Hernandez said. "This is a sport that I really love and I've been doing it since eighth grade. It's helped me a lot through a lot of issues that I was going through going into my teenage years. It really changed my life around when I started because I wasn't really that great as a kid but now I'm graduating early."
152 – Arie Johnson, Richwoods
Richwoods' Arie Johnson captured an 8-7 victory over Patton-Trained Alexis Ritchie to claim the 152 title. Both competitors rolled through their first matches with Johnson winning by technical fall and a pin and Ritchie getting two first-period falls to set the stage for a competitive title match.
"Last year was the first time that I qualified for this, but then COVID happened, so this feels amazing," Johnson said. "I'm super happy that this will be a state sport. It's very important to, especially considering how this is one of the world's oldest sports and knowing how females haven't really participated in that much, but seeing that they are now and I personally made history and how things are growing so rapidly is just amazing."
160 – Khaila Hughes, Alton
Alton's Khaila Hughes got a fall in 2:50 over Oak Park and River Forest's Trinity White in the 160 finals to capture her second title after placing first at 146 in 2018. She also has a sixth-place finish at Fargo on her resume and will continue her career and education at Lindenwood University in St. Charles, Missouri.
She's proud that she and many of her contemporaries have helped to elevate the sport so that future athletes will now have an official state finals that they can take part in.
"This was the second time that I won," Hughes said. "I came off of an injury last year so I didn't even wrestle in the regular season. I feel good for these girls. When I came in as a freshman, we had a group of wrestlers. So to see this pay off and for them to get their own state and to finally be recognized is better than ever because it's time for it."
170 – Maria Ferrer, Larkin
Larkin's Maria Ferrer recorded a pin in 0:24 over Oak Park and River Forest's Tiffany White to claim top honors at 170. After qualifying but missing out last year with no tournament, Ferrer, who will be a junior, recorded a pair of pins in just 45 seconds on the mat while her opponent advanced to the finals with two falls.
"I've been waiting for this moment," Ferrer said. "For me to accomplish this, I'm really proud of it and I won't doubt myself. I was really impressed in myself that I was able to accomplish this."
182 – Noelia Vazquez, Fenton
Fenton's Noelia Vazquez captured the title at 182 with a fall in 3:29 over Granite City's Samir Elliot. While Elliot recorded falls in her first two matches, Vazquez advanced with two decisions but then recorded a fall in her biggest match of the season. She's happy that he'll have a chance as a senior to follow up her title by being an IHSA champion.
"It's amazing to see how far the sport has come," Vazquez said. "To go from just competing in it with it being an unofficial tournament and now to have it officially be recognized by the IHSA is amazing."
195 – Kiara Ganey, Belleville East
Belleville East's Kiara Ganey, who will be a junior next season, recorded two falls, including one over Kaneland's Zoey Pozen, to win the 195 championship.
"This was amazing," Ganey said. "This tournament has been awesome and has been huge for us since it's given so many girls an opportunity that wouldn't have had that. Growing up wrestling, I had to wrestle the boys, and in high schools, it's boys. But this feels awesome since it gives us a shot. My goal for next year is to get back to the finals."
220 – Lilijana Reyes, Schaumburg
Schaumburg's Lilijana Reyes, who will also be a junior next season, had two falls and a 12-1 victory over O'Fallon's Lailani Addison to take first place at 220.
"This feels really nice," Reyes said. "When I was going to tournaments in the IKWF, there'd be no girls and I would be the only one in a room full of 400 kids. To see it grow as much as it has been amazing and makes me feel more a part of it. It's really cool and I'm super excited about it."
Others in the top six
Third-place finishers were Elgin's Natalie Gonzalez (101), Lincoln-Way's Gracie Guarino (106), Beat the Street's Kaila Del Toro (113), Kylie Schuldt (120), Grant's Crystal Villegas (126), Coal City's Carly Ford (132), Peotone's Kiernan Farmer (138), Pekin's Audrey Driskell (145), Buffalo Grove's Julianna Conroy (152), Huntley's Teni Ajayi (160), Richwoods' Jaida Johnson (170), Downers Grove South's Gracie Swierczynski (182), Argenta-Oreana's Delanee Miller (195) and Kennedy's Aaliyah Begay (220).
Finishing in fourth place were Edwardsville's Olivia Coll (101), Joliet Central's Dioselina Tenorio (106), Lakes' Olivia Heft (113), Bowen's Monica Griffin (120), Joliet Central's Nicole Aguirre (126), Schaumburg's Bethany Regione (132), Niles West's Al Ghala Mariam Al Radi (138), Beat the Streets' Charish Carter (145), Larkin's Giselle Ayala (152), Crystal Lake Central's Mailei Hudec (160), Belleville East's Kami Ratcliff (170) and Tinley Park's Maren Anderson (182).
Claiming fifth place were OPRF's Camila Neuman (101), Conant's Gianna Gagliani (106), Quincy Notre Dame's Catherine Steinkamp (113), Burlington Central's Michaela Kruse (120), York's Emily Ebsen (126), Unity's Ava Vasey (132), Batavia's Erna Haskovic (138), Stevenson's Sajra Sulejmani (145), Schaumburg's Audrey Lapp (152), Downers Grove North's Kayleigh Loo (160) and Sullivan's Cheyene Patterson (182).