IWCOA Class 1A Super Regional recap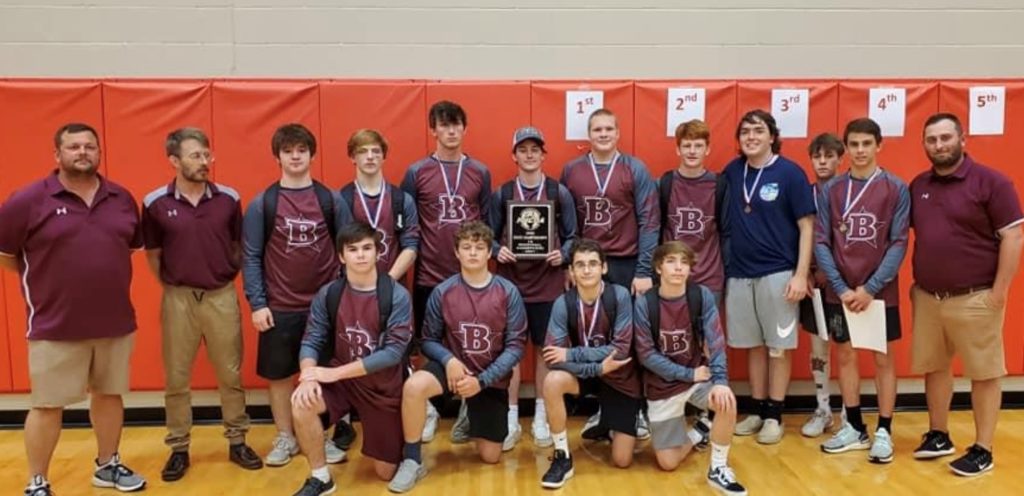 By Curt Herron
Here's a breakdown of this past weekend's IWCOA's Open Class 1A Super Regional individual and team champions. Stories about the El Paso-Gridley and Sandwich Super Regionals are posted on the website:
The top six finishers from the eight super regionals advanced to Saturday's four sectional sites in Class 1A.
Individuals who took part in Sunday's Coal City and Walther Christian Super Regionals will compete in the Hope Academy Sectional at Quest Center while competitors from Sunday's El Paso-Gridley and Heyworth Super Regionals willparticipate in the Heyworth Sectional.
Qualifiers who competed in the Sandwich and Yorkville Christian Super Regionals will participate in the Sandwich Sectional. And the qualifiers from the Lawrenceville and Sacred-Heart Griffin Super Regionals will take part in the Lawrenceville Sectional.
Class 1A Yorkville Christian Super Regional
Seneca edged Yorkville Christian 191-190.5 to win the Class 1A Yorkville Christian Super Regional title on Sunday.
The host Mustangs won seven titles and got a second-place finish from their eight entrants but the Irish had six more competitors and that helped them to win the team title.

Winning titles for Yorkville Christian were Ty Edwards (106), Isaac Bourge (113), Noah Dial (120), Drew Torza (152), Tyler Martinez (160), Jackson Gillen (170) and Michael Esquivel (285) while Seneca title winners were Owen Feiner (126) and Gavin Robertson (182).Other champions in the super regional were Harvard's Bryce Fiegel (132), Ivan Rosas (138) and Nathan Rosas (195), Genoa-Kingston's Jesse Torres (145) and Richmond-Burton's Brock Wood (220).
Class 1A Heyworth Super Regional
PORTA captured top honors at Sunday's Class 1A Heyworth Super Regional after scoring 184 points, which placed it well ahead of runner-up Oakwood, who had 148 points.
The champion Bluejays had three title winners and a second-place finisher to highlight a day when nine of their 11 competitors were able to claim top-five finishes.
Champions for PORTA were Blake Cagle (132), Jake Sinclair (152) and Gavin Dick (285) and Oakwood also had three title winners, Gage Reed (113), Reef Pacot (120) and Joe Lashuay (160). Others who won titles were Camp Point Central's Zach Foote (126) and Trevor Bonk (138), LeRoy's Owen Gulley (145) and Grant Sant Amour (182), Westville's Garyson McBride (106), Hoopeston Area's Abel Colunga (170), Tremont's Cooper Wendling (195) and Beardstown's Owen O'Hara (220).
Class 1A Coal City Super Regional
The host Coalers had six champions and nine finalists to help them win their own Class 1A Super Regional with 235 points while Peotone took second place with 170 points.
Coal City got title wins from Brant Widlowski (106), Jacob Piatak (120), Connor Huston (152), Zachary Finch (160), Gabe Ludes (170) and Drake Dearth (195). Winning titles for Peotone were Santino Izzi (126) and Marco Spinazzola (132) while Wilmington's champions were Landon Dooley (113) and Aiden Wooters (182).
Other super regional champions were Reed-Custer's Ryan Tribble (138) and Kody Marschner (220), Bishop McNamara's Blain Christie (145) and Harlan's Amarion Lee (285).
Class 1A Walther Christian Super Regional
IC Catholic defeated Hope Academy 193-144.5 to capture the title at Sunday's Class 1A Walther Christian Super Regional in Melrose Park.
The champion Knights won seven titles and had eight finalists. Winning championships for IC Catholic were Bryson Spaulding (106), Saul Trejo (113), Nick Renteria (120), Joseph Gliatta (138), Michael Calcagno (160), Jadon Mims (220) and Isaiah Gonzalez (285).
Also winning super regional titles were Westmont's Dominic Wagner (126) and Jaylan Lacy (195), Phoenix Military Academy's Rafael Soto (132) and Jimmy Lua (152), Hope's Franky Saez (145) and Esteban Aleman (170) and DePaul College Prep's Luke Walters (182).
Class 1A Sacred-Heart Griffin Super Regional
Vandalia used four titles and four second-place finishes to capture the team title of Sunday's Class 1A Sacred Heart-Griffin Super Regional in Springfield with 236.5 points while Auburn scored 165.5 points to claim second place.
Winning titles for the champion Vandals were Jarek Wehrle (106), Eric McKinney (145), Tiler Worker (170) and Gavin Mouser (285) while Litchfield got championships from Carter Powell (113) and Will Carlile (152) while Nolan Mrozowski (120) and Cole Peters (138) both won titles for Rochester.
The other super regional winners were East Alton-Wood River's Jason Shaw (126), Warrensburg-Latham's Parker Hopkins (132), Metro East Lutheran's Chad Gray (160), Sacred Heart-Griffin's Cory West (182), Taylorville's William Blue (195) and Hillsboro's Magnus Wells (220).
Class 1A Lawrenceville Super Regional
Benton claimed three championships and had six finalists to capture top honors with 175.5 points while Toledo Cumberland took second with 135.5 points in Sunday's Class 1A Lawrenceville Super Regional.
Capturing titles for the champion Rangers were Mason Tieffel (120), Drake Moss (126) and Gabe Craig (285) while Goreville got titles from Memphis Lapatas (113) and Jerry Pulliam (152) while Robinson's Jordan Caballero (195) and Craig Markello (220) also won championships.
Other super regional title winners were Harrisburg's Tony Keene (106), Murphysboro's Arojae Hart (132), Anna-Jonesboro's Caleb Mays (138), Mount Carmel's Dayton Hall (145), Cumberland's Iysten Syfert (160), Monticello's Kaleb Reid (170) and Unity's Ryan Vasey (182).