South Central Tournament Roundup for Dec. 17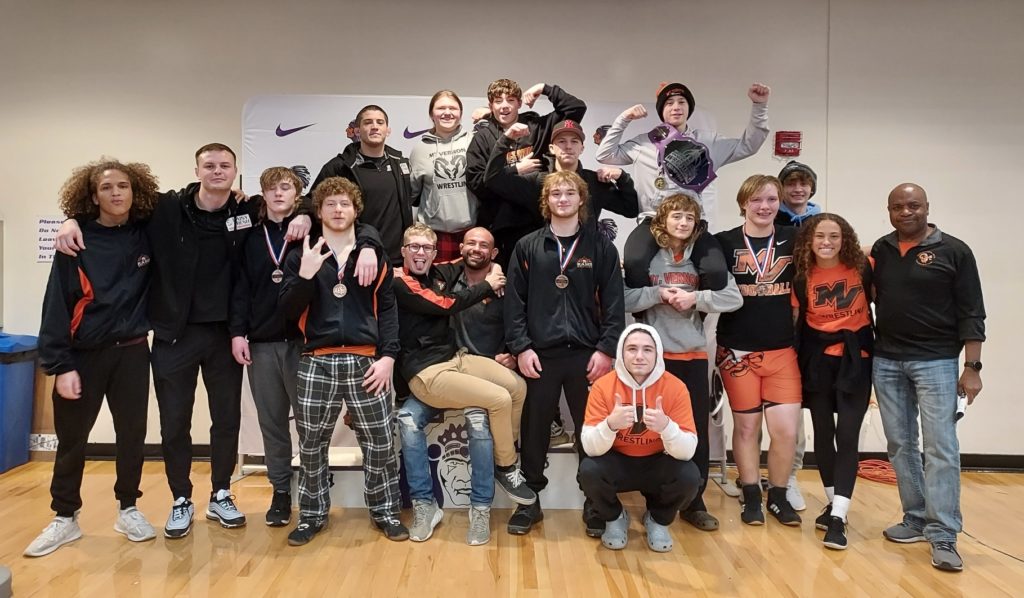 By Curt Herron
Mt. Vernon edges Normal Community to win Mascoutah Invite
While neither Mt. Vernon or Normal Community appear in the top-25 of the latest statewide 
rankings, it didn't prevent the two teams from going toe-to-toe with each other in their pursuit of top honors in the 33-team Mascoutah Invitational.
When the dust had cleared at the conclusion of the second-day of the event, Mt. Vernon held the upper hand over Normal Community, but just barely, prevailing for first place by a 183-182 margin while Roxana beat out Quincy Senior 176.5-173.5 to claim third place.
Triad (162), Belleville East (159.5), Bloomington (156.5), Mattoon (140.5), Murphysboro (136.5), Jacksonville (125.5), Morton (120), Alton (114.5), Civic Memorial (111), Marion (104.5) and Carbondale (99.5) were next in line in the scoring.
Joining Roxana among currently-ranked Class 2A and 1A teams that also took part in the competition were Triad, Bloomington, Mattoon, Civic Memorial, Marion and Carbondale at an event that featured many of the top individuals from throughout the southern half of the state.
Leading the way for coach Alejandro Wajner's champion Rams were title winners Dillon White (120) and Rider Searcy (145) while Ethan Rivera (182) and Mason Randall (195) took third, Maddux Randall (170) finished fourth and Travis Sanders (220) placed sixth.
Others who provided valuable team points that helped to put the Rams over the top were Ethan Verdeyen (126), Kobey Elkins (138), Sean Harrington (152) and Malakai Mays (160).
The heart and drive of these young athletes is incredible," Wajner said. "They come together as one and fight in every match like it's their last. We have all been working very hard this past year and the hard work is paying off big. We'll continue to grow and improve as the weeks go on into the postseason.
"We're a young team, but we're hungrier and motivated more now than ever before. These kids have been riding a wave of positive momentum and the best part is they're all having an incredible time doing so. The support system over here in Mt. Vernon grows stronger. The process works."
Top performers for coach Trevor Kaufman's runner-up Ironmen were champions Caden Correll (106), Cole Gentsch (113) and Cooper Caraway (220) while Jackson Soney (106) and Vallen Thorpe (132) took third, Jaren Frankowiak (132) and Mitchell Mosbach (160) finished fourth and Dylan Conway (126) was seventh.
Carter Mayes (120), Gavin Capodice (138), Ryder Durdan (152), Victor Reyes (170), Mason Caraway (182) and Nico Ortega (195) also provided points to boost the Ironmen's efforts.
Turning in top showings for coach Rob Milazzo's third-place Shells were third-place finishers Lleyton Cobine (120), Brandon Green, Jr. (126) and James Herring (220) while Braden Johnson (152) and Chase Allen (285) both took fifth place. Lyndon Thies (138) finished sixth and Robert Watt (170) took eighth place.
Winning championships for coach Phil Neally's fourth-place Blue Devils were Owen Uppinghouse (160) and Bryor Newbold (182) while Max Miller (170) took third place.
Hugh Sharrow (106), Eli Roberts (132) and Payton Eddy (170) all finished fifth, Todd Smith (285) placed seventh and Brody Baker (138) took eighth place.
Coach Rashad Riley's Belleville East Lancers also had a pair of champions, Terence Willis (152) and Jonathon Rulo (285) but the team's returning placewinner from a year ago, Dominic Thebeau, did not compete in the tournament.
Other champions were Mattoon's Korbin Bateman (126), Triad's Colby Crouch (132), Mascoutah's Santino Robinson (138), Murphysboro's Dayton Hoffman (170) and Carbondale's Aiden Taylor (195).
Coach Brett Porter's Mattoon Greenwave had four finalists with Bateman (126) winning a title while Logan Blackburn (120), Ben Capitosti (138) and Leo Meyer (220) all took second place.
Also finishing in second place were Morton's Harrison Dea (106) and Caleb Lenning (113), Bloomington's Maddox Kirts (160) and Stephen Carr (285), Champaign Central's Ronald Baker (126), Highland's Tyson Rakers (132), Jacksonville's Collin Reif (145), Lincoln's Isaac Decker (152), Carbondale's Brenden Banz (170), Civic Memorial's Logan Cooper (195) and Fort Zumwalt North (MO)'s Deacon Moran (182).
Other third-place finishers included Belleville East's Warren Zeisset (138), Triad's Aiden Postma (145), Jacksonville's James Cotton (152), Lincoln's Dawson McConnell (160) and Jersey Community's Jaydon Busch (285).
Additional fourth-place finishers included Murphysboro's Kaiden Richards (113) and Bryce Edwards (138), Alton's Antoine Phillips (152) and Shane Scott (195), Jacksonville's Oliver Cooley (220) and Aiden Surratt (285), Highland's Gavin Merkle (106), Marion's Max Wade (120), Belleville East's Nick Fetter (126) and Red Bud/Valmeyer's Ty Carter (182).
Also finishing fifth were Marion's Riddick Cook (113) and Malakei Weatherly (182), Morton's Payton Ferril (120), Alton's William Harris (126), O'Fallon's Andrew Orloski (138), Bloomington's Dylan Watts (145), Carbondale's Isaiah Duckworth (160), Collinsville's Scott Snyder (195) and Triad's Nate Engler (220).
And other sixth-place showings were turned in by Triad's Glen Henry (113), Ben Baumgartner (126) and Matt Hobs (285), Alton's Aslan Merioles (120) and Yaveion Freeman (145), Anna-Jonesboro's Drew Sadler (106), Mascoutah's Jordan Sonon-Hale (132), Civic Memorial's Brock Barrows (152), Bloomington's Andrew McCullough (170), Frankfort Community's Conner Henson (182) and Centralia's Elijah Johnson (195).
Mascoutah Invitational champions and first-place matches:
106: Caden Correll (Normal Community) F 4:00 Harrison Dea (Morton)
113: Cole Gentsch (Normal Community) MD 12-0 Caleb Lenning (Morton)
120: Dillon White (Mt. Vernon) F 3:47 Logan Blackburn (Mattoon)
126: Korbin Bateman (Mattoon) MD 9-0 Ronald Baker (Champaign Central)
132: Colby Crouch (Triad) MD 13-1 Tyson Rakers (Highland)
138: Santino Robinson (Mascoutah) TF Ben Capitosti (Mattoon)
145: Rider Searcy (Mt Vernon) D 9-4 Collin Reif (Jacksonville)
152: Terence Willis (Belleville East) D 6-4 Isaac Decker (Lincoln)
160: Owen Uppinghouse (Quincy) F 2:21 Maddox Kirts (Bloomington)
170: Dayton Hoffman (Murphysboro) D 6-1 Brenden Banz (Carbondale)
182: Bryor Newbold (Quincy) D 9-2 Deacon Moran (Fort Zumwalt North, MO)
195: Aiden Taylor (Carbondale) D 7-5 Logan Cooper (Civic Memorial)
220: Cooper Caraway (Normal Community) F 0:23 Leo Meyer (Mattoon)
285: Jonathon Rulo (Belleville East) F 4:33 Stephen Carr (Bloomington)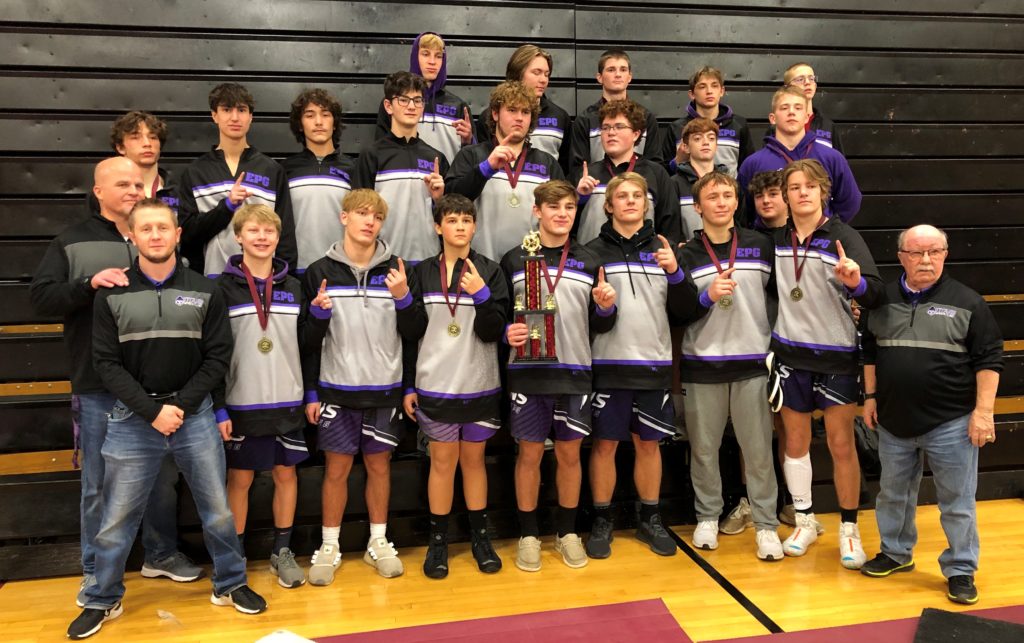 El Paso-Gridley edges Clifton Central/Iroquois West for Clinton title
El Paso-Gridley held off Clifton Central/Iroquois West to capture top honors by a 257-253 margin at the Clinton Holiday Invitational, which featured 11 schools.
Westville/Georgetown-Ridge Farm scored 198 points to finish in third place while Clinton (152.5), Farmington/Cuba (132), Ridgeview/Lexington (116), University High (107) and MacArthur (102.5) were next.
Leading coach Zachary Zvonar's champion Titans were title winners Dax Gentes (160) and Cody Langland (182) and runners-up Nolan Whitman (106), Logan Gibson (120), Conlee Landrus (152), Ethan Whitman (170), Parker Duffy (195) and Jesse Gerber (285). Chris Blackmore (220) took third while Caleb Graham (106) and Dominic Ricconi (170) were fourth and Jack Erwin (132) and Parker Key (138) were fifth. Etan Kruger (126), Ryden Baker (160) were seventh and Orion Dunlam (160) placed eighth.
Top performers for coach Travis Williams' runner-up Comets were champions Blake Hemp (113), Gage Poyner (138), Gianni Panozzo (145) and Noah Gomez (285) while Brayden Morris (160) took second place. Placing third were Evan Cox (126), Garrison Bailey (132), Giona Panozzo (152), Chris Andrade (160) and Garron Perzee (170) while finishing fourth were Maxwell Josephy (182) and Brody O'Connor (220).
Coach Austin Hedrick's third-place Tigers were led by runners-up Jesse Irelan (113), Hayden Weaver (132), Houston Bryant (145) and Tre Ramirez (220) while Logan Mahaffey (120) and Ethan Miller (195) took third place and Trent McMasters (152), Jacob Pyle (160) and Jamie King (285) all finished fourth.
Coach Matt Cooper's host Maroons had three champions, Cayden Poole (132), Will Winter (152) and Kristan Hibbard (170). Also winning titles were Streator's Nicholas Pollett (106), Farmington/Cuba's Keygan Jennings (120), Ridgeview/Lexington's Braydon Campbell (126), Taylorville's William Blue (195) and University High's Isaiah Im (220).
Farmington/Cuba had two second-place finishers, Bradlee Ellis (126) and Connor Huber (138) while Taylorville's Landon Molina (182) also placed second.
In the round-robin divisions, Hemp took first and Irelan was second at 113, Campbell was first and Ellis was second at 126, Hibbard took first and Whitman was second at 170, William Blue took first and Duffy was second at 195 and Im was first and Ramirez second at 220.
Gentes (160) easily had the most team points with 50 while Clifton Central had the next four in that category, Morris (2nd at 160) with 42 points, Andrade (3rd at 160) with 36, Gianni Panozzo (145) with 35 and Gomez (285) with 35. Also making the top-10 were Winter (152) with 35, Jennings (120) with 34, Pyle (4th at 160) with 33, Langland (182) with 32.5 and MacArthur's Jamarius Jones (5th at 160) with 31.5.
Also turning in third-place finishes were MacArthur's Jamarius Meyrick (106), Ridgeview/
Lexington's Judson Stover (138), University High's Josh Caraballo (145), Farmington/Cuba's Rese Shymansky (182) and Clinton's Dawson Thayer (285).
Additional fourth-place finishers were Ridgeview/Lexington's Carter McNeely (120) and Anthony Wolinsky (132), Taylorville's Ethan Dyer (126), MacArthur's TJ Rogers (138) and Shaundel Watson (145) and University High's Joe Hunt (195).
Clinton Holiday Invitational champions and first-place matches:
106: Nicholas Pollett (Streator Township/Woodland) TF Nolan Whitman (El Paso-Gridley)
113: Blake Hemp (Clifton Central/Iroquois West) F Jesse Irelan (Westville/Georgetown-RF) – RR
120: Keygan Jennings (Farmington/Cuba) MD 13-0 Logan Gibson (El Paso-Gridley)
126: Braydon Campbell (Ridgeview/Lexington) F 0:52 Bradlee Ellis (Farmington/Cuba) – RR
132: Cayden Poole (Clinton) TF Hayden Weaver (Westville/Georgetown-Ridge Farm)
138: Gage Poyner (Clifton Central/Iroquois West) F 2:45 Connor Huber (Farmington/Cuba)
145: Gianni Panozzo (Clifton Central/Iroquois West) F 1:22 Houston Bryant (Westville/
Georgetown-Ridge Farm)
152: Will Winter (Clinton) F 1:03 Conlee Landrus (El Paso-Gridley)
160: Dax Gentes (El Paso-Gridley) F 1:43 Brayden Morris (Clifton Central)
170: Kristan Hibbard (Clinton) F 3:09 Ethan Whitman (El Paso-Gridley) – RR
182: Cody Langland (El Paso-Gridley) TF Landon Molina (Taylorville)
195: William Blue (Taylorville) D 7-2 Parker Duffy (El Paso-Gridley) – RR
220: Isaiah Im (University High) D 2-1 OT Tre Ramirez (Westville/Georgetown-RF) – RR
285: Noah Gomez (Clifton Central/Iroquois West) F 2:37 Jesse Gerber (El Paso-Gridley)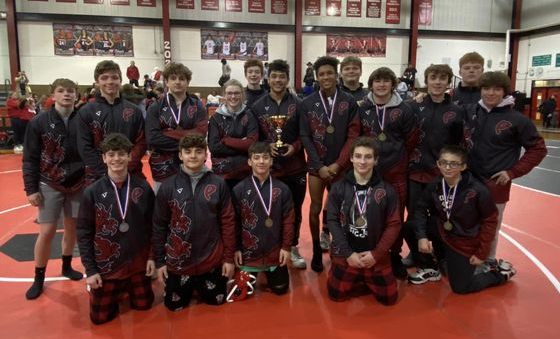 Pekin claims top honors at Springfield's Joe Bee Memorial
Pekin had five champions to help it defeat host Springfield High by a 173-160.5 margin to capture the championship of the Joe Bee Memorial Tournament.
Centennial took third with 153 points while LaSalle-Peru finished fourth with 106 points to round out the top half of the eight-team competition.
Top performers for coach John Jacobs' champion Dragons were first-place finishers Kayne Hayes (106), Ramez Watson (138), David Hartwell (160), Shamon Handegan (182) and Gunner Brophy (195) and runner-up Dalton Davis (113). Landen McAvoy (126) took third while Logan Smith (120) and Karson Long (132) finished fourth, Aydyn Artman (132) placed fifth and Jaylah Dalton (126), David Pusey (145), Cody Clifton (152) and Logan Rabbe (220) were sixth.
Leading the way for coach Sean Kenny's second-place Senators were runners-up Kaden Rios (126), Gabe Ruvalcaba (138), Armani Emery (152) and Jackson O'Connor (182), third-place finishers Alex Souva (145), Keyshaun Harris (170), Shamar Brownlee (195), Hunter Reid (220) and Shamar Richardson (285). Marshawn Brown (113) while Hank Souva (160) and Talon Behl (182) took fourth place.
Pacing coach Andrew Nyland's third-place Chargers were champions Declan Pate (120), Trevor Schoonover (132), Nick Pianfetti (152) and Henry Spinella (170) while Jack Barnhart (220) was second, Moses Kim (182) took third and Nehemie Mbangi (138) finished fourth.
Winning titles for coach John Venne's Granite City Warriors were Brenden Rayl (126) and Dylan Boyd (145) while the other champions were United Township's Jordan Pauwels-Whitmarsh (113), LaSalle-Peru's Connor Lorden (220) and Southeast's Robert Hull (285).
Coach Tim Ricca's Limestone Rockets had four second-place finishers, Gabe Hodges (145), Henry Look (160), Ethan Dixon (195) and Hector Izaguirre (285). Coach Matthew Rebholz's LaSalle-Peru Cavaliers had two runners-up, Sylvester St. Peter (106) and Kaleb Vela (132). United Township's Xavier Marolf (120) and Granite City's Rayshon Lyles (170) also took second.
Leading the way in team points were Boyd (145), Handegan (182) and Hartwell (160), who each had 26 team points while Schoonover (132) had 25.5 points. Hull (285), Pauwels-Whitmarsh (113), Pianfetti (152), Rayl (126) and Watson (138) each had 24 team points while Pate (120) had 23.5 points and Brophy (195) had 23 team points.
Others taking third place were LaSalle-Peru's Franc Knap (113) and Walter Haage (160), Southeast's Brayden McBride (120) and Adrian Mack (152) and United Township's Brody Oppendike (132) and Zane Mills (138).
Additional fourth-place finishers were LaSalle-Peru's Rylnd Rynkewicz (126) and Gunnar Wright (285), Southeast's Frank Kittrell (145) and Charles Davis (170), Granite City's Deverick Adams (195) and Enrique Morales (220) and Limestone's Peyton Williams (152).
The tournament is named in honor of Joe Bee, who was a Springfield High graduate and member of Eastern Illinois University's wrestling team who died along with teammate Tim Fix, a Plainfield High graduate, in a tragic drowning accident in Charleston in 1996.
Springfield Joe Bee Memorial Tournament champions and first-place matches:
106: Kayne Hayes (Pekin) F/MD Sylvester St. Peter (LaSalle-Peru) – RR
113: Jordan Pauwels-Whitmarsh (United Township) F 2:40 Dalton Davis (Pekin)
120: Declan Pate (Centennial) D 9-3 Xavier Marolf (United Township)
126: Brenden Rayl (Granite City) F 3:25 Kaden Rios (Springfield High)
132: Trevor Schoonover (Centennial) F 3:16 Kaleb Vela (LaSalle-Peru)
138: Ramez Watson (Pekin) F 3:30 Gabe Ruvalcaba (Springfield High)
145: Dylan Boyd (Granite City) F 0:32 Gabe Hodges (Limestone)
152: Nick Pianfetti (Centennial) F 1:12 Armani Emery (Springfield High)
160: David Hartwell (Pekin) F 5:22 Henry Look (Limestone)
170: Henry Spinella (Centennial) F 1:45 Rayshon Lyles (Granite City)
182: Shamon Handegan (Pekin) F 0:43 Jackson O`Connor (Springfield High)
195: Gunner Brophy (Pekin) MD 13-4 Ethan Dixon (Limestone)
220: Connor Lorden (LaSalle-Peru) D 7-3 Jack Barnhart (Centennial)
285: Robert Hull (Southeast) D 4-2 Hector Izaguirre (Limestone)