Normal West on top at Illini Bluffs Invite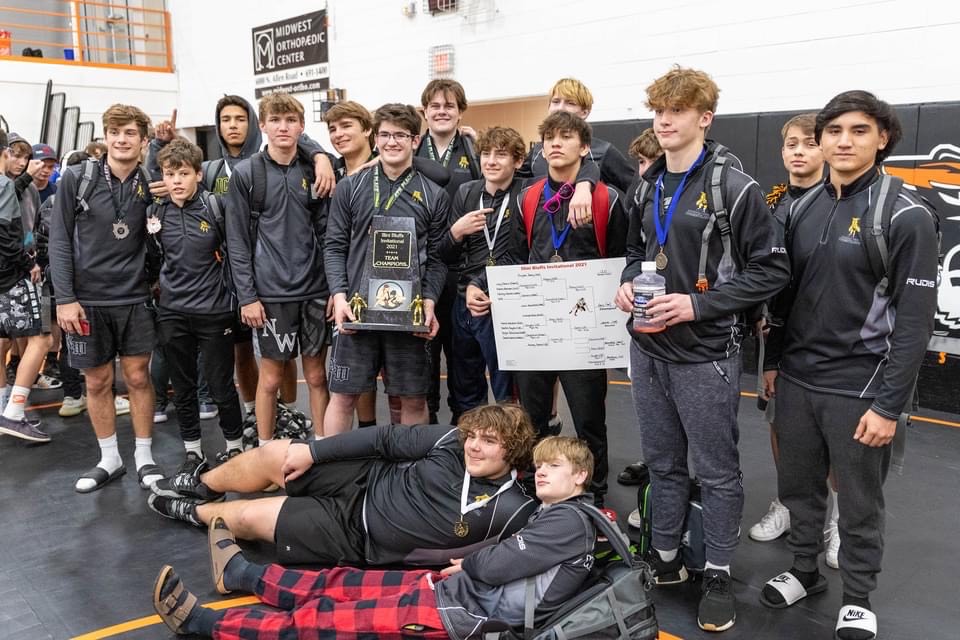 By Gary Larsen
Normal West scored 220 points to easily capture top honors at the 15-team Illini Bluffs Invite. Illini Bluffs edged Olympia 135-134 for second place while Peoria Notre Dame was fourth with 122 points.
Winning titles for the champion Wildcats were Froylan Racey (120), Evan Willock (126) and Noah Passoni (160) while Cody Sears (138) and Matthew Marsaglia (145) both finished second.
Host Illini Bluffs's lone champion was Paul Ishikawa (138) while Wyatt Knowles (106), Hunter Robbins (113), Avery Speck (120), Jackson Carroll (126) and Ian O'Connor (132) all finished in second place.
Winning titles for Olympia were Dylan Eimer (106) and Will Winter (145) while Peoria Notre Dame got a title from Joey Mushinsky (170) and a second-place finish from Tommy Miller (160).
Other champions were Farmington's Keygan Jennings (113) and Rese Shymansky (182), Limestone's Cosmo Palmgren (132) and Aydan Trueblood (220), Dunlap's Nick Mueller (152), East Peoria's Zach Eaton (195) and Knoxville's William Stowe (285).
Also claiming second-place finishes were Macomb's Carter Hoge (152), Max Ryner (182) and Ethan Ladd (195), Knoxville's Hunter Fox (170), Farmington's Chris Haggard (220) and East Peoria's Jose Del Toro (285).
Eimer, Jennings, Racey, Ishikawa, Winter, Shymansky, Eaton, Trueblood and Stowe all won titles with falls while Mueller won by major decision and Willock, Palmgren, Passoni, and Mushinsky all claimed decisions for their title wins.
Vernon Hills Invitational Re-Cap
Wauconda out-pointed second-place Vernon Hills 193.5-160.5 at this year's 15-team Varsity Cougar Invitational, hosted by Vernon Hills. Glenbrook South (130), Christian Life (124.5) of Wisconsin, and Hoffman Estates (118) rounded out the top five team finishers.

Wauconda sent six wrestlers to the title mat and two to the top of the awards stand as Gavin Rockey (113) and Colin Husko (145) won individual titles.

Husko, currently ranked No. 6 at 145 in Rob Sherrill's IWCOA rankings, used three falls to earn his title, while Rockey used a pair of 4-3 decisions to reach the finals at 113 before winning 5-3 over Harvard's Brian Hernandez.

Placing second for Wauconda were Lucas Gladine (106), Cole Porten (138), Nick Cheshier (152), and heavyweight Matthew Merevick.

Vernon Hills had a pair of individual champs in Gary Gurevich (138) and heavyweight Max Accettura and got seconds from Blake Moncayo (170) and Jake Psaras (195).
Maine East led all teams with three individual champions.

Other individual champions included Drew Dolphin (106) and Troy Dolphin (132) of Christian Life (WI); Chris Kish (120), Edgar Estrada (126), and Ezequiel Figueroa (160) of Maine East; Julian Bonilla (152) and Jalen Curtis (182) of Hoffman Estates; Kaden Combs (170) of Woodstock North; Nathan Rosas (195) of Harvard; and Betim Jahovic (220) of Niles North.

The day's closest finishes on the title mat included Wauconda's Rockey in a 5-3 win over Harvard's Brian Hernandez at 113; Maine East's Estrada in an 8-7 win over Taft's Patrick Diete at 126; Hoffman Estates Bonilla in a 5-3 win over Wauconda's Cheshier at 152; and Maine East's Figueroa in a 6-4 win over Glenbrook South's Patrick Downing at 160.

Also reaching the finals and placing second were Glenbrook South's Arnold Park (120); Taft's Colin Roque (132) and Ryan Porebski (220); Christian Life's Jordan Luhr (145); and Hoffman Estates' Josh Ellery (182).