Throwback Thursday Feature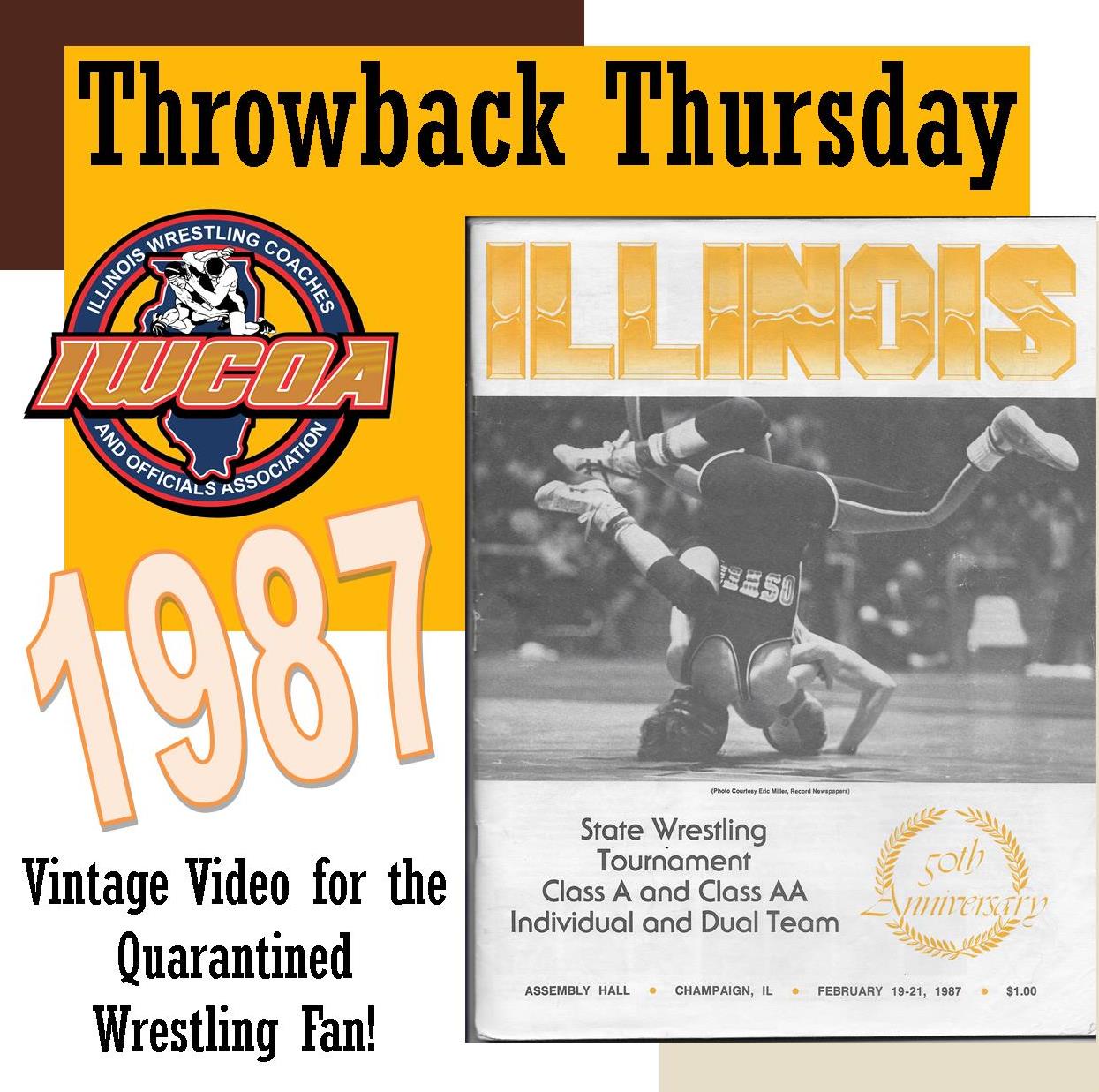 Between 1987 – 1991, Chicago-area sports broadcasting brought us the IHSA State Individual and Dual Team Wrestling Championships. Many wrestling fans, like our own Rob Sherrill, recorded these broadcasts on VHS tape and stored them away … for days like today!
The conversion from VHS to YouTube is never perfect.
The quality is poor, but the memories are golden!
Click HERE for FIVE HOURS of IHSA Wrestling on the IWCOA YouTube Channel! https://youtu.be/obYQVl0DpC4
This week's feature year:
1987 (The 50th year of the IHSA State Wrestling Championships)
1987 Individual State Title Matches
Class A Individual Brackets; Class AA Individual Brackets
98 – 12:00 – Matthew Bartlett (St. Charles) vs. Ken Gerdes (Providence Catholic)
105 – 23:00 – Brett Janis (Lake Park) vs. Neil Kohlberg (Wheeling)
112 – 49:00 – Ben Morris (Fenton) vs. Sam Geraci (Lake Park)
"Maybe the greatest state final match in the first 50 years of this State Tournament!" – Rob Sherrill
119 – 1:07 – Phil Johns (Canton) vs. Booker Hobson (Joliet West)
126 – 1:27 – Joe Cascone (St. Laurence) vs. William Gay (Rock Island)
132 – 1:39 – Joey Gilbert (Andrew) vs. Tim Chaplin (Joliet Central)
138 – 1:53 – John Sehnert (Barrington) vs. Dennis Vesey (Rock Island)
145 – 2:05 – Ken Thompson (Bloom) vs. Geoff Woodcock (Waubonsie Valley)
155 – 2:18 – Jay White (Stagg) vs. Tom Blaha (Tinley Park)
167 – 2:31 – Tim Driscoll (Waubonsie Valley) vs. Eric Schultz (Tinley Park)
185 – 2:43 – Steve Hughes (Stagg) vs. Kirk Mammen (Urbana)
275 – 2:55 – Jim Wormsley (Dundee-Crown) vs. Carl Pressley (Conant)
1987 Dual Team State Championship
3:06 – Chicago (Marist) vs. Naperville North